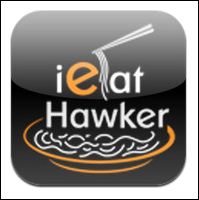 We have just released an updated version of the ieat Hawker App which will work with IOS 4.3 onwards. The App will include some new stall listings as well as drop down instructions on how to make the most of all the functions. If you have already downloaded the App, all you need to do is to do an update.
If you haven't downloaded Ieat Hawker yet, just search for "Ieat Hawker" in App Store or visit this link.
We are still working on another button where you can list stalls according to location. For example, click on Ang Mo Kio, and all the recommended stalls in Ang Mo Kio will be listed. Right now, you can do that by going to the map and press and hold on the Ang Mo Kio region. Please continue to support us by telling your friends about the App. With your support, we can continue to keep improving it!