This App is no longer available. A new one will be launched in 2014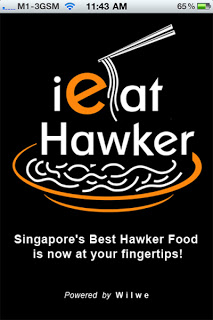 Click here to download from App Store
After months of work, I am glad to announce that the ieat Hawker App is finally ready for download at the App Store!
Based on the blog, I have designed this App so that you are able to find Singapore's Best Hawker fare on your mobile at the flick of a finger. The App will give you instant access to over 460 hawker stalls, each one with the address and opening times and linked to the blog post.

The App is quite simple to use. You can search for Hawker Stalls by their dishes under "Category" or by their location under the "Map" function.
Under Category, you will find the most popular hawker stalls listed according to Hawker dishes. All the essential details like address, opening times and map location are provided and there is a link to the blog post so you can read the story in more detail.
If you are in a particular area of Singapore, activating the Map function will quickly show you the popular stalls are in your vicinity. Alternatively, you can point to an area of Singapore and the stalls will pop up as red pins on the map!
Ieat Hawker App is now No. 2 in the Top Paid Apps List and No.1 in the lifestyle App category, as well as having an average rating of 4.5 Stars!
Thanks so much everyone for your support! Glory to God for His bountiful Blessings.
Here are some reviews:
by Bearelite – Version 1.0.1 – 21 October 2011
What do you feel like eating? Where are the good stalls near where you are? Where do you want to bring your guests? Years of research and good reviews of some of the best food stalls in Sg – all in one app. Maps your location to the stall. Multiple ways of searching. Intuitive and sleek interface. My only question is: why it is so cheap at 99 cents? That is cheaper than one regrettable Roti prata and with this app, u can say goodbye to many bad meal choices.
Must-Have for foodies!!! –
★★★★★
by Tristan221 – Version 1.0.1 – 20 October 2011
This is THE APP for GOOD Hawker Food! Waited for a long time for something like this in Singapore! Highly recommended for all foodies!
Great app…very informational –
★★★★★
by KT SG – Version 1.0.1 – 21 October 2011
A well-researched and well-presented app. The info provided is based on content-provider's personal experience and years of cumulative research. Now, I reach out for my iPhone first before I order that plate of char kway teow from an unfamiliar stall 🙂
by Alzheimer the 2nd – Version 1.0.1 – 21 October 2011
Excellent 1st edition of one of the best local Hawker productions I have seen in years. Congrats
Below are some selected screenshots. You can visit the ieat hawker Facebook page for more details. The App can be downloaded from AppStore.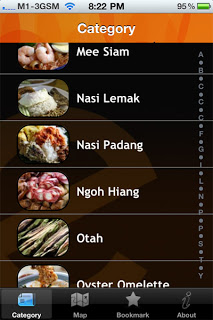 Under Category funciton, all the popular hawker dishes are listed accordingly. Clicking on a category will bring you to a list of all the popular stalls serving that dish.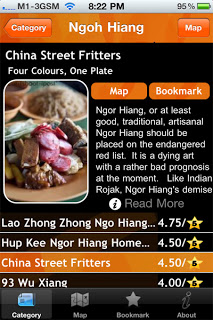 When you have identified a stall of interest, you will be able to access the address and opening times immediately, click Map to locate it or click "Read More" to link to my blog post.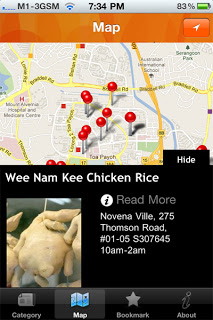 Under the Map function, you can find all the popular stalls that are located near your vicinity.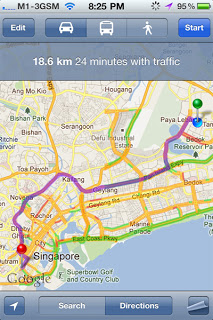 Once you have decided that you want to visit a particular stall, clicking on "Route" will give you directions to get there from where you are located.
For more screenshots, please visit the ieat Hawker App Facebook page