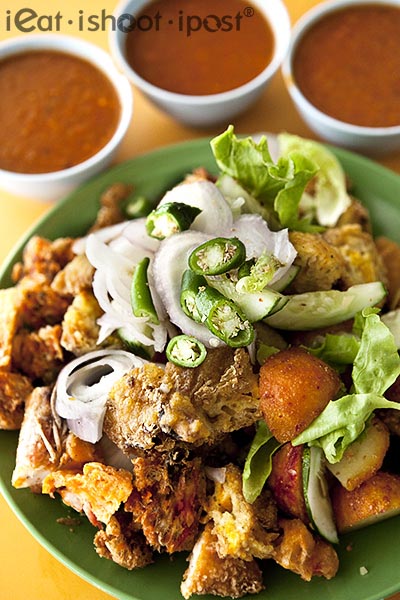 You like prawn fritters? I think they are one of the bests way to enjoy prawns because the whole prawn if fried so crispy that you eat the whole creature, shell, head, tomally and all. And that is where you get to enjoy the maximum flavour that a single prawn can provide.
People go gaga over gigantic prawns. Big prawns certainly make headlines, but it is the small prawns that are really tasty. Go into a Japanese restaurant during the Sakura prawn season and those Sakura prawn fritters will blow you away with their intense crustacean flavour. In Penang, they extract the prawny goodness from tiny shrimps to produce a Prawn noodle soup with ooompph and of course locally, small dried shrimps are what powers the umami engine of a good bowl of laksa.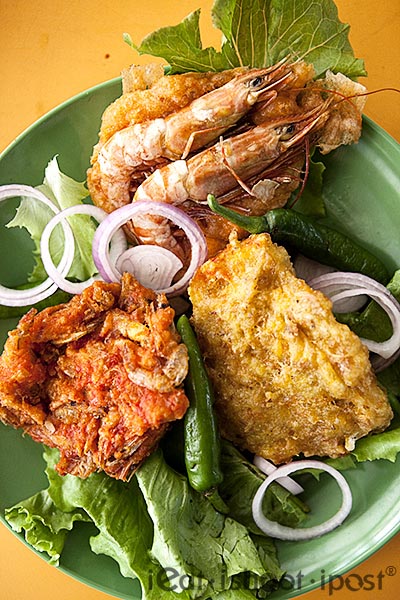 Now that I got you salivating for crispy fried shrimps, let's talk about where to satisfy that festering need to feed.
If you head over to Tekka Market, there is an Indian Rojak stall that sells not one, not two, but three types of crispy fried shrimps! Most Indian Rojak stalls will have the familiar finger long ones and some might also have the thumb sized shrimps, but this is one of the few stalls that sells fritters made from the tiny dried shrimps. All three have different levels of crustacean satisfaction, but as I have alluded to before, the smaller the shrimp, the more flavour they pack. Eating these prawn fritter is like eating a tummy filling Keropok!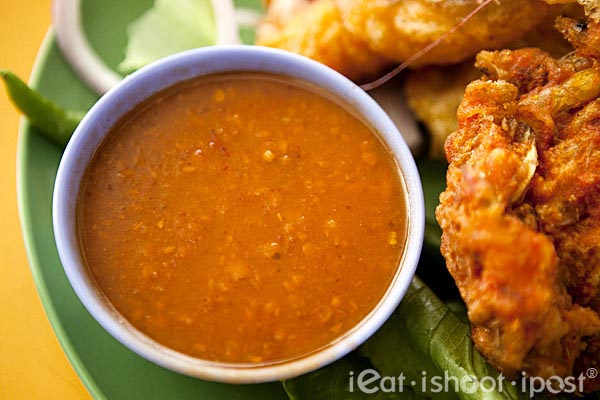 If you eat Indian Rojak primarily for the sauce, then this is the place you should visit. The sauce here is hot, thick and rich but still very well balanced. It's the kind of sauce that sauce fanatics would just drink neat. This stall makes most of the items by hand and they tend to be a little larger then elsewhere. They are generally very good though the potatoes weren't as waxy and sweet as I would have liked. 4.25/5
Conclusion
Hankering for prawn fritters and really good Indian rojak gravy? Here is where you get it.