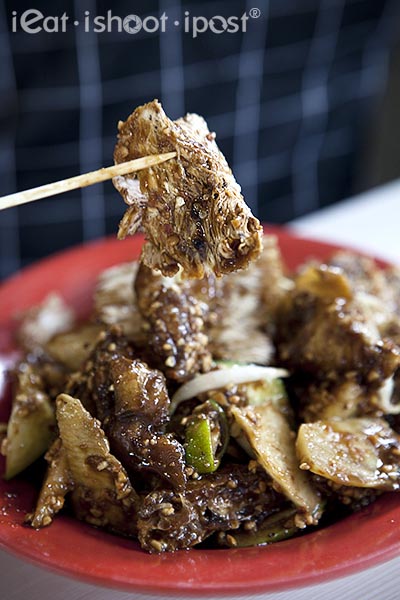 When the NEA recently announced that they will resume building new Hawker Centres, I heard some people remark that there was no use building Hawker Centres if there are no Hawkers to man the stalls. I guess it is natural to assume that most Gen Y Singaporeans would want to have a cushy executive type job rather than sweating it out in a hot and humid hawker stall. However, my sense is a little different. I have met many young people who really do have the necessary passion to become future Hawker legends, given a few more years in the School of Hawker Kung Fu. Our would be, self proclaimed "Rojak King" today would be one such person.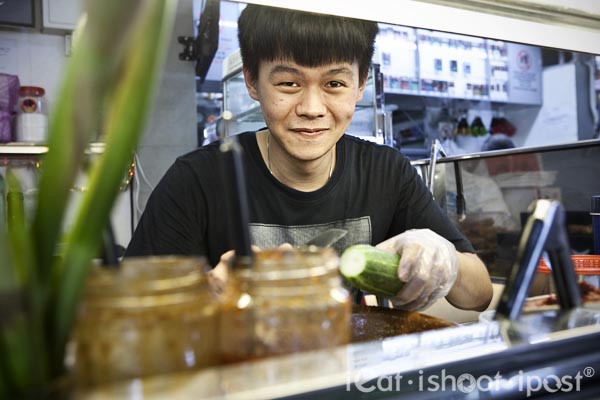 Well, actually, he didn't really proclaim himself as the Rojak King. The name of his stall, Rojaking came about when he verbified the noun Rojak in response to his girlfriend asking him what he was doing over the phone. "I am Rojaking lah!" he said, and the rest is, well, not quite history just yet.
Why "not quite" history? Well, I think that if Rion contiues to pursue his passion, he might really be the Rojak King one day, and then, I can rewrite the previous paragraph and end it with that tired and overuse phrase. Right now, however, the rojak is showing quite a lot of promise.
What Rion managed to get right is the sauce. It is bright and tangy, and, as with traditional rojak, the sauce is infused with the the floral bouquet of freshly sliced ginger torch flowers and calamansi lime zest snipped into clipped finger nail sized slivers. The balance between the sweet from the sugar, savoury from the Penang Hae Kor (fermented prawn paste), sour from the calamansi juice and slight bitterness from the peel is nicely balanced. They also add red apples into the mix which makes this a nice, fruity type rojak.
What would elevate this rojak to the next level would be some great ground peanuts. They used to buy their ground peanuts direct from the supplier but have now started roasting their own and hand pounding them to give the peanuts a chunkier bite. However, it still lacks that oily grainy texture and fragrance of a freshly roasted and ground peanuts which I am looking for. When they eventually get that bit right, I think our Rojak prince might just be ready for Coronation day! 4/5
Conclusion
With Gen Yers like Rion around, I think the future for Hawkering in Singapore is not as dim as some people make it out to be. This young Hawkerpreneur really does love his rojak and continues to think of ways to improve a Singaporean classic. So far, he is doing a great job and I think that given a bit more time, he might just become the Rojak King!