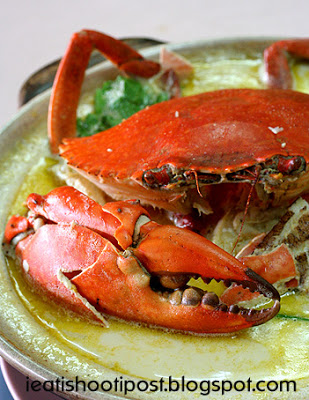 It was just after the Chinese New Year and I was looking for stuff to eat around Toa Payoh and everything was still closed. Then I remembered that the famous Mellben Crab in AMK had recently opened a branch here in Toa Payoh! So after being dissapointed at Lor 4 and Lor 7, I found myself in Lor 8 ordering Crab Bee Hoon in the middle of the afternoon! Hardly an appropriate time to eat crab, but nothing else worth eating was open! I think the staff was also quite surprised that someone would walk into the restaurant and order just one Crab Bee Hoon and nothing else!
I found the soup quite robust and savoury with a tinge of spiciness to it. The taste of the galangal, milk and spices really came through. If you ask me, it tasted like a laksa without the chilli and with milk instead of coconut cream. (not quite laksa but I hope you get the picture). I was a little dissppointed with my crab that day because the claw meat was atrophied (about half the size of the shell). I would consider any Crab Restaurant worth its salt to ensure that the crab is solid. (I never had bad crab at Jumbo East Coast before) Maybe the crabs had been kept over the CNY period and as a result became sluggish. 4/5
Conclusion
Quite a robust and enjoyable soup. Dissppointed that they sold me a Handicapped Crab for $35. BUT, my feeling about crab beehoon may be best expressed by the words of U2: "I still haven't found what I'm looking for!" Seriously, if people are so bowled over by Crab Bee Hoon there must be a really really shiok one out there. I think I will still need to visit the original stall at AMK to see if I can discover the holy grail of Crab Bee Hoon there!