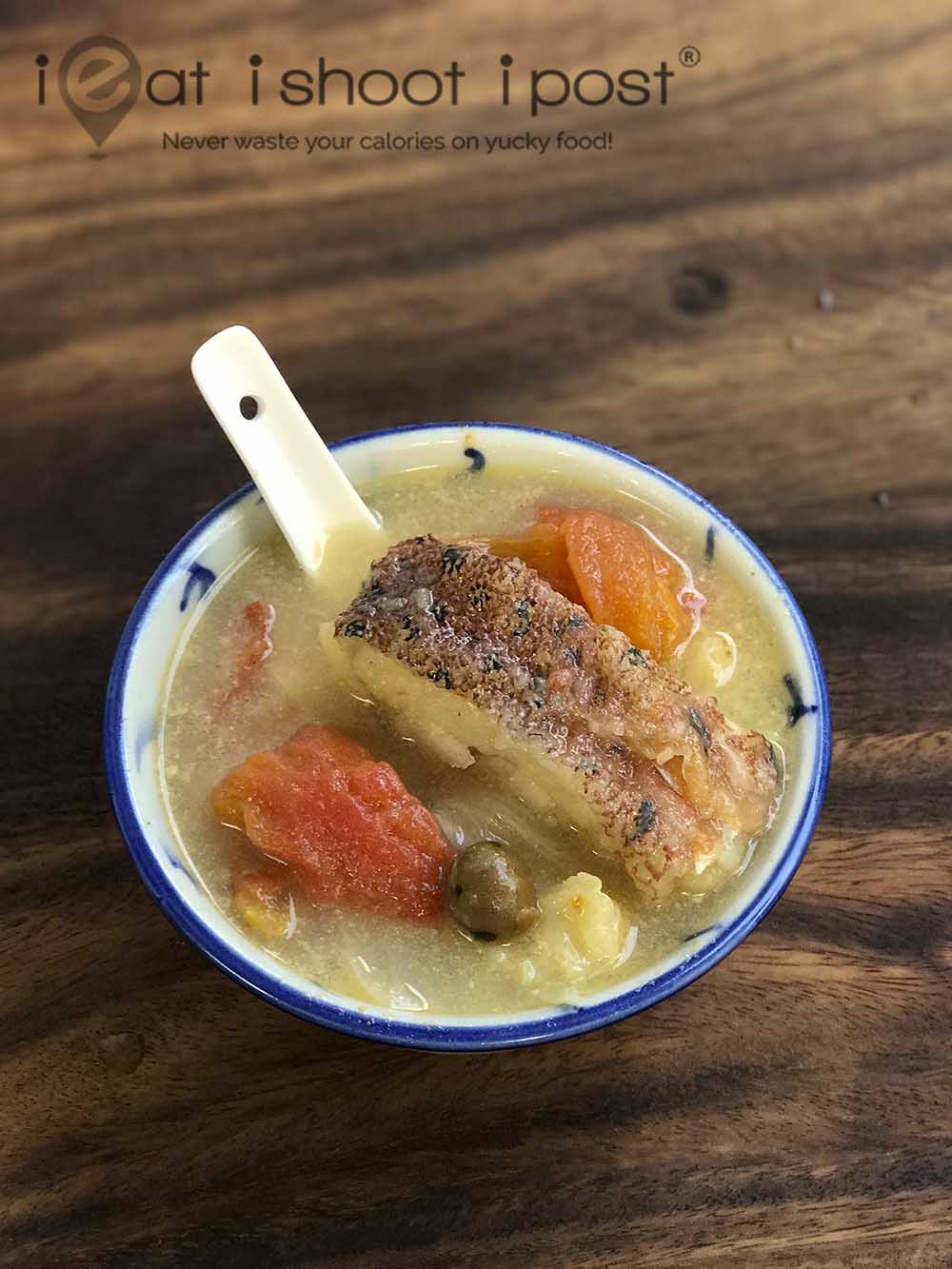 One of the most memorable fish soup I have ever had was at Chef Kang's kitchen. I must have had it three times already and it never fails to satisfy. I wanted very much to learn how to make it at home and Chef was happy bring me into the kitchen to explain to me the whole process. One of the ingredients he uses is this little pea like seeds which are slightly tart and very flavourful. They turn out to be pickled cordia tree seeds (大同樹子) which are a common ingredient used in Taiwan for steaming fish. I didn't get the exact recipe from Chef, but I had enough information to come up with a recipe for a delicious fish soup. Of course, it isn't as good as the one chef makes, but my wife was quite happy with it and so for me, it's "win oredi lor!"
Ingredients
Group A
Chicken backbones 9 pieces
Chicken feet 6 pieces
Ginger 5 slices
Water 3 litres
Group B
Chinese cabbage 1/4 head
Tomatoes 2 medium size
Salted plums 3
Pickled cordia tree seeds (大同樹子) 1 Tbsp
Rock sugar 1 Tbsp
Plaice powder 2 Tbsp or fried solefish 2 pieces
Chinese hua diao wine 3 Tbsp
Salt to taste
Carnation milk 3 Tbsp (optional)
Group C
Red Grouper fish head (chopped)
Cornflour 2 Tbsp
Method
1. Chop chicken back bones into 2 in pieces. Bring a pot of water to boil and blanch the chicken bones and feet for five minutes. Once you see lots of scum on the top, strain the chicken and throw away the water. Wash the bones to get rid of any scum. This will remove all the unwanted blood and off flavours.
2. Fill the pot with fresh water, add the blanched chicken bones, feet, ginger slices and 2 tsp salt. Ensure that the water just covers the chicken bones by 1-2 cm. Bring to a boil and simmer for 2 hours. Strain and set aside.
3. Add 2 Tbsp salt to the grouper pieces and set aside for 20 mins. After 20 mins, wash away the salt and dry with paper towels. Coat with cornflour and deep fry until light brown and set aside.
4. Add cabbage, tomatoes, cordia seeds, salted plums (include some of the pickling water) to the chicken stock and bring to a boil for 5-10 mins. Add the fried fish and bring to a furious boil. The bubbling will help to form an emulsion from the oil and water resulting in a creamier texture. Boil for 10 mins.
5. Add sugar, salt and plaice powder and adjust to taste. Add some carnation milk if you want a creamier soup. Just prior to serving, add the Hua Diao wine. Serve hot!
Notes: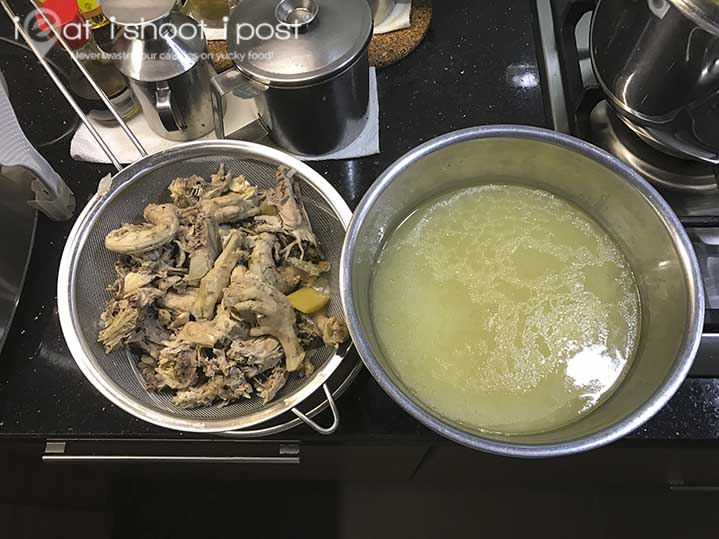 A good stock is important. I buy chicken bones from the market. They sell 3 back bones for $1 and I usually buy three packets. Some chicken feet will add more body to the soup as chicken feet is full of collagen which will give the soup a nice body. If you can't get hold of chicken feet, you may dissolve 2-3tsp of gelatine powder and add it to the soup.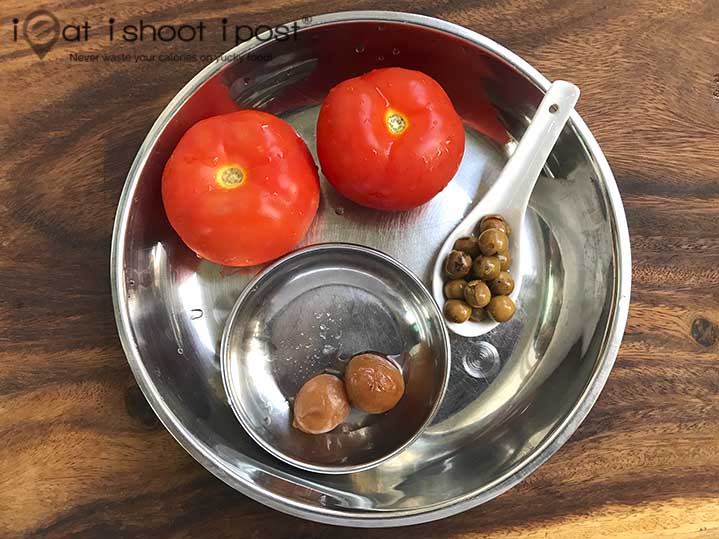 Tomatoes, salted plums and pickled cordia seeds all add an extra dimension of flavour and gives the soup that slight tang which goes very well with the fish. Tomatoes and salted plums are often used in Teochew style steam fish.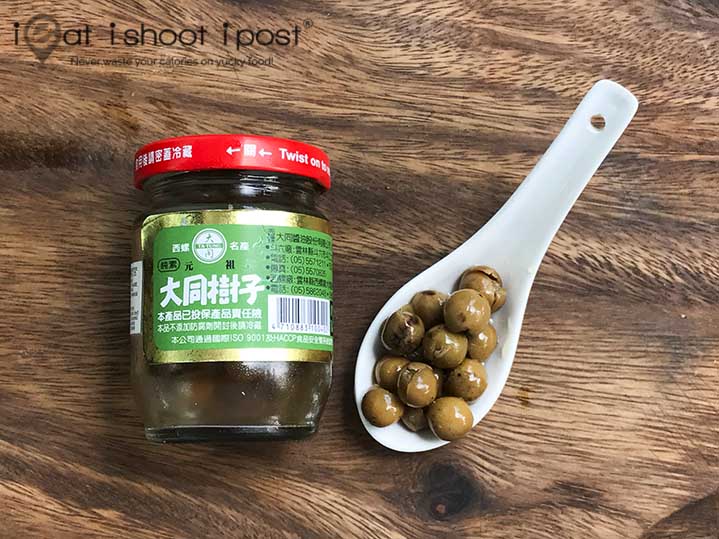 I find these 大同樹子 pickled cordia seeds very delicious. They are like little cherries with a pip in the middle. You can buy these at Yue Hwa.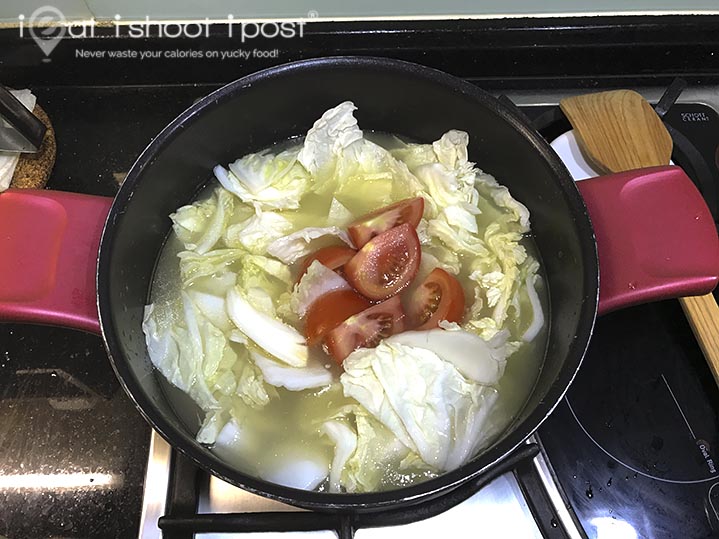 Chinese cabbage give the soup sweetness and is full of natural umami!
I used red grouper head for this recipe but you can use other fish like batang or snakehead . The heads give the soup extra sweetness as compared to using only the meat.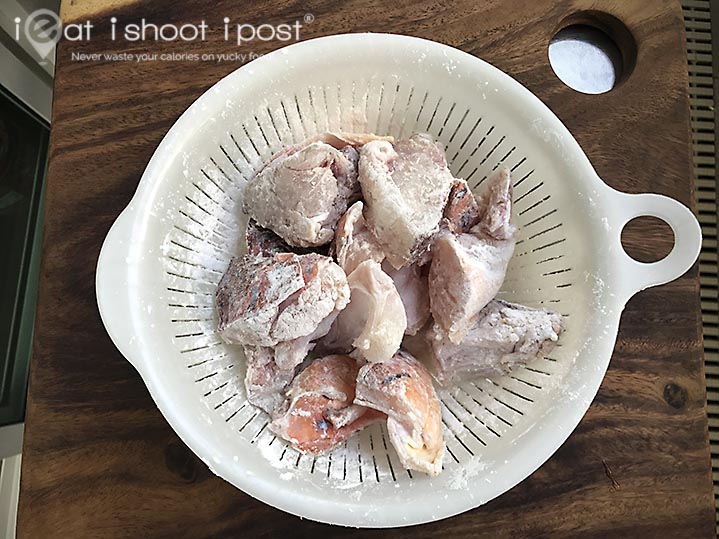 After salting the fish to draw out the fishy flavours, wash and pat dry and give it a light coating of cornflour. The cornflour acts like talcum powder to absorb the excess water so that the oil will not splatter.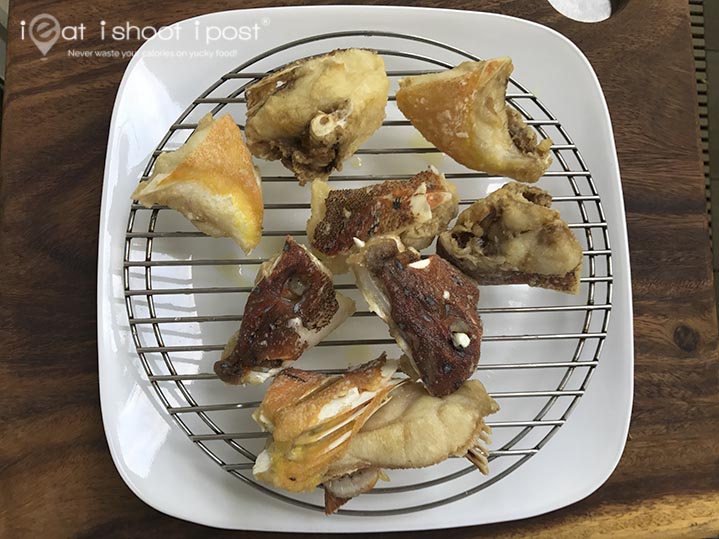 Deep frying the fish gives it that extra dimension of flavour and the oil will mix with the soup to turn it milky. You can omit the deep frying if you feel it is too much trouble.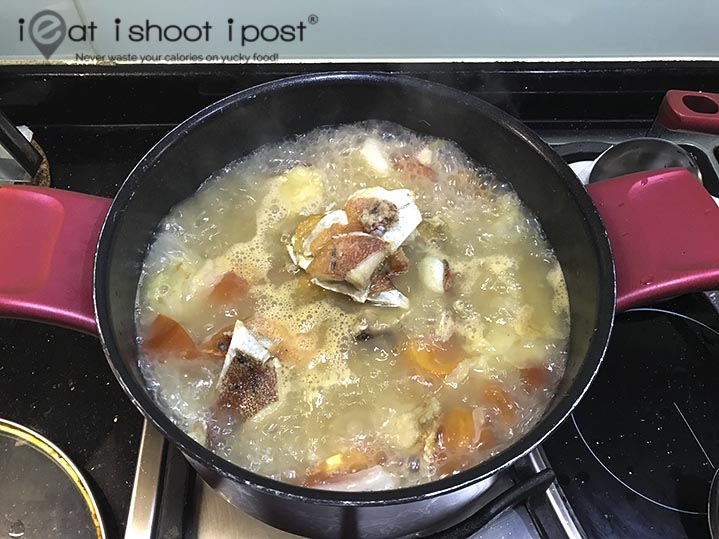 Make sure the water comes to a furious boil so that the oil in the fish can disperse in the stock to make an emulsion. If the soup is not creamy enough, you can add some carnation milk or gelatine.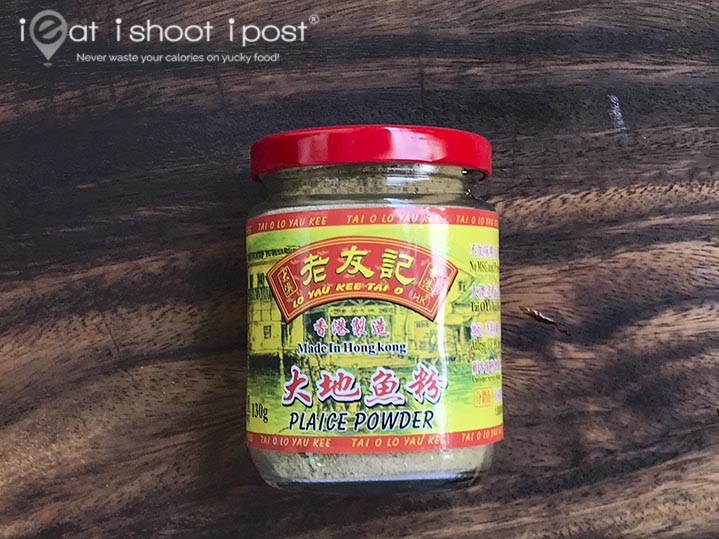 I found this very flavourful plaice powder at Yue Hwa which is not salty and full of that savoury fried solefish flavour. Very useful ingredient to have in the kitchen to add flavour to soups and stir fries! If you can't get hold of this, you can buy deep fry some sole fish instead or just omit it.]
Disclosure: Some links above are affiliate links, meaning, at no additional cost to you, we will earn a small commission if you click through and make a purchase.