Congrats to Chef Kang for winning One Michelin Star for 2017!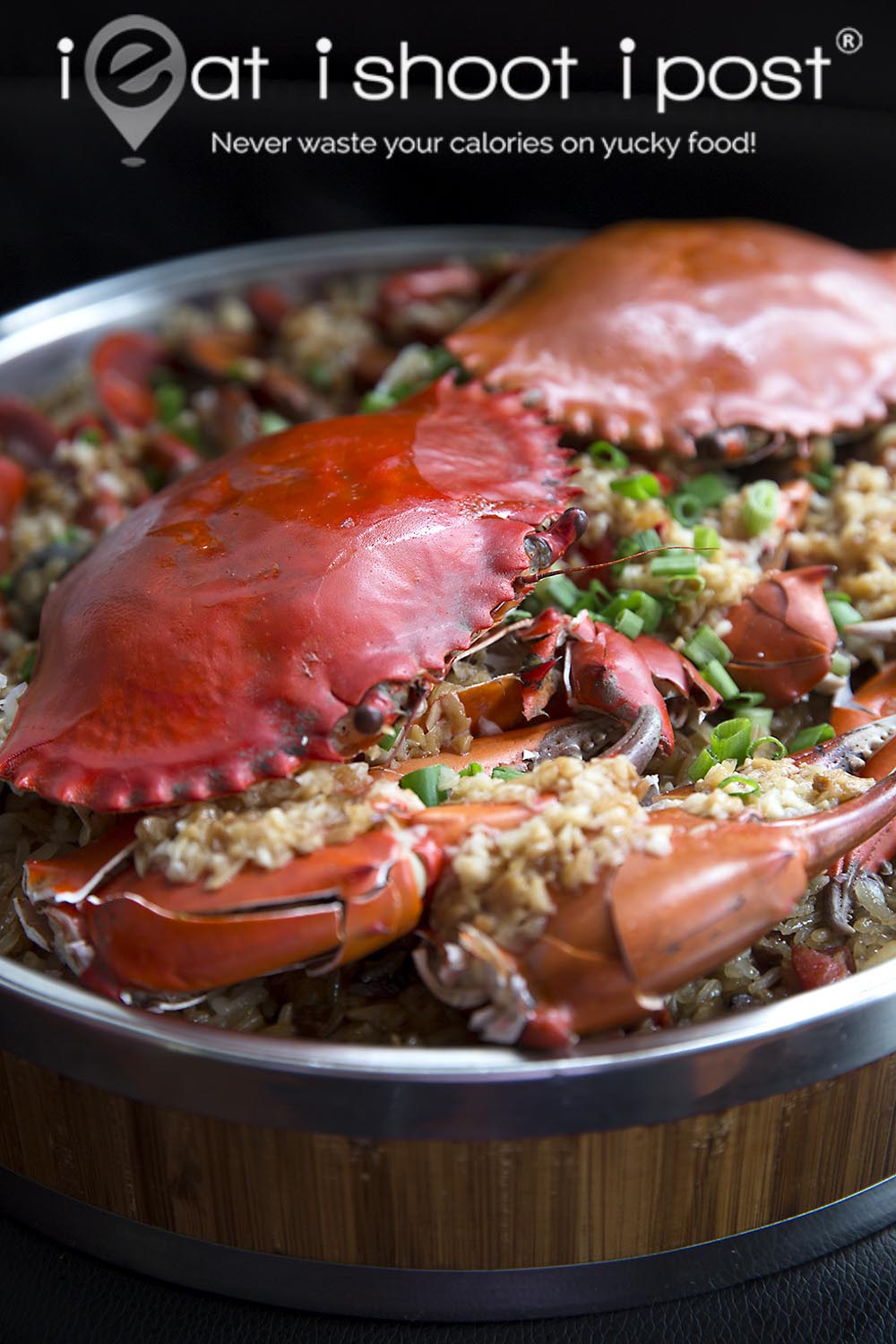 Fans of Chef Kang of the defunct Canton Wok will be ecstatic to know that our favourite Cantonese Chef is back and this time he means business! After a short hiatus, Chef Kang has opened a little boutique restaurant which seats only 40 pax and doing what he does best — sparring with the wok!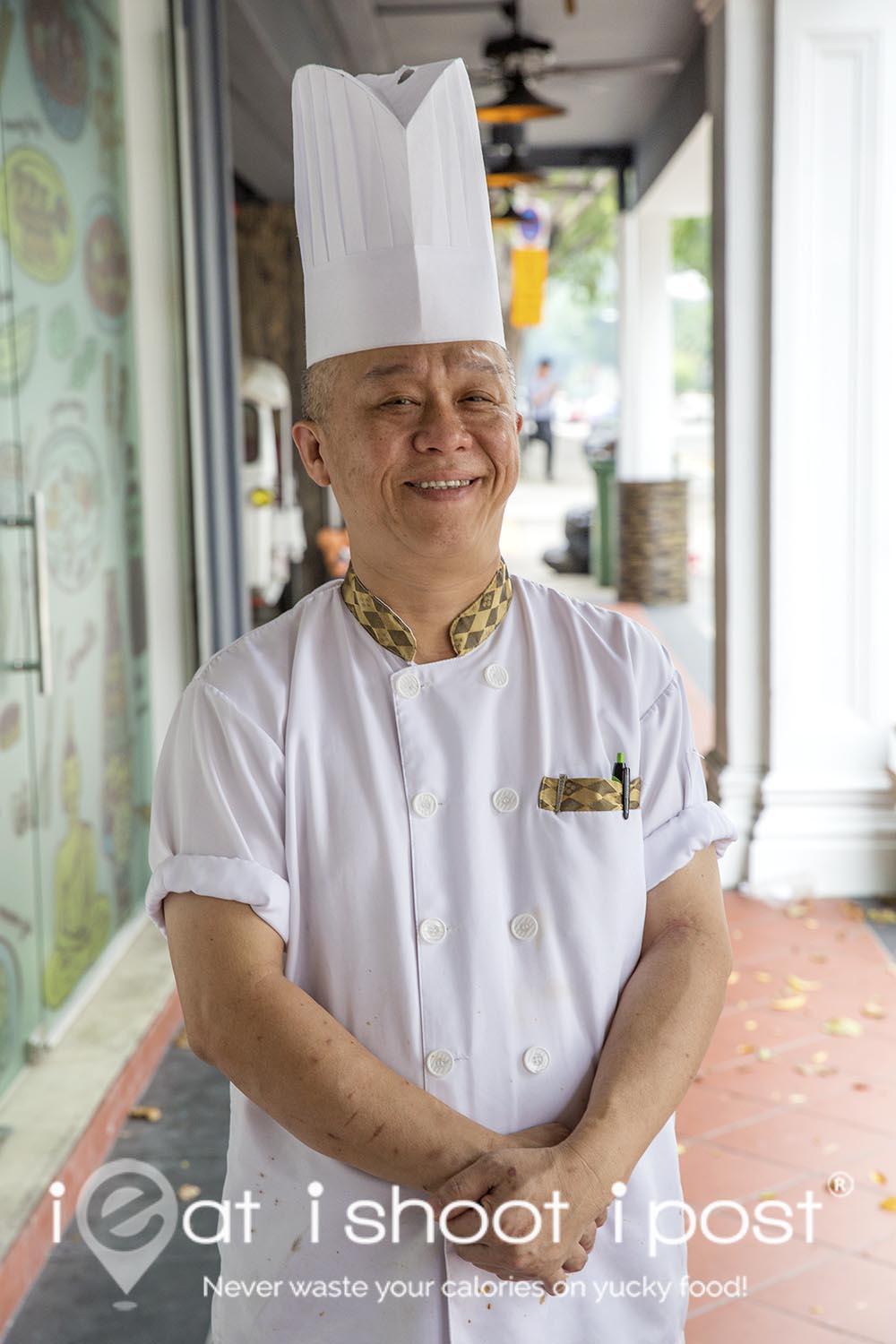 It was such a joy to be able to spend some time with Chef in the kitchen, collecting pearls of culinary tips on the art of deep frying and how to make silky smooth egg tofu.  He himself had spent 10 years as a disciple of wok kungfu in Hong Kong, working 15 hours everyday and even forgoing off days in order to hone his skills.
"Young people nowadays don't have the patience to really master Cantonese cooking", he sighs.  "Most leave once they learn a few tricks to be their own boss!"
Such dedication is rare nowadays.  One can quickly become a competent cook but to be a Wok-master takes years of discipline and training such that each ingredient is infused with just the right amount of wok fire.  A lot of Masterchefs go on to become executive chefs where they focus on recipe development and management of the kitchen.  Chef Kang had done all that, but now he just wants to get back to his first love of cooking with the wok, which is great news for foodies like me!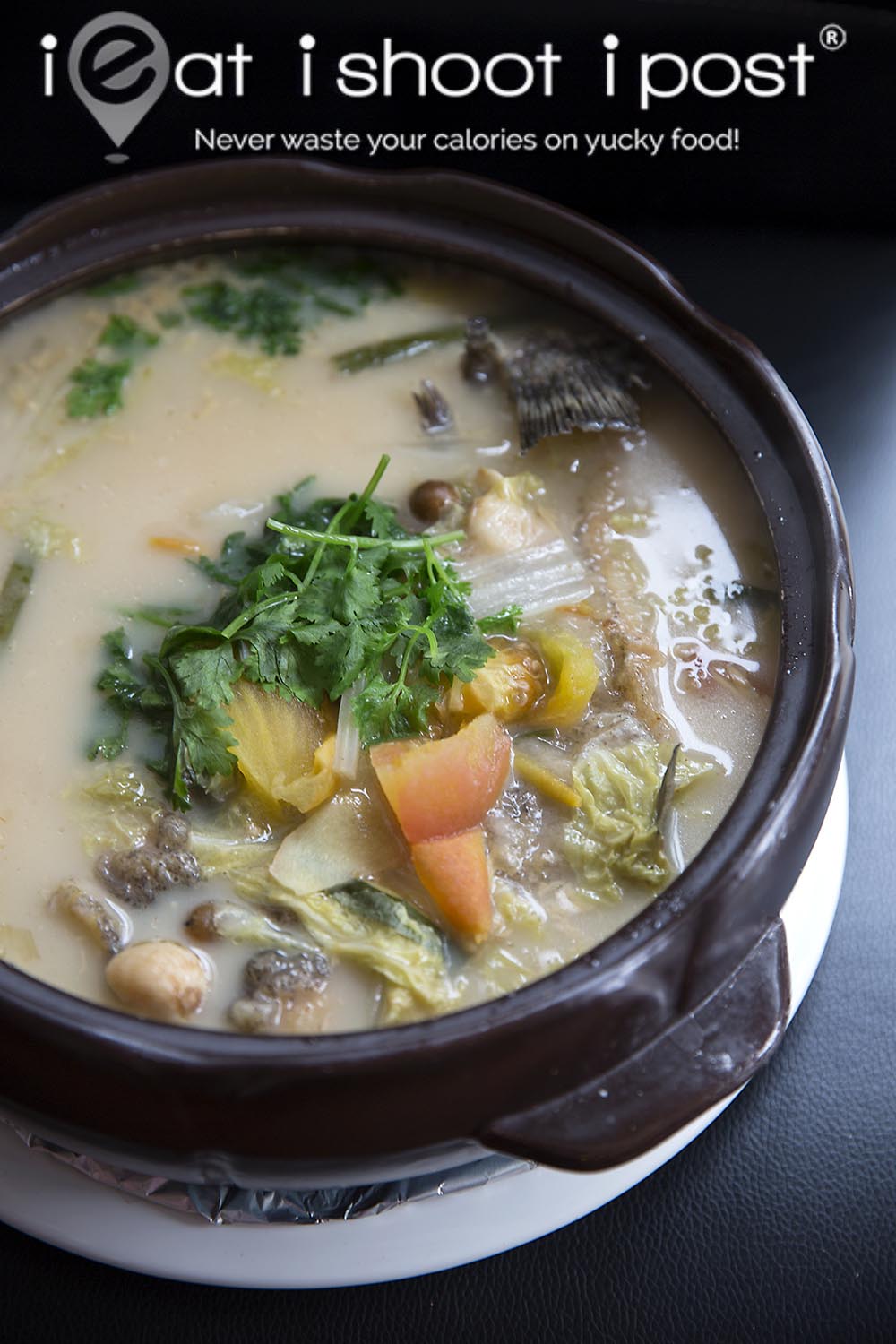 This is the first time that I have met Chef Kang.  I have heard about him for a while now but had never had the opportunity to experience his wok skills.  I was won over with his first dish which was an excellent Soon Hock fish soup!  The soup was reminiscent of the Teochew style Fish Head steamboat soup but with a touch of finesse that brought it up a few notches.  It turns out that even though Chef Kang specializes in Cantonese cuisine, he himself is Teochew by birth.  So this soup is actually a fusion of the cooking styles of both dialects!  Chef told us that he has experimented with different fish for this soup and eventually found Soon Hock (marble goby) to be the most suitable.  This freshwater fish infuses the soup with a sweetness that saltwater fish like grouper can't.  There are a few other not so secret ingredients in the soup like pickled olives and fried whole garlic which gives the otherwise familiar dish a not -so-familiar flavour that was a delight to eat.  4.6/5
The steamed crabs on glutinous rice was another highlight of our meal.  Chef Kang's is easily the best that I have had.  The glutinous rice was such a pleasure to eat.  The texture is just perfect and the flavour has that ooomph that makes you just want to forgo your low carb diet and indulge.  It is just a shame he didn't managed to get hold of Sri Lankan crabs that day which would have been even sweeter! 4.5/5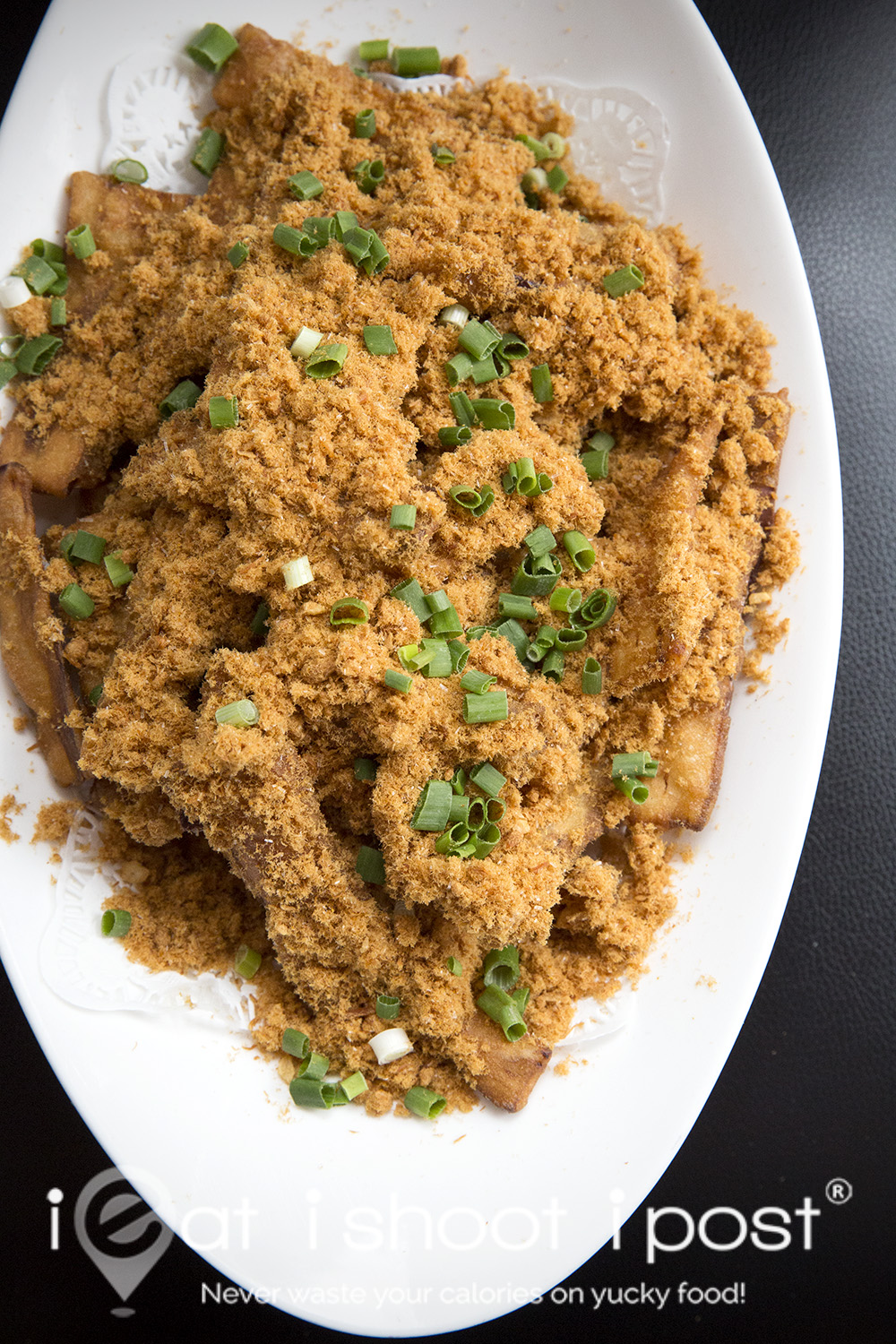 Chef Kang loves to invent new dishes and the crispy fried brinjal with pork floss was a dish that he thought up back in 2003 after he opened his first restaurant in Havelock road.  He had settled back in Singapore after spending many years in Hong Kong working in various restaurants.  The dish has since become very much a part of our local food scene.  Chef tells me that the key to the dish is to be able to fry the brinjal such that it is super crisp, yet not oily .  To do this, the brinjal is fried at low heat to push out all the moisture before blasting it with high heat just before serving. The topping itself is made of a special blend of pork floss, fried garlic and Babas curry powder.  This is a very addictive dish!  4.5/5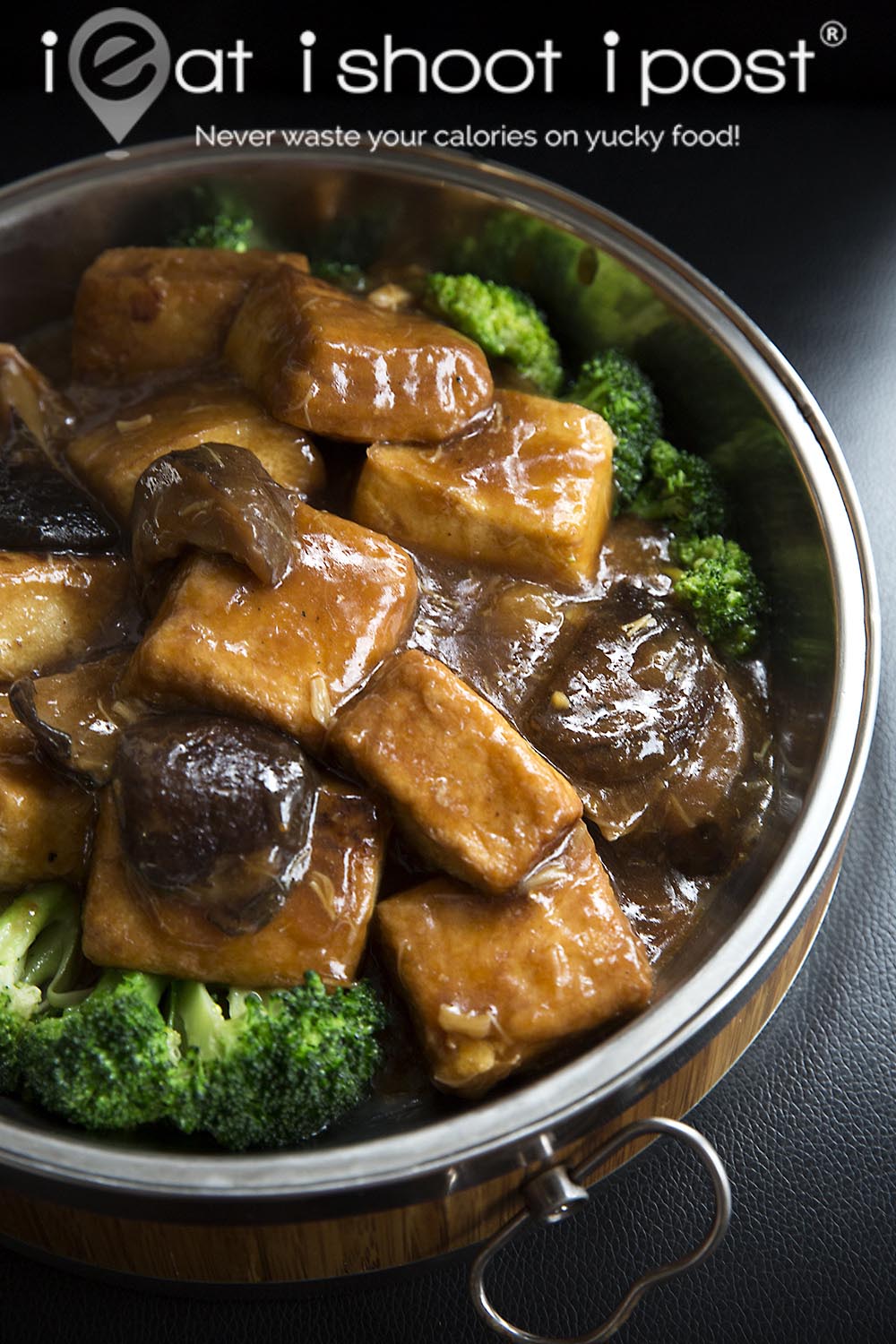 Fried egg tofu is a common dish served in most Zi Char places, but none has ever come close to Chef Kang's version.  The egg tofu which he makes by first brewing his own soy milk and then steaming with egg is super smooth and has a wonderful fragrance of soy beans.  The sauce is well balanced and embellished with the aroma of the most fragrant pork lard.  It tastes as good as it looks.  4.5/5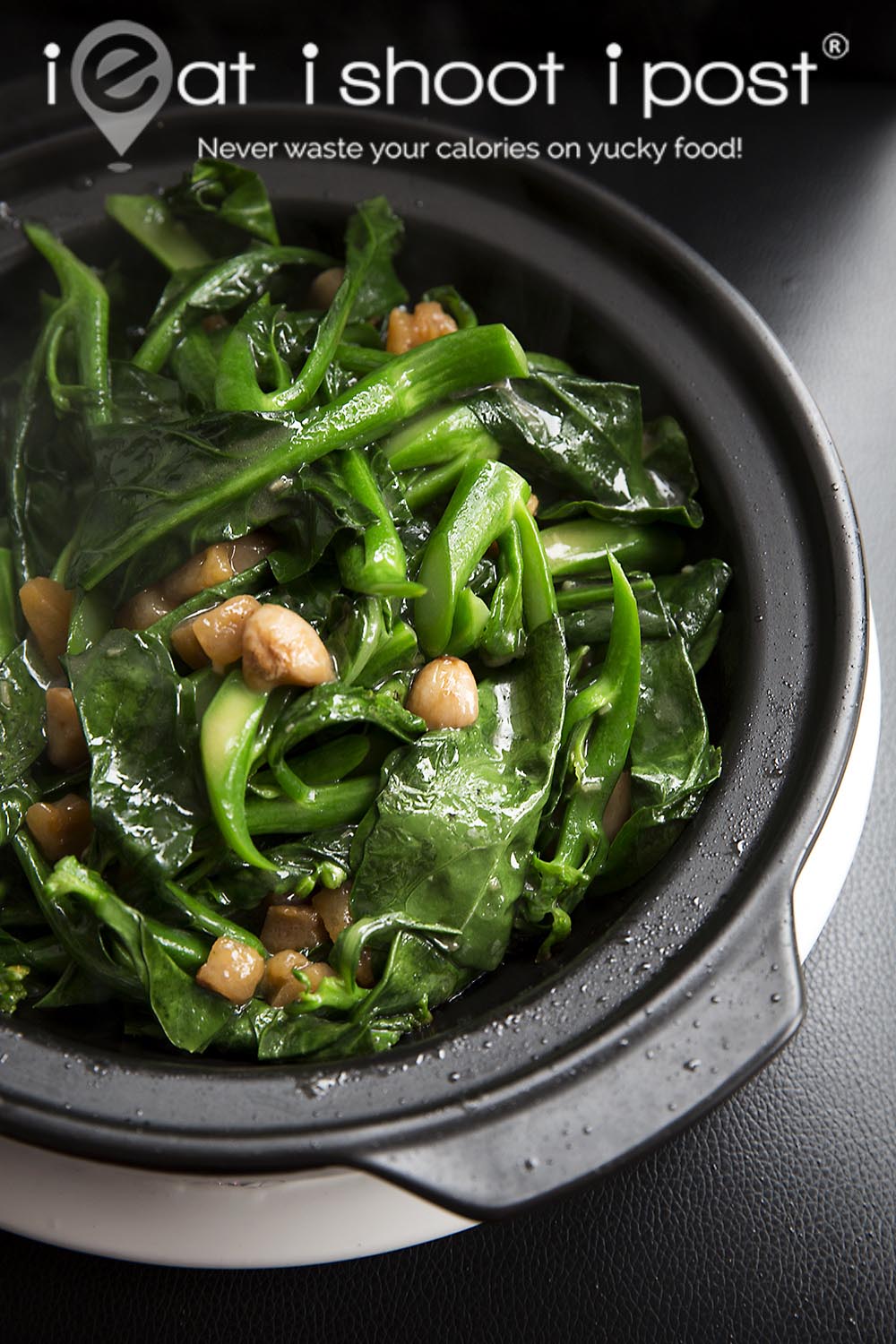 The fried kailan came in a sizzling hot pot which was quite unusual.  What is amazing was the kailan wasn't over cooked even though it was sizzling in the claypot.  The texture and the colour of the vegetable was perfect and it was simply a joy to eat.  This is as good as kailan can get.  I can't imagine it being any better.  4.5/5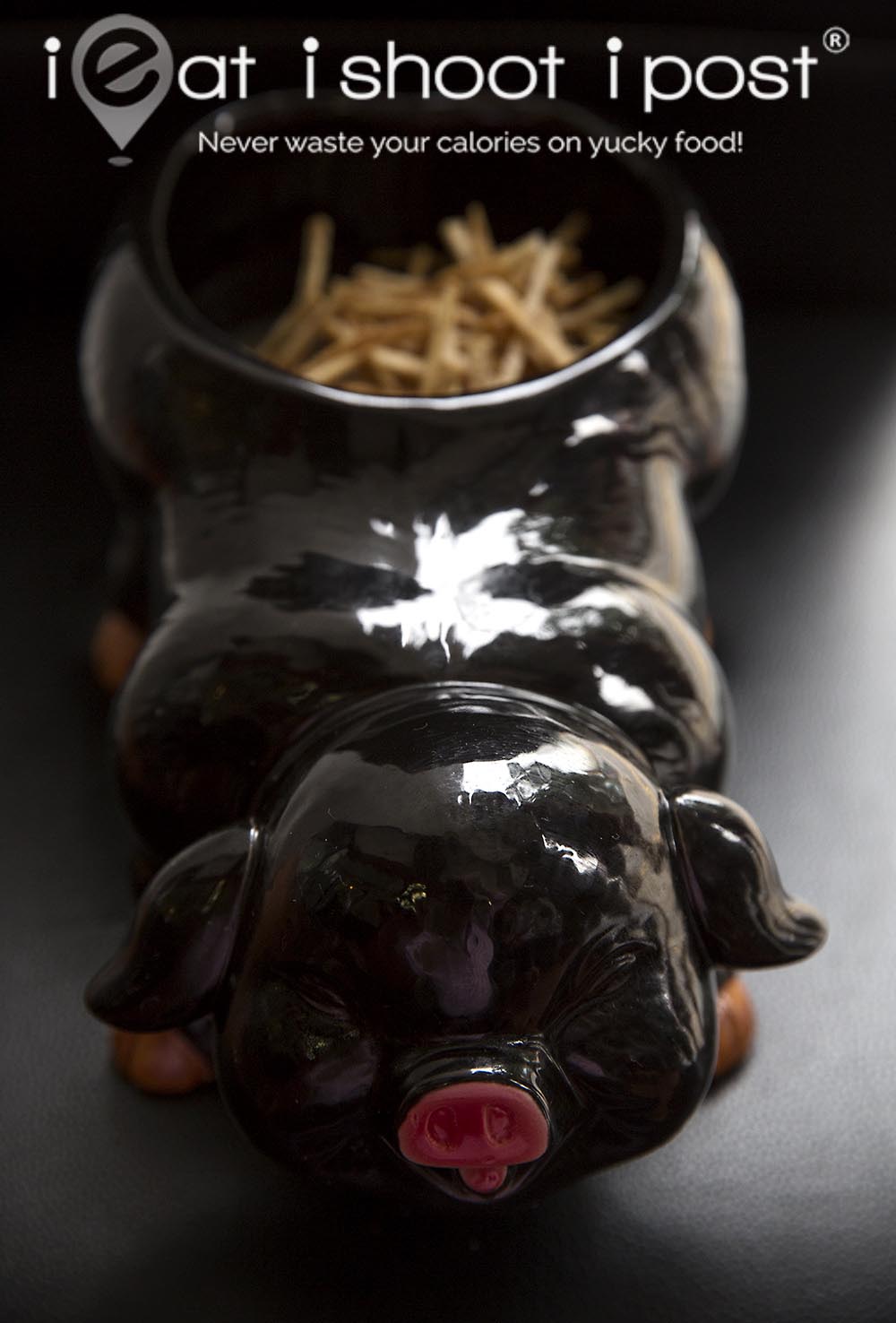 If there was one dish that really stood out, it has to be the pork rib with yam paste.  But it stood out as the only dish that didn't quite stand out.  Don't get me wrong, it is still a very good dish by all counts, but the rest of the dishes were so outstanding, that it made this one feel average.  Even so, this isn't the usual pork rib dish that you find everywhere else and it is still very much worth a try.  4.25/5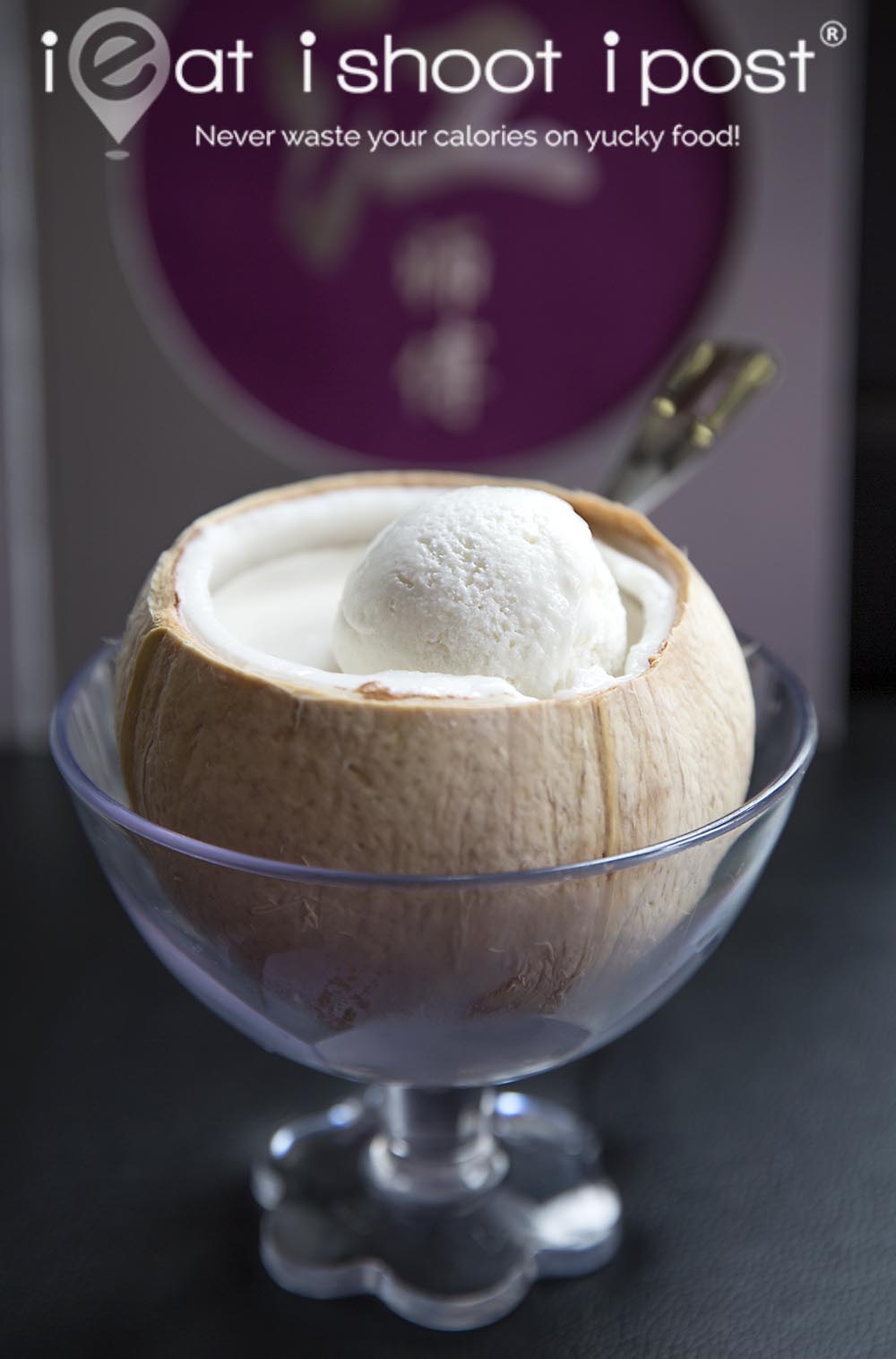 The coconut jelly with ice cream was a fitting way to end an excellent meal!  The jelly inside the coconut was made with pure coconut water with no added sugar and was very refreshing!  4.5/5
Conclusion
This is the best meal we have had during our weekly makan sessions this year and it has revived my interest in Cantonese cuisine. Chef Kang's reputation is well deserved.  His Cantonese style cooking has all the the marks of a Chef who had dedicated his entire life to his craft.  He now cooks every dish himself in his kitchen, so you actually get to taste dishes direct from the masters hand!  He tells us that he does Omakase style meals for $80 per pax (min 5 pax).  For that price, he will put together a meal using all the best ingredients that is in season!  Now, I think that is something to look forward to, don't you?