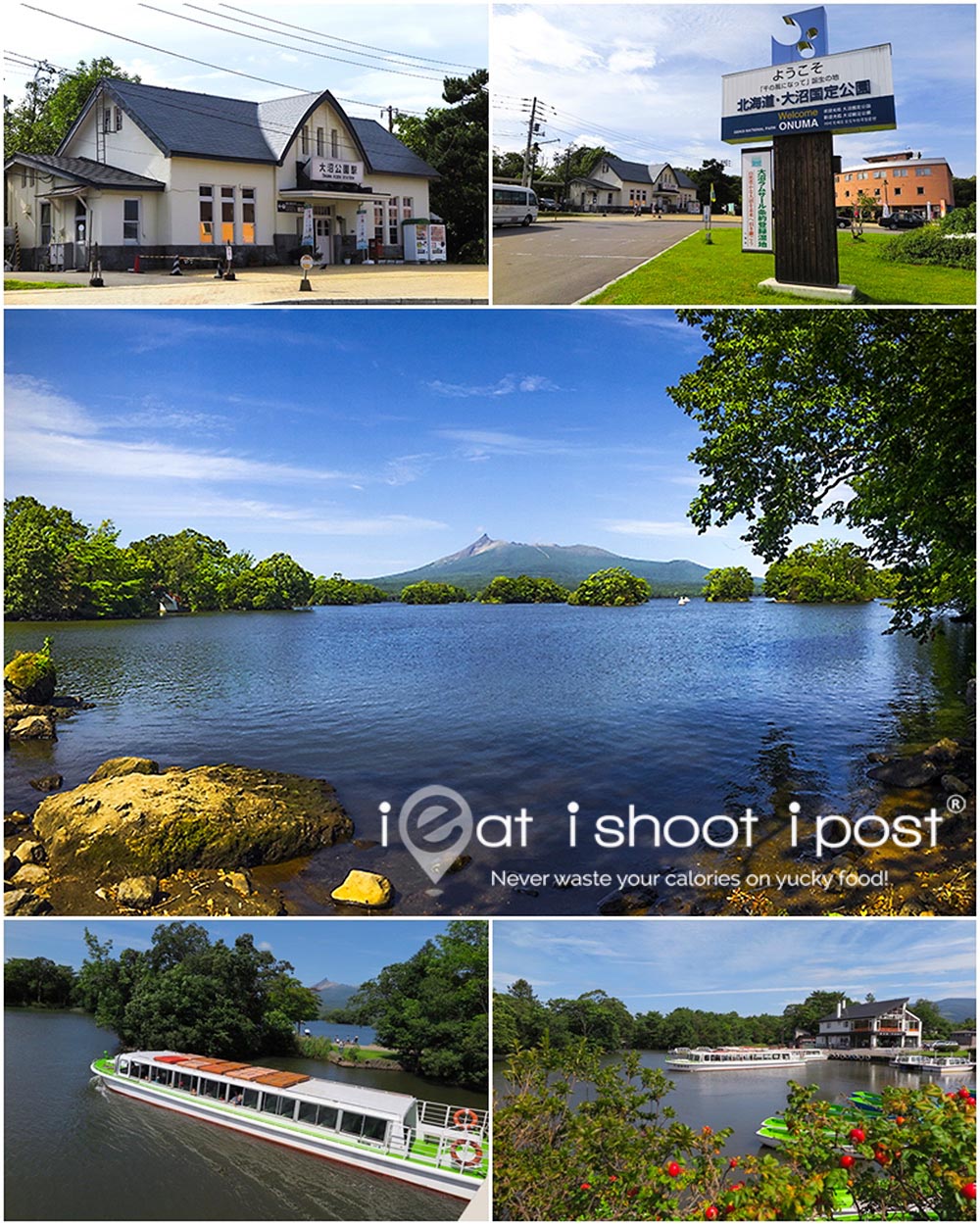 This is part 2 of my Hakodate food trip.  Here is Part 1.
One of the best things to do in Hakodate is to drive out to the beautiful Onuma Quasi National Park (Onuma Koen) where you can smell the green grass, pat a few cows and indulge in an ice cream or two, or three…
Onuma Koen station may be a mere 20 min train ride from Hakodate but it feels as if you have been transported half a world away.  If you haven't felt like you have been in Hokkaido, you will soon, once you catch a glimpse of Mt Komagatake and the surrounding lush greenery!
The train station, located in the town of Nanae and is a short walk to the Lake Onuma tourism centre.  Here is where you can catch a leisure boat ride around the lake which had formed years ago when the volcano erupted and the resulting mud slides dammed up the surrounding low lying plains around the volcano.  There are plenty of other activities that you can do around the park,  like hiking, canoeing and fishing.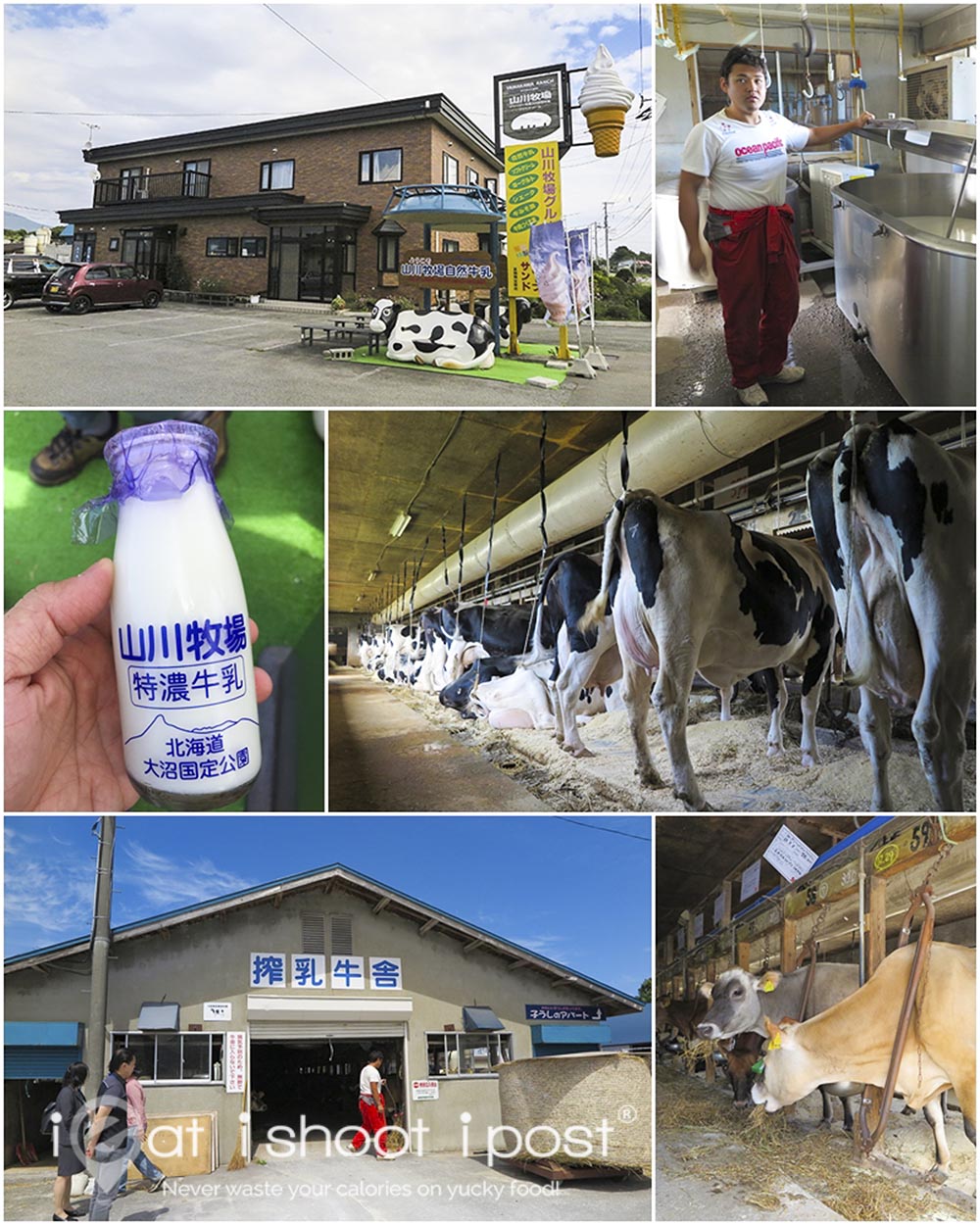 Just a short drive from the Lake Onuma Tourist Centre is the Yamakawa ranch.  This is a very popular tourist stop where you can pull up the car and buy a soft serve ice cream, a bottle of milk and smell a few cows.   They keep two breeds here.  The majority of the cows are Holsteins (black and white) which are very productive and are usually recognized as dairy cattle.  They also keep a small number of Jerseys (brown) which produce milk that is richer and creamier.  They then blend the milk from both cattle to produce their yummy milk!
The farm also raise Holstein steers (castrated males) for beef.  The farmer tells me that there is a demand for leaner beef which is one of the reasons for farming the steers. You can buy one of their roast beef sandwiches made from their own cows from a little kiosk where they sell their soft serve ice-cream.
1 Yamakawa ranch (Dairy Farm)
628 Onuma-cho, Nanae-cho, Kameda-gun, Hokkaido 041-1354
+81-138-67-2114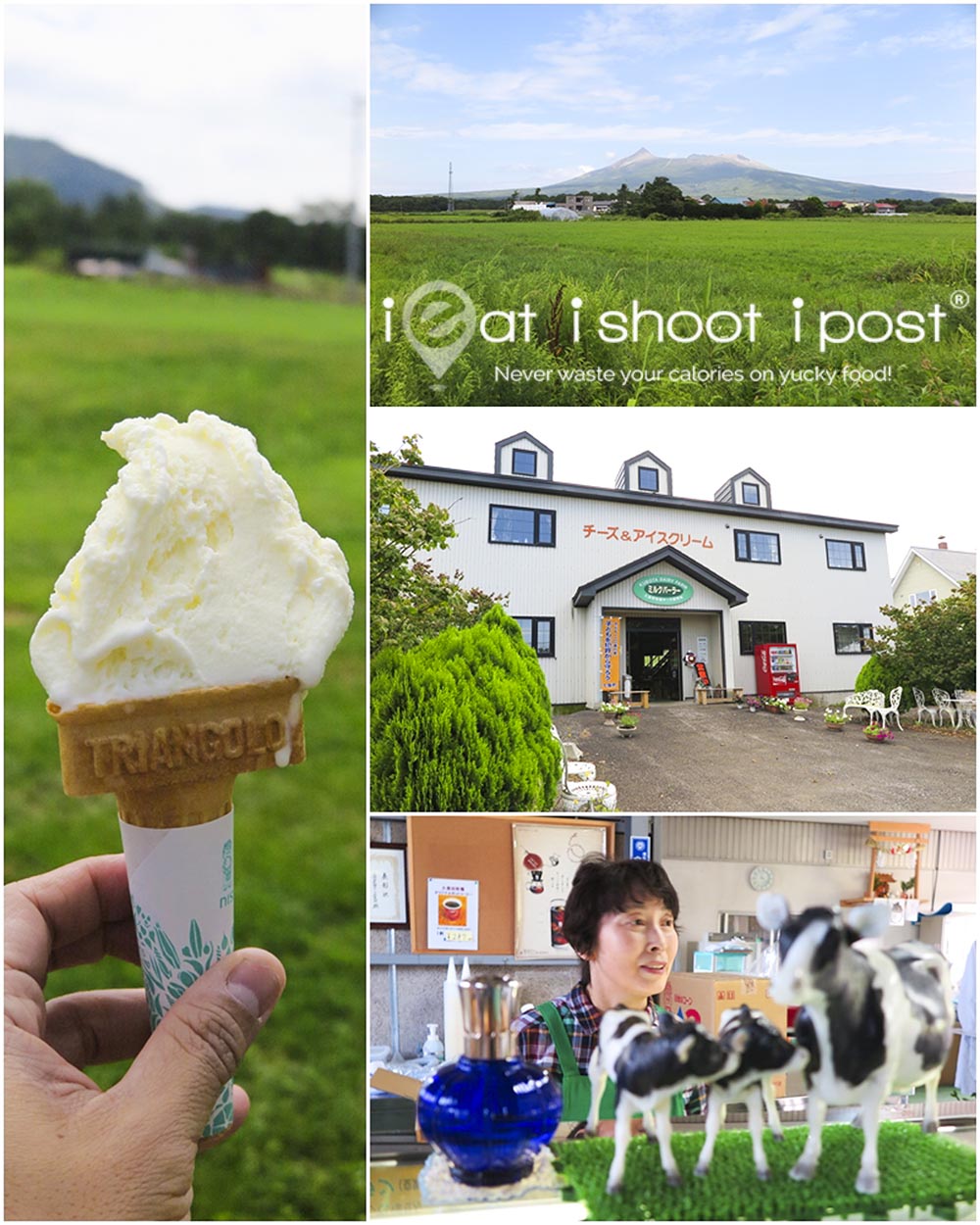 Most of the dairy farms in the area are small scale farms run by families who also make some dairy products like ice cream and cheese.  Just up the road from Yamakawa ranch is the Kubota dairy farm where we stopped for an ice cream cone.  Unlike the more common soft serve that is available everywhere, this farm makes tub ice cream of different flavours like wasabi and goma from the milk that they produce themselves! It totemo oishii!! (totally tasty)
Kubota dairy farm
527-2 Ikusagawa, Nanae-cho, Kameda-gun, Hokkaido, 041-1352
+81-138-67-2559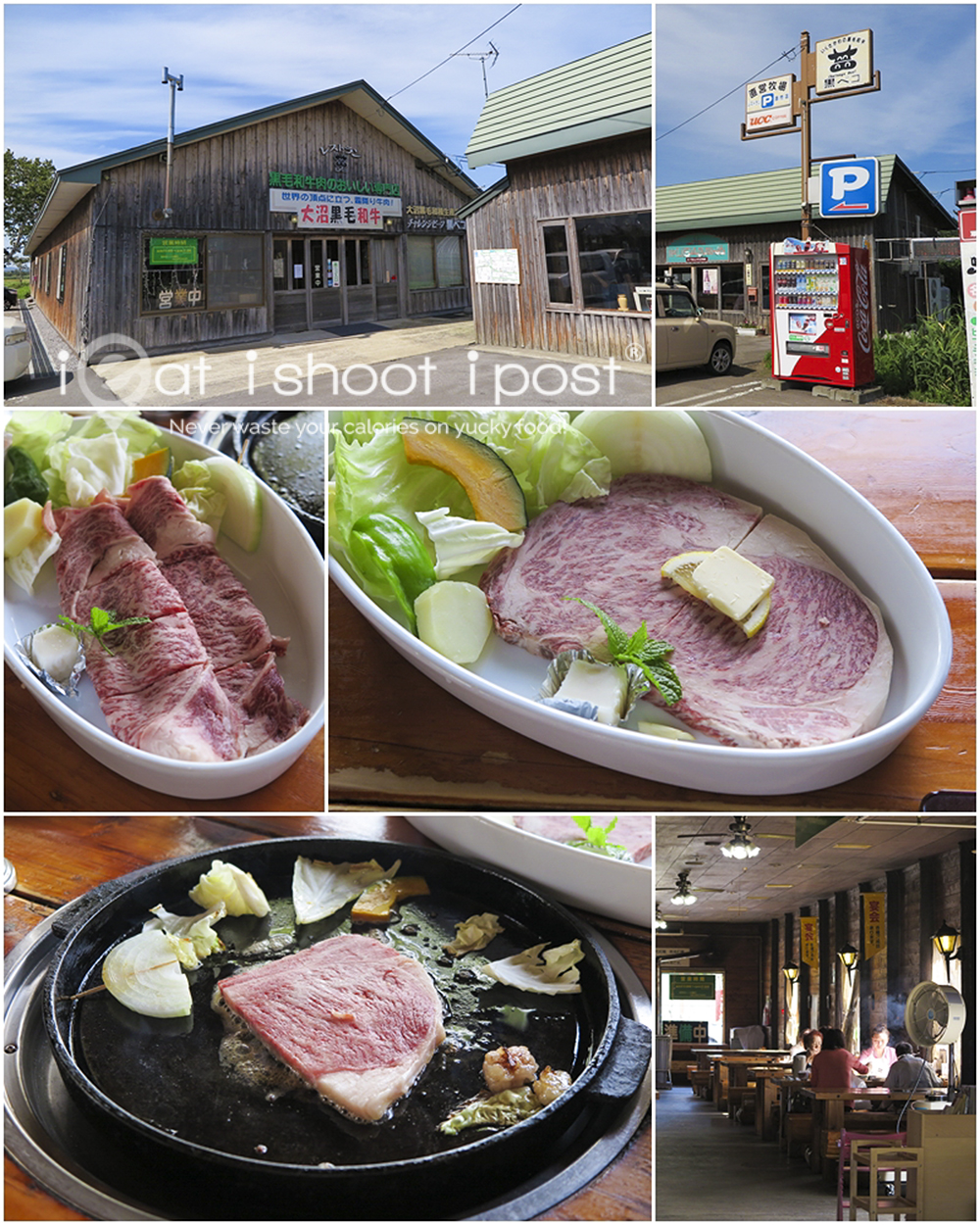 One of the best things you can do for lunch is to drop by Kurobeko Yakiniku (Challenge Beef) and have a most delicious and affordable beef yakiniku!  The restaurant only uses the best Onuma beef that is produced by the farmers in the region!  The setting is very casual and you can catch a glimpse of the beautiful countryside at the far end of the restaurant.  Our meal only cost around ¥10,000 for some of the best Wagyu beef on the planet!   The restaurant is opened from 11am to 8pm and is situated along the road from Lake Onuma to Shikabe town.
Kurobeko Yakiniku
436 Kami-Ikusagawa, Nanae-cho, Kameda-gun, Hokkaido 041-1100
+81-138-67-3653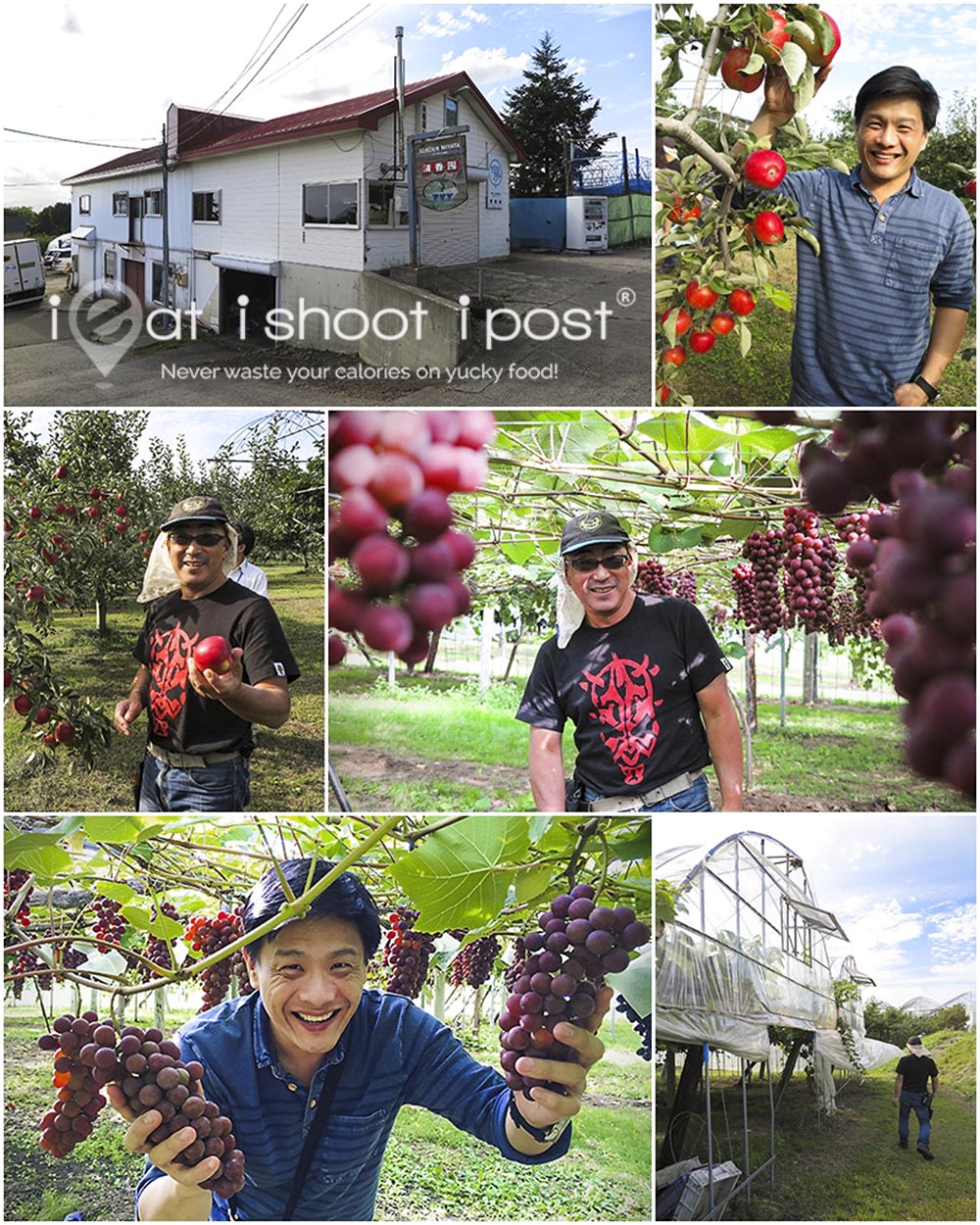 I have wanted to visit a Japanese fruit farm to see how the Japanese farmers manage to grow such exquisite fruits!  I have heard of them doing crazy things like rotating each and every apple in order to produce fruit that is uniform in colour! In Japan, it is not uncommon to find mangoes that cost ¥8000 and melons that cost so much that they can be used as dowry!  What is more amazing is that the fruits are so sublime that people are still willing to pay for them!
At the Seikoen Miyata farm, the farmer tells us that he produces Nanamitsuki apples which are only available in this particular region of Hokkaido.  These huge green apples are super sweet and sell for as much as ¥3700 each!  It is too bad it wasn't apple harvesting season as I would have loved to try one!  Guests can pay ¥800 per head and roam around the grape vines picking and eating the grapes off the vine to their hearts content!  The farm is located along the local road from Hakodate to Lake Onuma, about 5 mins after the onakayama station and post office.
Seikoen Miyata fruit farm
1-4-10 Narukawa, Nanae-cho, Kameda-gun, Hokkaido 041-1112
+81-138-65-2458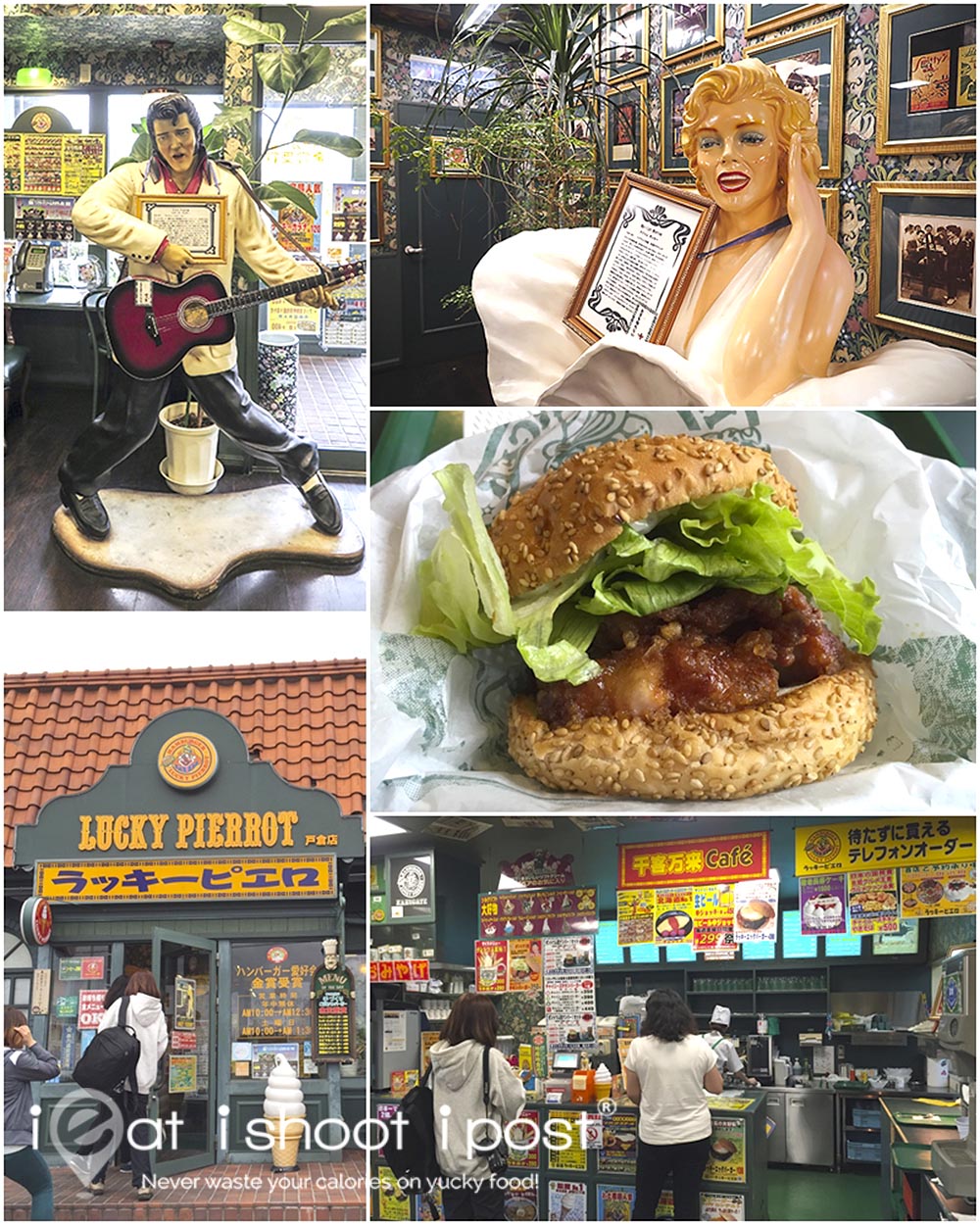 Don't leave Hakodate without making a stop at one of the 14 Lucky Pierrot outlets to try one of their chicken burgers.  This is a local burger chain that was founded by a Taiwanese lady that serves stuff like burgers, curry, noodles and gravy fries which are cheap and very good!  I had a chicken burger and the burger arrived piping hot!  The fried chicken was covered with a sweet and piquant sauce which reminded me of something I could have ordered at a Chinese restaurant! Each of the 14 restaurants have their own unique theme.  The one at Goryokaku apparently has angels and cherubs covering every inch of the restaurant!  I also heard of another one which has a Santa theme. We visited one that was along the road back from Lake Onuma which had a life sized Elvis Presley and Marilyn Monroe!  Lucky Pierrot is found only in Hakodate and though it is a fast food restaurant, it is definitely well worth a visit and a few of your calories!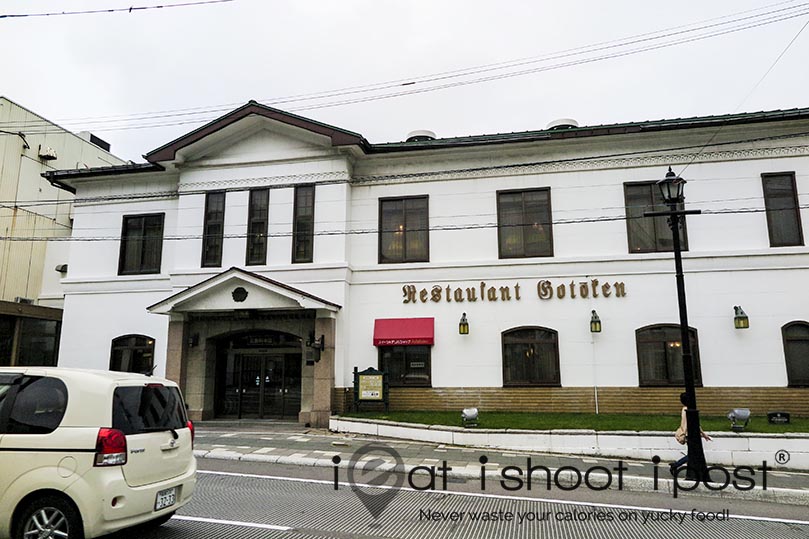 Speaking of burgers, Hakodate is well known for its Western style cuisine as it was one of the first ports to open for trade with the west.  So, the Japanese from the main island specially visit Hakodate for its traditional yoshoku.  Gotoken Honten is famous for this Japanese style western cuisine which has a long history stretching back to 1879. The dish they are most famous for is their curry and rice or more specifically their lamb curry and rice.  You can get a curry and rice here for as little as ¥840 and a Russian meal from ¥2000.
Gotoken Honten五島軒本店
Address: 4-5 Suehirocho, Nijukkenzaka Slope
+81-0138-23-1106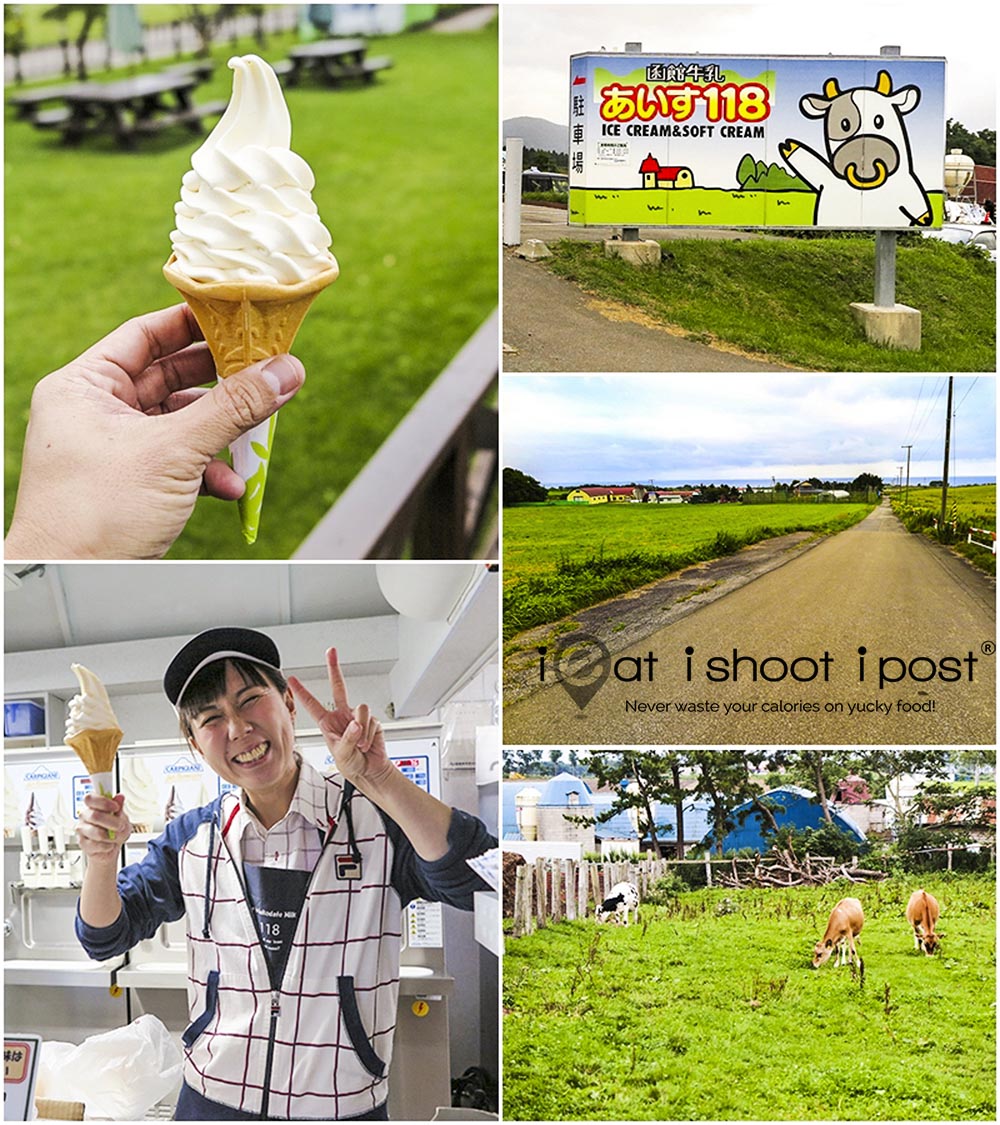 In case you don't have the time to drive out the Lake Onuma, there is another dairy farm which is located near to the airport that is great for the kids.  This is actually the factory of the Hakodate milk company which processes the milk from all the nearby ranches. You can buy milk, yoghurt and cheese direct from the factory here and than settle down with a soft serve ice cream while the kids have a bit of fun feeding the the cows!
118 Hakodate Milk farm
118 Nakano-cho, Hakodate-shi, Hokkaido 042-0912
+81-138-58-4460

The Yunokawa district is where all the onsen hotels are located it is only a 20 min tram ride from Hakodate JR station.  In the winter, you can visit the Hakodate City Tropical Botanical Garden, to watch the Japanese snow monkeys soaking in the hot spring! After seeing what the monkeys do, you would undoubtedly want to do what the monkey (that's you!) see! That is when you check into an onsen hotel!
In case you are not familiar with the onsen culture in Japan, an onsen hotel is a place where you can check in to stay the night and spend a few hours soaking in the public baths. They are usually located in areas where there are natural hot springs.
After checking into your room, you would usually change into your yukata and go check out the baths.  In case you are wondering — yes, you have to go in buck naked and before you get into the bath, you have to spend some time sitting on a stool alongside the other patrons to lather and scrub first.   Now, most Singaporeans would feel a little shy about this, but you must, at all cost, look as if you have done this hundreds of times because acting a little awkward would only attract untoward attention. You do have a little modesty cloth which is used to cover the crown jewels which again has to appear as if it was nonchalantly covering, yet not really covering the restricted part of your anatomy.  (remember monkey see, monkey do? It's good advise!) Do not make eye contact or worse, eye to groin contact with anyone at any time and pray that you don't meet someone you know (especially your boss) from back home who just happened to check into the same onsen!
Just a word of advice to prospective fathers.  Do not cook soak too long in the hot water.  Did you know that you can actually leave an egg in the water and after a while it would become a soft boiled egg (tamago onsen)?  The heat is not good for spermatogenesis, so if you haven't fathered a few kids, then you might not want to poach those factories for too long!
We stayed at Yunohama hotel which has a beautiful seaview.  The male and female baths alternate during the day so that everyone gets the chance to use the baths facing the sea.  The outdoor bath is a little "rustic" and consists of only a single hot tub, so the indoor baths are the way to go!
Yunohama Hotel
1-2-30 Yunokawa-cho, Hakodate-shi, Hokkaido
+81-138-59-2231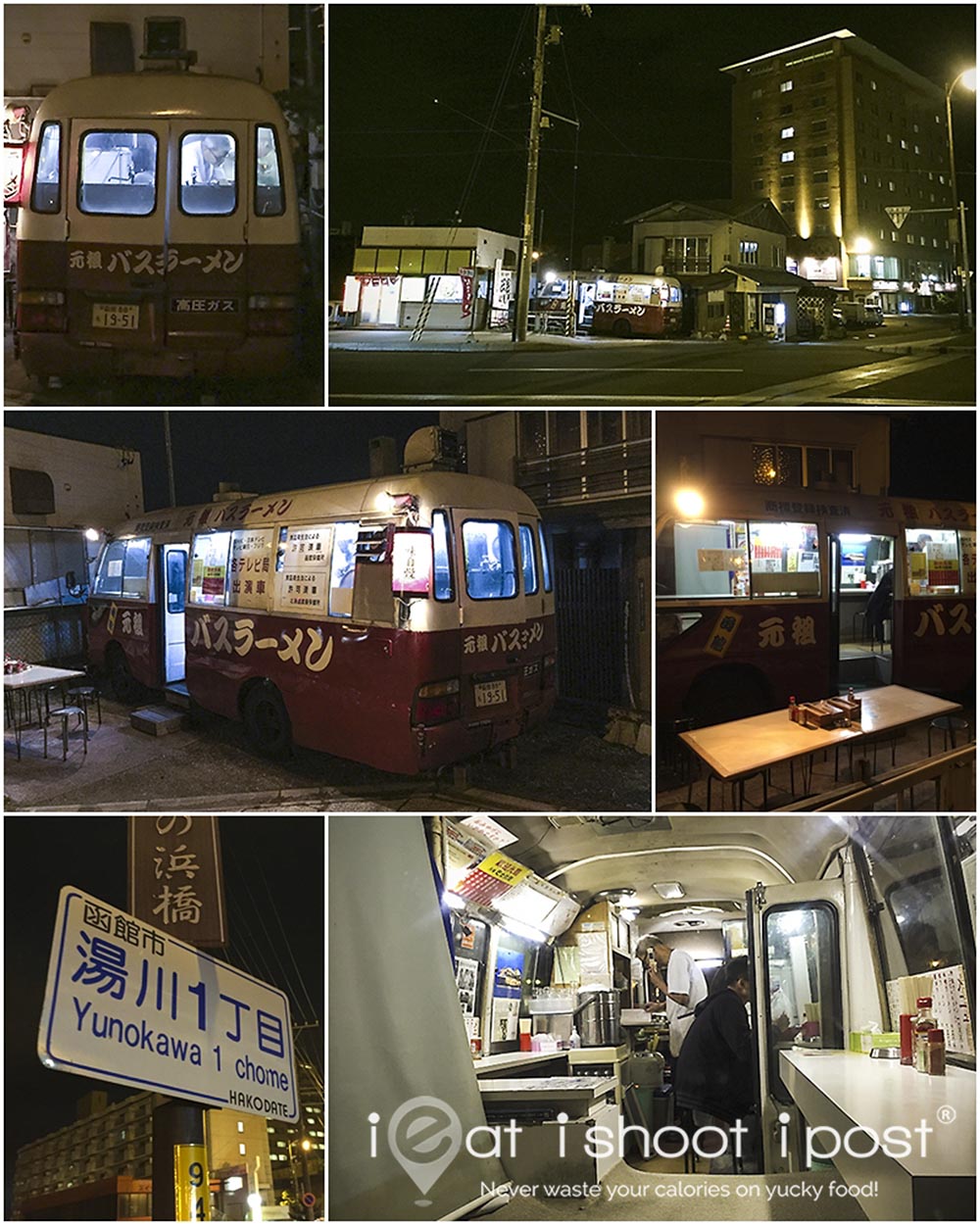 Once you have had your nice hot bath and feeling all relaxed and hungry, the best thing to do is to take a short walk to have a bowl of shio ramen at Hakodate Ganso Bus Ramen which is located at the bridge just 5 mins walk against the traffic from Yunohama hotel. This bus ramen is uber cool!  It was started by a couple in 1978 because they wanted to do something different from everyone else. Sometimes they also appear at the cruise ship terminal when the ship is docked.  There are only 8 seats inside of the bus and each bowl of ramen costs only ¥650!
Conclusion
This is my first time in Hokkaido and I am already planning for the next trip with the family! Hokkaido is beautiful in summer and what I really like about Hakodate is that everything is so close by.  It makes for a very nice family vacation where the kids can go pick some fruits and pat some cows while you soak in the onsen and eat plenty of uni and soft serve ice cream.  With the Shinkansen starting its operations in March 2016, Hakodate is only a 4 hour train ride from Tokyo and offers a tranquil respite from the hustle and bustle of the city!
Acknowledgement
Many thanks to my guide, Homma-san and the Hakodate Tourism Board for inviting me to experience the magic of their city!