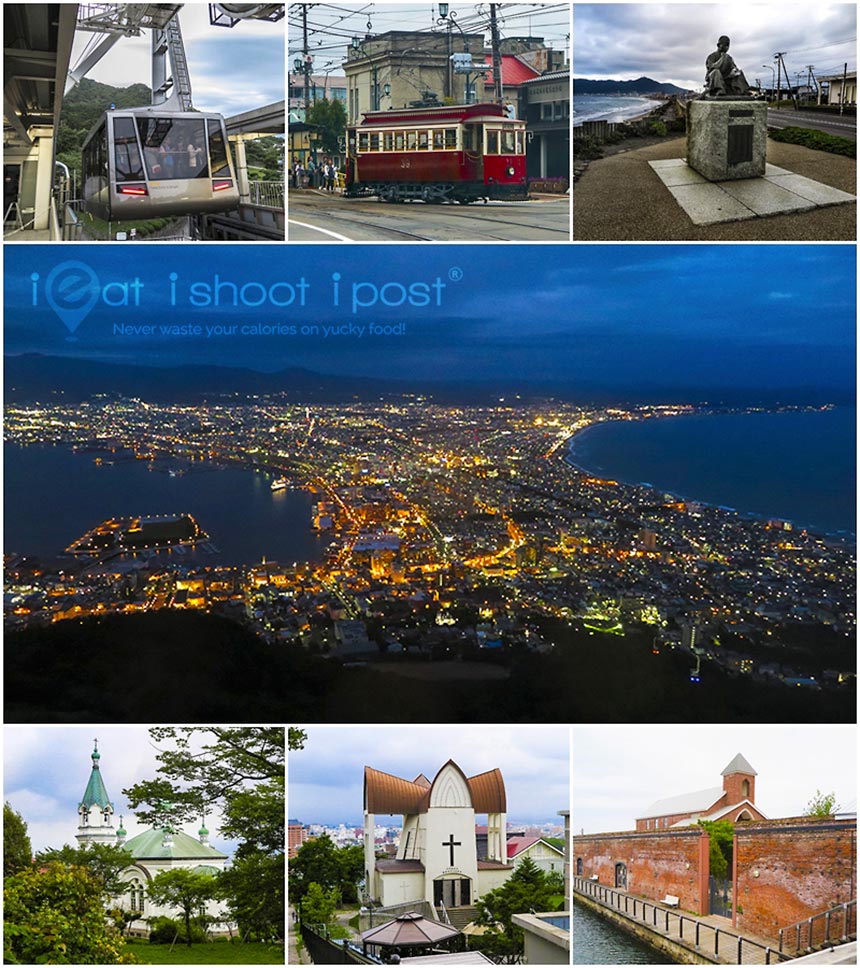 For lovers of Japanese food, Hokkaido is indeed the promised land, flowing with milk and uni!  Ask your sushi chef where the best uni, hotate and kombu comes from and they will tell you it's Hokkaido.  Where does the best milk and ice-cream come from? Hokkaido.  With the effect of global warming, Hokkaido is now also producing some of the best rice in Japan.  The yumeperika rice from Hokkaido is now giving the traditional favourite – the koshihikari – a run for the money!  And you can't speak of the best Wagyu without also mentioning Hokkaido snow beef in the same breath.
The mere mention of Hokkaido seafood should elicit a pavlovian response in many sea-foodies. The coastal waters surrounding Hokkaido are fed by the Oyashio current (Oya – parent) flowing from the Artic sea to the Pacific ocean bringing along its rich nutrients which combine with the frigid waters to produce some of the most exquisite seafood in the world!
Hakodate is the 3rd largest city in Hokkaido and it is located at the southernmost part of the island.  It was one of the first ports to be opened to the West in the 1859 during the Meiji restoration.  As a result, the city's architecture reflects an eclectic mix of European and Japanese designs so much so that some of its most iconic symbols are its European style churches!   The locals, ie Japanese from the main island, visit Hakodate for this unique fusion of cultures and to take the rope-way up to Mt Hakodate for what is regarded as one of the top three night views in Japan.
Hakodate is a great getaway from the hustle and bustle of Tokyo city if you are planning to vacation in Japan.  The Shinkansen bullet train will be starting its service in Mar 2016 which means that after a few days in hectic Tokyo, you can hop onto the super-fast train and be in Hakodate in four hours!
Most Singaporeans head to Hokkaido for skiing during the winter but it is a lovely place for a summer vacation as well! The city is quiet and laid back and you can easily do a self drive. The magnificent Lake Onuma Quasi National Park  and the surrounding countryside is well within an hour's drive or just half and hour by train. June is their off peak period. (The peak period for the local tourists is July-Aug) The weather is mild and it is also cherry picking season! You can also plan a night's stay at one of the Onsen hotels in the Yunokawa district which is only a 10 min tram ride from the Hakodate JR station. Needless to say, one of the biggest attraction is the seafood which is super fresh and affordable.  Some of the best  uni (sea urchins), live crabs and squid  can be found in this seafood paradise!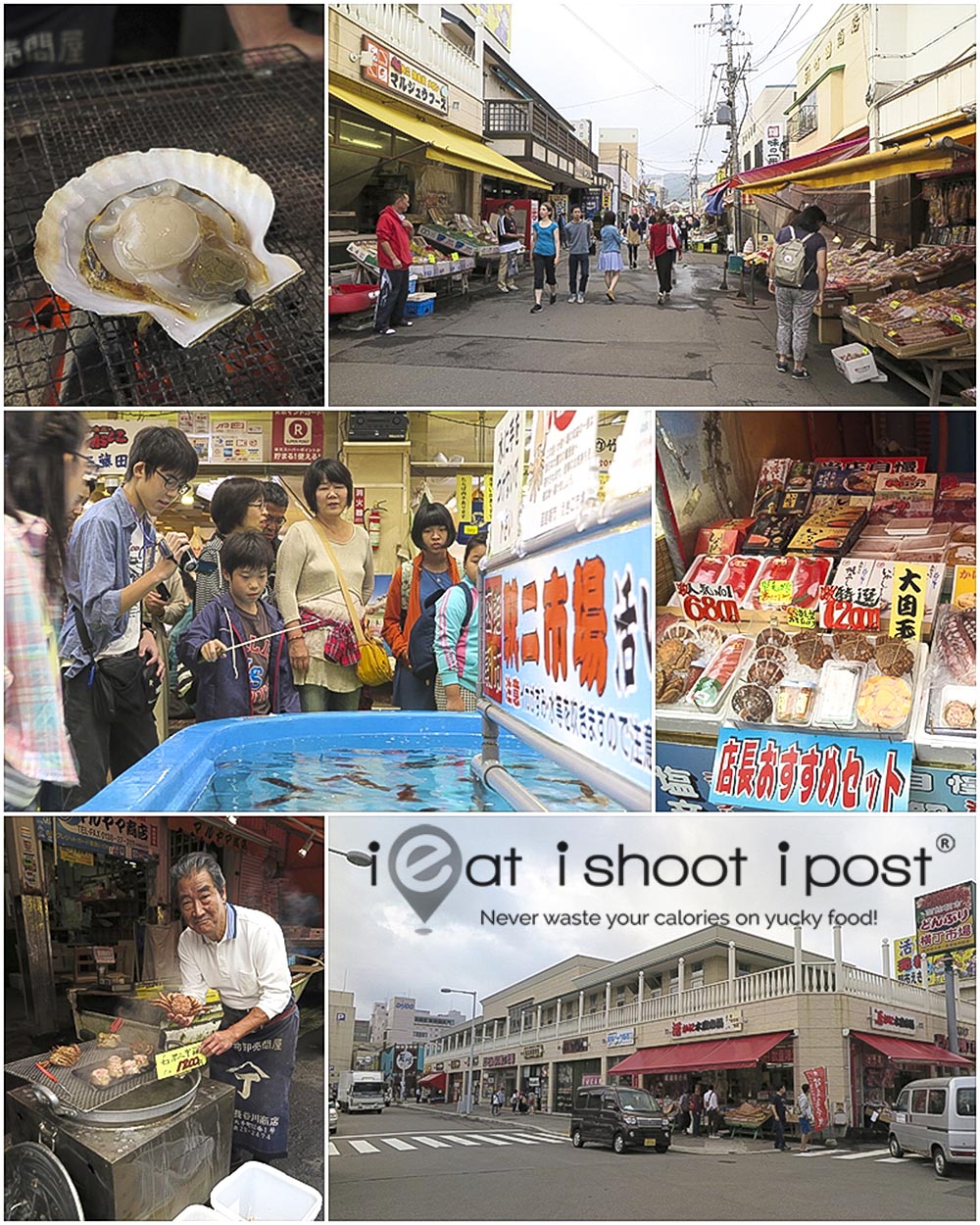 The Hakodate Asaichi aka morning market is the one excuse foodies need to visit Hakodate.  Yes, it is similar to the market outside of Tsukiji but much more laid back. Local live seafood like crabs, scallops and squid line its alleyways and for a small fee, they can be quickly dispatched to satisfy your need to feed.
The most celebrated harvest from the sea is the squid and there are two local varieties which the port city is famous for. In winter and spring, you find the yari ika which is slender and shaped like a spear. For the rest of the year it is the surume ika (common squid) that is found swimming aimlessly in the numerous tanks around the market.  There is even an open pool inside of the main building where kids from 9 to 92 can fish (or should it be squid?) for live squids!
Warning:  Graphic content. Please don't watch and complain later.
Ika somen is the most popular way to eat live squid.  After removing the head and innards, the body is sliced thinly along its length so that it resembles somen (noodles) and eaten by dipping it in a sauce made from shoyu and grated ginger.  If you are more adventurous, there is a restaurant located at the perimeter of the market facing the train station called the Dancing Squid where you can partake in an odori-don.  This is where you can shoot a video of yourself eating a meal that would get your friends going "eeeeewww !!" and attract a few death threats at the same time.
To make odori-don, live squids are beheaded and the resulting head and tentacles are place atop a bowl of rice.  The squid is quite dead but the muscles still react to the sodium chloride ions in the soy sauce such that the tentacles contract when you pour shoyu over them, giving the impression that the squid is still alive.  The experts assure us that the squid is dead and feel no pain whatsoever. This is really not for those who are squirmish and personally, I don't quite care for the taste of freshly killed squid.  I find the texture a little too chewy and prefer my squid either deep fried or aged for a few days so that it is tender and more flavourful.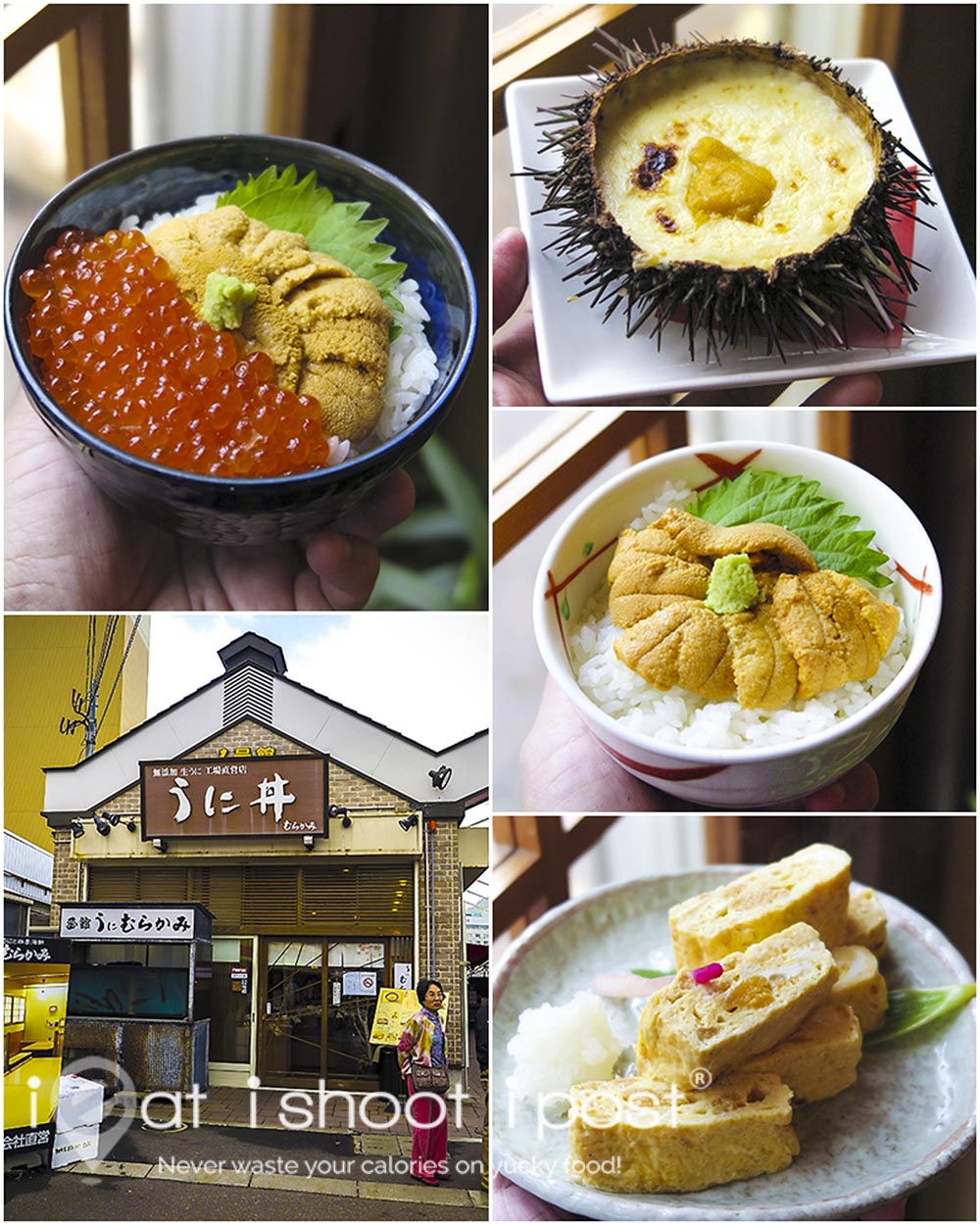 What you definitely would not want to miss though is the uni (sea urchin gonads).  Uni is a little like durian.  There are those who would sell their birthright to eat it and others who would rather walk barefoot over a bed of the spiny critters while carrying a barbell.
For those of us who would gladly forgo our birthright, a pilgrimage to the Temple of Uni is a necessary rite of passage.  It's not a real temple of course, but a restaurant called Uni Murakami that processes its own sea urchin. As such the uni is free from alum, a preservative that is commonly used to preserve the delicate sea urchin gonads.  The menu offers an enticing glimpse of the uni-verse from uni omelettes, to uni onigiri to uni gratin and of course, uni-don (fresh uni on rice).  Like durian, I feel uni is a perfect food created by God to be eaten as is. The uni gratin was quite nice but the beauty of uni is its combination of creamy egginess and the sweetness of the sea which you can only enjoy if it is eaten raw.  It does however go really well with good quality Japanese rice and ikura which adds a bit of sweetness and saltiness to complement the richness of the uni.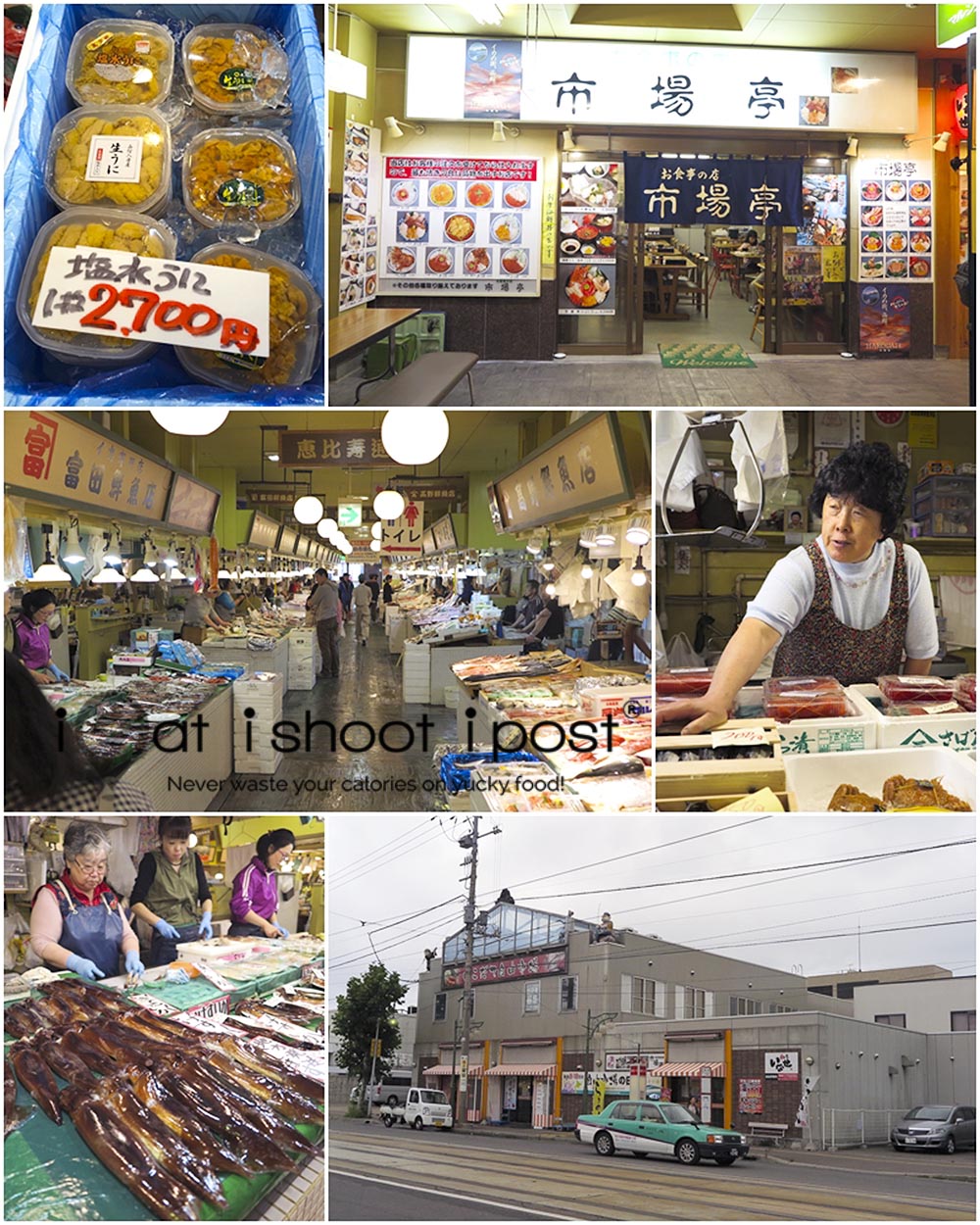 The locals do buy their fruits and vegetables from the morning market but for seafood, they prefer to visit the local free market which is located at the Shinkawa-cho tram station.  The seafood there is fresher and cheaper but they don't really cater for tourists so don't expect them to be able to pack it for you to bring on the plane. It is a good place to see where the locals buy their seafood but not somewhere you have to visit if you are short of time as you can buy most of the stuff from the morning market.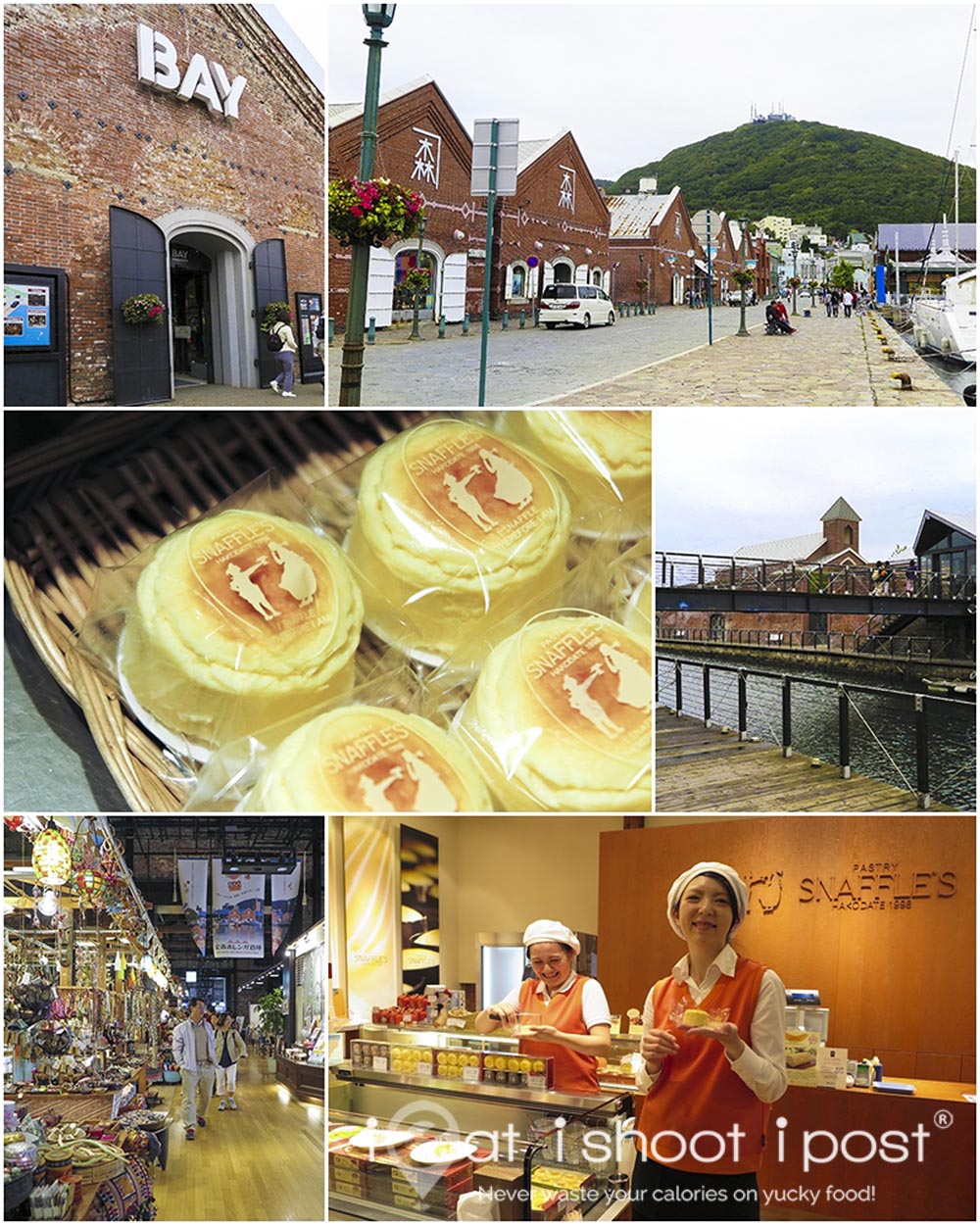 The Red Brick Warehouses is a popular shopping destination situated along the waterfront in the Bay Area. These buildings were used as warehouses when Hakodate first opened up its port to the west.  Here you will find all the little shops selling everything from fashion accessories to squid paraphernalia to food. It's like the Chaktuchak market in Bangkok but less chaotic.  The famous Snaffles cheesecake can be found here which showcases the Japanese ingenuity when it comes to pastries and cakes.  The cheesecake is excellent and somehow the Japanese pâtissiers just manage to make their cakes more delicate, more creamy, more milky, more luscious and more irresistible so that even when they sell it to you for more money, you are still more than happy to pay for it.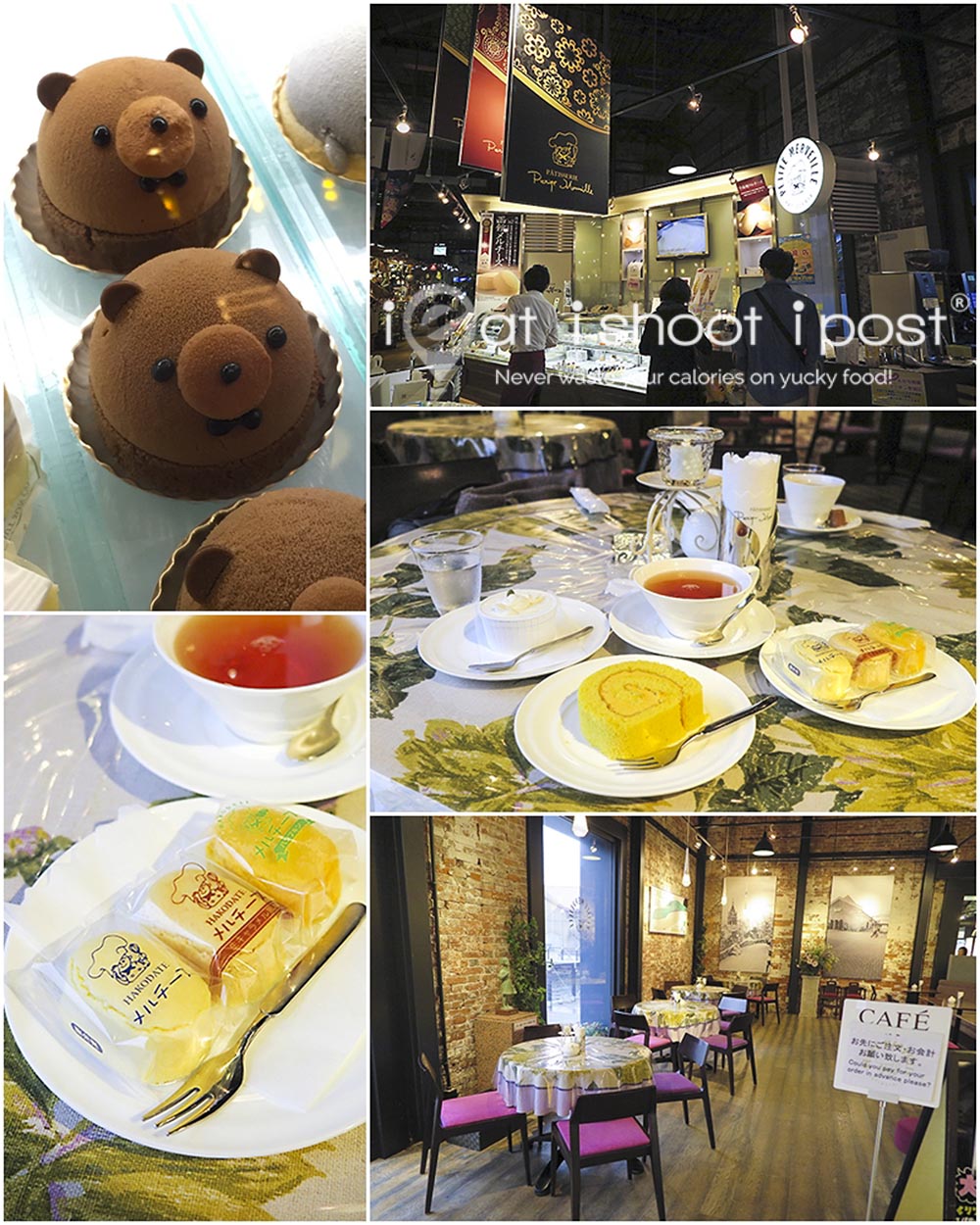 Our guide led us to another patisserie called Petite Merveille which also makes delightful little cheesecakes but the real star of the show was the pumpkin pudding which is totemo oishii! (Very tasty) Some say the cheesecakes here are even better than Snaffles but  I personally prefer Snaffles cheesecakes but I would hop over to Petite Merveille for their pumpkin pudding!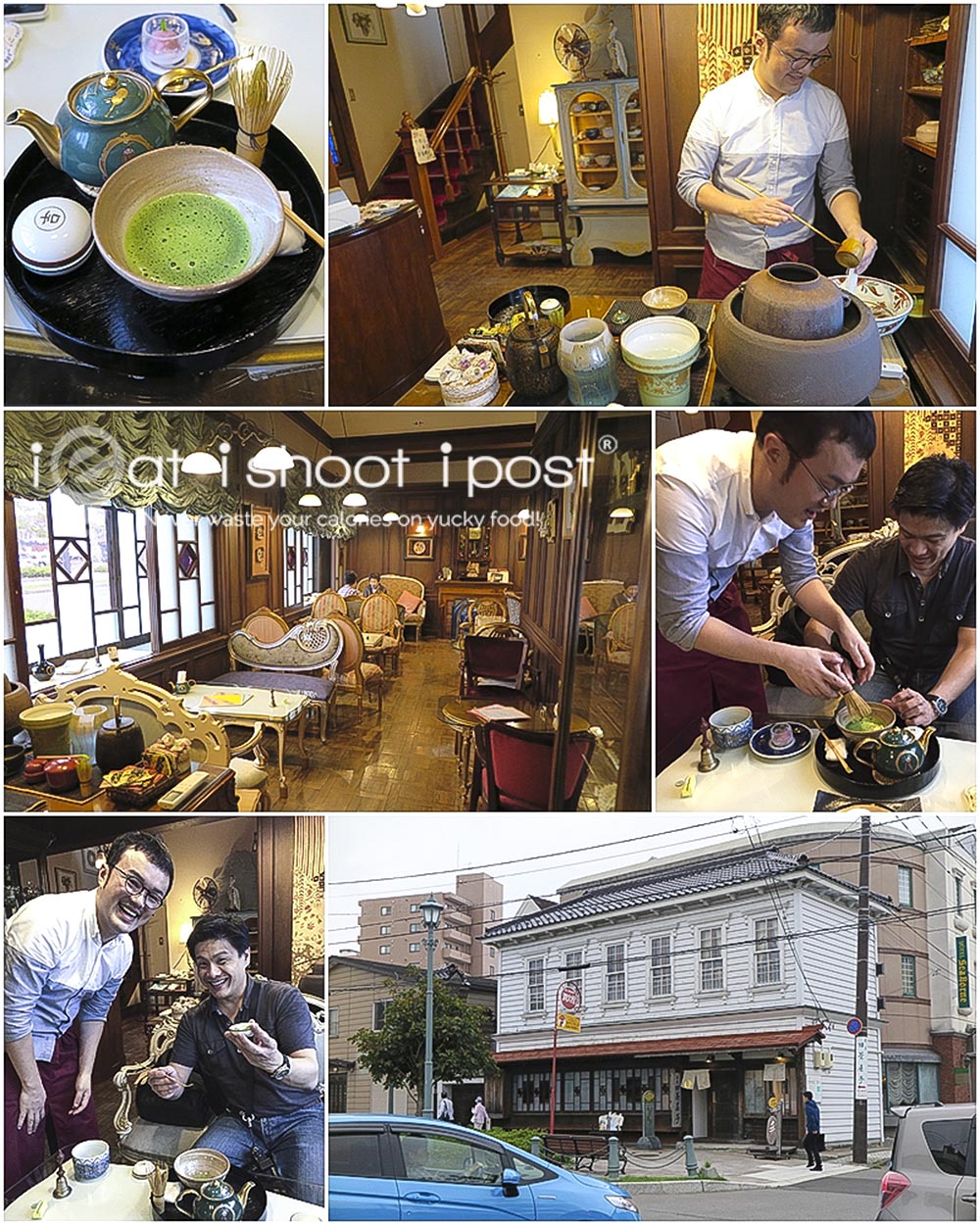 If you are looking for a classy tea room where you can enjoy a bowl of matcha and traditional Japanese wagashi (pastry), then you just need to walk out of the Red Brick Warehouses to find Kyu Chaya Tei which is a located in a standalone building where the first level fascade is traditional Japanese while the second is classic European. Such fusion style buildings are what makes Hakodate so endearing. The interior of the cafe is distinctly European but somehow you instinctively know that it's got that Japanese makeover. They do serve coffee and cakes here but the speciality is the matcha tea set which costs ¥1300 and comes with a choice of western style cakes or traditional wagashi.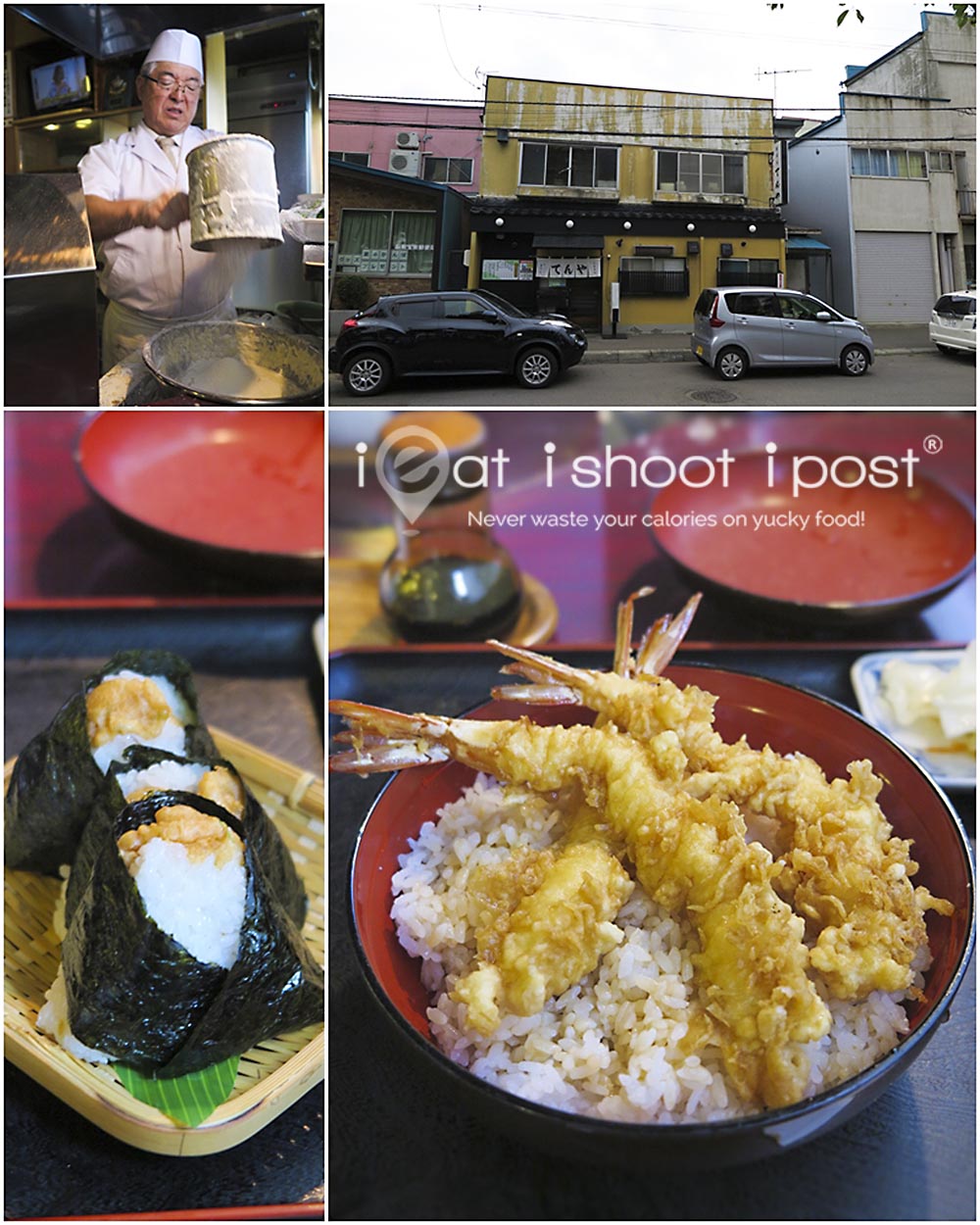 I wasn't able to get a seating at the 1 michelin star Tempura Tazawa, so I had to settle for Tenya which is a popular tempura place with the locals. The food at Tenya is cheap and good with a bowl of vegetable tempura don going for only ¥700.  Don't expect anything too fancy. The prawns are not even local but are sourced from Indonesia.  I was told that the seafood is so fresh in Hakodate that the most popular way to eat it is raw, so there aren't many tempura restaurants in Hakodate.  I had a bowl of jumbo prawn tempura on rice which cost ¥2700.  It is not in the same league as the super-fabulous Tenfusa at Tsukiji market, but it did assuage my craving for something warm and deep fried.    Tenya is closed on Mon and Tues and they are opened for lunch 11.30am to 2pm and dinner from 5pm to 8pm.  Tel: 0138222007
Tenya is situated at the foot of Mt Hakodate.  It is a short 2 min walk from Horai-cho tram station which is the 4th station from JR Hakodate train station heading towards Yachigashira station.  There are two other good eats around this station which I would recommend.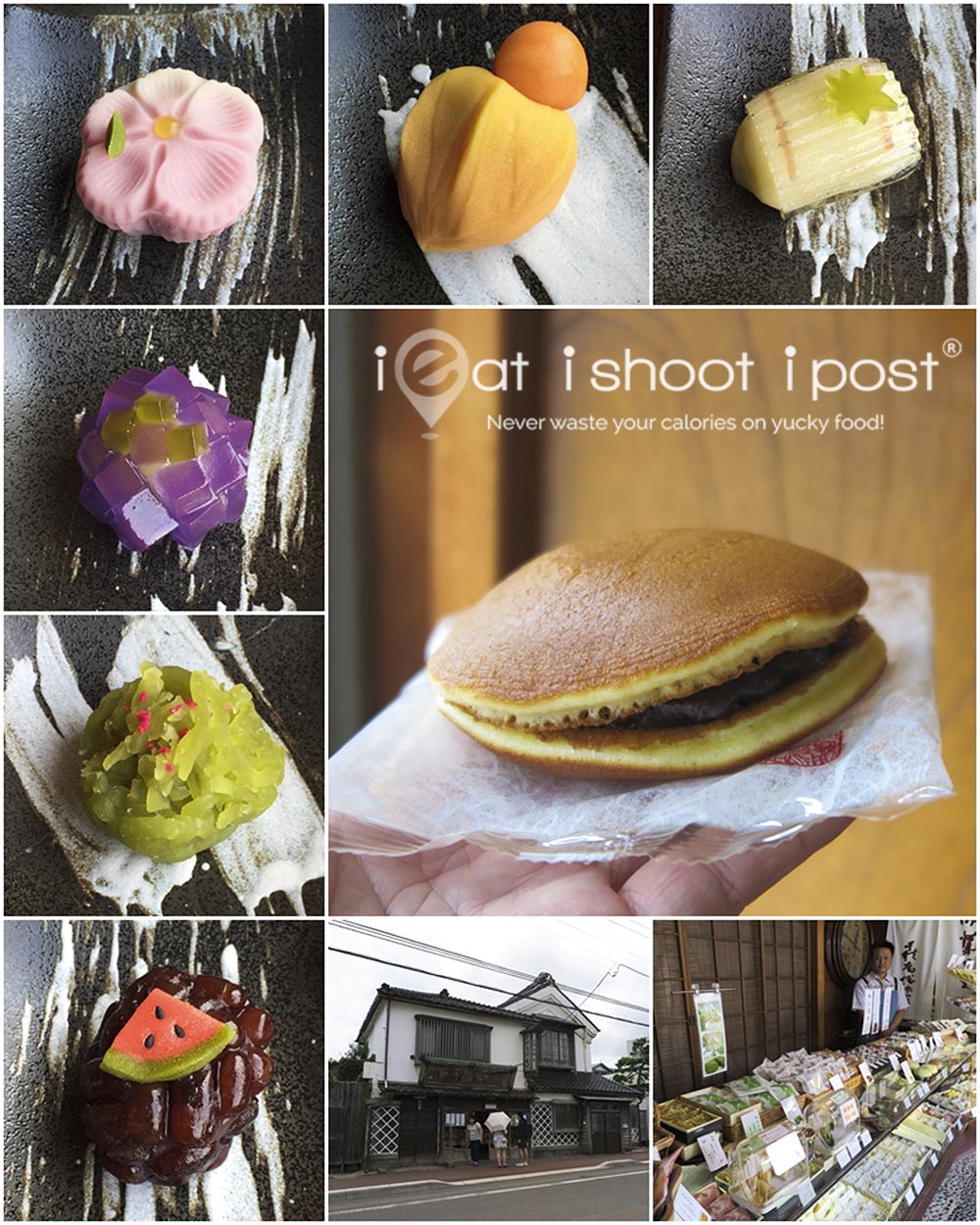 The first is a very famous traditional pastry shop called Senshu-an. It is located in the original 150+ year old building and sells beautiful Japanese sweets.  Their most popular snack is the dorayaki (¥189) which is a sandwich made from two pancakes and sweet red bean paste.  It is said that the pancakes are super fluffy because the batter is made over 2 days and the red bean paste is made over 3 days using Hokkaido akane adzuki beans.  It's a great place to pick up some gifts to bring home!  They are located just in front of the Horai-cho tram station.  0138-23-5131.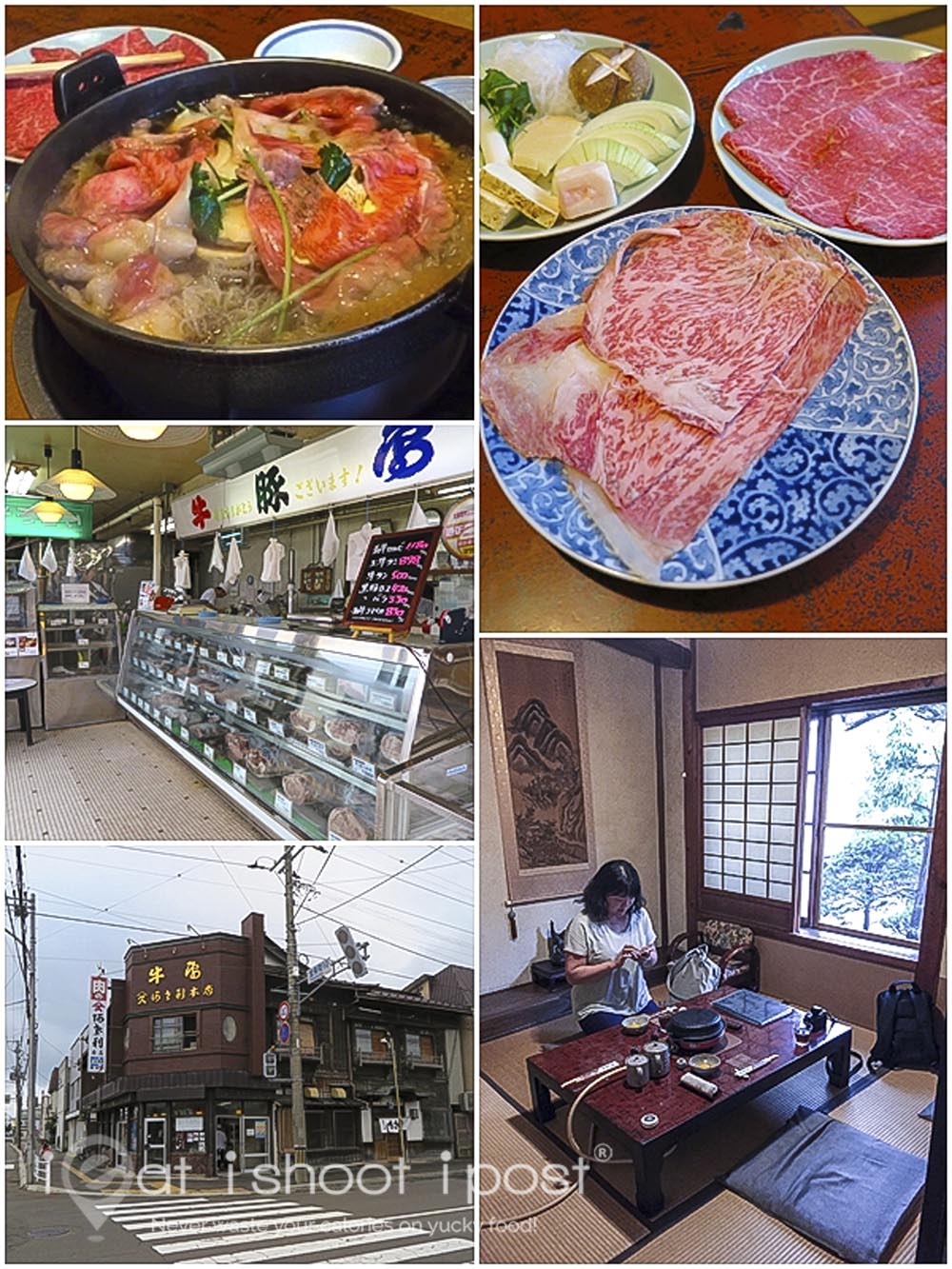 But the real reason to get off at Horai-Cho tram station is to have a sukiyaki meal at Asari Honten.  This restaurant was founded in 1901 and is located a beautiful old house which was rebuilt after a fire some 80 years ago.   The first level is a butchery which sells potato korokke fried in beef tallow in the mornings which, I am told, is super popular and they always sell out early which is why I didn't get to try it.  On the 2nd level are beautiful traditional tatami rooms where you can enjoy a traditional sukiyaki meal. Their cheapest meal is ¥1500 yen which comes with marbled wagyu (the cheaper cuts).  It's good but my recommendation is to go for the A5 Wagyu (around ¥4000) which is simply heavenly!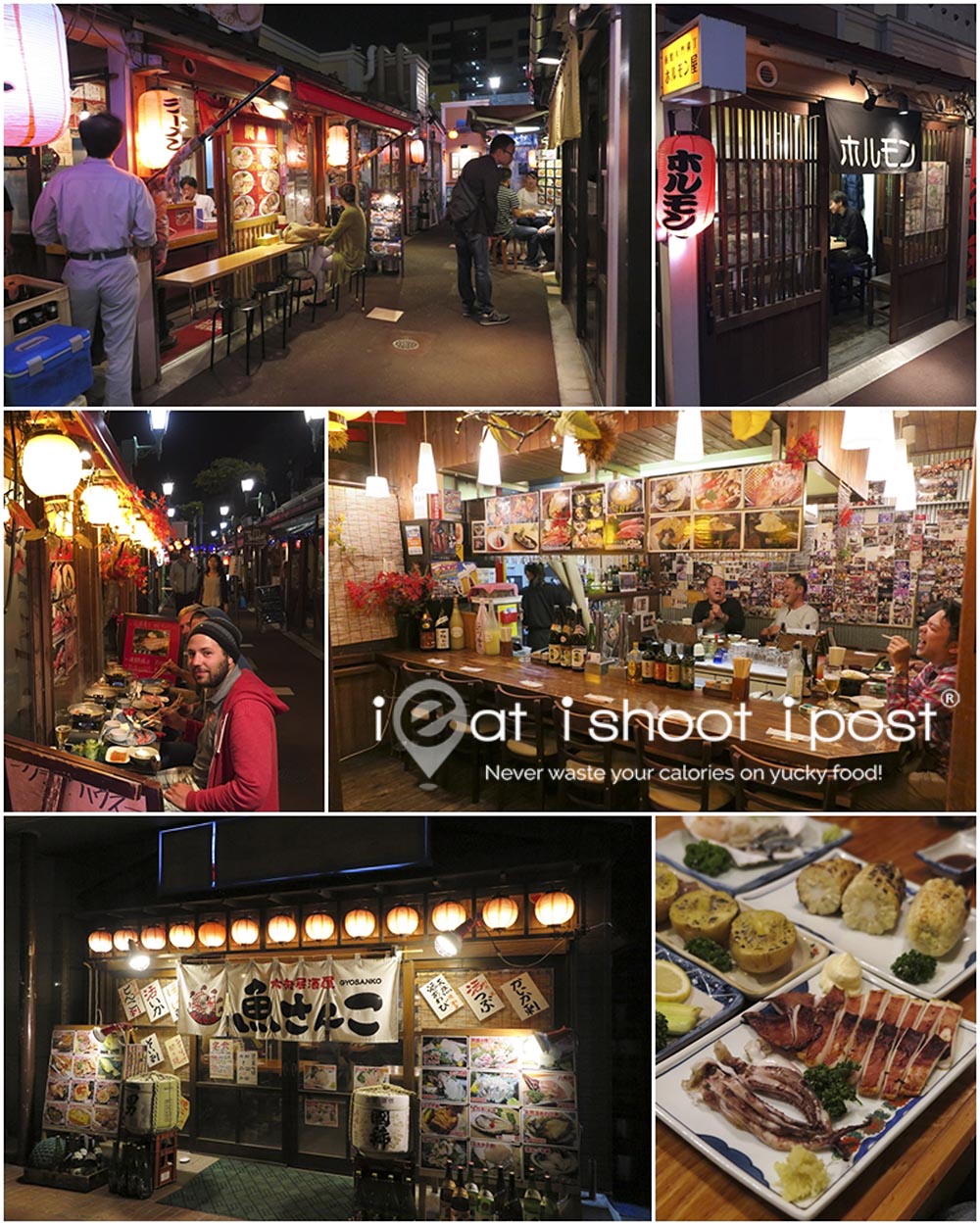 During my time in Hakodate, I stayed at the Loiser Hotel which is conveniently located just next to Hakodate JR train station as well as the morning market.  This is a great location to stay in as it is serviced by the trams with which you can easily get to all the major attractions in the city.  (A one day ticket is ¥600) There are many late night eateries situated nearby including the Daimon Yokocho which is the closest thing you can get to a hawker centre.  It is made up of many little eateries  some of which are only a bar counter that can sit up to 10 persons.  They sell everything from yakitori to other izakaya style food and they open late into the night.  Aside from the Daimon Yokocho, there are also many other izakayas lining the streets where salarymen go to get a drink and something to eat after work.  We had a late dinner at gyosanko (see bottom 2 photos) which was located just across the road and a short walk in the direction away from JR Hokadate station.  This is the Japanese version of the pub or the closest thing you can get to a Zi Char where you can grab a beer and order small plates of grilled seafood and local veggies like the super yummy Hokkaido white corn!
Click here for Part 2 of my Hakodate food trip!
Acknowledgements
This trip was sponsored by the Hakodate Tourism Board