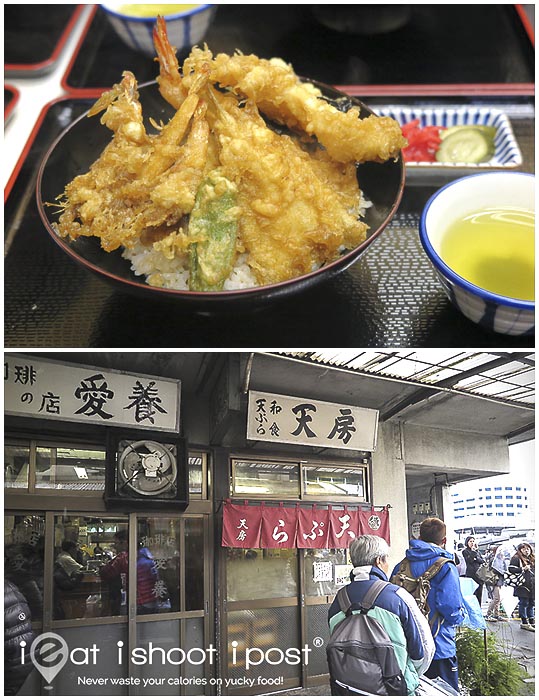 Tokyo is a wonderful place to find great eats.  But even so, you still need to do a bit of homework to separate the good from the "really worth the plane ticket" places.  I was on a 3 day stopover in Tokyo with the family recently and I just had to make sure that every meal was a good use of calories. It's a foodie trait which I am sure you all share.
1. Tenfusa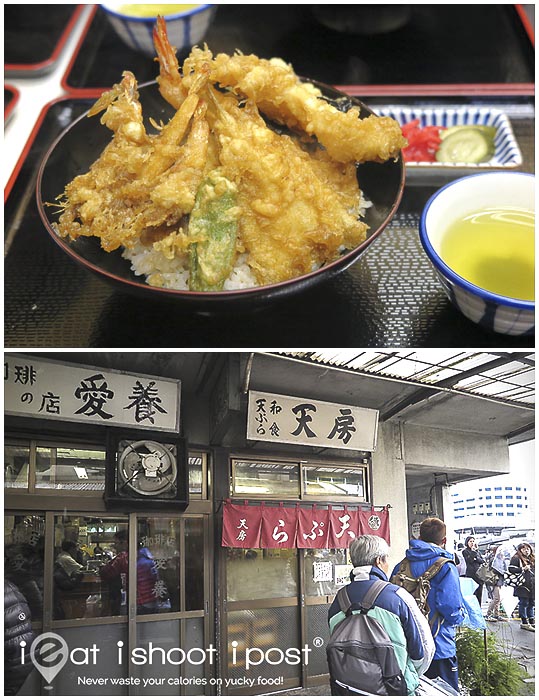 There are many places which serve excellent tendon, but our family's favourite is Tenfusa at Tsukiji market.  This is the one place that my kids all said they wanted to return to after our last visit to Tokyo.  The mixed tempura bowl costs 1200 yen and is one of the most satisfying of cheap eats that you can get in Tokyo.  According to my friend Yukari Sakamoto, it is the tempura anago that is their specialty, but I was happy ordering the mixed tempura bowl.  I especially enjoyed the trio of small prawns which has that yummy crustacean flavour which is made more mesmerizing by their umami packed dipping sauce to which every piece of deep fried goodness is baptized before being laid atop a mound of delightfully sweet and toothy Japanese rice!
This eatery is still quite understated.  They are a corner shop located two shops away from Sushi Daiwa which has an insanely long queue. (Not worth queuing in my opinion) You can simply walk into Tenfusa and smile at all the tourists in the queue who haven't got the slightest clue of the hidden gem right under their noses!
Directions: 
From the main road, walk through the main shopping street with all the tamago shops, cross the bridge and turn right to another block of shops.  Walk to the ?3rd row (its one of the middle few rows) and straight to the end.  You should walk past Sushi Dai and Sushi Daiwa.
TIP: Nowadays, it is easiest to navigate by saving the location on google maps.  There is free wireless at the subway stations, so just before leaving the station,  locate the address on Google Maps (use the map location here as the one listed "Tenfusa" in Google Maps is inaccurate) and when you leave the station, you can rely on GPS to get you to the spot!
Opens from 7am to 2pm
5-2-1 Tsukiji, Tokyo 104-0044, Japan
2.  Nikugatou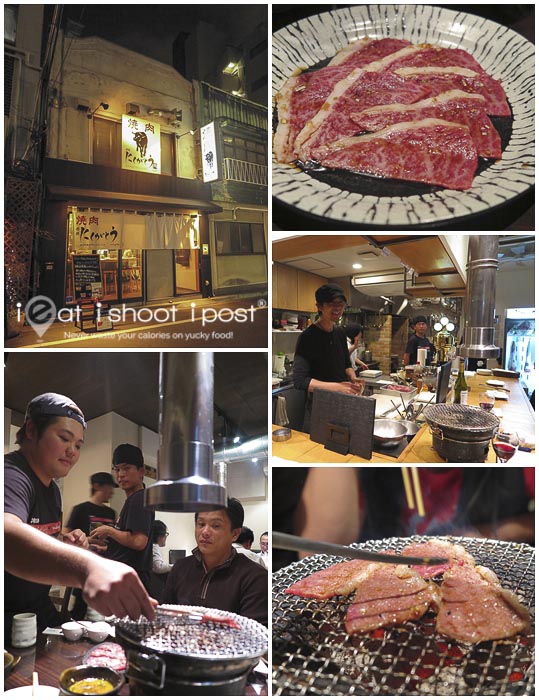 My friend Hisato Hamada supplies Kobe, Matsuzaka, Ohmi and Ozaki beef to various restaurants in Japan as well as around the world, so when he recommends a place for Yakiniku, you bet it would be worth checking out.
Hisato was the one who taught me that the  best Yakiniku joints will always have the exhaust above the charcoal grill because that ensures that the smoke envelops the meat while it cooks to give it that smokey flavour.  Eating Yakinku in Japan is quite a different experience because the Japanese literally eat from the tongue to the tail of the cow.  Unlike Singapore where Yakiniku is about different cuts of meat, in Japan they love things like the heart, tongue, intestines, adrenal glands (probably), and other bits and pieces which you only unknowingly eat when you bite into a sausage.
Chef Nagayama had spent 20 years at Shotaien as head chef before coming out to open his own. (Shotaien is regarded as one of the top 3 Japanese Yakiniku.)  The cuts of meat, the marinade and everything is very well thought through and executed.  We spent around 6000 yen per pax for the Chef's omakase plus a few extra dishes added on.  Definitely worth checking out if you love beef!
Here's an excellent writeup on Nikugatou
Directions: 
Get off at Ningyocho Station.  Locate on Google Map and follow the little blue dot!
Open for dinner from 5pm to 11pm
1 Chome-6-7 Nihonbashihoridomechō, Chūō-ku, Tōkyō-to, Japan
3.  Asakusa Imahan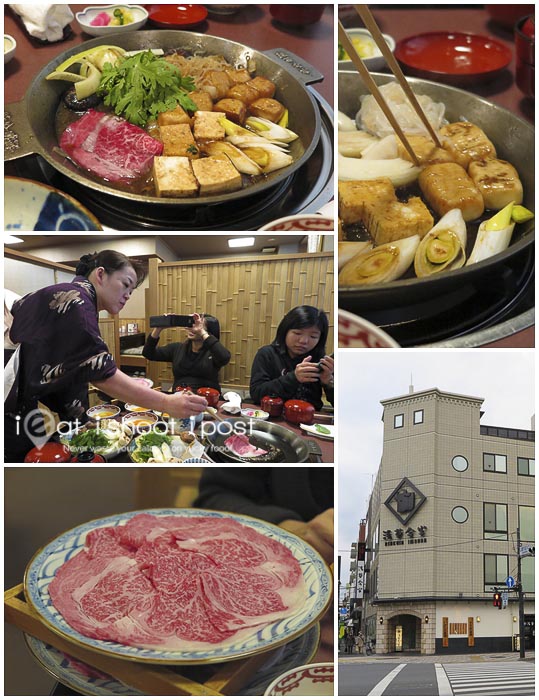 For Sukiyaki, Hisato recommended Asakusa Imahan which is one of the oldest and most well known places for Sukiyaki.   If you have only eaten Sukiyaki in Singapore, you probably wouldn't have experienced authentic Sukiyaki.  In Singapore, Sukiyaki is like having a steamboat with a soy sauce based soup.  In Japan, it is quite different.  Sukiyaki is served in a shallow paella like plate where all the ingredients are shallow fried in the sweet and savoury sukiyaki sauce.  The cooked beef is then dipped into raw egg and eaten.
Asakusa Imahan has a wide range of beef including the much lauded Kobe beef and dinner will easily set you back by more than 10000 yen per pax!  (Kobe beef was around 18000 yen!) For lunch they have a 3500 yen Sukiyaki set which was what we had.  They were serving Aomori Wagyu that day and it was good enough for us!  An extra serving of  beef was 2200yen which was still quite comfortable on the wallet.  The service and setting was top notch and I can best sum up the family sentiments in the words of my daughter Megan who sat back after the meal, patted her stomach and sighed "Happy belly! Happy belly!"
Directions:
Get off at Asakusa station.  Download Google Maps, head West and follow the little blue dot!
Open from 11.30am to 8.30pm
3-1-12 Nishiasakusa, Taito, Tokyo 111-0035
4. Ukai Toriyama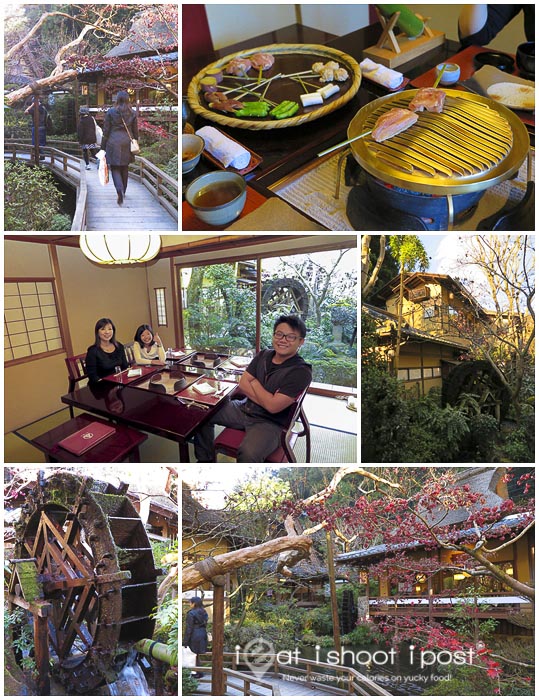 My friend Jessica kept raving about this particular restaurant that I had sleepless nights trying to persuade myself that it was just too much of a hike out of Tokyo just for a meal.  In the end, I just had to satisfy my curiosity and made the 1 hour train ride to the outskirts of Tokyo to have lunch at 3pm.  (It was the only slot we could get!)
Ukai Toriyama is set in an expansive,  beautifully manicured Japanese garden with most of the dining taking place in private pavilions overlooking the greenery.   If you have been eating around Tokyo for a few days, this place really is a breath of fresh air!  When we got there, we were led by our kimono clad hostess through the gardens to our private room.  It was a most memorable experience.
They specialize in charcoal grill and you can basically choose between the chicken set or the beef set.  After a few side dishes, they will bring in the charcoal stove and you get to grill your own food.  The chicken set was 4970 yen and was superb value given the uber luxurious setting and excellent service.  We ordered two chicken and two beef sets but I would advise you to just stick with  the chicken.  With the beef set, you get a few more side dishes like chawan mushi and sashimi but you only get to grill a 100g piece of beef on a hot stone.  With the chicken set you get an array of skewers of chicken meat and assorted vegetables which you grill over a charcoal fire in the middle of the table!
The food is commendable but I will be very forthright and tell you that you really go there for the memorable dining experience rather than just for the food…… just to moderate your expectations.
Directions:
From Shinjuku station, board the semi-special express train on the Keio line to the terminal station, Takaosanguchi. (380 yen)  The free shuttle from the train station leaves at 0, 20 and 40 mins past the hour.
Tip:  Make a booking as early as you can
Opens 11.30am to 8pm
3426 Minamiasakawamachi
Hachioji, Tokyo 193-0846
+81 42-661-0739
http://www.ukai.co.jp/english/toriyama
5. Ichiran Ramen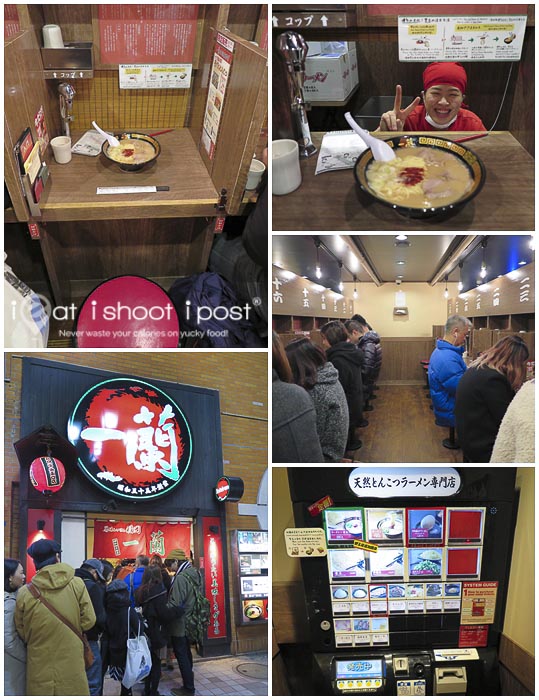 Having a bowl of Ichiran Ramen is experiencing a ride at Disneyland.  Your expectations keep mounting over the hour long queue and when you finally get to the end, everything is over in 3mins!  It seems to me that the founders of Ichiran Ramen have just one thing in mind, and that is to create that ultimate bowl of ramen for its customers.  According to their website, they have 40 specialists, each one looking after one part of the whole process of delivering the perfect bowl of ramen.  I guess that means that they have just one person making sure that the negi is sliced just right and that each bowl gets precisely the exact amount!
When you go to Ichiran Ramen, you are only there for one thing and that is to satisfy that Ramen craving.  Forget about conviviality and  family or social bonding.  It is every man and his own Ramen.   After you buy your ramen ticket from the machine and fill out a form indicating your preference for the hardness of the noodles and richness of the soup, you are ushered in to your feeding pen.  The bamboo curtain rises up just enough for a hand to appear to take your form.  After a few minutes, the curtain is raised again and your bowl of ramen is placed in front of you.  You are then expected to focus on your bowl of ramen, un-distracted (that is what the dividers are for) and wolf down the noodles before it get too soggy and the soup gets cold!
It was a very good bowl of ramen.  The pork was tender and the soup was superb. It was perhaps one of the better bowls of ramen that I have had but it was short of a ramen epiphany.  You can get ramen which is as good or better but without all the hype.  Still, it was an experience to write home about.
Directions:
JR Shinjuku station.  Take the Higashi (East) exit and follow the blue dot on Google Maps
Open 24 hours
Peace Building B1F
3-34-11 Shinjuku Shinjuku-ku Tokyo-to
See their website for other locations:
http://www.ichiran.co.jp/english/
6.  Katsukura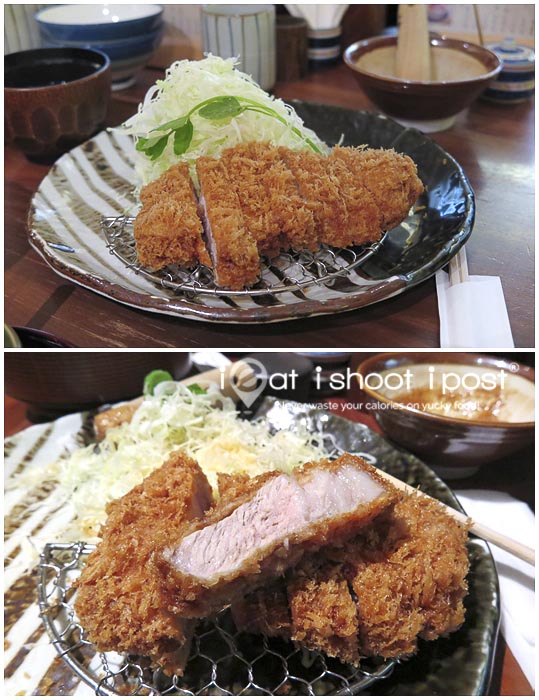 I met up with local Food Guide Yukari Sakamoto at Katsumura for some excellent Tonkatsu.  I first met Yukari when I saw her son, Luca at my clinic when she was living in Singapore 2 years ago!  She has since returned to Japan where she is now conducting local food tours of Tsukiji market.   She also wrote an excellent Tokyo Food Guide called Food Sake Tokyo which is available at Kinokuniya which I would highly recommend if you are going to Tokyo for food.
When I asked Yukari about where I can experience the best Tonkatsu in Tokyo, she gave me two suggestions.  Her favourite was actually Maisen at Omotesando, but we ended up going to  her second choice, Katsukura, because it was more convenient and child friendly.
I really can't imagine how Tonkatsu can be any better than what Katsukura is dishing out.  I went for the 200g  pork loin and it was the juiciest, tastiest tonkatsu I have had.  They use pork from Yamagata which is famous for its Shonai pork and fresh bread crumbs for the superbly crisp crust.  The sesame was very fragrant and I like that the tonkatsu sauce was nicely balanced without being overly tart.
Directions: 
Exit Shinjuku station by the South Exit.  From there it is a 2 min walk to Takashimaya
11am to 11pm daily
Takashimaya Times Square 14F, 5-24-2, Sendagaya, Shibuya-ku, Tokyo
For more Tokyo Eats, click here.