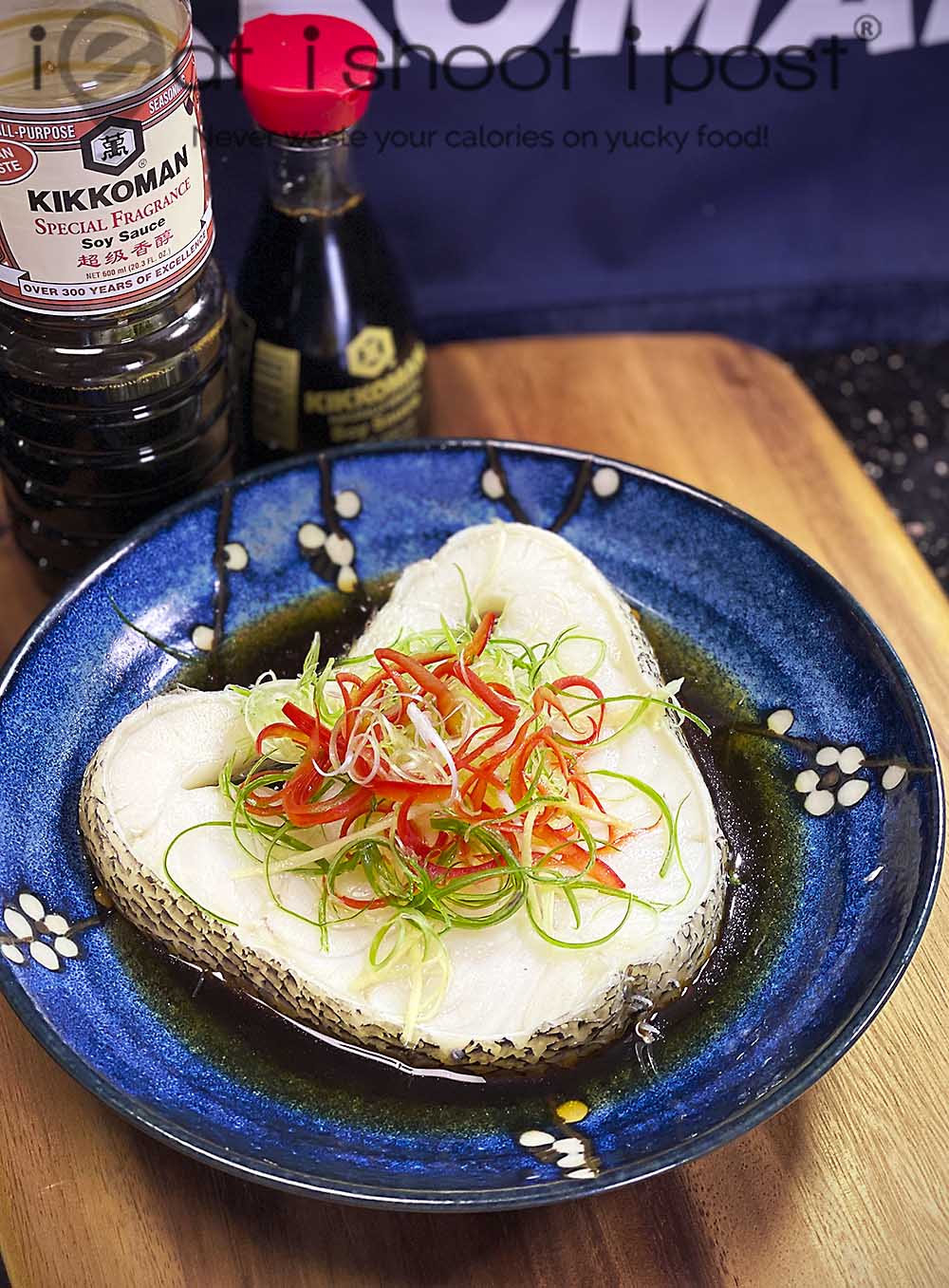 Cantonese Steam Codfish is one of those simple recipes that anyone can do at home which will produce a dish that would rival any restaurant. All you need is to know how to make that yummy soy sauce and a few tips on how to steam the fish properly to rid it of any potential fishy odour!
In this recipe, I used Kikkoman's Special Fragrance Soy Sauce which is formulated right here in Singapore specially for Asian style cooking. The distinctive aroma of the sauce makes the dish irresistible. Although codfish is used for this recipe, the same technique will work for other fish such as seabass, halibut, threadfin, snapper, etc. It really is a recipe worth learning!
Ingredients
CodFish 2 steaks (500g)
Gp A
Kikkoman Special Fragrance Soy Sauce 3 Tbsp
Chinese wine 1 Tbsp
Black Vinegar 2 tsp
Rock Sugar 1 Tbsp
Coriander Root 3
Chicken stock powder 1 tsp
Water 1 cup
Garnishing
Ginger 3 inches sliced thinly
Spring Onions sliced thinly
Red Capsicum sliced thinly
Peanut or vegetable oil 2 Tbsp
Method
1. Sprinkle CodFish with salt on both sides and cure for 10 mins
2. Place ingredients in Gp A in a pot and simmer for 15mins
3. Wash away salt, pat dry.
4. Add Chinese Wine to both sides of the fish and place on a plate for steaming.
5. Steam fish for 8 mins
6. After steaming, discard excess water. Add another scoop of hot water to wash the fish
7. Drizzle soy sauce around the fish, not directly onto it
8. Place ginger and white part of scallions on top of fish
9. Heat oil and drizzle over the ginger and scallions
10. Top with green part of scallions and capsicum
Happy Cooking!
Other Kikkoman recipes:
BBQ Soy Sauce Prawns
Sukiyaki Potatoes and Mock Pork
Dong Po Rou
Thai Prawn Vermicelli
Other fish recipes:
Codfish Misoyaki
Fish Soup
Crayfish Porridge
Salted FIsh Minced Pork
Tea Smoked Salmon
Disclosure: Some links above are affiliate links, meaning, at no additional cost to you, we will earn a small commission if you click through and make a purchase.