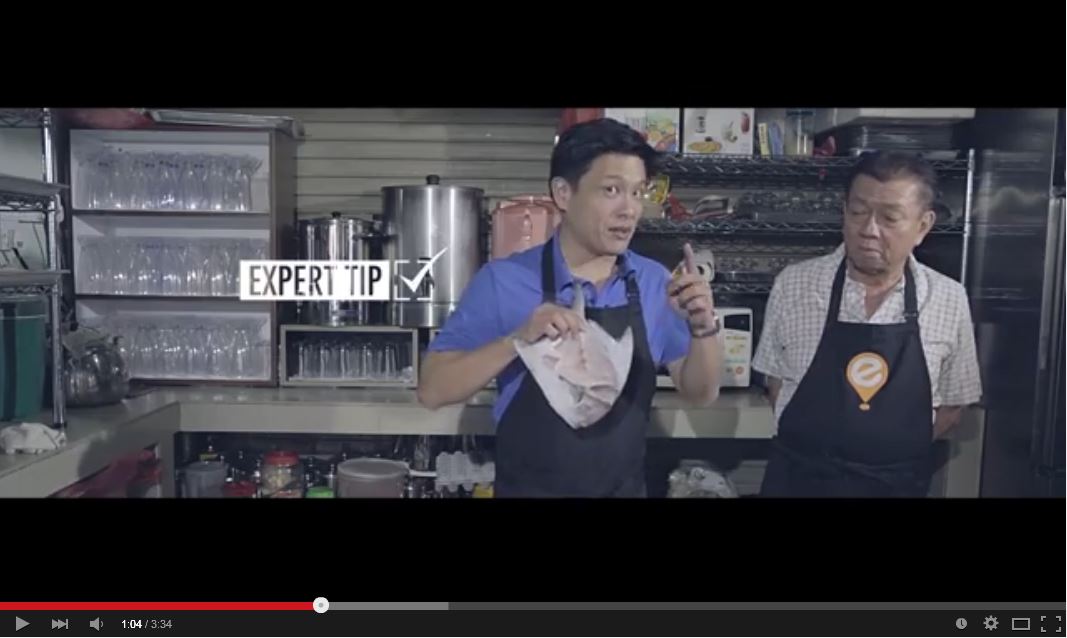 Steamed pomfret is a classic Teochew dish and Mr Koh of Fragrant Garden Teochew restaurant shows us how he cooks it at the restuarant!  This is the best way to savour the soft, tender flesh of the Chinese Pomfret (pampus chinensis, dao chior).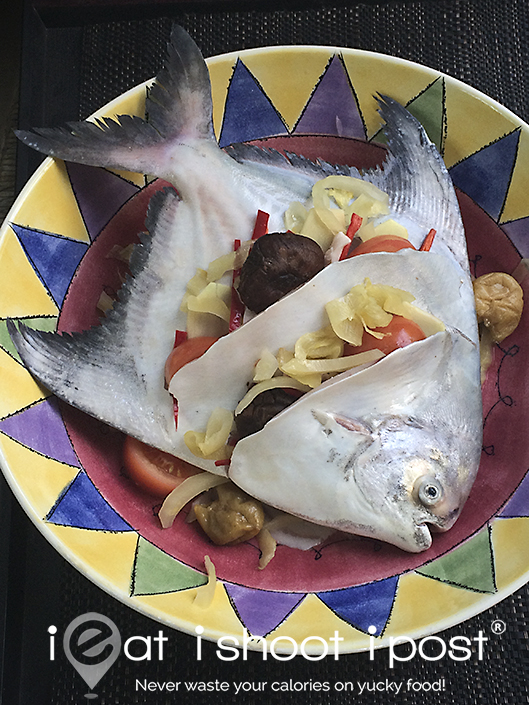 Ingredients
Chinese pomfret or silver pomfret 600-700g
Salted mustard green 1/2 cup sliced  (soak for 30mins and drain)
Salted plum 2
Red chilli 2
Spring onions
Carrot few slices
Chinese dried mushrooms 3 (soaked)
Tomato 1 cut into wedges
Pork fat (optional)
Steaming sauce
Fish sauce 2 tsp
Sugar 1 tsp
Water from salted plum 1 Tbsp
MSG 1/2 tsp (optional)
Water 1/2 cup
Garnishing
Coriander
Chinese wine
Shallot oil
Instructions
1.  Slice the fish so that each slice is about the same thickness
2.  Arrange the fish in a plate and stuff the ingredients as shown
3. Pour steaming sauce over the fish
4.  Steam for 10mins
5.  Garnish with coriander and drizzle with chinese wine and shallot oil
Notes about the Pomfret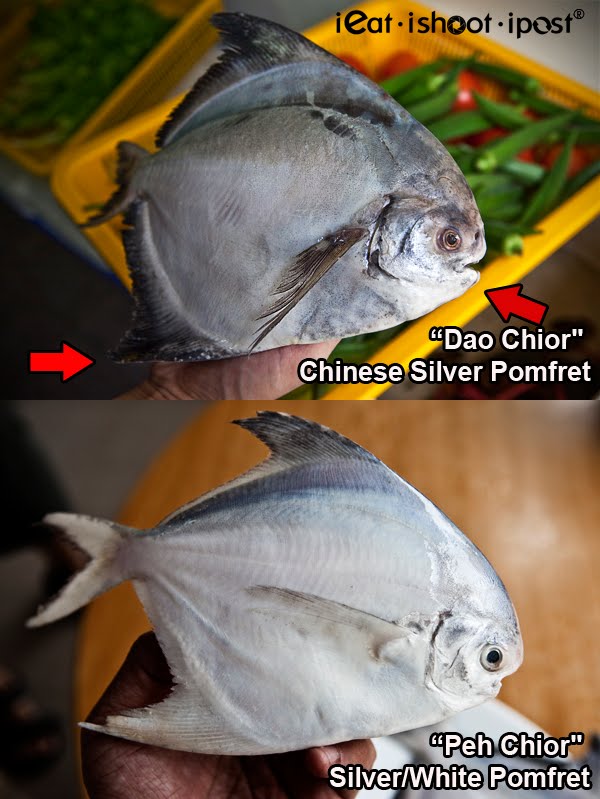 The Teochews place a big emphasis on freshness of seafood.  So, the food is usually prepared in such a way as to showcase the original flavours of the fish.  In Singapore, there are two types of "white pomfret"  available at the market.  chinese pomfret ("dao chior" pampus chinensis) is prized over the silver/white pomfret "peh chior" (pampus agenteus) and is more expensive.  I usually buy my fish from the Lor Ah Soo market where there are many Teochew fishmongers.  Some of them will have chinese pomfret which is fished from local waters which usually means that they are fresher.
You can tell a Chinese pomfret by looking at the lower jaw.  It should be the same length as the upper jaw.  The silver pomfret's lower jaw is shorter.  The shape of the chinese pomfret is also more symmetrical with the upper and lower fins being less pointed and more triangular.  The lower fin of the white pomfret  is more pointed compared to its upper fin.
Note that the black pomfret (parastromateus niger) is not suitable for this dish.  It is better suited to be fried first and braised in a sauce.
Many thanks to Mr Koh of Fragrant Garden for sharing his recipe with us!
Disclosure: Some links above are affiliate links, meaning, at no additional cost to you, we will earn a small commission if you click through and make a purchase.