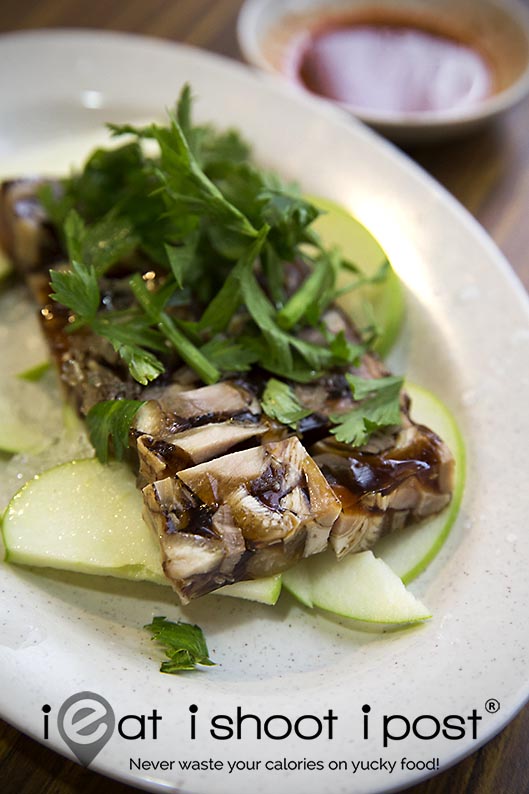 Whenever you walk into an old shopping centre, you will be greeted with a peculiar smell that is pretty hard to put your finger on.  It's uncommon, yet fondly familiar.  It's triggers that sense of nostalgia which is getting harder and harder to come by in Singapore.    If I were concocting it in the lab, I'd probably put in a quarter cup of Brylcreem, a splash of Vitalis, couple of drops of 4711 Eau de Cologne and a powder puff or two of Johnson's Baby Powder!
There are basically two types of old shopping centres in Singapore.  There is the "oldie but a goodie" shopping centre like Queensway Shopping Centre which is still a hive of activity and then there are the others which are ghost towns waiting to go en bloc.  Upper Serangoon Shopping Centre belongs to this latter category.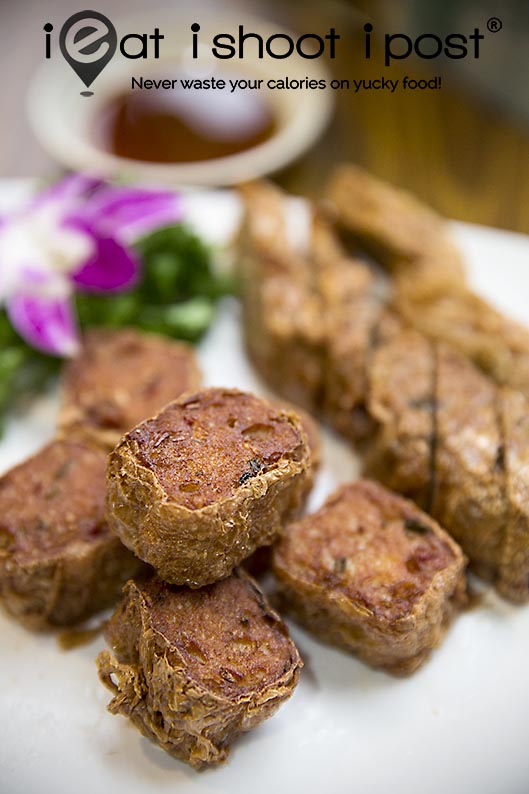 I have driven past Upper Serangoon Shopping Centre on numerous occasions and have always wondered what lurks inside its grey marble tiled walls. I have never had any reasons to go in and I expect, neither have you.  But I got an email from a reader one day alerting me to an understated Teochew Restaurant in its premises which gave me the perfect excuse to explore this relic of the 70's.
I was glad I did because what we found was nothing short of a hidden gem!  The food at Fragrant Garden was not only superb, they were also serving old school Teochew classics at prices that you would expect from such an old run down establishment!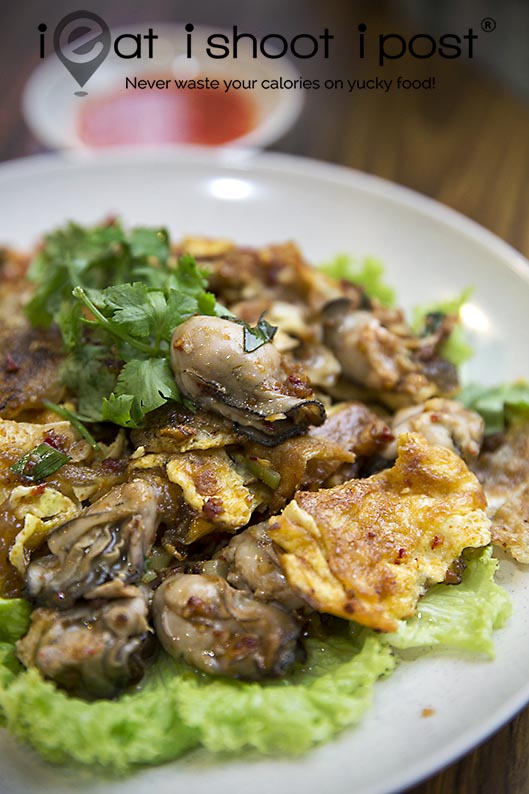 There is perhaps no better poster boy for disappearing Teochew dishes like the Pork Jelly (猪脚冻 Ter Kah Dang).  This dish, which takes a few hours of slow cooking to draw out the gelatine from the pork is a favourite amongst Teochew food connoisseurs and is difficult to find nowadays.  Ironically, European cold cuts like terrines are gaining popularity and winning many fans.  The chinese version is not that much different except for the spices used.  The pork jelly was very good and reminded me of the braised pork my mom used to cook that has been left in the fridge overnight such that the lor (gravy) had turned to jelly!  4.25/5
There are essentially three different types of classic bean skin rolls in Teochew cuisine, viz pork liver roll (gua huay), prawn roll (hei zhor)and 5 spice 五香roll.  I have yet to learn how to appreciate liver, but I have come across liver rolls which I do like and this is the best of them.  They managed to rid the liver of the gamey offal flavour, leaving a very nice savoury flavour behind.   It is certainly good for someone like me who only likes liver if it comes out of a fatted goose.  If it is the offal flavour that you go for, then you will be disappointed.  The hae zhor is also very good as they managed to capture that crustacean, keropok flavour in the prawn rolls!  A must order item.  4.5/5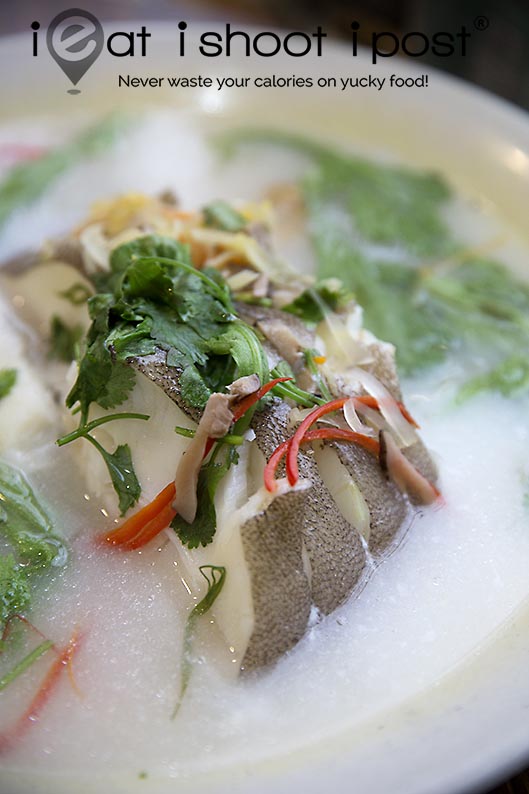 The other must order item was the Oyster omelette which was so good that we ordered a second plate.  Their version is more like what we would get at the hawker centre, but with a generous mound of oysters.  The starch is fried till its crisp on the outside while still maintaining a sticky gooeiness on the inside and the chilli is well balanced with enough tang to cut through the oil and not too much heat that it steals the limelight from the oysters. 4.5/5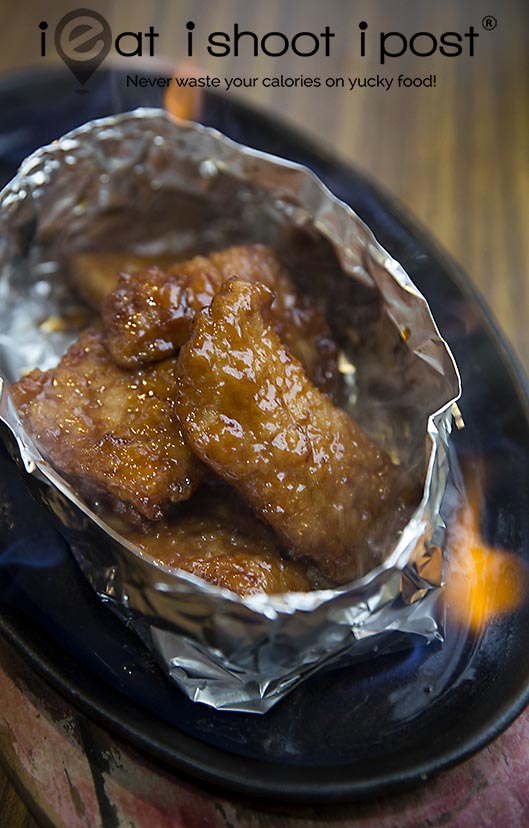 I would describe their fragrant ribs as a very well executed jing du pai gu with perhaps a tweak to the flavour and a bit of theatrics.  The ribs are set aflame when it hits the table which releases a bouquet of citrus and rice wine aromas which is quite alluring.  4.25/5
As a proper Teochew restaurant, they do serve Chinese silver pomfret (dao chior), but the owner Mr Koh wanted us to try the halibut and we were all glad we did.  If you have not tried steamed halibut before, you should!  The fish is wonderfully flaky and oily, almost like snowfish but with its own unique flavour.  It was so oily that the steaming sauce turned milky white in colour.  I would have liked less water in the sauce such that its more tangy, like a classic teochew steaming sauce, but the quality of the fish more than made up for it.  4.25/5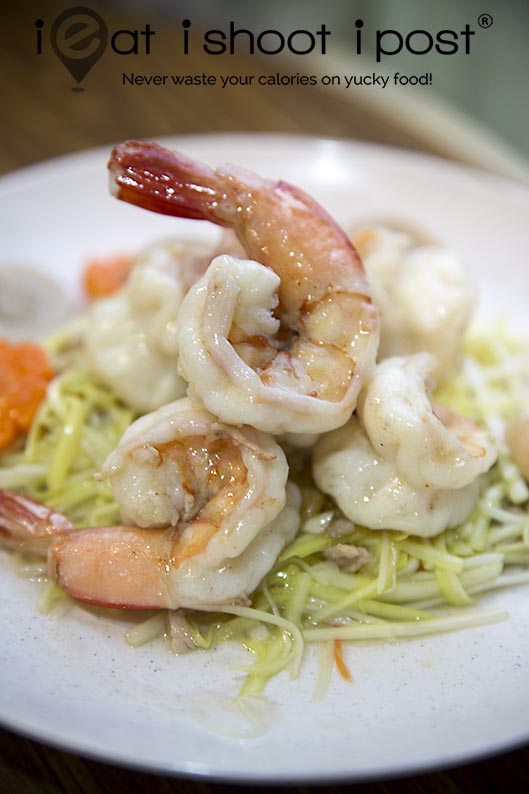 The Jumbo prawns with chives is yet another Teochew classic.  So far, I have yet to taste one which I can get excited about and unfortunately, this is no exception.  It is a good dish, but the chives could have been more tender and sweet.  The prawns were good quality wild caught Ang Kah which is what you would expect of a proper Teochew restaurant.  4/5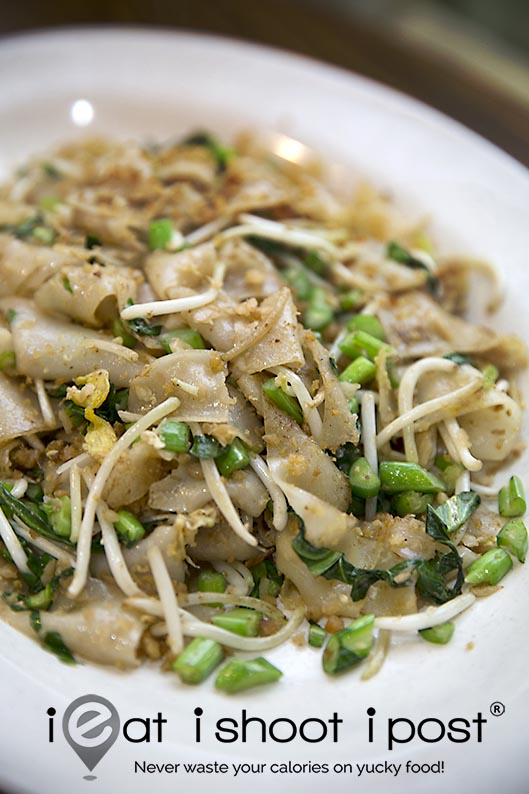 I had high hopes for the Kway Teow with chye poh since all the dishes that came out of the kitchen had so far been above our expectations.  But this one was a dud.  The Kway Teow was dry and stiff and the chye poh lacked flavour and sweetness.  The only dish that sullied an otherwise superb meal. 3/5
The only thing that was missing from the yam paste was the pork lard. Otherwise, it had the requisite ginko nuts, pumpkin, fried shallots and most importantly, it didn't have the coconut cream and the sweet corn which is NOT traditionally used in this iconic Teochew dish!  This is probably the most authentic yam paste I have tasted so far. 4.25/5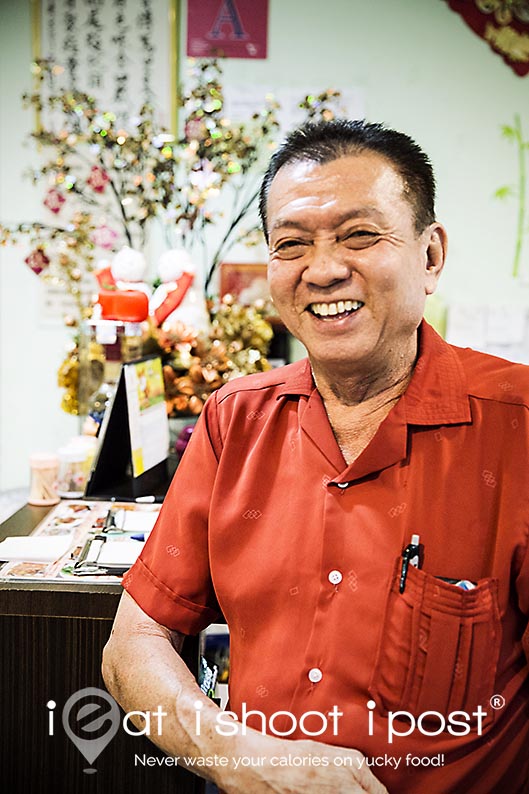 The owner of the restaurant is a typical Teochew "Hao Lian Bah" (proud man) who has little room for modesty when it comes to his food.  The Teochew penchant for super fresh food (chgnee, chgnee) and the need to boast about it (hao lian) is what essentially gives the food its character.  It is certainly good to have a man who takes pride in serving really good food and the fact that he takes pleasure boasting about it just means that he can't let his standards drop.  It's even better us consumers when he likes to boast that he serves the cheapest Teochew food in town!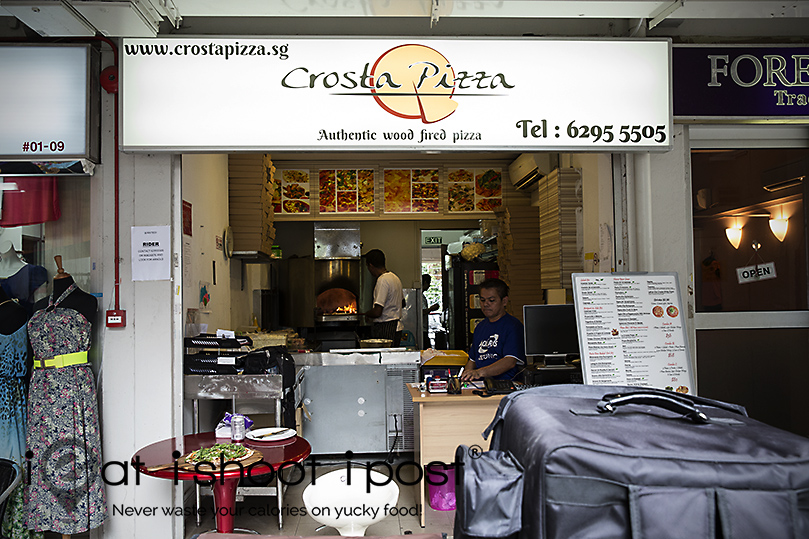 Conclusion
For us foodies, finding hidden gems like Fragrant Garden is as exhilarating as someone pulling a jackpot or hitting a hole in one.  It is what we live for.  To find it, eat it and tell the world about it — that must be the Gospel according to St Gastronomique.