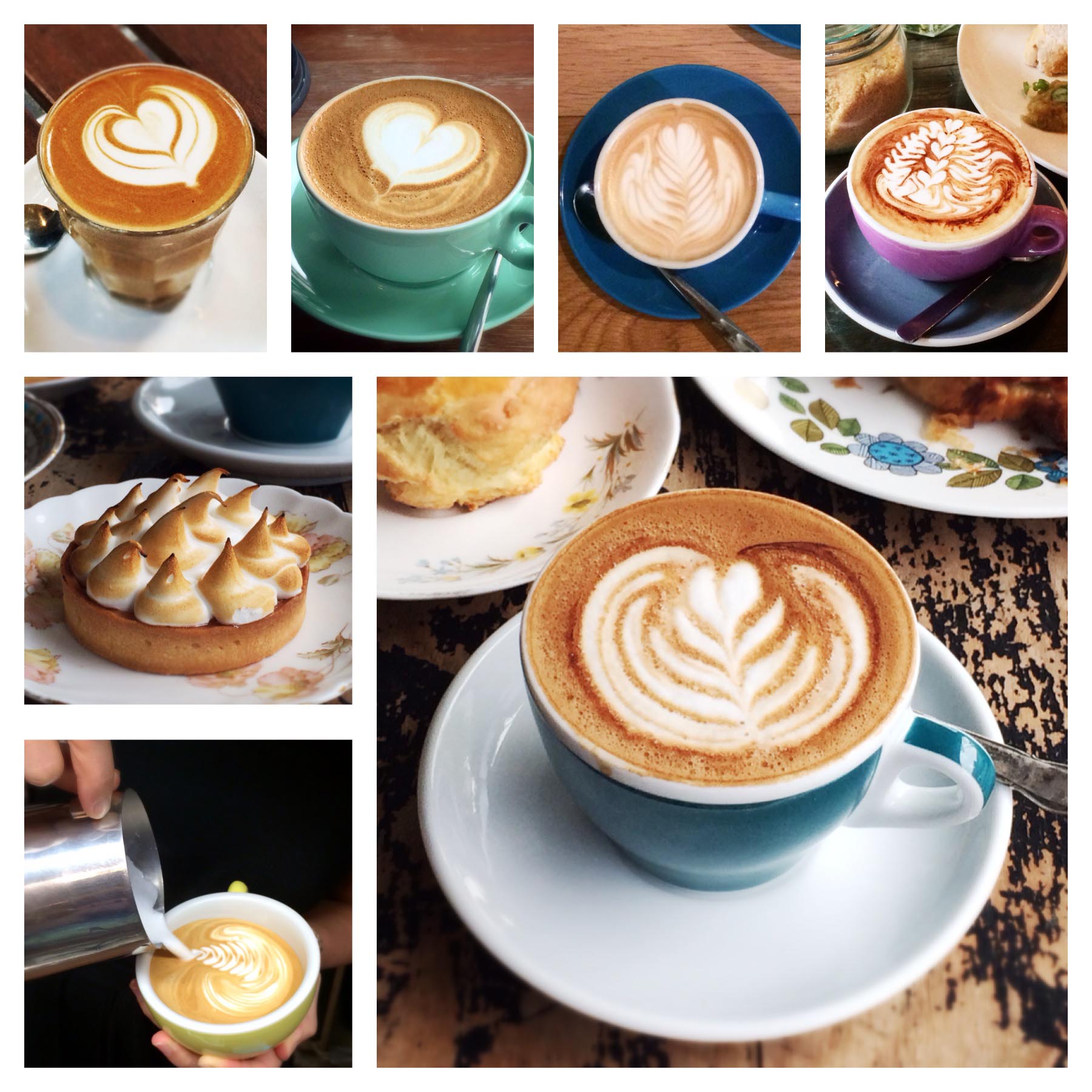 The cafe culture in Singapore has come a long way in a relatively short time. Would you believe that we are now regarded by CNN as  one of 8 great coffee cities in the world?
I wanted a snapshot of the current cafe scene in Singapore, so I came up with the idea of spending a whole day visiting some of these cafes with some of our facebook fans.  During the Cashback Cafe Crawl, I would use my new OCBC 365 credit card which gives me a 6% weekend dining cashback  on whatever I spend at the cafes which is certainly one of the best dining deals in town.
I put the word out on our facebook page and got a long list of popular cafes from which I specially selected 5 which are owned and operated by young Singaporeans which served a great cup of coffee plus good food.  I specially chose the homegrown ones because I wanted to encourage them to develop a cafe culture that is unique to our little island. Granted that inspiration would come initially from great coffee cities like Melbourne and Rome, but over time we should see a coffee culture that can be easily recognized as Singaporean. I am not talking about our Kopi culture which I am also very concern about as fewer and fewer Singaporeans are taking up the challenge of brewing with the sock, but the modern coffee culture which is seeing a few new cafes opening every month!  These places are destined to take over from our kopitiams in the future as places where people go to relax and catch up with friends over coffee.
When you have a cup of coffee in Japan, there is something that makes that experience uniquely Japanese! The beans they use are different, the cream is different and the whole environment is distinctly Japanese. Would someone having a cup of coffee here recognize it as uniquely Singaporean or would they go away saying that the cafe really reminded them of a great cafe in Melbourne?
I challenged one cafe to harvest the natural yeast from our own environment to make a yeasted waffle that would be as unique as the sourdough bread from San Francisco. I shared with another cafe owner to experiment with adding butter to their brew as our forefathers have been doing AND which some Americans are now propagating as the next big thing in coffee. I would like to see cafés serve an upgraded version of Roti John and Roti Babi.  Along with churros and chocolate ganache, can we not also serve a sexier version of You Tiao and kaya?  There are a lot of things that we have inherited that can be incorporated in our coffee culture.  Why wait until someone in the US do it before we follow suit? Evaporated milk in coffee too arcane? Why not boil locally sourced fresh milk from Vishnu farms, reduce it and caramelize the sugars to make an artisanal evaporated milk?  Cappuccino C! Hey, why not?
I am glad that some Cafes like Necessary Provisions are already doing this by serving Pandan Chiffon cakes and Mee Hoon Kueh! A tourist traveling round the world visiting cafés would surely find that compelling while the locals would find the familiar food comforting!
Like it or not, the cafe culture is poised for growth! Let's give it our very own unique identity by infusing it with something of our soul. Yes, why not brew with a sock? If it is made of Italian cotton and Brazilian beans, I am sure people will be willing to pay for it!
Ok, now that I have said my piece, I present to you 5 great little cafes which we covered on our cafe crawl.  (Yes I know we are supposed to be cafe hopping, but alliteration lah, alliteration!)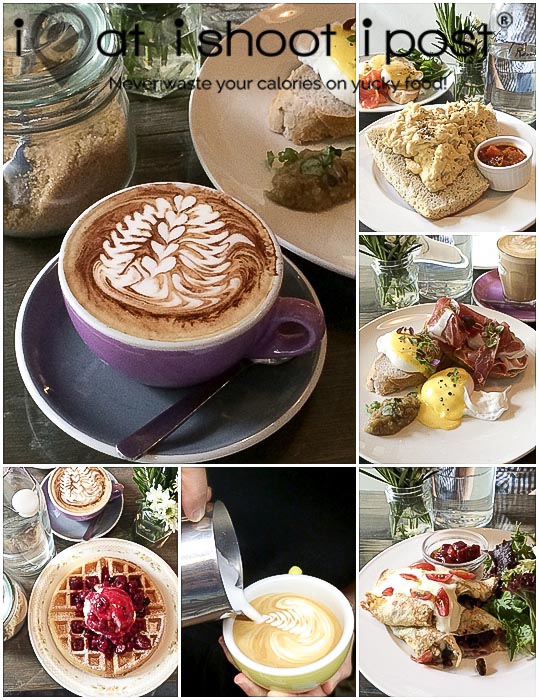 For breakfast we head to our 1st cafe which already has quite a cult following.  Owner/barista Ryan Tan is a household name among coffee lovers in Singapore.  He was the winner of the National Barista championship in 2011 and went on to win 3rd place in the World Latte Art Championship in Holland in the same year.  The coffee here is excellent and even when he isn't around.  The coffee we had that day was made by his protege, Zenn who does equally incredible latte art with a perpetual smile on her face.  The breakfast sets here are very good.  The eggs are poached perfectly, the mushroom crepes are great but the dish that the cafe is most famous for are the buttermilk waffles which are light and crisp with a moist interior.  They are very good, but I would really love to see them make yeasted waffles made from strains of yeast harvested from our own environment!
Stranger's Reunion
37 Kampong Bahru Rd,
Singapore169356
62224869
Daily from 9am till 10pm, Fri-Sat till 12mn
StrangersReunion Facebook Page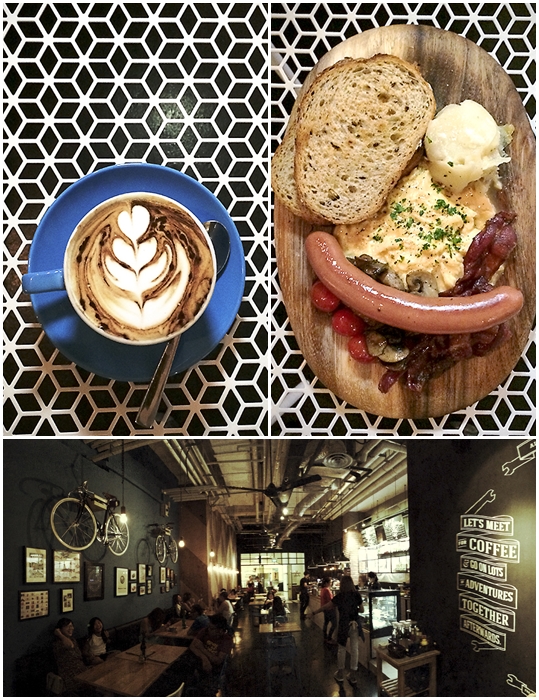 The Assembly Ground has only been opened for a few months and is slowly finding its wings.  The cafe is the brainchild of Nelson Yap and Damien Tan.  Nelson is the man behind the fashion boutique, Benjamin Barker (which is just next door) while Damien, who manages the place, was my companion during my
pizza craze a few years back
.  He was crazy enough to give up his full time job to become a pizzaiolo in Ischia, working for
Gaetano
who had trained several
world pizza champions
. It had been Damien's dream to open a pizzaria in Singapore to share Gaetano's world famous pizza with us but unfortunately that never really came to pass.Their coffee beans are sourced from Common Man's roasters and Nylon, so their brew is dependably good.  The food is slowly finding its footing.  Several items like the pulled pork pizza and the chilli beef linguini are quite nice.  I am still hoping that Damien would  introduce Gaetano's
Vera Pizza Napoletana
here but I don't think that is going to happen any time soon since there is no wood fired oven in place!  Still, it is a cosy place where you can find great coffee and good food in a convenient, central location.The Assembly Ground
The Cathay, 2 Handy Road
#01-21
6733 3375
10am to 10pm daily
Singapore 229233
The Assembly Ground Facebook Page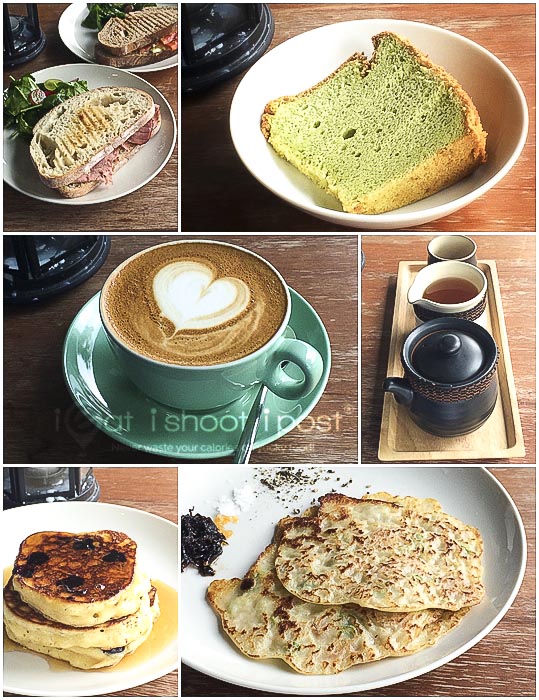 Necessary Provisions is really the "Man Cave" of two guys pursuing their hobbies.  More than half of the floor area is allocated to the kitchen and the roasting room!  The man behind the expresso machine and the coffee roaster is Darren who is so passionate about his coffee that he only offers it black or white and in three sizes.  His wife is into teas and procures very exquisite teas direct from their source.  The guy in the kitchen with all the kitchen gadgets which includes a Cantonese restaurant grade wok station is an Ex-SQ pilot nicknamed "Porkie".
What I really like about Necessary Provisions, aside from their remote location and relaxed, chill out environment,  is how local foods like the Pandan Chiffon Cake, Mee Hoon Kueh and ikan bilis fried rice sit comfortably alongside blueberry pancakes and pastrami sandwiches.  Just like the Cha Chan Teng's of Hong Kong, I think the marriage of East and West helps to give Necessary Provisions a uniquely Singaporean identity.  I also like the coffee here.  Darren likes a more acidic roast and produces a coffee which is bright at the start but ends with a mellow finish at the back of the palate.
Necessary Provisions
21 Eng Kong Terrace
Singapore 598993
9231 7920
10am to 10pm, Fri-Sat till 12mn, Sun till 6pm
Closed Mondays
Necessary Provisions Webpage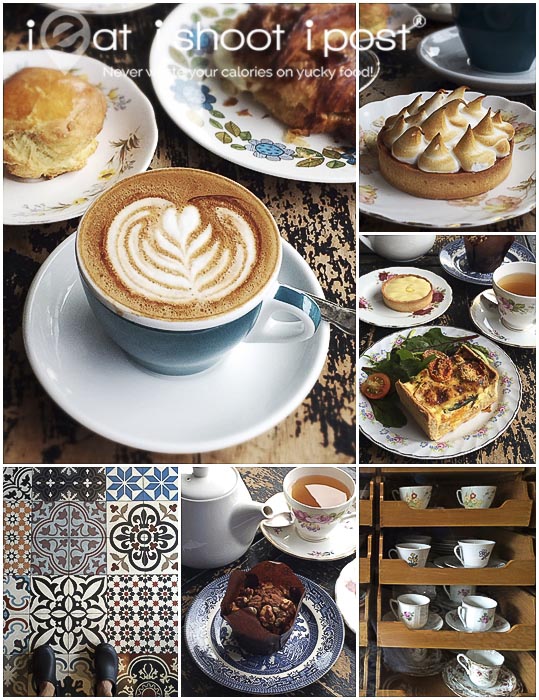 Carpenter and Cook is owned by two ladies.  One is the carpenter, Phoebe and the other is Shenn, the cook.  Phoebe is not really the carpenter, she's more like the interior decorator who sources all the beautiful cutlery and furniture from the UK.  Shenn is more accurately a baker who bakes all the wonderful pastries at the basement of the shophouse.  But "Interior Decorator and Baker" doesn't sound very nice does it?  So we'll stick to Carpenter and Cook.
Two things I really like about this place — The beautiful tea sets and the baked goods.  Their most popular pastry here is the passionfruit tart which is excellent as are most of her savoury pastries like the quiche which my daughter absolutely adores.  But I was there specially for their afternoon tea and scones.  Shenn makes her own strawberry jam (and other preserves) and together with authentic imported Cornish clotted cream (Even better if it were Devonshire but I am not complaining…. much) and the authentic British tea sets, I would say that this is one of the best places in Singapore for a spot of Devonshire tea.  My only complaint is that her scones don't really resemble a typical British scone and could have been a little more airy and brittle.   Notwithstanding, the buttery scones together with strawberry jam, topped with clotted cream and washed down with a brisk English breakfast served on beautiful tea cutlery is something I really look forward to having again, soon!
Carpenter and Cook
19 Lorong Kilat, #01-06,
Singapore 598120
10am to 10pm, Sun till 7pm
Mon close
Carpenter and Cook Webpage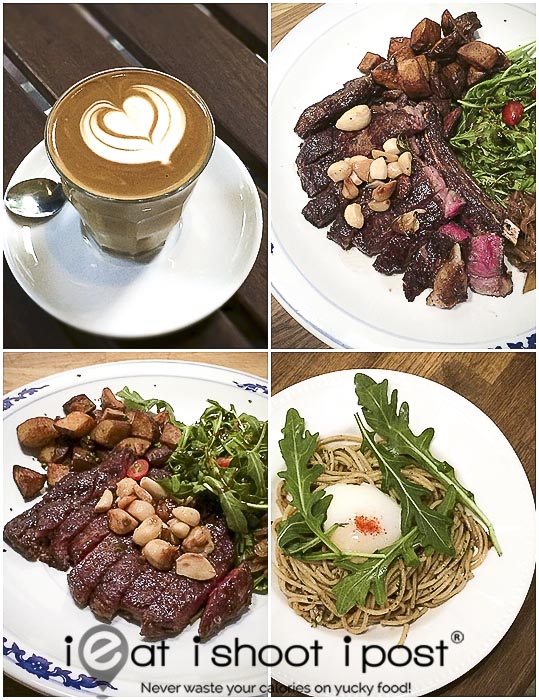 One doesn't usually associate a grilled meats with coffee, but that is just what Carvers and Co(ffee) is all about. The Chef owner behind Carvers and Co is Sarah who loves to cook.  Her husband, who was in real estate found himself in the role of a restauranteur after helping to set up the restaurant for his wife.  A protege of Damien D'Silva, there is little doubt that Sarah knows how to cook.  Her crispy bacon marinated in maple syrup and smoked paprika and sweet potato crisps with salted egg dip are uber umami snacks which actually goes better with a jug of beer than a cup of coffee.  I enjoyed the Australian Grassfed Prime Rib ($100/kg) which was panfried in a skillet with hot butter spooned over the top to give it a flavourful crust.  The A7 Australian Wagyu beef steak ($55 for one, $100 for two) was done in similar fashion. The mixed grill was mixed.  I like the home made gamon and the roast pork, but the grassfed rump roast was too tough and the grilled chicken was suffering from hyponatraemia (lack of Na, ie salt).  It is, however, amazing to see the kind of dishes that she tries to pump out of the tiny kitchen which is only about the size of a toilet. I think Sarah is still getting used to her new kitchen and some of the inconsistencies should hopefully be ironed out in the near future.
Carvers and Co
43 East Coast Road
S(473500)
9667 1096
Mon-Fri 11am to 10pm
Sat, Sun 8.30am to 10pm
Tues Closed
Carvers and Co Webpage
This ieat Cafe Crawl was made possible by OCBC 365 Credit Cards.  All meals were paid with my OCBC 365 Credit Card which gives me a 6% cashback on all weekend dining.  In total, we spent $788 on the meals which means that I will get $47.28 cashback next month! And that is not including cashback that I can also earn on my weekday and overseas dining, petrol, online shopping and recurring telco bills! You can find out more about the OCBC 365 Credit Card at bit.ly/1qvsDiO. Terms and conditions apply.