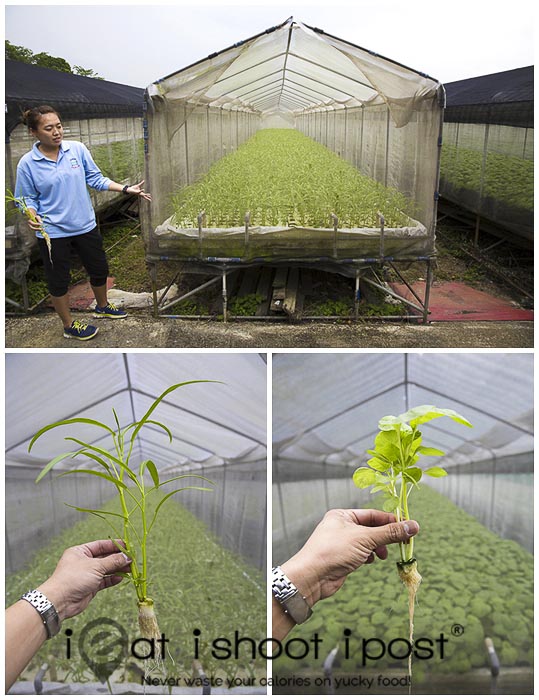 Food security is a major issue for Singapore.  Most of us probably don't think much about it because we haven't had a food shortage for as long as I can remember.  But just consider this:  We now import over 90% of our food.  If anything should happen to hinder our ability to import food into Singapore, we would be in big trouble.  Say for instance, the Singapore dollar tanks for whatever reason.  Suddenly our buying power is diminished and countries which normally sell food to us would divert it to somewhere else!  Or,  if our sea lanes were blocked for whatever reason, we would soon find our supermarket shelves empty in a very short time!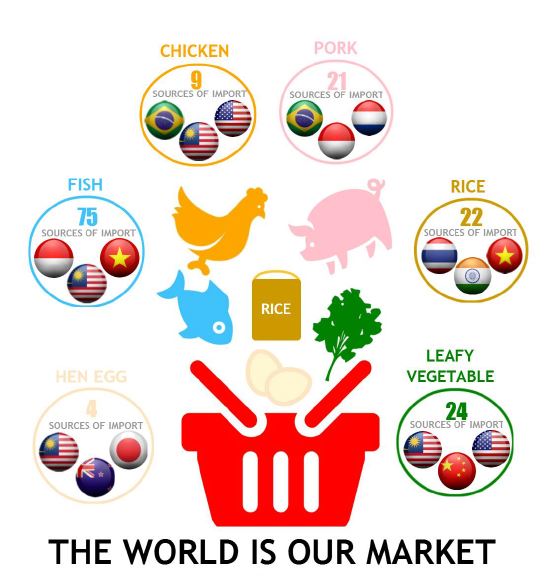 Thankfully, such scenarios are inconceivable at the present moment. But we still have to be prepared for fluctuations in the supply and prices of food.  One strategy that our government has employed is "Source Diversification" which means that we buy our food  from many different countries.  For example, we import our fish from 75 different sources.  Last year when Malaysia imposed an export ban on 5 species of fish, the effect on our food supply was minimal.  Of course, if you were specifically looking for selar fish from Malaysia at the wet market, you would have felt the effect of the ban.  But otherwise, most Singaporeans won't even be aware of it.
Another way to hedge against the risk is to grow our own food.  Of course, we won't be able to grow all the vegetables we need as only 1% of the land is designated for agriculture. Currently there are nearly 50 farms in Singapore supplying about 12% of the total amount of leafy vegetables we consume.  But interestingly, the issue now is not that we don't have enough farms.  Farms like Oh's farm are now producing 1000kg of vegetables daily for local consumption and have the capacity to increase to 1500kg.  But the reason they are not ramping up production is because of the lack of demand from local consumers!  So there really is no point increasing the number of farms unless we are wanting to buy more from existing farms!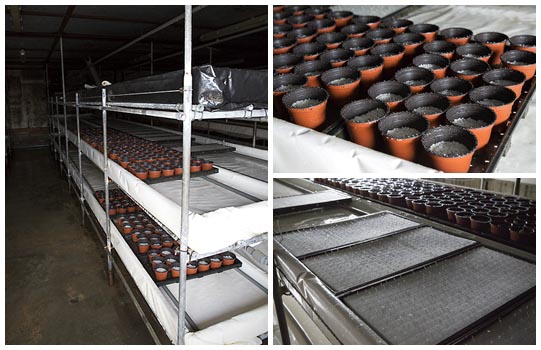 I think one of the reasons that there isn't enough demand for locally produced vegetable is simply the lack of awareness.  Until last week when I visited the farm, I too was ignorant of the fact that we have so many farms!
There are many compelling reasons why we should buy local:
1.  Local veggies are fresher. 
Once a plant is harvested, the sugar levels start to diminish and the plant starts to lose water.  So fresher vegetables will always be sweeter and crunchier than vegetables that have spent many hours in transit.
2.  Reduce our carbon footprint.
That just means that since the vegetables don't have to travel far to get here, there is less petrol burnt and so less carbon dioxide is produced which contributes to global warming.
3.  Support our local farmers! 
Our farmers can produce more if we support them and buy more local veggies!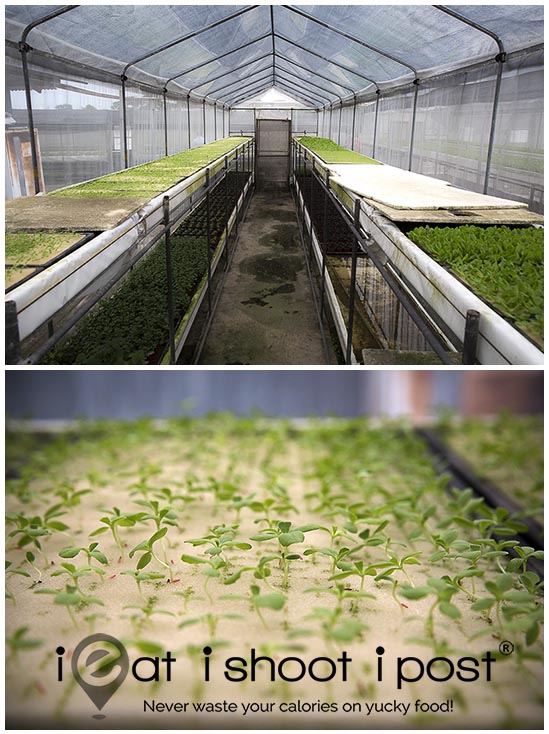 Due to the lack of space and manpower in Singapore, our farmers have to employ farming methods that require the least manpower while at the same time maximizing the yield of the land.  One ways that this can be achieved is by employing hydroponic farming techniques.
Oh' Farms is one of the most successful local farms using hydroponics to grow vegetables like kangkong, spinach, chye sim as well as herbs like sweet basil, Italian parsley and rocket.  As you can see from the photos, you get a good yield from hydroponics farming.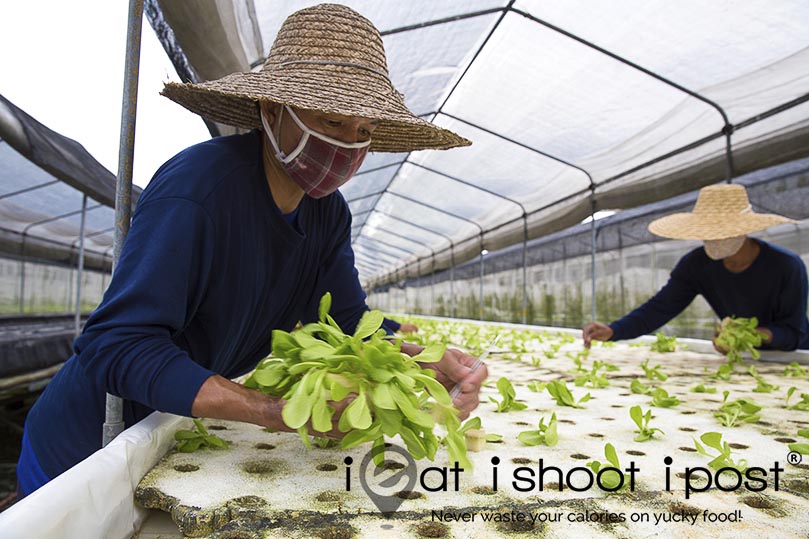 The hydroponics process starts with the seeds which are first sowed in sponges and allowed to germinate in a warm dark room.  Once the shoots develop, they are transferred into a nursery.  After a week, the young seedlings are transferred into the culture panels where there is a catchment of water which has been enriched with the necessary nutrients.  Because there is no soil and the greenhouses are enclosed with nylon netting, there is no need for pesticides.  The water in the greenhouse is replenished by a nutrient tank which automatically maintains the water at a predetermined level.  17 days later, the kangkong is harvested, packed and appears on your supermarket shelves!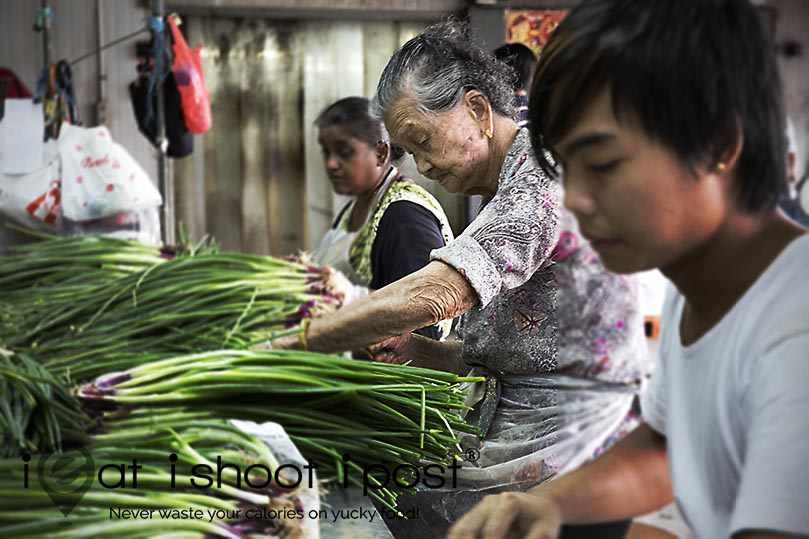 In order to encourage our local farmers to adopt best practices, the AVA has introduced a voluntary scheme called the Good Agricultural Practice for Vegetable Farming (GAP-VF) Certification Scheme.  Local farmers can be GAP-VF certified if they adopt the GAP-VF standard which is a set of practices recommended for safe and quality vegetable production.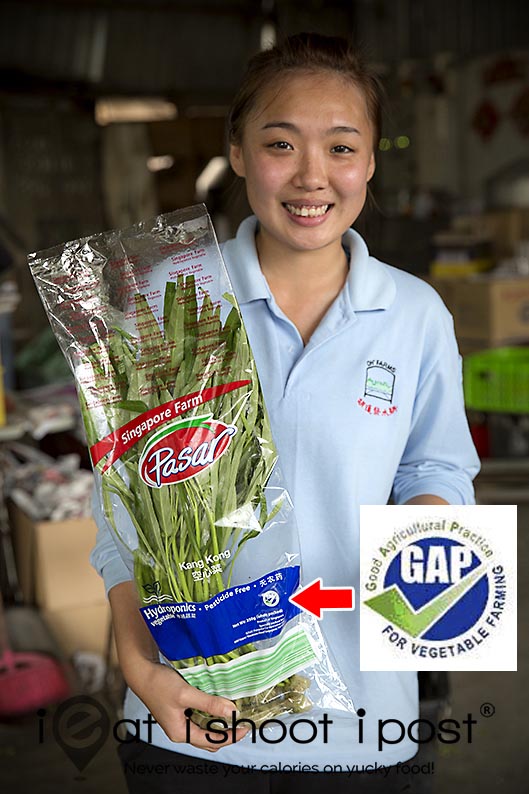 AVA has strict safety guidelines in place for all vegetables to ensure that our food is safe for consumption.  But we can go one step further to protect our family's well being by choosing to buy from farmers who we know are employing good farm management systems that ensures the production of safe and quality vegetables.  Now, it is easy to recognize and reward such farmers! All you need to do is to look for the GAP-VF logo on the pack and you can be assured that the vegetables are of the highest quality and safe to eat.
Conclusion
Go local and support our farmers who are working hard to produce food for us!  Yes, may be slightly more expensive, but you are getting fresher vegetables which are high quality and safe to eat.  So next time you go to the supermarket, look out for the GAP-VF logo and support our local farmers!
This post was sponsored by the AVA