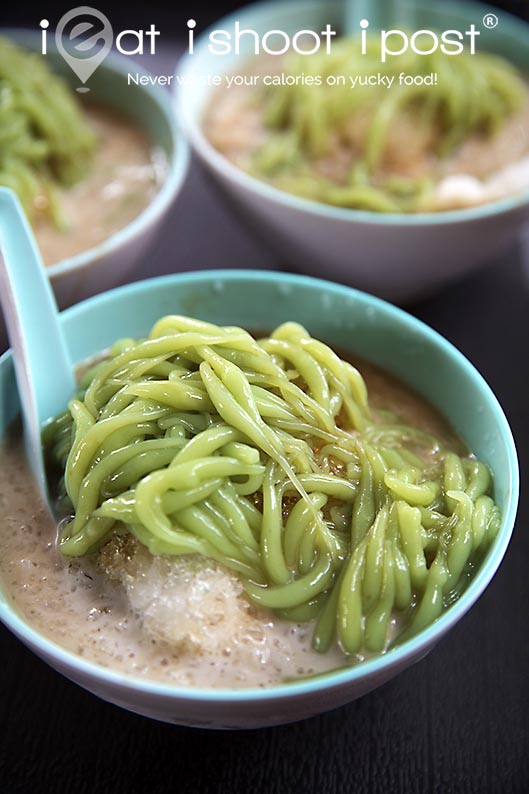 Cream, caramel and vanilla. These three ingredients form the foundation of many European desserts. In South East Asia, we find a similar triad of ingredients in coconut cream, gula melaka and pandan leaves.
The coconut cream, like fresh cream is the vehicle for that creamy mouth feel which, I believe is a primary taste sensation in our mouth just like sweet, salty, bitter, sour and umami. Japanese researchers are now researching on the possibility of a 6th tastes which they call kokumi which is basically that unctuous, creamy mouth feel that makes us all crave ice cream. I know it must exist and it is only a matter of time before we identify the taste receptor for it. There is no natural sweetener on earth (in my books) that as gastronomically gorgeous as gula melaka which not only excites the palate with its complex sweetness but also its natural caramel flavour.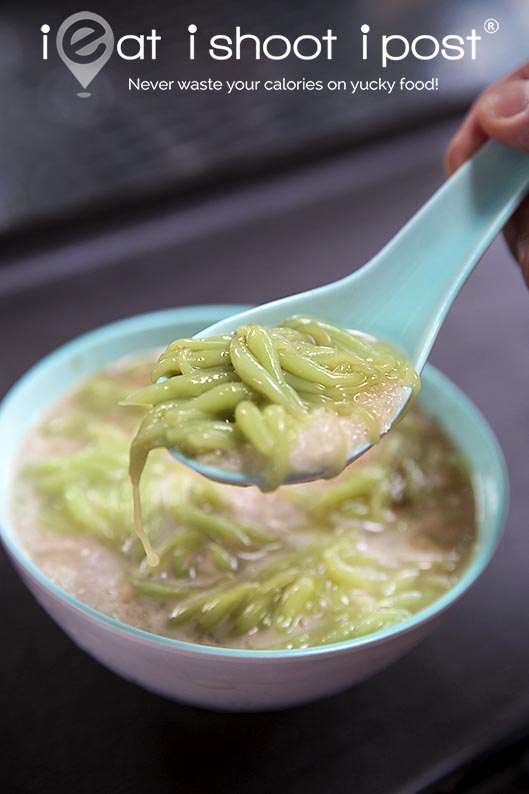 Then there is pandan leaves (screwpine) which contains the active ingredient, acetyl pyrroline, which is the same compound that is found in white bread, jasmine and basmati rice, responsible for its subtle but seductive aroma. and the pandan leaves for fragrance. Put these three ingredients together and you got the perfect foundation for an awesome dessert — which is essentially what cendol is.
Three ingredients; Coconut milk, gula melaka and pandan flavoured vermiform (wormlike) pasta aka cendol. You would think that it would be easy to get it right, right? Then why do so many stall holders get it wrong? Well for one, most take the easy way out and buy ready made cendol which usually comes in eerie ghostbuster green and served half frozen. The market is also flooded with cheap gula melaka which has been adulterated with sugar and other extenders and freshly squeezed coconut milk is replaced with ones which has been heated to ultra high temperatures such that they can be stored in your home bunker for years in preparation for wartime food shortages.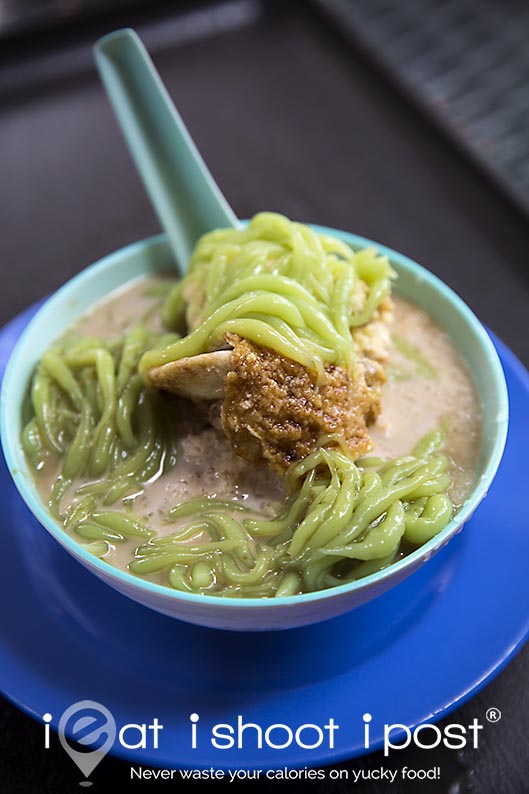 If Superman stood for truth, justice and the American Way, then Muhd Samudra, 36 is our very own cendol Superman, fighting for cendol, coconut milk and gula melaka! Fed up with the dismal state of cendol in Singapore, he set out across Malaysia to search for the best way to make cendol and returned, determined to make a bowl of cendol that is worth some of your calories.
I learnt from dear Aunty Koh in Malacca that it really does take a lot of effort to produce a bowl of good cendol. The big difference between her cendol and those that are a waste of calories is the fact that all the 3 components are made fresh daily. She wakes up in the wee hours of the morning to squeeze the coconut, make the cendol and melt the gula melaka. That is why it is only available at 11am and sold out by 1pm every weekend.
The cendol at Cendol Melaka is also made fresh every day and our Cendol Superman's day starts at 5am on weekdays and 4am on weekends. That is the reason why the texture of his cendol is so good. Each strand is tender, pasty and has that subtle pandan flavour. It isn't as fragrant as Aunty Koh's but she has the advantage of actually growing her own pandan leaves in her backyard specifically for her cendol!
For the gula melaka, Cendol Superman actually makes a trip up to Malacca every fortnight to buy his supply of gula melaka to ensure that he gets the quality that he wants and the coconut milk is sourced from suppliers who squeeze it fresh daily.
The resulting bowl of cendol is reminiscent of the ones I buy off the street stalls in Penang and Malacca. It isn't one of those cloyingly rich versions which is usually served in restaurants and hotels, but it is light, fragrant and thirst quenching. The $1.50 version is the basic version with only cendol, gula melaka and coconut milk. This one is for the purists! For 30 cents more, you get a mound of mushy red beans which are delicious. Add 60 cents to the basic version and you get a dollop of pure durian paste! 4.5/5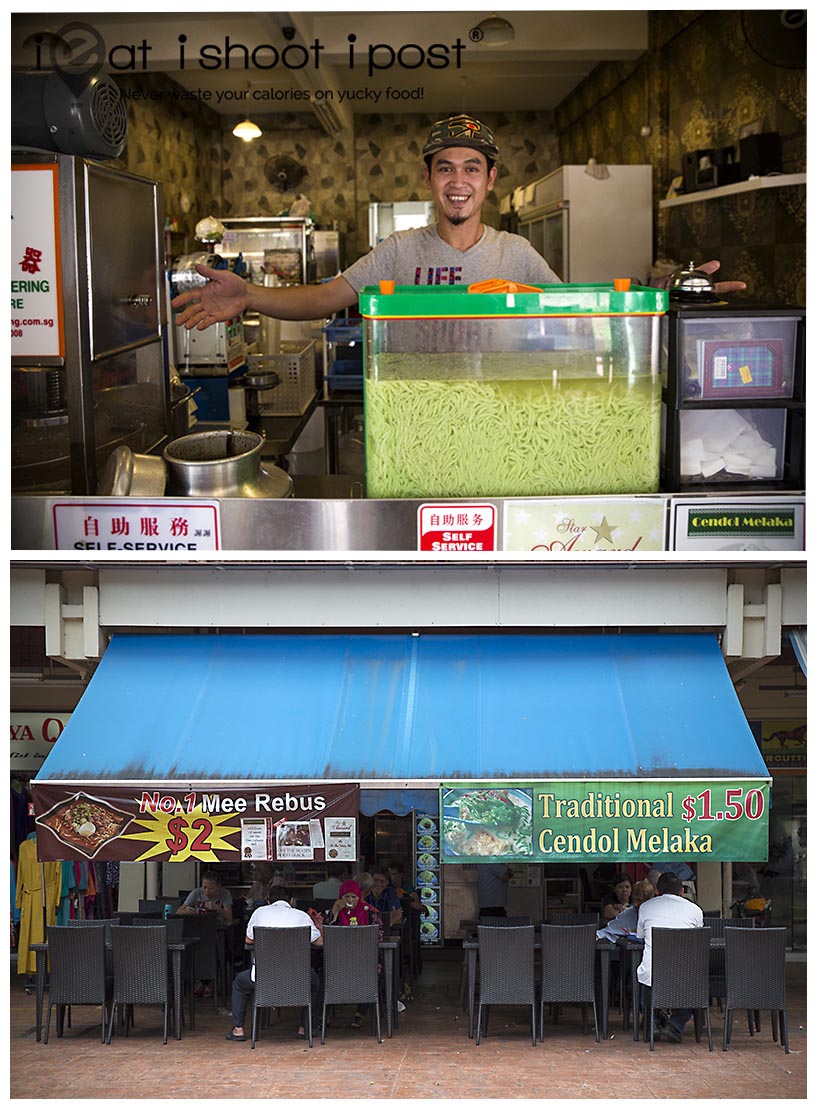 Conclusion
So far Cendol Melaka comes closest to the one I remember from Teochew Cendul in Penang. It is the type that is sold along the streets of Malaysia. Light, refreshing with just a pinch of salt to give it that rounded mouth feel. Nobody would ever dare say that it is as good as the best ones in Malaysia but it is certainly amongst the best that you can find here in Singapore.
PS: It is located directly opposite Mizzy's Nasi Lemak stall at the food centre!
Update: 8 Feb 2023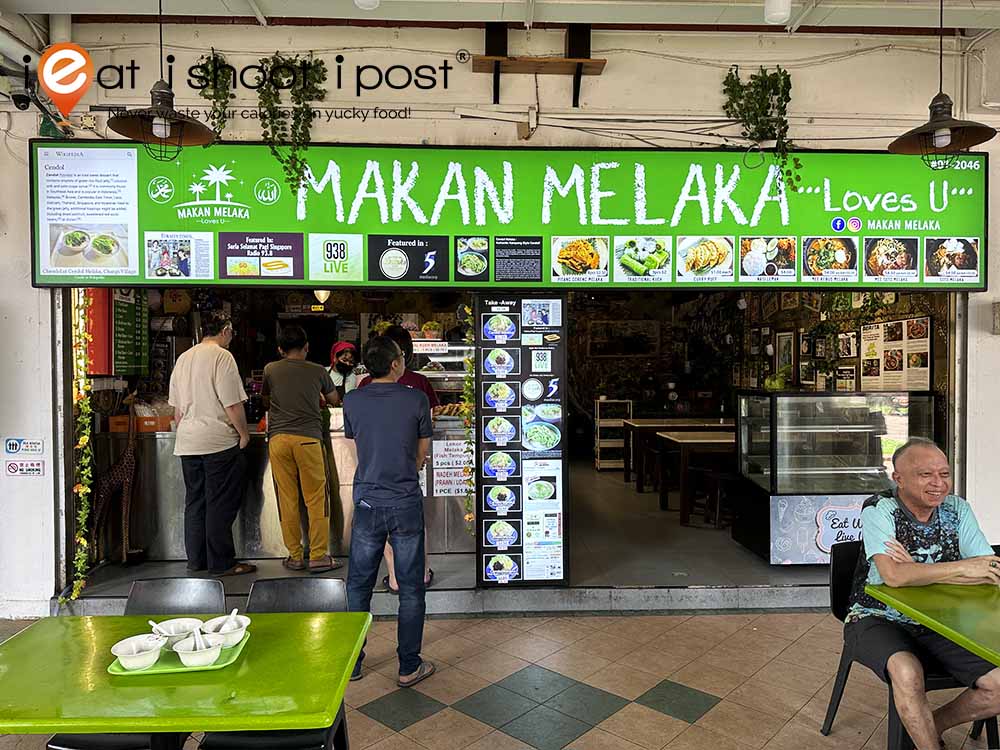 Haven't been for a while. The eatery has been given a nice facelift! The cendol is still very kampong style, like the ones you would get in Malaysia.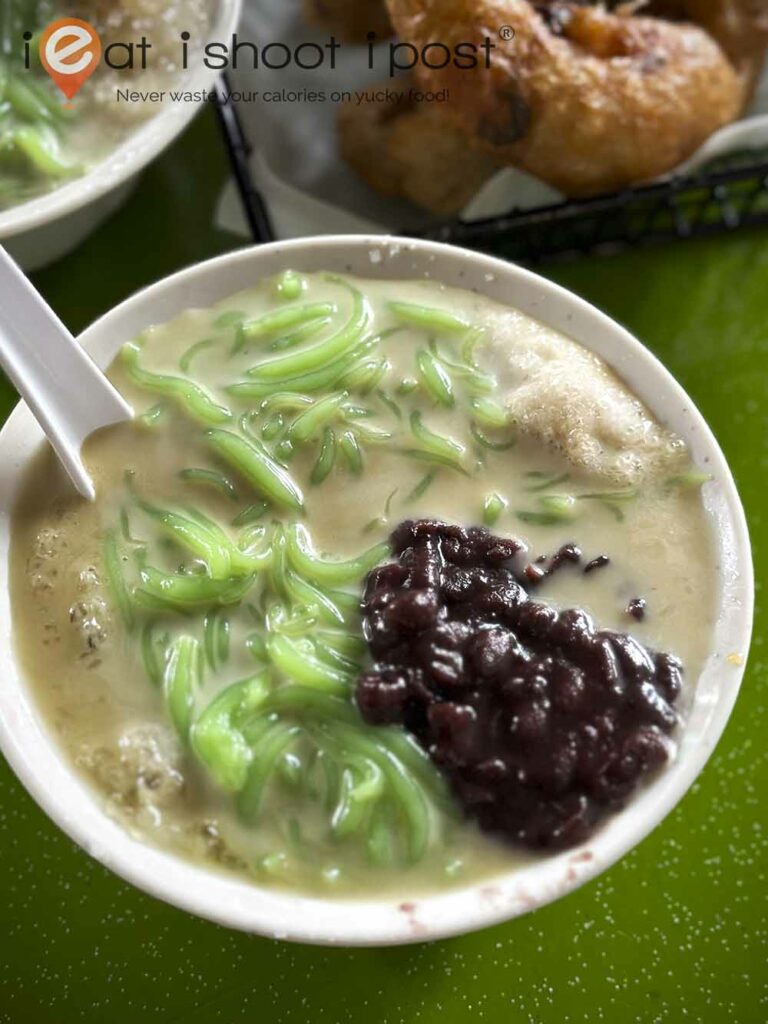 Prices have increased to $2 now ($2.30 with red beans) and they now have expanded to 5 outlets around Singapore. However, Changi still has that kampung atmosphere which I really like!