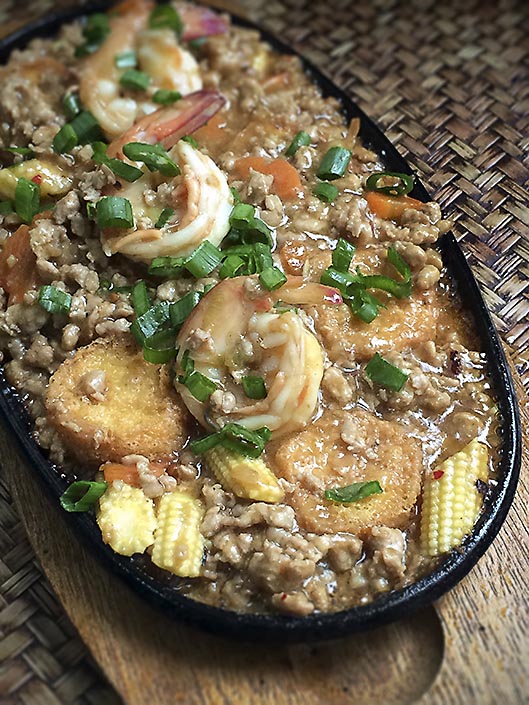 Hotplate tofu is one of the most popular dishes at the Cze Char.  It actually works very well as a home dish as it really goes well with rice.  If you don't have a hotplate, you can simply fry the eggs in a pan and then lay it on the plate and pour the tofu sauce over.  Of course, the hotplate adds to the extra-dimension of smell and sound to heighten the anticipation of the dish!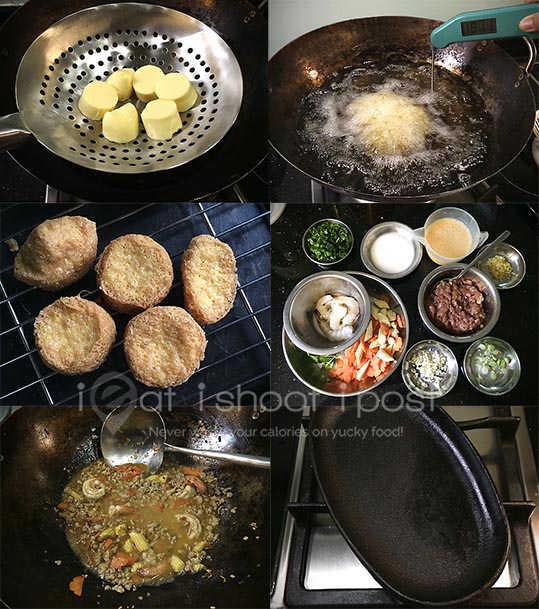 Ingredients
Minced pork 200g (marinade with 1 tsp sesame oil, pinch of salt, pepper, and 1 tsp cornflour)
Prawns 6 -10 pieces
Egg Tofu 2 tubes
Carrot half sliced
Ginger 3cm chopped
Garlic 2 cloves chopped
Spring Onions 3 – separate green and white parts and chop
Oyster sauce 1 Tbsp
Chilli Bean Paste  辣豆瓣酱 2 Tbsp (use less for less spicy)
Light Soy Sauce 1 tsp
Sugar, Salt, White Pepper to taste
Cornflour 1 Tbsp dissolved in 2 Tbsp water
Eggs 2 beaten
Procedure
1.  Cut Egg Tofu to 1 inch thick pieces.  Pat dry pieces with a paper towel.  Deep fry in oil and set aside.  To get even browning, make sure you have lots of oil in the wok (80% Oil 20% tofu) and heat to at least 170 degrees C.  Once you put the tofu into the oil, don't touch it for at least 1-2 minutes then gently swirl it around and remove from oil once it is golden brown and drain.
Nb:  The egg tofu does not need to be coated with any egg or flour.  Simply follow the steps above to get a crispy outside and soft inside.
2. Heat wok till it smokes, turn off heat and add oil.  Turn up the heat again and fry the ginger, garlic and spring onion (white part) till fragrant.  Add minced meat and fry till cooked. Add oyster sauce, chilli bean paste, soy sauce and  1 cup water and add the veggies.  Simmer till vegetables are cooked and water is reduced.  Adjust to taste with sugar and salt.  Thicken with cornflour and set aside.
3.  Heat hot plate till very hot.  Brush on some oil and add the egg.  Arrange the tofu onto the hotplate and add the sauce.  Sprinkle some pepper and chopped green onions and serve!
Watch my Live Cooking demo!

Other related Zi Char Recipes:
Mapo Tofu Recipe
Moonlight Hor Fun
Cereal Prawn
Sweet and Sour Pork
Seafood White Beehoon
Salted Egg Sotong
Har Cheong Gai
Hakka Zhar Yoke
Places to eat Hotplate Tofu:
Paradise Classic
Joo Heng Restaurant
Two Chef's Place
Disclosure: Some links above are affiliate links, meaning, at no additional cost to you, we will earn a small commission if you click through and make a purchase.