With Chin Chai Guy, Skinnyfoodie and ieatfamily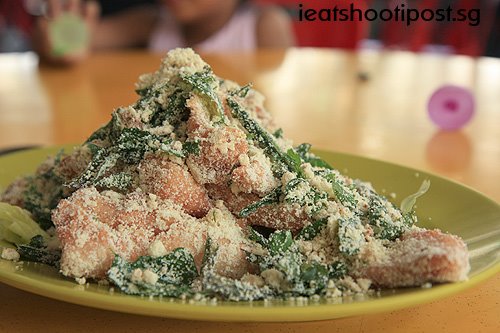 Butter Pork Ribs (Medium) $12
When PChong first told me about Two Chef's Butter Pork Ribs, the dish I saw in my mind's eye was a couple of pork ribs swimming in golden oil. I bet it was good to eat but I felt my arteries clogging up just thinking about it.
So imagine my surprise when the Butter Pork Ribs come out covered with golden yellow dust and curry leaves! And even more delightfully surprised that it tasted so shiok!

The Pork Ribs, more accurately Pork Chops were wonderfully tender with a melt in your mouth quality about it. But it was the butter powder which really got me excited that day. You know, it was just one of those head shaking, "I am so excited to have found something so yummy" kind of moments. The taste was similar to that of Cereal prawns, savoury and sweet and really great to eat with rice. We literally picked the plate clean, curry leaves and all. 4.5/5
Ah Hua, the elder brother of the two Chefs explained to me that the butter powder takes around four hours of slow cooking to prepare. Butter is melted over a low fire and slowly combined with a bit of flour, milk and other secret ingredients until it becomes a powder. Actually it was a little bit like someone crumbled savoury butter cookies over the Pork Chops.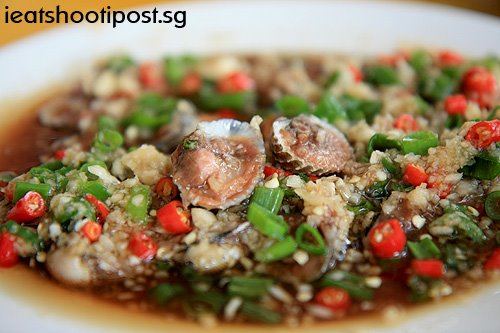 Cold Cockles $6 (small)
Although the restaurant has only been around for 7 years, the two brothers from Ipoh have already got quite a following. I spoke with Ah Hua and I can tell you that this guy is passionate about food which is why a lot of the signature dishes here are all their own creations.
If you are a fan of cockles, then you will have to order a plate of the cold cockles which is a plate of cleanly shucked cockles drizzled with a garlic, chilli padi laced sauce. The cockles are really fresh and sweet and you won't have the hassle of getting sand in your mouth as they are all squeeky clean. Our cockle fan, skinnyfoodie said it was just as exceptional as the Butter Pork and gave it a 4.5/5.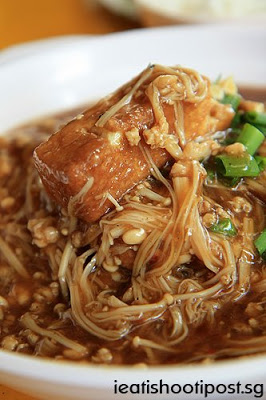 Golden Mushroom Tofu $10
The homemade tofu with golden mushrooms is another signature dish here. A lot of Cze Char places make their own tofu nowadays so they can tweak the flavour and consistency of the tofu. It comes with a sauce which I thought was good but could have been a little thicker. I think the same dish on a sizzling hotplate with an egg ala hotplate tofu would be even better. 4/5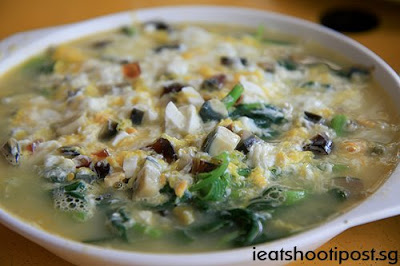 Three Colour Spinach $8
I have tried this three colour spinach dish many times before at other cze char places but I have yet to find one that I can truly say was exceptional. This is just another one to add on to that list. Maybe it is just the dish itself that I don't appreciate but I lot of other people seem to rave about this and I cannot see why at this stage. 3.5/5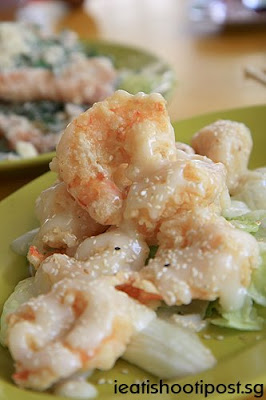 Prawn Salad $18
I used to love this dish years ago when I first ate it but nowadays it has lost a lot of its novelty for me. Some dishes like are like that while others like sweet and sour pork seem to be evergreen (for my palate anyway). Still it was well executed dish, the prawns were nice and juicy and the tempura batter was crisp. 4/5 I think next time I should go for Satay Prawns as suggested by PChong.
Conclusion
This is going to be another of those places that our makan kakis will be bringing their families to! Great food, reasonable prices with generous portions and located in a great old coffeeshop that hasn't been renovated since the 70's. I am already planning my return visit for the Butter Pork Ribs and to try some of the other dishes!
You can read PChong's review here.