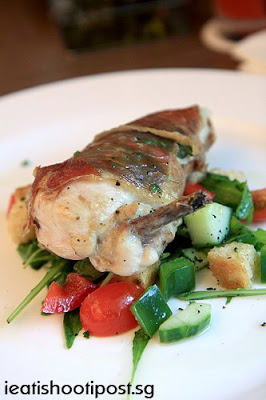 Pan Fried Chicken Breast wrapped in Prociutto
With all the financial doom and gloom being reported in the news daily, a lot of people are making the extra effort to look for great deals. So much so that we even have a thread in the forum for people to share information on great deals called "Hang Cheng Pai Lobangs", hence the title for today's post.
For the benefit of those who don't understand the above phrase, which is a typical Singaporean fusion of Hokkien and Malay words, "Hang Cheng Pai" means "Bad Situation" in Hokkien and "Lobang" literally means a hole in Malay. But how can a "hole" help you in a bad situation and how did the word "Lobang" come to mean some sort of tip off for a great deal? One plausible explanation might be that the word for "Great Opportunity" in Hokkien is "Kang Tau" and the word "Kang" also means hole in Hokkien. So at some time in our history, rather than saying "Kang Tau", one Singaporean changed it to the Malay equivalent and a piece of Singlish history was made. Or could it be the other way round? Whatever it might be, a "Lobang" still came to signify a great opportunity which is not widely knowned except for the privileged few who have access to such information. Some people I know are like "Lobang Kings", they seem to know where to get the best deals for everything from electronics to real estate. I even know one lady who has a cut out coupon for just about anything you might want to buy!
Anyway, I am not a "Lobang King" but I came across this little lobang if you are looking for a cheap way of getting a four course upmarket meal for $12.50 with no +++. Of course there is a catch. You will be subjecting yourself as a guinea pig for trainee chefs and waiters to practise on. Now, I have never really considered a meal at any of the training institutes since I have always assumed that it would be a waste of calories. But it so happens that one of my makan kakis, Holydrummer had spent a term at the academy and he was raving about the food there. So since since people are looking for "Hang Cheng Pai Lobangs", I decided to "scope" this particular "hole" out.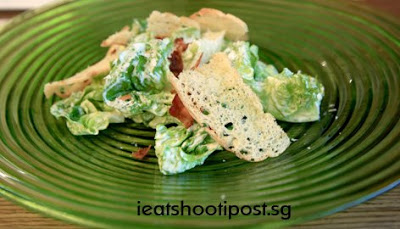 Caesar Salad
The whole experience was a rather pleasant surprise. The place was modern and well decorated just like any proper restaurant and the food turned out to be really good! The lunch set changes every week and you get a choice between 2 starters and 2 mains. I started with the Caesar Salad which was as good, if not better than most Caesar salads I have eaten. The bacon was freshly fried and crisp, they used toasted homemade foccacia to replace the croutons and it was dressed with shaved Parmesan cheese, not the cheap commercial Parmesan powder that a lot of places use. The lettuce could have be colder and crispier and I think that they really should not put a green salad on a green plate. But other than that, it was a pretty nice starter. 4/5
This was followed by the Pan Fried Chicken Breast wrapped in Prosciutto. Chicken Breast is very difficult to get right since it can become dry if it is overcooked. Mine was juicy and tender and nicely spiced. Would be even better if there was a nice jus to go with it though. 4/5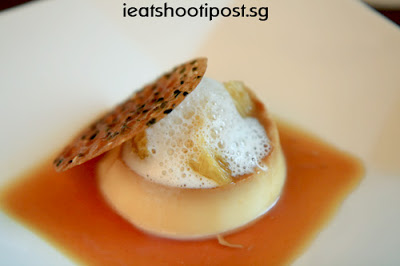 Cream Caramel with Orange and Ginger foam
Usually with the budget set lunches, you get really simple cheap desserts like some jelly or a slice of peach. I always felt that this was simply a cheap scam so that they can call it a three course meal. Not here, here you get a proper dessert and, lucky me, it just happens to be creme caramel that day…. one of my favorite desserts. The orange was a nice twist I thought, but the ginger foam did not quite have any ginger taste. It served as a nice decoration though. 4/5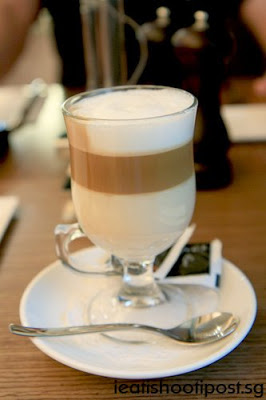 Caffe Latte: Extra $2.50
The set lunch does come with coffee (expresso) and tea (Lipton Tea Bag) in a nice cup and saucer served with cream (not milk) and sugar. But if you like to end your meal with something a little more special, you could order the Caffee Latte for an extra $2.50.
Conclusion
Seriously, foodwise I have eaten comparable set meals at some 5 star hotels for $35 or more. It isn't shiok enough to say it is a die die must try, but if you are really looking for a cheap place to eat pretty nice food, then it doesn't get better than this. The only thing is that the service tends to be a little amateurish as the students are understandably nervous and not as polished as seasoned waiters. Also the other patrons of the restaurants tend to be fellow students and lecturers, so the waiters tend to be a little over familiar with their customers.
I would say that this is the best value set meal I have had at $12.50 in recent memory. Don't think for a moment that you can just turn up and get a seat as they were fully booked one week in advance last week. Rumour has it that during their 2-3 month run, they would be serving stuff like Foie Gras, Duck Confit and Stewed Beef Cheeks. Holydrummer is keeping his antenna out for those and hopefully he can keep us all informed on this post.
Got other great "Hang Cheng Pai Lobangs"? Share lah!
The Top Table
Blk 31 Temasek Polytechnic
21 Tampines Ave 1,
S529757
Enter by the West Gate
Reservations: 67806369
17 Nov to 5 Dec 2008
29 Dec – 13 Feb 2009
Mon to Fri 11.30am to 2pm