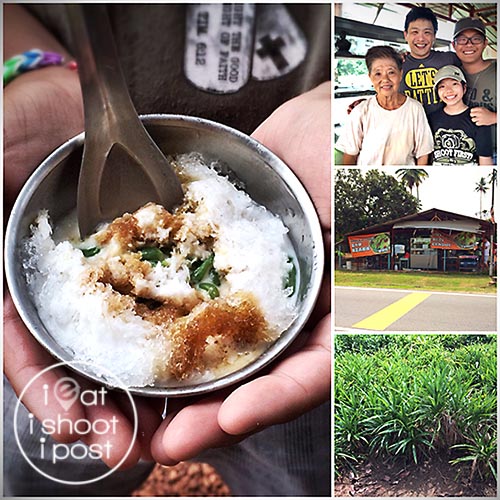 I had an amazing weekend eating my way through Malacca! It was my first food trail there and it will not be the last! Here is collection of all my facebook entries I did while on the food trail for your easy reference!
1. Aunty Koh Cendol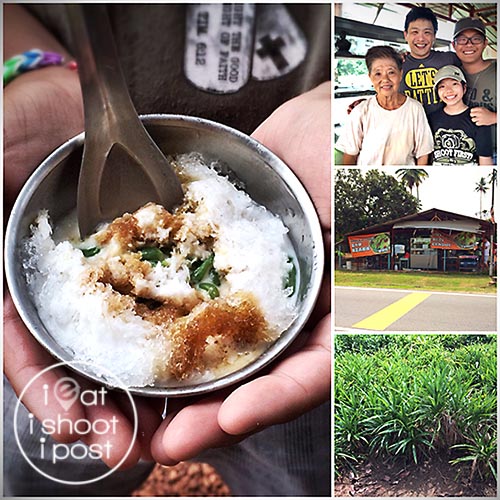 The award for the Best Cendol in Malacca goes to Aunty Koh! This amazing lady wakes up at 3am in the morning to wash, shred and squeeze 38 coconuts! She even plants her own pandan leaves to make the cendol! I got the wrong GPS coordinates from the internet and wasted 30 mins on a wild goose chase. By the time I got there to join the queue she already said that she was running out of coconut milk! Fortunately, I managed to get the very very last half bowl. It was the best Cendol we had during this trip! The coconut was super smooth and fragrant! She starts selling at 12noon and was sold out by 12.30pm.
Met lots of Singaporeans there! Very nice of the two ladies in front of me to just take one bowl so that I can have a half bowl that is left to have two mouthfuls! If you are reading this, thanks very much!
To get there, you just need to travel for about 15 mins West along Jalan Klebang Besar and take the Bukit Rambai (there's only one roadsign) turnoff. Keep travelling along this road (Jalan Batang Tiga) till you see the stall on the right. She only opens on weekends! It is worth the drive. Cendol doesn't get more artisanal than this! 4.75/5
No. 5113, Jalan Batang Tiga,
Kampung Bukit Rambai,
75250, Melaka.
Open Sat and Sun from 12pm to 1pm (Best get there before 12pm)
Coordinates: 2.246583, 102.191867


2. Baba Charlie's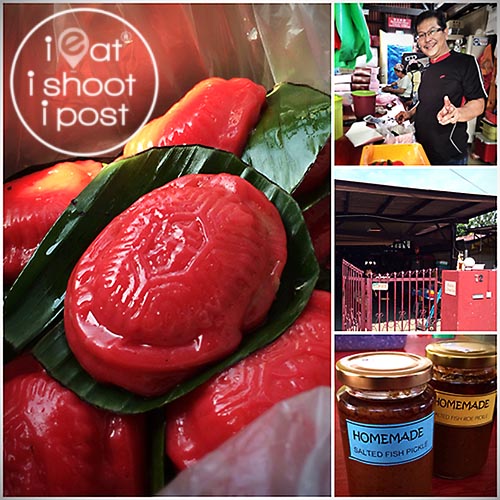 Got to Baba Charlie's at 3pm and met another group of Singaporeans who were coming out of Baba Charlie's house. They told me that everything was sold out for the day! Too many Singaporeans in town! Not one to take no for an answer, I still went into the house to see if they had even some grains of glutinous rice left at the bottom of the pot that I can taste. Baba Charlie was very apologetic and told me that everything was sold out. As I was asking about the rice at the bottom of the pot, suddenly one of his helpers came out with a tray of piping hot Ang Gu Kueh! Wha! Ang Gu Kueh Sio Sio (Ang Gu Kueh hot hot), I haven't even eat oredi tio beh pio! (strike lottery) I quickly put one into my mouth and understood why his kueh was so popular. The skin was nice and chewy without sticking to the teeth and the bean paste was sweet yet savoury! I taught my kids a life lesson: Never give up! Never surrender! 4.5/5
Baba Charlie Nyonya Cake
Jalan Tengkera
75200 Melaka
10:00 am – 4:00 pm
+60 6-281 2168
Coordinates: 2.202918, 102.231462



3. The Baboon House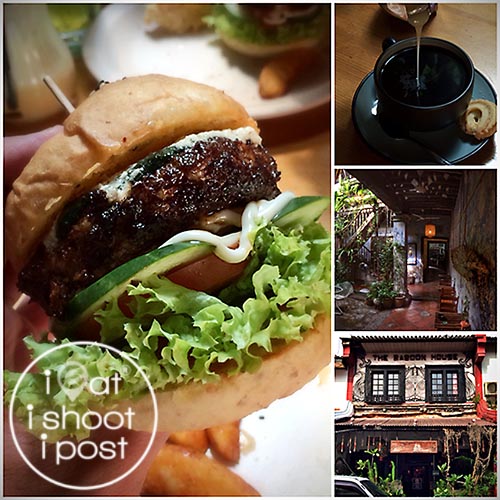 For a change of pace, we headed to The Baboon House. It's a beautiful cafe with beautiful artwork of the owner hanging on the walls. They serve only one dish — Burgers! They use local beef which is marinated with Malay spices and even make their own buns! RM19.90 for the burger special. The teriyaki pork burger and Greek lamb burger which were also very nice. They also serve local Malaccan coffee with condensed milk. Photography is not allowed normally, but I got special permission from the lady boss! 4.25/5
The Baboon House
Jalan Tun Tan Cheng Lock
75200 China Town, Melaka
Malaysia
Closed Tuesdays
11am to 7pm
+60 12-617 6165
Coordinates: 2.197332, 102.244106
4. East & West Rendezvous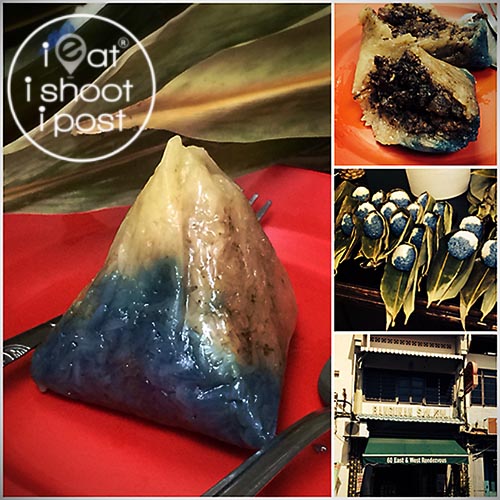 Had the best Nonya Chang at East & West Rendesvous! Rm6 each. I bought a whole bunch to put in the freezer to slowly savour. The blue colour is very traditional and is made from a flower called bunga telang (butterfly pea). The chendol here is quite good too, was much better than the one at Jonker88 which is just round the corner. To get to this place, just walk to the end of Jonker Walk where the river is, turn left and walk for about 5mins. It may be a good idea to order your Bak Chang first as they sell out quickly! 4.5/5
East & West Rendezvous
60, Lorong Hang Jebat, 75200 Melaka
016-634 6283 (Grace Tan)
Coordinates: 2.195405, 102.248892



5. Jonker 88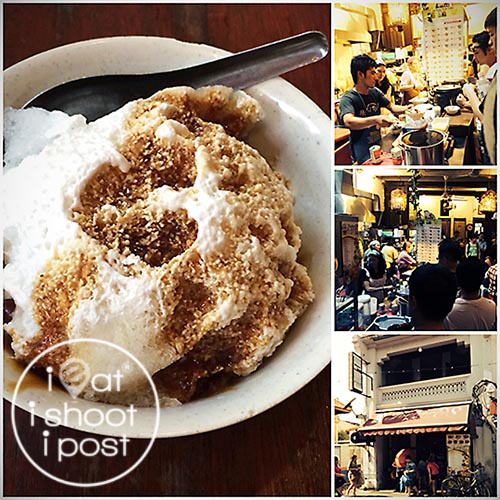 This is the famous Jonker88 cendol! I don't use this word much but I think I will use it here. Overrated! So disappointing! Gula Melaka was anaemic, cendol was frozen, coconut milk lacked fragrance. I was told that it used to be great until a month ago when they moved everything inside the shop! There is still a long queue outside the restaurant with people waiting to get a seat. I hope its just a once off and I just caught them on a bad day. 3/5

Jonker 88
No. 88, Jalan Hang Jebat, 75200, Melaka 75200
+60 19-397 5665
Coordinates: 2.196333, 102.246974





6. Loi Satay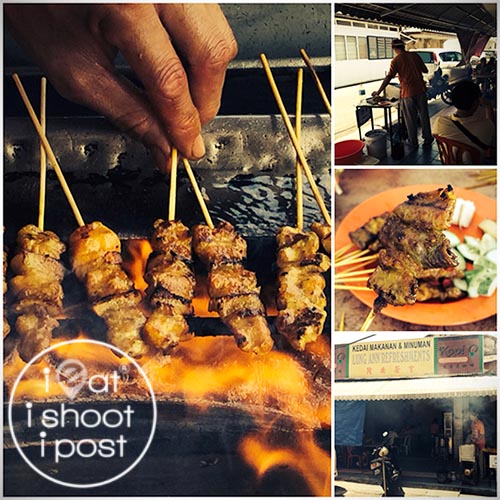 Had some pretty amazing satay in this old coffeeshop at the corner of Jalan Kampung Kuli and Lorong Hang Jebat. Their satay is salty rather than sweet which is great with the sweet kuah made with belimbing which I am told is the traditional way of
making satay sauce before people started using pineapple. It's been quite awhile since I ate 25 sticks at one go, but it's that good. The salty savoury satay is unusual at first but really grows on you. I am now convinced that this style is better as there is a good contrast between salty and sweet.

4.5/5
NB: This stall doesn't really have a name. When I asked them, they said it is called Loi Satay after their mother. You may not see the name listed on the internet.
See next entry for location details (Lung Ann Refreshment)


7. Lung Ann Refreshment Kopitiam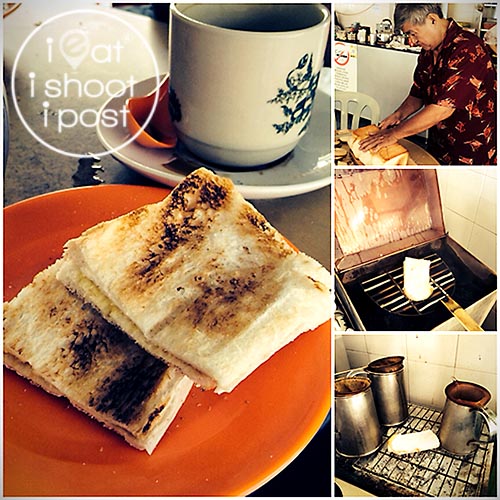 The same coffeeshop that houses Loi satay has really good Kopi and old school kaya toast! The uncle tells me he is the third generation and there is no one who will take over when he retires! Seems like they too have a problem where the youngsters prefer to open cafés instead of Kopi tiams! He takes 3.5 hours to make his kaya. Stirring till it turns brown, smooth and caramelized and you can spot him slicing the super old school bread by hand! It's located at the junction of Jalan Kampung Kuli and Lorong Hang Jabat. Just walk to the end of Jonker Walk where the river is and turn left and walk for about 7 mins. You will pass East & West Rendesvous (entry No. 4)

4.5/5
Lung Ann refreshment
807 Lorong Hang Jebat
Melaka 75200
1pm to 4pm
Closed Thursdays
Coordinates 2.195791, 102.249345
8. Sun May Hiong Satay House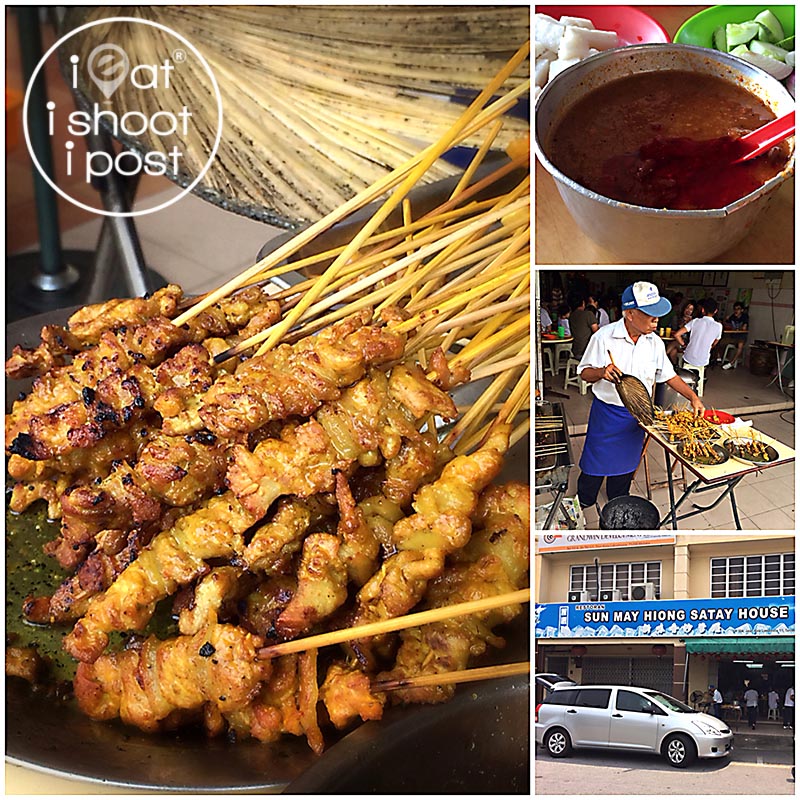 Hainanese Pork Satay is definitely the highlight of my trip to Malacca! Visited Sun May Hiong for our 2nd Satay session. Ended up ordering 80 sticks (RM0.70). My daughter, Megan (12) managed to eat 27 sticks on her own! Malaccan style pork satay is more savoury than sweet and I love how the meat is bursting with juices when you bite into it. Unlike Loi Satay which I posted earlier, they use crushed pineapple in the kuah here and they are slightly smaller than Loi's. But they are no less tasty and parking is much easier here! Hainanese pork satay is now on our MUST EAT list whenever we visit Malacca. 4.5/5
Sun May Hiong Satay House
50/50A, Jalan Kota Laksamana 1/1
Taman Kota Laksamana
75200, Melaka
06-2817281
10am to 7pm
Coordinates: 2.191615, 102.243769
9. Pak Putra Tandoori
People say that Pak Putra Tandoori is the best in Malacca and some even claim it is the best in Malaysia! Malacca, yes, but I am not sure about the whole of Malaysia. The tandoori chicken and naan here are very good and worth the calories, but you can get something just as good here in Singapore. Don't bother with the side dishes though, the butter chicken and palak paneer were pedestrian. If you are on a food trail, this would be ideal for supper as they open till 1 am. 4.25/5
Pak Putra Tandoori & Naan Restaurant
Jalan Laksamana 4
75200 Melaka
Coordinates: 2.194999, 102.243773
6pm to 1 am
Closed Mondays
9. Restoran Peranakan
Dinner at Restoran Peranakan was ok but failed to convince me that Malaccan Nonya food is so much better than Singapore's (As claimed by many). I was staying at Hotel Puri and this was just across the road and the reviews on the internet was positive, some listing it as the top 5 peranakan restaurants in Malacca. Nancy's was around the corner as well, but that place had a perpetual queue, so I decided to give it a try. It's no wonder, none of our fans here recommended this place! The old peranakan house does has its charm though. I can just imagine a tok panjang (long table) in the middle of the dining hall in the good old days! 3.5/5
Restoran Peranakan
107, Jalan Tun Tan Cheng Lock
Coordinates: 2.196400, 102.245062
Open daily for lunch and dinner
+606 284 5001
10. Restoran Lee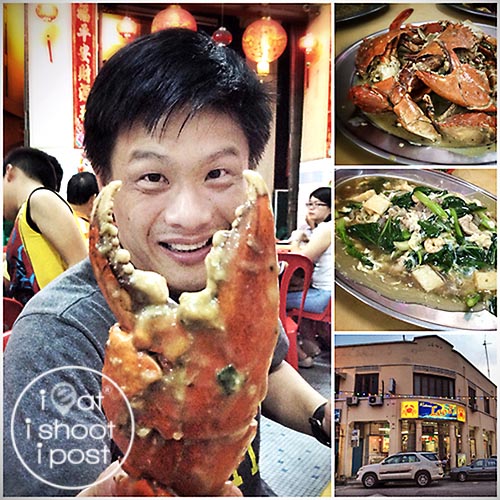 For our final meal we headed to Tong Sheng restaurant. I had called earlier but they told me it was already fully booked. As I was just around the corner, I decided to take my chances to see if I was in luck.
The place was packed to overflowing! So, I went across the road to Amy's Nonya food but they too were packed. Met a Singaporean there who recognized me and came out to tell me that I did not miss anything. So, I went to the one place that I know of which does not seem to be on the Singaporean radar.
Restoran Lee specializes in Carnation milk crabs. Last time I came here, their black pepper crabs were excellent. This time I tried their signature dish. The crabs were solid! I got two medium size crabs which weighed 1.6kg together. (They seem bigger than 800g crabs if you ask me, but I am not complaining) Paid RM 132 for the dish. Certainly much cheaper than Singapore. The sauce was unique. It's got pickled green chillies and carnation milk. Can't say it's addictive, but it's tasty enough. The Hor fun was excellent! The rice noodles were smooth, tender and had that elusive Wok Hei fragrance! The minced meat sauce with salted fish on tofu was super addictive. This is a dependable Cze Char without the queue and it's easy to find parking. It's along on the way out of Malacca just opposite the Bayview Hotel.
Restoran Lee
155, Jalan Bendahara
75000 Melaka
06-284 6601, 012-916 0677
Opened for dinners
Rest day once a fortnight (day not fixed)
Coordinates: 2.201302, 102.252626