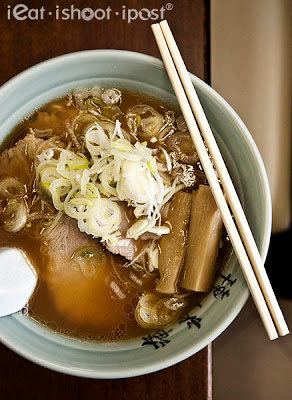 Shoyu Ramen $13.80
There are two more contenders left to my Ramen Rampage and it is getting a little tricky deciding who to include in the top ten. Over the last few weeks, I have eaten more Ramen than I have Maggie Mee in my lifetime and I am glad I am almost at the end of my journey. After this, it's back to some serious Hawker Hunting again as I need to blog a few more stalls to include in my upcoming book.
This Ramen Rampage has helped illuminate the cultural differences between the Japanese and us Singaporeans. Allow me to elaborate with an illustration.
There was once a group of Singaporeans and Japanese who were tasked to pilot a boat from the Indoor Stadium and have the boat pass under the Benjamin Sheares bridge at precisely 12noon on a certain date. What we Singaporeans would do is this. We would roughly gauge that it might take half and hour for the trip, so we would start off at 11.15am and get the point just before Benjamin Sheares bridge at around 11.45am and wait till a few seconds before 12 noon and pilot the boat under the bridge just as it reaches 12 noon.
What the Japanese would do is different. They would measure precisely the length of the journey between the two points, find out details about the tides and currents and how it would affect the speed of the boat. Based on these, they would calculate the time they need to set off from the start point so that they would sail underneath the bridge at precisely 12 noon.
That is why they can do things like turning apples while it is still on the branch to ensure that the whole apple gets sunlight uniformly so that the whole apple is evenly red. We appreciate such perfection and we are willing to pay 5 times the price of an ordinary apple for it. They take a bowl of noodle soup which we all take for granted, apply their culture of obsession to it and we are willing to pay 5 times the price of a bowl of Bak Chor Mee for it.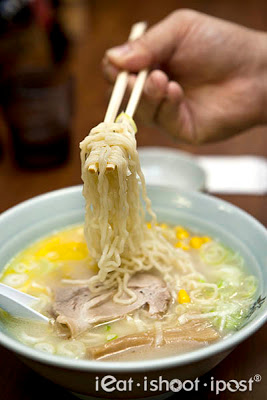 When I eat a bowl of Ramen, I am basically paying for their efforts in achieving perfection. My personal opinion is that if I brought a Japanese friend to eat a bowl of Mee Kia Soup from Seng Kee or a bowl of Prawn Noodles from Wah Kee, they would tell me that it probably tastes as good as the best Ramen in Japan. The only thing that is missing is building a culture of obsession around it. This is what I hope our next generation of Singaporeans can strive towards. I have spoken with forward looking guys like Kuen Loon from Funan Weng Hor Fun who are trying to head towards that direction. But the big stumbling block is always the problem with finding workers who think the same way. You see, in Japan you can get a person off the streets to make a bowl of ramen and that guy would just follow your procedure to a T. If the noodles need to be cooked for a certain amount of time at a certain temperature, it would get done. If you tried to get a local to do it, a lot of the time, they will tend to let the culture of "Agarism" (estimation) creep in. After awhile, the timer will go as the person feels that he can do it by feel.
But I am quietly confident that it should not be too long before we start seeing restaurants selling Wanton Mee with noodles that is made right at the stall. I am sure there must be some clever entrepreneur who can capitalize on the idea of Ramen to bring our own noodle culture to another level.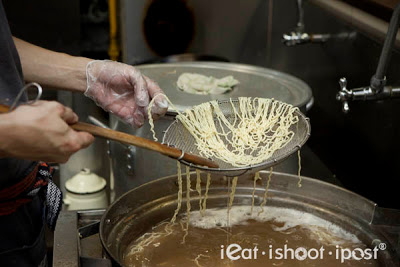 Traditional way of testing the noodles by feel rather than timer: Baikohken is one of the few that still does it this way
Anyway back to Baikohken. I have included them into my top ten list because this is probably the most generous bowl of Ramen you can buy in Singapore and it was highly recommended by Liverpool. Baikohken serves Asahikawa style Ramen which, if you remember, comes from the same city as Santouka. However, the flavour to try at Baikohken is not the Shio, but the Shoyu. Over at Baikohken, it is not the soup that will impress you, but the five thick slices of Charshu which covers the whole bowl that will make you happy especially if you are always lamenting that the other Ramen-yas are so stingy with their pork.
Charshu Don $4.50
The real gem at Baikohken is actually not the Ramen but the Charshu Don. At $4.50 per bowl, I would be more than happy to come here just for the Charshu Don. The meat is wonderfully savoury and combines well with the short grain rice, sliced leeks and mayonnaise. Definitely one of the tastiest and cheapest place to have Charshu Don!
Shoyu Ramen: Noodles 4.25/5, Soup 4/5, Charshu 4/5
Charshu Don: 4.5/5
Conclusion
Baikohken is one of the most value for money places to have a bowl of Ramen, especially if you like to eat Charshu! The Shoyu Ramen is the one to go for and remember to order the Charshu Don!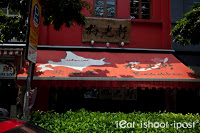 Now, if you are interested in making your own Shoyu Ramen, then you should watch this video. Japanese Charshu is actually quite easy. All you need are six things. A nice cut of pork (belly or collar is good), Soy Sauce, Sake, Mirin, Leeks and ginger. The video will show you how to do it with a pressure cooker, but you can cook it in an ordinary pot for an hour to an hour and a half. If you want to make the eggs as well, then it is room temperature eggs cooked in simmering water for 5 minutes, cooled in ice water and peeled. After that, soak the egg in cold braising sauce (Soy sauce, Mirin and Sake – start with equal portions and adjust to taste) overnight. For the noodles, you can buy Ramen noodles from Japanese supermarkets or simply use the local egg noodles from the supermarket. Once you know how to make your own Charshu, you can really pig out rather than slowly nibbling on two thin slices of charshu that accompanies your bowl of Ramen!