Wah Kee's Jumbo Prawn Noodles $10
Over the last 4 years, I have blogged a good number of prawn noodles and after reading all the comments from the ieat community, I have to say that the one prawn mee that is consistently getting the highest praises is Wah Kee Prawn Noodle.
So, I am starting a new label called " Best of the Best" which celebrates the best of each of category of Singapore's famous hawker dishes. Some of them, like Wah Kee is quite clear cut and I am sure the majority of the ieaters would concur that they deserve the award. However, others might not be so obvious, in which case we shall call for nominations and subsequently do a poll to find the champion.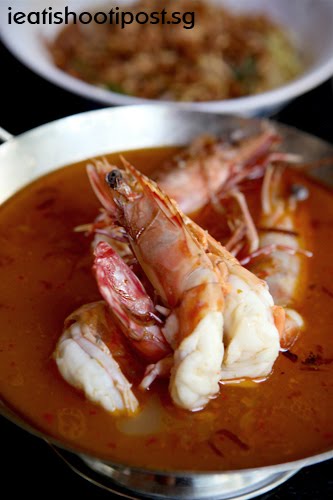 Wah Kee's prawn noodles really are a cut over the rest. The Uncle here does not use any pork bones in his soup but insists that he uses only seafood to make his sweet prawn broth. He has one big advantage in that his son-in-law happens sell seafood at Tekka Market and so he always gets first pick of the best prawns. Take the freshest prawns and mixed them with a lot of passion and pride and you get one very special and potent prawn broth which you can confidently bring any overseas friend to eat in order to show off Singapore food! 4.8/5
So if there are no objections, may I present Wah Kee as the Best of the Best Prawn Noodles in Singapore.
You can read my previous post on Wah Kee as well as our kakis' comments here.