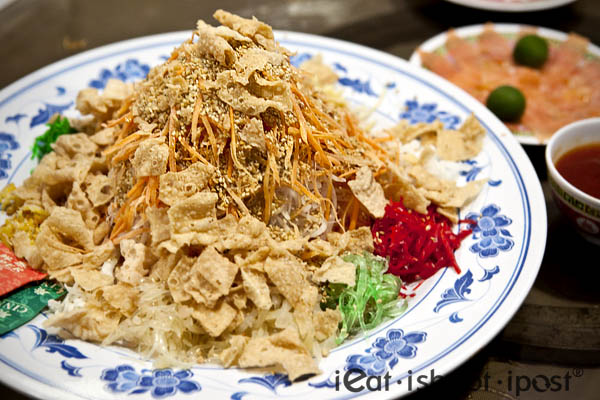 Lucky Raw Fish Yu Sheng $45
Lai Wah Restaurant: Origins of Yu Sheng and Yam Ring – ieatishootipost
You must feel a little incredulous to see an article about Yu Sheng in May. Well, this is no ordinary Yu Sheng, this is the original plate of Yu Sheng that was first introduced to Singapore during the Chinese New Year of 1964. Up till then, Yu Sheng had been a dish which was eaten during Chinese New Year, but it wasn't until the "Four Heavenly Kings", came up with the idea of premixing the sauce and introducing "Lo Hei" or tossing of the salad as a group activity that gave birth to what we know today as Yu Sheng.Yu Sheng is something which Singaporeans should be proud of as it is a piece of Singaporean culture that we are exporting to the world. It ranks up there with the Singapore Sling and Chilli Crabs as iconic Singaporeana. This is one dish that we must not let the Malaysian Tourism Minister lay any claim.
I must admit that I was a little apprehensive before I tried the Yu Sheng at Lai Wah. This is the birthplace of Yu Sheng, what would I write if the Yu Sheng was not up to par? Thankfully, Lai Wah's Yu Sheng is one of the best Yu Sheng that I have tasted. Of course, I am just referring to the normal Yu Sheng that we eat everywhere during Chinese New Year and not those special ones concocted by fancy hotels. Lai Wah's Yu Sheng has the perfect balance of sweet, savoury, tangy, crunchy, chewy, spicy flavours. It's too bad you would have to wait another 8 months to eat it!
4.5/5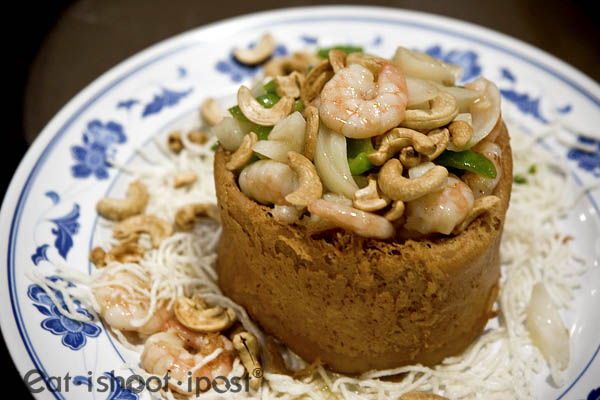 Yam Ring/Pot/Basket with Prawns and Cashew Nut (the Chinese name literally it means the Buddhists monks' alms-bowl , being the shape of the Yam ring) $22
You probably are very familiar with the Yam Ring which is an ubiquitous dish at any chinese restaurant or cze char. Now, the history of the origins of Yam Ring is a little muddled. There are two restaurants that lay claim to its invention, viz, Lai Wah and Dragon Phoenix. From what I can make out, the complication came about because there were once the Four Heavenly Kings of Cantonese Cuisine in Singapore. Two of the heavenly Kings, Tham Yui Kai and Lau Yok Pui left Cathay Restaurant to join Lai Wah. These four heavenly Kings know each other really well, so they must have exchanged notes often. One of the heavenly Kings opened Dragon Phoenix. So it must have been that the idea of the Yam Ring was something that the four chefs knew about and they probably introduced it at their own restaurants.
The Yam Ring was good. The yam was nice and "Sang" (powdery) and the ring was crisp. However, I found that there was not enough sauce in the filling. I think it is still worth ordering but it was not as outstanding as the Yu Sheng. 4/5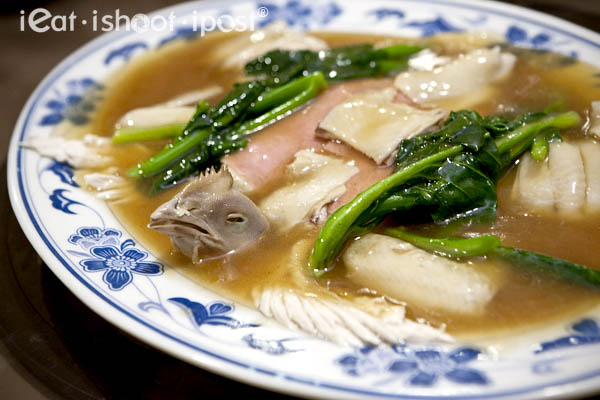 Yu Lan Chicken $30
Now Yu Lan Chicken is a dish that I haven't seen since I attended a wedding of an Uncle whose kids are now getting married themselves! This is a classic poached chicken that is served with ham and Kailan, hence the name Yu Lan, ("Yu" means Green Jade and "Lan" referring to the Kai-Lan). I haven't eating this for a long time, so it was a real blast from the past. 4/5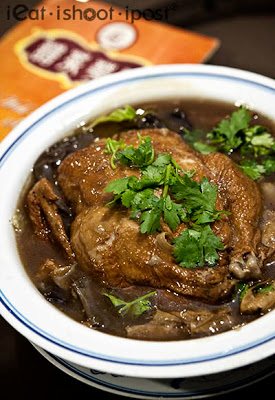 Mandarin Stewed Chicken $22
The Mandaring Stewed Chicken is quite different from the usual herbal chicken that is quite common. Here they use a combination of Chicken Herbs but the dominant aroma is that of dried Mandarin Peel. Excellent dish to go with rice. 4.25/5
Fried Crispy Prawns (13 pieces) $52
Although Lai Wah prides itself in serving traditional Cantonese Cuisine, they do have newer dishes which are designed for the younger generation. One such dish is the Fried Crispy Prawns which were downright Shiok! All the kakis around the table were unanimous about this one. The crispy outside is made of Poh Piah Skin (springroll skin) and although the flavours are very basic, the prawn as an absoloute joy to eat. 4.5/5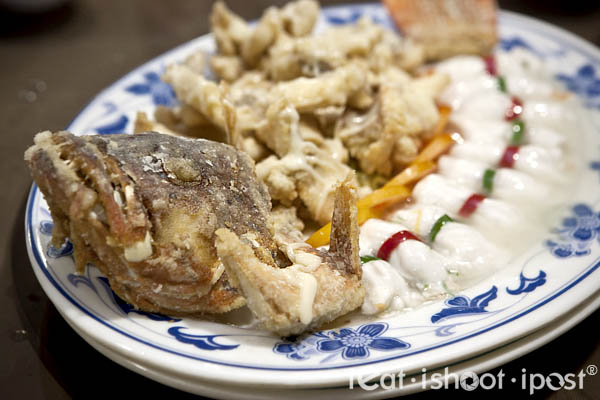 Red Garoupa in Two Styles $50
Now, when it comes to fish, the Teochews and the Cantonese have differing views on how it should be done. the Red Garoupa in Two styles is a dish that has to be ordered in advanc because one side of the fish is used to make a delicate wrap while the other side is deep fried. As a Teochew Ah Hia, I would have preferred my Red Garoupa simply steamed with ginger and sour plums. But this dish is very impressive when it hits the table. 4/5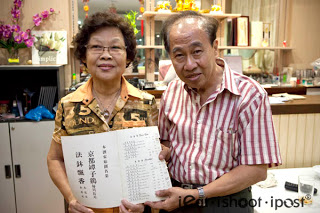 Mr and Mrs Wong, Second Gen owners of Lai Wah
The Restaurant is still being run by a delightful elderly couple with the help of their son who turns up when it is busy. Their chef has been working at the restaurant since the time the Yu Sheng was invented, so this place really does have a sense of history about it. Even though they have just renovated the place, Lai Wah still has that homey ambience about it which is very inviting.
Conclusion
You know, sometimes I think that restaurants such as Lai Wah should get some sort of award from the Singapore Tourism Board for its contribution to Singapore Cuisine and be promoted as places where you can find traditional Singapore food, just like how the Europeans are doing it for their cuisine. Such acknowledgement would surely ensure that their food will be preserved for generations of Singaporeans to come.