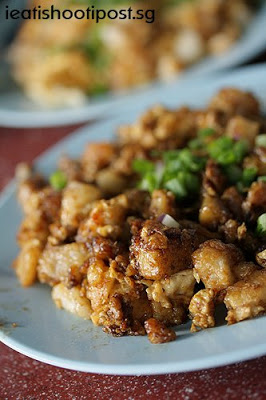 I have always thought that the best carrot cake are those where they actually steam their own carrot cake before frying. But I had a different thought the other day. How come we don't expect Char Kway Teow sellers to make their own Kway Teow, but we demand that from Carrot Cake sellers? It is true that traditionally they did steam it themselves, but it is one of those things that can actually be outsourced. So nowadays a lot of people actually take short cuts because it makes sense for their business and so we can't really fault them.
Anyway this carrot cake is the favourite of two of our makan kakis who live around Marine Terrace, viz Cactuskit and Holydrummer. So it is on their recommendation that I spent a precious Saturday morning (one of only a few throughout the year) trying them out.
Marine Terrace Food Centre is incredibly packed and I was told it is impossible to get a whole table to oneself. A lot of the times, you have to share tables with your neighbours. Indeed, there was hardly an empty seat as all the seats are actually taken! On the other hand, I found that people actually take the opportunity to talk to each other as well since they are forced to sit together. So this problem might not be totally bad afterall.
Anyway there was a 30 minute wait for the Carrot Cake which I found was pretty ordinary. BUT Cactuskit insists that it was a bad day for them and that they are usually better. OK lah I believe you, but that day's carrot cake only gets a 3.75/5.
Conclusion
So are you a Marine Terracer? Is this carrot cake really that great?