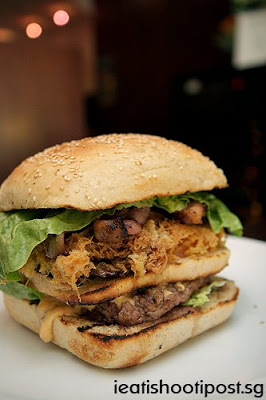 Ieat SuperBurger Mk II.1
The 2nd Anniversary Makan Session is upon us. Thanks to everyone who are supporting the event. All seats have already been sold, so this annoucement is for those who are already registered to come for the event.
I have got great news! Aside from beta testing the ieat SuperBurger Mk II, we have a gourmet grocer who will be sponsoring a degustation menu comprising Oysters, Scallops, Cold Cuts, Wagyu Beef, US Pork Jowl, Quail and a selection of fine wines! So do fast overnight and go for a morning run before coming!
We will also be printing some ieatishootipost T shirts for sale! So do support the blog and purchase a T shirt. Every dollar will be donated to Oakley.
There is also a list of items for Auction, so please come prepared!
Canon Powershot A590IS RRP $369
Samsung Laser Printer RRP $200
Ya Kwang Dinner Voucher (Lobster, Crab, Wagyu). Start bidding at $200
Gourmet Cooking Course for 2 RRP $160
And other interesting items.
All proceeds will be given to the Oakley Ministry. So do prepare some extra cash and come join the fun!
Do remember to come by 1pm to Astons at the 4th level of The Cathay (2 Handy Road). See you all there!
Link to the last post here