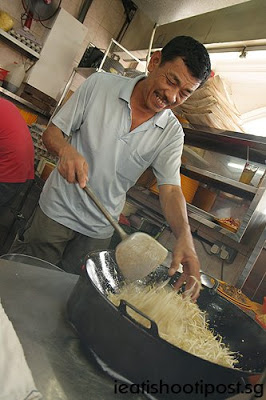 Bad news!
The building that houses the coffeeshop where Geylang Lor 29 Hokkien Mee is housed will be undergoing renovation to convert it to a hotel. So our Geylang Lor 29 Hokkien Mee uncle is forced to vacate and has up till now not been able to find a suitable stall to migrate to. Uncle Alex said he might even be thinking of calling it a day since his right shoulder is giving him so much problems.
That means that the stall which I consider to be one of the top 3 Hokkien Mees in Singapore may soon become just nostalgia! So if you are a fan of HKM, you have only up till 24 August (last day) to eat here before they close for an indefinite period of time.
BTW, if you know of any suitable coffeeshop in the East, please do write in and let me know. His criteria is that it should have space for carparking, be located somewhere around the East and preferably not be under HDB.
Postscript:
Alex and his family would like to thank all their customers for their support all these years. He will be taking a short break and when they settle in their new stall, they will announce it on this blog. So watch this space.
Update 16 Aug 2008
Just had the HKM today. Very shiok. I am upping is rating to 4.6/5 If only he brought back the boiled pork belly….
Updated 18 Sep 2008
They are now at 1 Joo Chiat Place! Read the latest update here.
Updated 25 Jun 2009
They are back at their old address!
Read my last post on Lor 29 HKM here