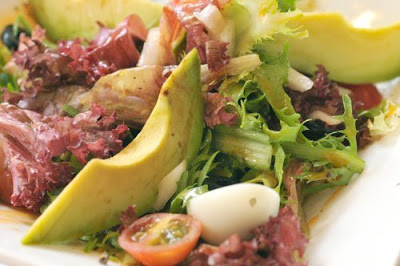 Reviewed by Holydrummer with Pics from Cactuskit and Wahcow

With the additional mouths of smart, liverpool, champagne, taukwa,wahcow maiden, mr. & mrs sumosumo, jems & jemster, cactusprincess, holybro & holybunny
Have you ever fancied feasting on French escargots, Chinese 'guo-tie' and Italian pasta – all at the same time? Weird cravings, I hear you say. Or if you are tired of the run-of-the-mill chicken chop from the hawker centre stall, join the club. Question is, where can you go for exquisite western cuisine that is a cut above the rest, yet decently-priced? Look no further – At Cafe Oliv, you can have your cake and eat it too.
Executive Chef-Owner Kevin Heng presents a range of unique offerings from his rejuvenated menu that allows him to better express his culinary flair. With hints of 'Eastern' influences in his new dishes, one would ask what on earth is he really cooking – Western? East-Meets-West? Fusion?
In what was arguably the heaviest weekend degustation – a whopping 20-course – we guinea pigs gathered for a nice Saturday brunch to explore Cafe Oliv's new food experiments and to find out the answer.
First up, Salads and Appetisers: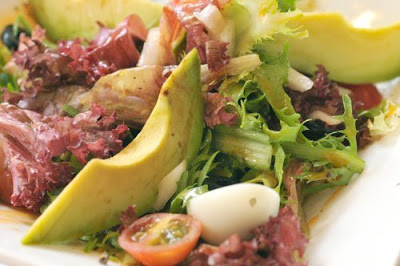 Presentation wise, this is a colourful beauty. Avocado by nature has a creamy & buttery texture; Combining thick slices of these together with the quail eggs, they lend weight to alternating textures between the crunchy mesclun greens and the juicy cherry tomatoes & olives, making this a full-bodied salad. 4/5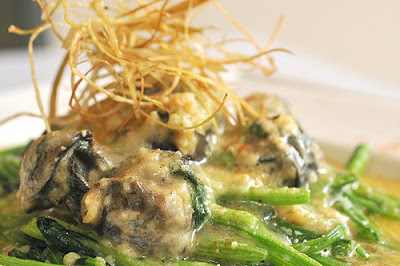 Fans of escargot can also rejoice. The snails come conveniently de-shelled and are surprisingly quite plump and tender, packing in a bit of crunch. Served on a bed of blanched Chinese spinach, some of us found the choice of greens rather amusing initially. Mismatch? Perhaps. But I thought it provided a good contrast by cushioning the saltiness of the accompanying sauce around the escargots and added a somewhat fusion-istic presentation. Bound to be a crowd favourite, you can't go wrong with this oven-baked dish with bechemel sauce & melted cheese oozing all over. 4/5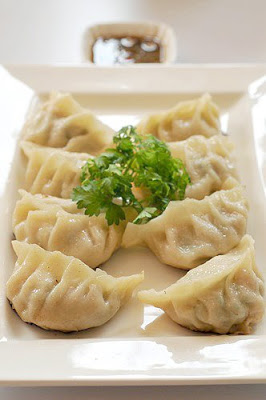 Drawing inspiration from his Chinese kitchen staff, this Northern Chinese staple was re-invented with an additional twist in cooking technique. Instead of just the usual pan-frying, the "Guo Tie" were then braised with stock and the pan jus was left to reduce until it was totally absorbed into the dumplings, sealing in all the flavours. The intended effect was to create a "Guo Tie" in the style of a "tang bao", a la "xiao long bao" – where there is soup within waiting to burst out. It was indeed juicy enough at first bite, though the base could be seared longer & finished with a crispier skin. 4.25/5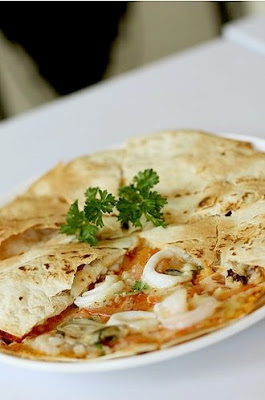 P.S: Before we move on, don't forget to ask for Oliv's two homemade sauces – Honey Mustard & Thai Mayonnaise to accompany your meal. They go well with anything at all, and our moderator 'sumosumo' dabbed the dumpling with the honey mustard – "Fantastic!"
The Quesadilla stood out with its paper-thin tortilla skin – it is like an ultra crispy thin-crust pizza packed with chokefuls of filling bursting at the seams. You can select from a choice of 5 types of ingredients. Uncle Smart especially enjoyed this dish! 4.25/5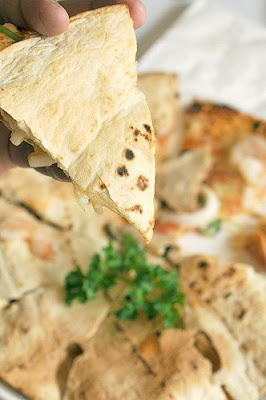 Look at that! Can't resist sinking your teeth & experiencing that 'first crunch' yeah? You'd be glad to know that Cafe Oliv also serves a variety of thin-crust pizzas including the new Wild Mushroom Anchovies Margarita Pizza @ $12.90 – good for two to three.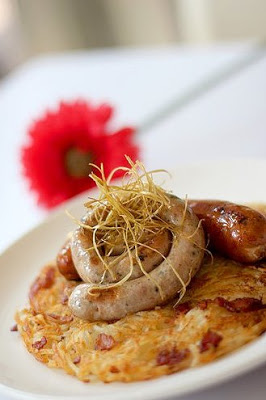 Rosti is considered the national dish of Switzerland and pairing the German Bratwurst & Italian Sausage with Swiss Rosti reflects a delightful culinary mishmash akin to the neighbouring cultures prevalent in Switzerland. In Singapore, I shall christen this "Rosti Prata".
For Oliv's "Rosti Prata" – Russet Burbank potatoes were grated & pan-fried, with bacon left to saute first then tossed in to infuse flavour into the potato prata. Succulent sausages on top of Rosti – an impeccable match and a hit with the kakis! 4.5/5
This is as good'ol hearty as beef stew can get. Chunks of tender beef shin and root vegetables are stewed for a good few hours and served with steaming hot pilaf rice. The shin contains more tendons and less fat which is ideal for stewing. This dish is my personal favourite here and I love to have this stew especially on a chilly cold rainy day. It never fails to warm not only my stomach, but my heart too.
4.5/5
If you are not a fan of beef, try Oliv's Black Pepper Pesto Chicken with Rosemary Sauce ($11.90) One whole boneless chicken thigh is marinated overnight with paprika, rosemary and french mustard – Kevin adds in a good measure of ground black pepper to spice things up. I could appreciate the crisp & charred bits outside, while leaving the meat inside still moist and tender. 4/5.
If you're looking for a meaner and crunchier alternative, also excellent is the Parmesan Cheese Chicken Cutlet Coriander Dill Cream @ $11.90. 4.25/5 They may seem like simple culifare (pardon the pun), but they can satisfy the simplest of coq cravings.
Saving the best for the last, this star dish here is so good, it is worth raving about one more time, even if it has been featured before here. This unique recipe combines a special technique with a secret homemade BBQ marinade to provide that melt-in-the-mouth texture:
Instead of basting, the soft-bone ribs are first steamed for 3 hours with the BBQ sauce & left to rest, absorbing & trapping all the moisture in the meat – most of the fat is also removed in the process. Then, more of that special concoction is coated onto the meat just before chargrilling it, to give it added oomph and flavour. The result? A perfectly lean and tender slab. I especially loved the charred and slightly crispy crust and don't miss out on the sides where you can really suck the flavour out of the soft bones. Heaven! All of the kakis gave their stamp of approval. 4.5/5
Conclusion
Western? East-Meets-West? Fusion? Ultimately, you define it & decide for yourself. Whatever it is, Cafe Oliv's revamped menu is bound to please any palate with its brand-new offerings while retaining the old favourites.
Besides the huge variety of starters and entrees, it even contains a 3-step DIY Pasta section where you can select from 3 types of pasta, 7 types of sauces & 11 types of ingredients.
What do all these mean? It means you will definitely be spoilt for choice!
What to do next?
Read the previous Cafe Oliv review
here
Go down the road and have a nice cup of kopi with nostalgia at
Chin Mee Chin
Cross the road to satisfy your Durian craving at
Ah Loon's