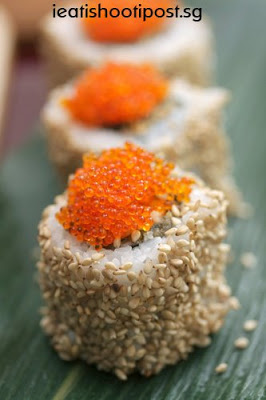 Tetsu is one of the latest Japanese Restaurants in Singapore that is differentiating itself by offering Kushi-style Tempura and Tonkatsu that is prepared "Live" in front of diners. I wonder if the name "Tetsu" is sort of a combination of TEmpura and TonkatSU? Seems quite likely to me. Personally, I enjoy watching the food preparation process, which is why I decided to pay this place a visit.
When I was young, I was often assigned the task of running down to the coffeeshop to buy Hokkien Mee or Char Kway Teow for supper. Those were the days when the hawker stalls were position in front of the coffeeshop rather than at the back like nowadays. I always like to observe how they would prepare their dishes. I still like to do it now and am always attracted to restaurants with an open kitchens. You get to learn a few cooking techniques and at the same time get entertained by looking out for "Bloopers". Like there was this time I saw the chef cooking a Lobster tail and he accidentally dropped it on the floor while cutting it. It was fun to see him struggling on the one hand to try to save the precious produce while at the same time knowing that "Big Brother" is watching him.
Anyway, I thought I would take this opportunity to make use of my Creative Vado again to show our readers how to make Tempura. If you have ever tried to make Tempura at home with the premix that you get from the Supermarket, you will know that it never turns fluffy like what happens when you eat at the restaurants. The secret is that there is a special technique involved while they are frying it as the video will demonstrate.
Another thing you might be wondering if you ever tried to cook tempura prawns is how they manage to get the prawn so straight while deep frying? Some people actually taught me that you should stick a skewer into the prawn while deep frying to keep it straight. However, the trick is simpler than that as this clip shows:
Alright, hope you managed to get something out of the video. Truth be said, I wouldn't cook tempura like that at home as all that extra batter is not very healthy. The fact is that even in Japan, homecooked tempura is simply a very thin crispy batter without all the "Frills". I guess the "Frills" are a cheap and effective way of increasing the size of the prawns.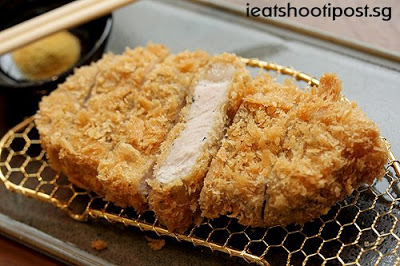 Rosu Katsu Set $24.50 (Rosu=Loin)
I must say I was quite impressed with the overall presentation of the Tonkatsu. They specially import Japanese Bread Crumbs which give that wonderful crisp, light and fluffy crust. The set comes with four different condiments. Aside from the classic Tonkatsu sauce (Japanese Worchestershire Sauce), they also provide mustard, miso based sauce as well as salted Japanese curry powder.
The pork was tender and juicy and the crust was perfect. However, the pork did not have that nutty floral aroma that you get from a really good quality pork. For a restaurant that wants to promote itself as the premier place for Tonkatsu, the word "Kurobuta" was noticeably absent. 4.25/5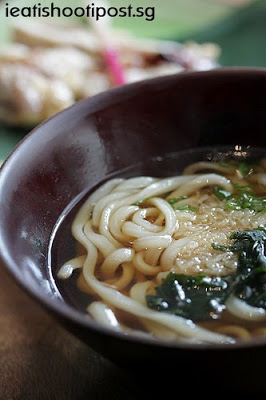 Inaniwa Udon
Tetsu imports this very special udon which is smaller in calibre than the normal udon. (Shall we call it Udon-Kia like Mee Kia?). The texture is silky smooth and very very nice on the bite. One of the best Udons I have tasted. 4.25/5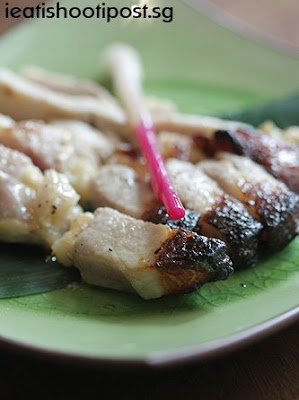 Roast Pork with miso sauce (new dish)
We all liked the roast pork here. Very flavoursome, tender and juicy. This is one dish we could have more of. 4/5
Conclusion
Being one of the new players in fast growing Japanese food market, Tetsu's strategy of specialising in Tempura and Tonkatsu prepared "Live" before customers is very interesting and the place has a great ambience. I feel though that they should go further by providing quality produce like Wagyu, Kurobuta, Wild Salmon and Sea Prawns in order to give consumers that extra something to make itself stand out from the crowd.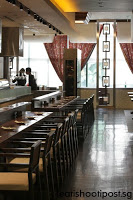 Disclaimer: This was an invited review