There is Laksa and then there is "Katong" Laksa.
I think most Singaporeans will immediately understand that "Katong" Laksa, refers to the style of Nonya Laksa that is eaten with just the spoon, and the most well known place to eat this is at the stalls around the junction of Ceylon and East Coast Road. Nowadays there are so many stalls calling themselves "Katong" laksa that you don't really know who is the original. But later in the post I will show you conclusive proof that I have found the one and only stall that has the right to call itself "Katong" laksa.
I remember the very first time I ate "Katong" Laksa. I was still in JC and dating my ex-girlfriend, Amagada then. It was one of those extreme epicurean epiphanic experiences (E4). It is so vivid that I can still almost taste the hae bee (dried shrimps) sediments on the tip of my tongue until today. Or maybe it was the combination of the wonderful laksa and the extra delectable company that made for the unforgettable experience?
Anyway, at that time, there weren't as many stalls as there are today. If I am not wrong, there was only the one stall and it was at No. 49 East Coast Road, (The one before Ceylon road) called Marine Parade Laksa. But Marine Parade Laksa wasn't the originator of the "Katong" laksa. The real granddaddy of this style of laksa was a legend of extraordinary propositions (in laksa lore anyway) by the name of Janggut, who used to peddle his Laksa at Marine Parade Jetty in the 50's. By the time he was nearing retirement, his son opened the stall at 49 East Coast Road and called it Marine Parade Laksa. Janggut himself sold his laksa there on weekends only.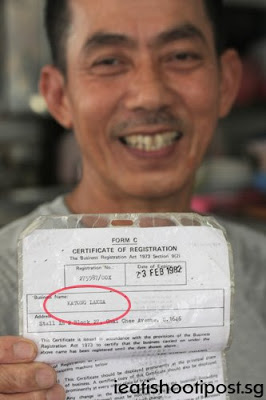 It was around this time that George's (That's the man in the picture) father learnt the recipe from Janggut and started peddling his Laksa along the streets. Eventually he settled in Chai Chee and registered his stall as "Katong" Laksa in 1982. I guess at around that time, the name "Katong" Laksa wasn't as popular then. So strictly speaking, the only stall that can truly call itself "Katong" Laksa is this unassuming little stall sharing space with the Carrot Cake Aunty in a dilapidated old coffeeshop in Siglap. So now you know.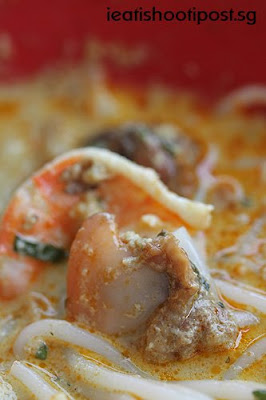 The laksa here is very popular with the locals though not as well known as the stalls at Ceylon road. The gravy is nice and savoury and as good (or some say better) as the other more famous stalls. Sure to satisfy your laksa craving. Best thing is that there is a Hainanaese Chicken Rice stall next to it, so you can order a plate of white chicken to dip in the gravy for extra Power! I met an old couple who had been eating at the stall since George's father's time and they swear it is the best laksa in Singapore. I thought it could do with a little more hae bee in the gravy, but then again, I don't think that there can be any laksa that can beat the one I ate over twenty years ago. Somehow nothing can ever replace nostalgia with a good sprinkling of puppy love. 4.25/5
Conclusion
If you haven't eaten here, you can't really say that you have officially eaten "Katong" Laksa before! And while you are there remember to order a plate of White Chicken from the stall on the right and a plate of carrot cake from the stall on the left. Happiness is assured.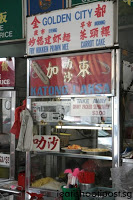 PostScript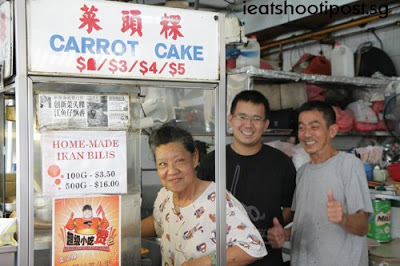 They are a real happy bunch of hawkers here! And the good news is that there will be a 3rd Generation of Katong Laksa as Gerald will be taking over his father's business. Too bad the carrot cake will not have a successor, so shiokness ends when the old aunty retires.
What to do next:
Check out the Fang Choy next door
Go down the road for Seng Kee Bak Chor Mee
Cross the road to find Charcoal Fried Hokkien Mee
Check out the other laksa stalls
Listen to "Ode to Laksa" performed by Amagada: Here
Read about the Carrot Cake with Ikan Bilis next door