This Stall is Closed!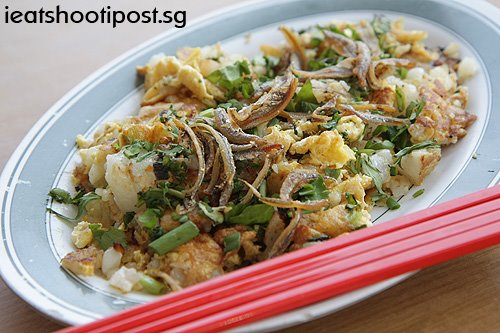 Carrot Cake $3 portion
I found it! I found it!
The best carrot cake I have tasted is just a stone's throw away from home and it took me so long to find it!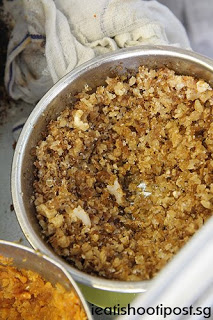 You know, I haven't eaten any outstanding carrot cake that I can really put my finger on until I came across this one. What makes it special is that not only does this lady fry the carrot cake until it is crispy on the outside, but she adds in these delightfully crispy Ikan Bilis and Pre-Fried Chye Poh as well. The Chye Poh is really like manna from heaven!
OK, classic carrot cake connoisseurs might cry foul over the use of ikan bilis in the carrot cake, but I am telling you that after tasting this one, I feel that everyone else should be adding ikan bilis as well.
<br />Aunty buys really good quality ikan bilis and prepares it herself twice a week. She fries them till they are super crispy and flavoursome. The chye poh is also pre-fried and she adds a little bit of sugar into them to give them that extra edge. The combination of the crisp savoury ikan bilis with the sweetened chye poh, soft carrot cake and fried eggs is something I just can just sit there and slowly savour with my eyes closed.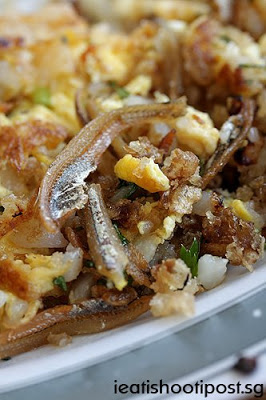 This stall used to be selling fried Hokkien Mee when the Aunty's husband was still around. But since his passing, they don't sell fried Hokkien Mee anymore. In fact, it was her late husband who first suggested that she added the ikan bilis for extra kick!
Truth be told, the first time I met her, I almost thought she was a bit of a Food Nazi. You see, I ordered my carrot cake without chilli, but when it arrived with chilli, I made the excuse that my kids don't eat chilli, and she grumpily changed it for me. What to do? I was scared that if I said I don't take chilli, she might just ban me from the stall! (I did offer to pay for 2 plates of carrot cake in the end but she refused to take the money albeit still grumpy)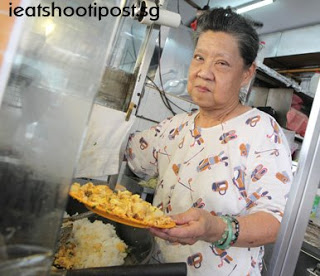 But luckily, she turned out to be quite a nice lady when you get to know her. Just be nice to her okay? And when you ask for extra chye poh (Power Up to get Max Ooomph!) offer to pay extra 50 cents for it and keep that smile on her face.
Conclusion
Best carrot cake I have had for as long as I can remember! It's a 4.5/5 for the standard plate but when you add the extra chye poh it becomes a 4.75/5
Update: Dec 2011
The old lady no longer frying and the son who took over no longer gives ikan bills.
Based on our readers' feedback it seems that the standard at this stall has dropped dramatically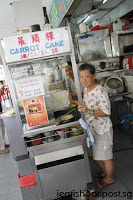 What to do next:
Check out the Fang Choy next door
Go down the road for Seng Kee Bak Chor Mee
There's a Charcoal Fried Hokkien Mee opposite
Check out other Carrot Cake stalls
Check out other stalls run by little old ladies and gentlemen