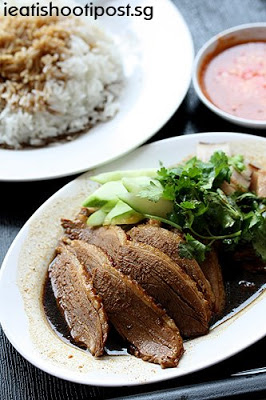 When you all order chicken or duck dishes, do you ever pay attention to who chops up your meat? I seldom, but I find that when it comes to a potentially tough meat like duck, the person who slices it really does make a difference.
This teochew braised duck was highly recommended by smart who claimed that it was one of the best in Singapore. It is the Teochew style braised duck meaning that the sauce is the thin, watery type and more savoury than sweet compared to the Hokkien version.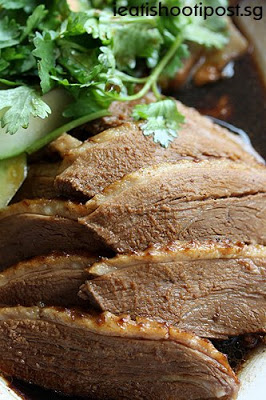 So I had really high hopes when the dish of duck came but surprisingly my first impression was that the meat was a little tough and a tad dry. Tastewise, the Teochew style braising sauce is not as sweet as the Hokkien version and was quite Pang (savoury). However, I was sitting there giving my muscles of mastication a good workout and wondering why smart would even recommend such a place.
When the Lao Ban Niang spotted me taking pictures of the plate of duck, she popped over with the usual "Are you a reporter?" question. When I complained that the duck was a bit tough, she immediately explained that her worker was not as adapt at slicing the meat as she was and offered to demonstrate how it should be done.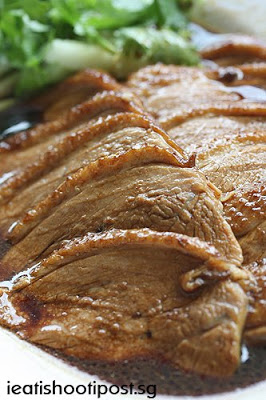 So when I was presented with the 2nd plate of braised duck, I must say it looked quite different from the first plate. This time it was sliced thinner and each slice was wider as she angled the cleaver more diagonally. And it yes the meat was more tender and juicy. So, if you are patronizing this stall, make sure you ask the Lau Ban Niang to slice it for you! 4/5
Conclusion
Who slices the meat does make a difference which is why other Lau Ban Niangs like the one from Yeo Keng Nam and Kay Lee insist on doing it themselves!