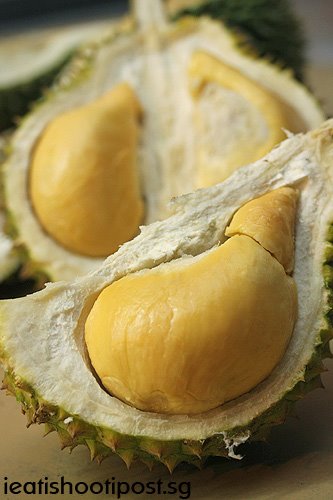 D88
I have made it my goal to document as many cultivars of durian as possible so that they can all be nicely cataloged on this blog. So with around a week left before this durian season ends, I am posting this to remind you that you only have around one week left to get your durian fix.
Here are another 2 cultivars that I managed to come across. The first one is the D88 which surprisingly does not have a name like "Hong Xia" or "Mao Shan Wang". Now, I could be wrong, so if you know the name of this cultivar do let us know. If not, why don't we all come up with a name for it?
Just look at that beautiful, luscious, golden yellow flesh! Doesn't it lure you like a sotong (squid) to the light? The taste of it wasn't as good that day because, as Ah Loon explains, it was not the right time of the harvest. The flesh was a little fibrous and it wasn't as sweet. However, I can just imagine what it must taste like at the peak of the season! 3.5/5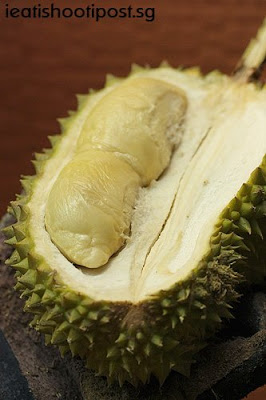 Tawa
The Tawa is a oblong shaped durian with flesh that is pale yellow, less creamy and more watery and very pungent. Quite similar in flavour to the XO. 4.25/5
Conclusion
So what do you think is a good name for the D88?
Update 5 Aug 2008
Had a good D88 today. Nice and creamy, soft and pungent. Like a cross between XO and Hong Xia with a milder flavour. 4/5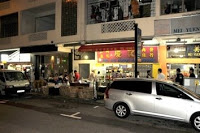 What to do next?
Check out the other durian breeds.
Check out what durians our forummers are eating.
Trying to find something to eat before durians? Try these