This Stall in Closed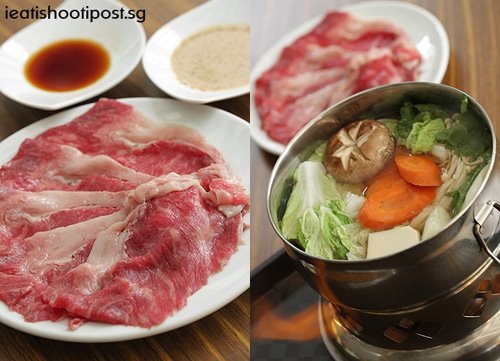 Wagyu Shabu Shabu or Sukiyaki $15 (Normal Beef Shabu Shabu $7)
There are some things that sound too good to be true. Now if you are an optimist, your response to such things is to quickly go and find out if it really is true but if you are a pessimist, then you would sit back and mull over the thought that there ain't no such thing as a free lunch.
So would you consider yourself an optimist or pessimist if I were to tell you that you can get a Wagyu Shabu Shabu for $15? It's no bull (pun intended), this Wagyu Shabu Shabu is going for $15, but there is one catch — you have to eat it in a coffee shop. "Phew, that's not too bad", I think I hear you say.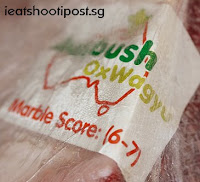 Now, for the readers who are really really skeptical, I post the picture on the right for you. Hope you are convinced.
When Jacky of Cilantro (Remember $15 Foie Gras?) said she was going to do modern Japanese food at her Marine Terrace branch, I was excited. Excited because, I know that she would go all out to give the customers something of quality but at rock bottom prices.
Good Japanese food depends on good produce and sadly a lot of places that sell Japanese food in hawker centres are not giving us good quality stuff. Now, I am not talking about the top grade Otoro, but simply a place that sell Mid-Ranged Japanese food at Hawker ranged prices. That would be a great idea for a family outing wouldn't it? Thankfully after a bit of gentle prodding, Jacky caught on the idea and decided to procure some Wagyu for the launch of her stall in Marine Terrace. Now it is up to the response from the general public to decide if we are going to see more Wagyu in coffeeshops!
For $15, you get around 5 slices of beef plus a pot of either shabu shabu or sukiyaki stock. They also serve Ponsu and Goma sauce to go with it which is quite unexpected of a $15 shabu shabu! There really is not need to tell you that the Wagyu is really melt in your mouth beefy goodness is there? 4.5/5

Wagyu Don $9.80
So what else would you do if you invested in an expensive meat slicer and you have a few kg of Wagyu Sirloin in your fridge? Why, you do a Wagyu Don, that's what. Now believe me, you don't have to Argue with Wagyu. The meat is just plain tasty no matter what you do with it. It's great whether it's dipped in soup, fried in teriyaki sauce or even eaten raw. So I'd say this could be the best bowl of Gyu Don I have tasted if only they had used better rice and the teriyaki sauce was tweaked a little. Jackie assured me that they will be changing the supply of rice to match the quality of the Wagyu. Whatever it may be, you'd be hard pressed to get something with the name "Wagyu" on it for less than $10 anywhere in Singapore. 4/5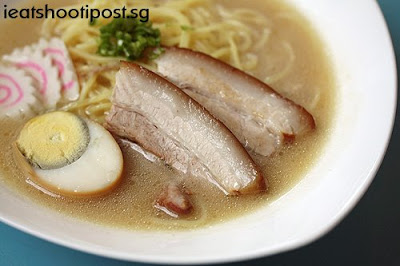 Charshu Ramen $6
The Ramen here is very commendable. The soup is tasty enough, but I thought it could be just a little smoother (ie more fats from the marrow dissolved in the soup). Amagada on the other hand said the soup was surprisingly nice. The Chashu here is really good and quite addictive. Incidentally, don't you think Chashu is a bit of a misnomer? Should be called Lor Bak instead right? 4/5

Family Feast $18
The Family Feast is designed for families with kids (like mine). How often have you gone to a Japanese Restaurant and every time you order the tempura, it comes only in a small portion for $12? What we need is a family feast type platter where you get a variety of fried favourites like Pork Tonkatsu, Breaded Prawns, Chicken Karage, Potato Croquettes, Nuggets and Chicken Wings. As mother would say, "Jia Kau Song Song" (Eat till you are satisfied). Nothing out of the ordinary, but it's a dish the kids would love and gives the adults an excuse to indulge. 4/5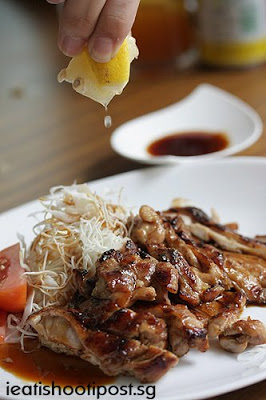 Teriyaki Chicken $6
I have to include this picture because I managed to catch the drop of lemon juice falling onto the Teriyaki chicken. Ahhhh, satisfaction.
Anyway, teriyaki chicken is a staple for any Japanese eatery and although it is easy to do, (who hasn't cooked teriyaki chicken at home?), it is very hard to get that special smoky charred taste. It is highly dependent on the quality of the soy sauce used. The one here is competent but I felt still had that "Chinese" taste to it. Kids will love it, but I still haven't found…. what I'm looking for. 3.75/5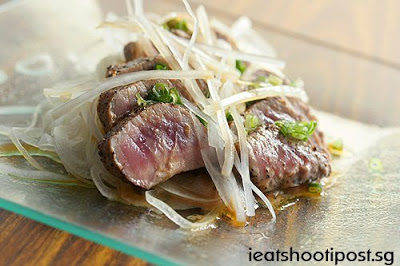 Pan Seared Tuna $9.80
For the more adventurous, Cilantro offers a few more upmarket dishes like this Pan Seared Tuna in miso sauce. It is the kind of thing that you don't readily find in most of the Japanese Chain Restaurants in Singapore. Definitely worth a try if you are tired of the standard Japanese fare. 4/5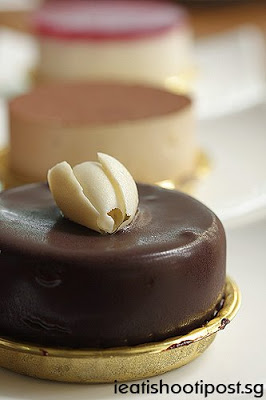 Banana Chocolate Mousse Cake $4.90
For dessert, you have to try their Banana Chocolate Mousse Cake which will satisfy most chocoholics except for the most fastidious ones. 4.5/5. The tiramisu is also very good. 4/5
Conclusion
We need to demystify the Wagyu and bring this wonderful tasting meat to the heartlanders. I hope to see more Wagyu appearing in food courts and mid ranged Japanese restaurants which will increase the awareness and demand for this product which will in turn mean that it will become standard fare for more Japanese eateries out there. When the Ah Gong and Ah Mah start to coin their Hokkien word for Wagyu, then we know we have reached our goal. In the meantime, if you want to continue to see Wagyu in the coffeeshop, then you have to do your part to go down and support them so that they will continue to sell it!
Now apart from the Wagyu (which is great even as sashimi), the rest of the fare is competent but don't go there expecting the same standards as your favourite Japanese restaurant. The main selling point it that it is a place where you can bring the kids to eat pretty decent Japanese food and not burn a hole in your pocket.
Disclaimer: I had an active role in planning the menu
What to do next?
Read about the$15 Foie Gras
Read about other Japanese Food
Read about other stalls in Katong and Joo Chiat
Grab a traditional cup of Kopi at the rustic Chin Mee Chin after that!