There was a period of time when the standard of our Paus really went downhill. A lot of the commercially available paus that are still being sold in our coffeeshops are very much still at the bottom of the hill, but there is light at the end of the tunnel.
There is a resurgence of the handmade pau as opposed to the factory made ones. Somehow they still haven't been able to built a machine that can make random folds on the bun as good as the Pau Uncle or Aunty. That is a relief, cos if the day ever comes that we can't differentiate handmade and machine made paus but its outward appearance, we are all in trouble.
The light at the end of the tunnel is the fact that there is an emergence of small scale handmade paus that are being shipped to our coffeeshops which I hope will improve things for all pau lovers out there.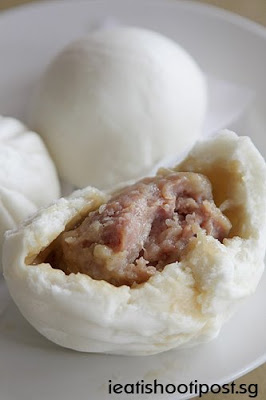 This little stall in Upper Paya Lebar Road sells the paus at the premises but also sells them in several coffeeshops around Singapore. The interesting little background is that they used to be owned by the people from Tangjong Rhu pau who sold the business to the current owner with the assurance that they will pass on their recipe to them. As a result the meat filling is quite similar to Tanjong Rhu pau which is still the best pau in Singapore in my books. (The only complaint is that for $1, the large pau is the same size as most small paus)
There is however one drawback. Because the paus have to be displayed in a steamer for the whole day, the skin is made necessarily more resilient which means they are not as soft and supple as the ones sold at Tanjong Rhu. No matter, they still beat thost horrible K___ G____ paus handsdown anyday! 4/5

Conclusion
If you happen to be looking for Paus in a Coffeeshop, look for the Eng Cheong label. It's one of the better "outsourced" paus around. Have a taste of the filling, doesn't it remind you of Tanjong Rhu's?