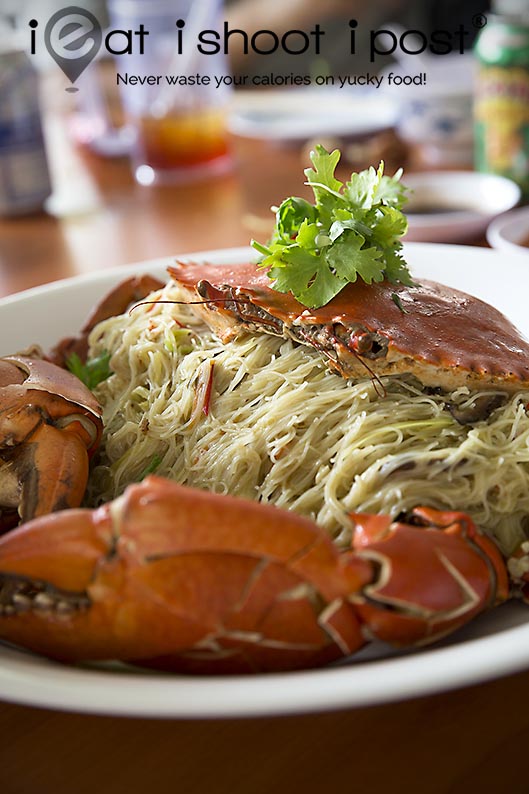 Our fans from the West are always lamenting that I don't blog enough about good food in the West.  So, ok, I will make a concerted effort to unearth good eats on the other side of our little red dot. Today we head to Toh Yi Drive for reasonably priced Cze Char that is reasonably good.
The draw card for 7th Mile Seafood is their Crab Bee Hoon which is cooked by the chef who used to work at Ming Kee Seafood.  When I was on my Crab Bee Hoon hunt way back in 2007, Ming Kee was one of those places that was well known for their Crab Bee Hoon.  At the time, the gold standard was still Sin Huat, but people are often put off by the infamy of Sin Huat whose seafood meals can cost the same as those from top end seafood restuarants.  So, Ming Kee was a good alternative.  My experience at Ming Kee has never been stellar.  I did not realize it at the time, but I heard later, that they had a change of chefs which might be why the Crab Bee Hoon failed to wow me.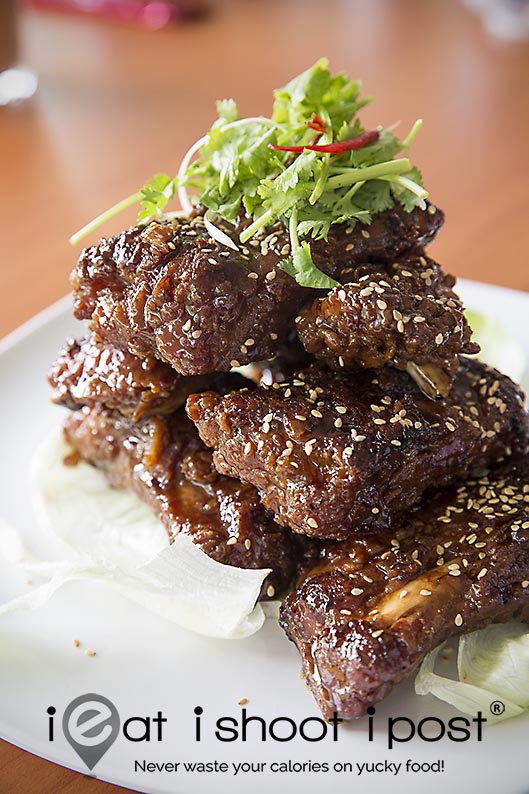 When I found out the the Chef at 7th Mile was from Ming Kee, I naturally wondered if he would have been the original chef who made Ming Kee famous before leaving.  I heard that he had actually returned to China, but was tracked down by the owners of 7th Mile Seafood to return to Singapore to work at the newly opened Cze Char 2 years ago.
Unfortunately, the Crab Bee Hoon still lacked that "wow" factor which Sin Huat had.  (I wasn't as impressed when I last visited Sin Huat a few months back).  I would say that the experience was similar to when I ate at Ming Kee.  It wasn't bad, but it just lacked that glycine sweet, crustacean umami which I was looking for in Crab Bee Hoon. 4/5
The 7th Mile Pork Rib however was a pleasant surprise. These were coffee flavoured pork ribs but instead of using sliced pork like most places do, they slow cook and deep fry the pork ribs before slathering them with the familiar coffee sauce.  The ribs were juicy and tender on the inside with a crisp crust.  This one goes onto the repeat order list! 4.25/5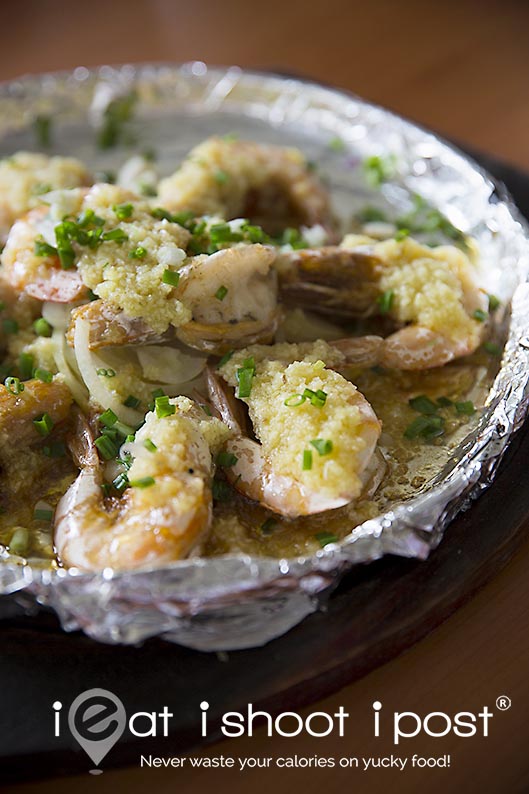 The garlic soya sauce here is very good.  In particular, the garlic butter prawns are very tasty.  They use medium size Ang Kah prawns here which are steamed with the garlic and then doused with soya sauce.  The mildly moreish sauce demands a bowl of steamed rice  to accompany it. 4.25/5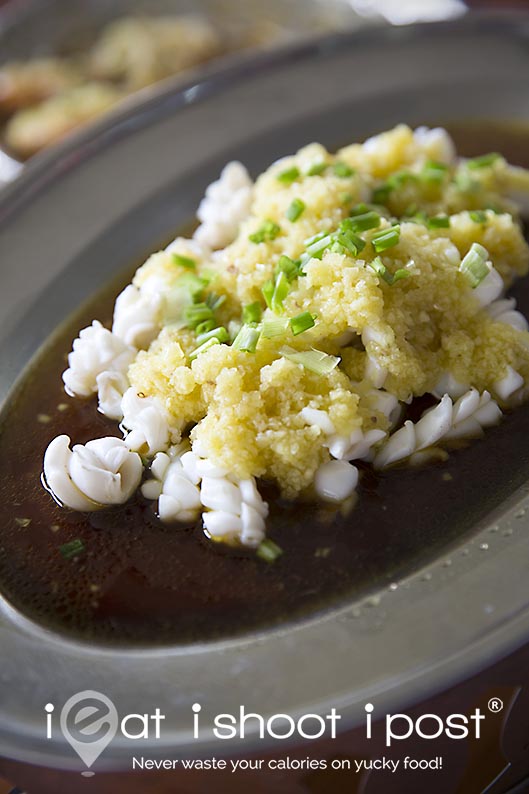 The same garlic soya combination sans butter is used for their steamed sotong dish.  The sotong was a tad overcooked which resulted in that squeaky rubbery feeling in between your teeth.  But, as I had alluded to before, the sauce was good.  This kind of thing might be a one off, so I think it deserves a second chance.  4/5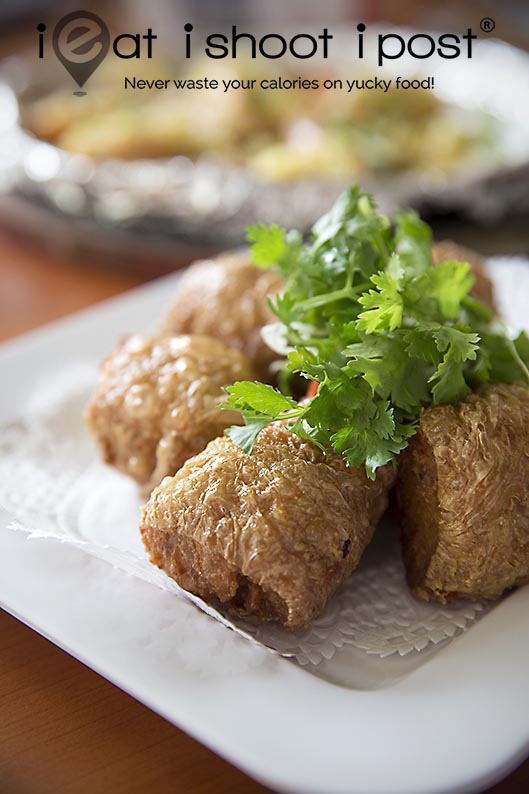 I have yet to eat a Hae Zhor that I didn't like, nor have I had one which is heads and shoulders above the rest.  This one is no different except for the fact that they are quite generously endowed such that each piece is about the size of a golf ball.  (The typical one is about the size of a mahjong tile)  That larger size means that the inside is able to retain its juiciness while the outside is fried to a nice golden crisp.  That puts them slightly ahead of the others!  4.25/5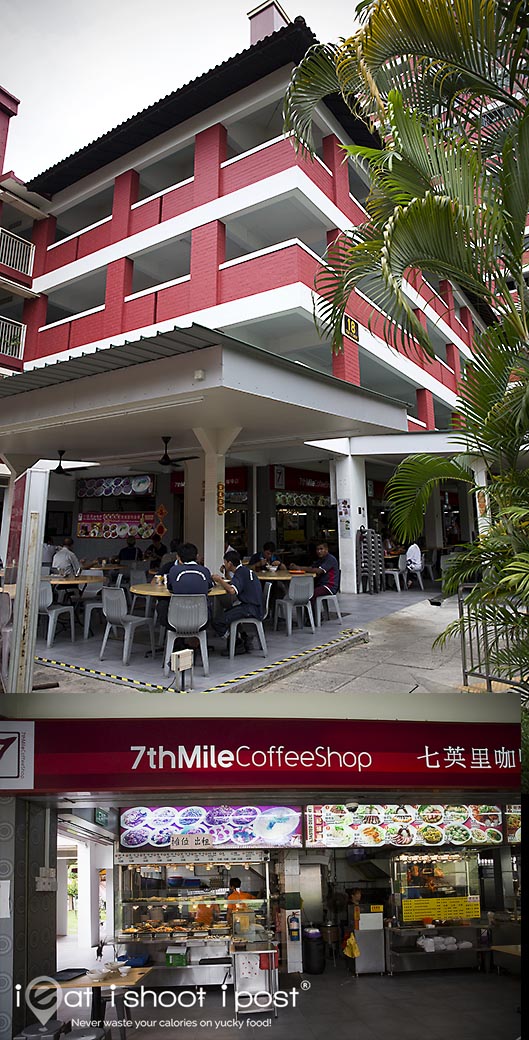 Conclusion
The Crab Bee Hoon is worth a try if you are specifically after the dish.  It isn't stellar but it certainly is better than average.  The signature pork ribs are definitely worth trying and the Cantonese style steamed seafood sauce is good.  As I said at the beginning of my post, this Cze Char is reasonably good and reasonably priced and it is certainly worth considering if you are looking for a Cze Char in the area.