Crab at Bay: The Return of the Crab Bee Hoon
Posted on: November 20, 2015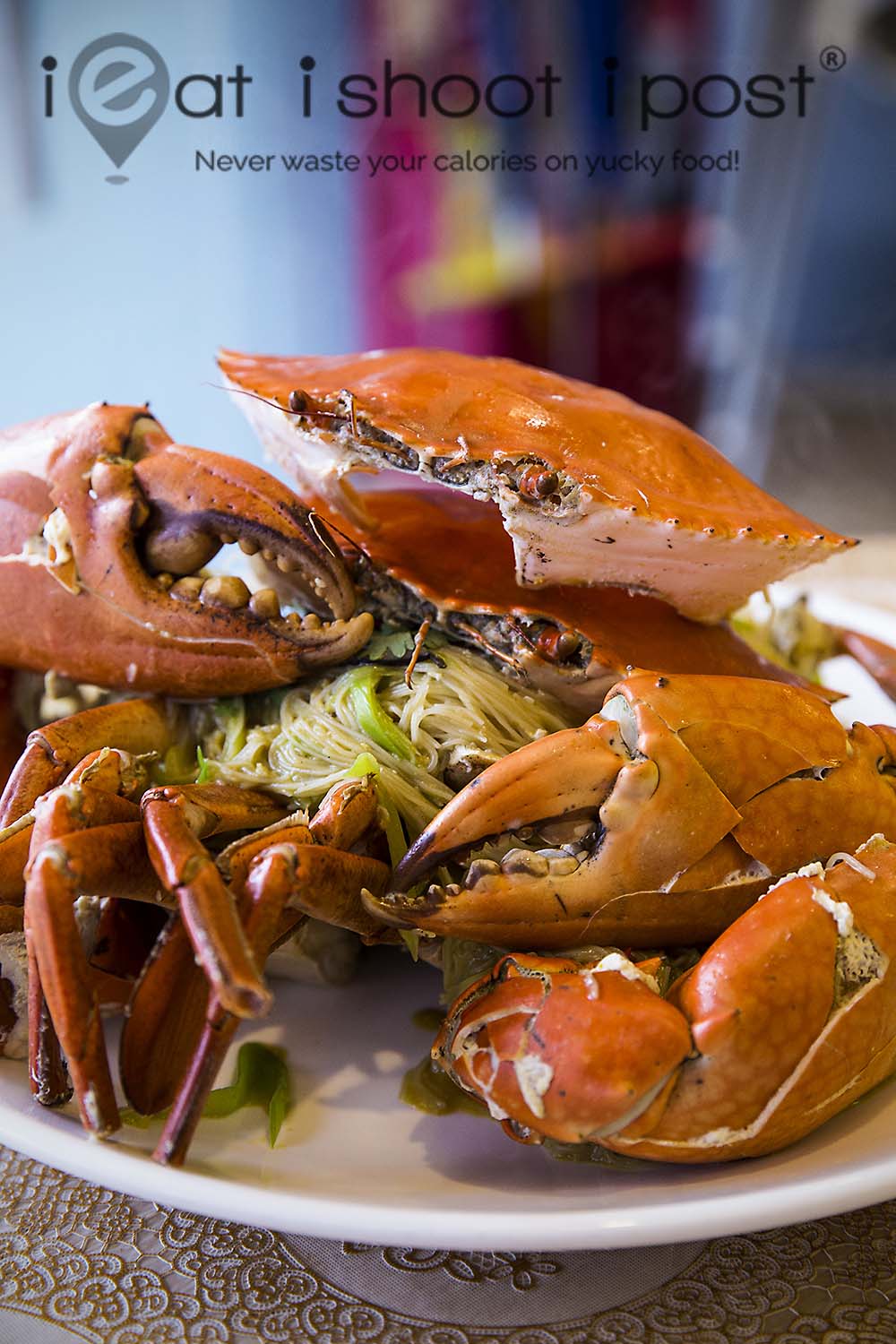 Ming Kee Seafood's Crab Bee Hoon was all the rage when I first started blogging back in 2007.  It was the first to have established itself along the stretch of shop houses at the beginning of Macpherson road just opposite Malasian Dairy Industries. Since then, other Seafood/Zi Char restaurants have popped up.  Yi Jia South Village is there and the latest is the restaurant we are reviewing today.  This stretch along Macpherson road has become a mini seafood paradise!
Crab at Bay only started operations a few months ago but seafood lovers are already discovering the Crab Bee Hoon whose flavour is reminiscent of the Ming Kee of old! It is no wonder since the chefs from Ming Kee are now over at Crab at Bay who is owned by one of the ex-partners of Ming Kee.
The crab bee hoon here is, without a doubt, their signature dish.  They use the best grade Sri Lankan crabs here and the owner, Catherine tells me that the restaurant guarantees that they will be at least 85% full. The bee hoon is very good and our seasoned makan kaki, Jencooks, was quick to point out that it has leeks in it which was characteristic of the crab bee hoon at Ming Kee.  I felt it could have had a bit more of the wok hei flavour but the quality of the crabs and the flavour was otherwise very good. In my opinon, Sin Huat is still the one to beat on a good day, but this one ranks up there as one of the best around.    4.25/5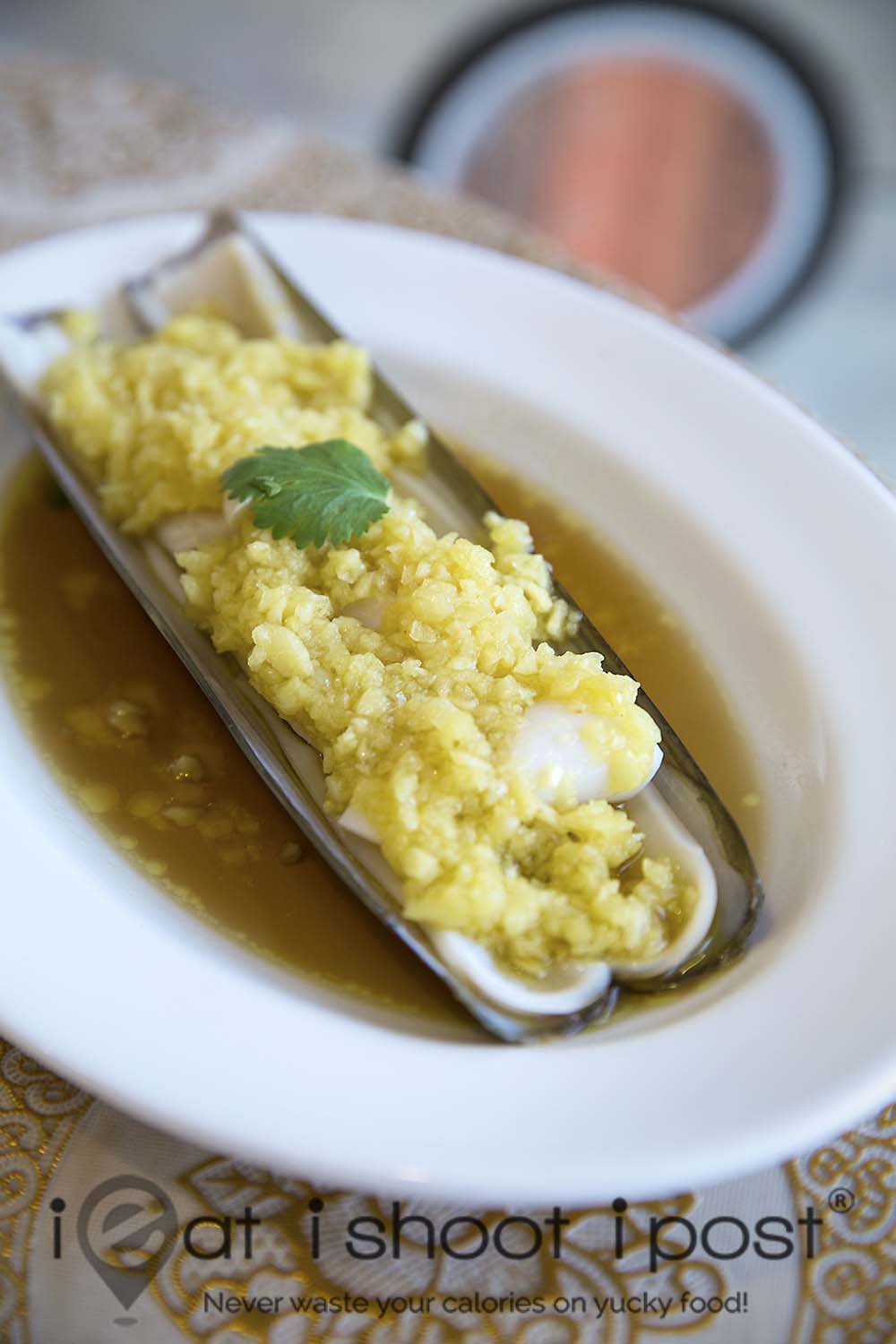 The Cantonese style seafood soy sauce here is excellent and in general, the quality of the seafood is very good.  So if you order any of their mussels or fish steamed Cantonese style, you really can't go wrong. I was very impressed with their garlic butter bamboo clams.  The clams were sweet and large enough to have a good bite and the butter garlic sauce is one of the best I have come across. Do yourself a favour and order a bowl of rice!  4.5/5
The steamed mussels with fried garlic and soy sauce was also very good although I think the mussels (dua tao) used to be slightly larger over at Ming Kee.  As I mentioned before, the soy sauce base is very good here so any dish that is based on it will taste good.  4.25/5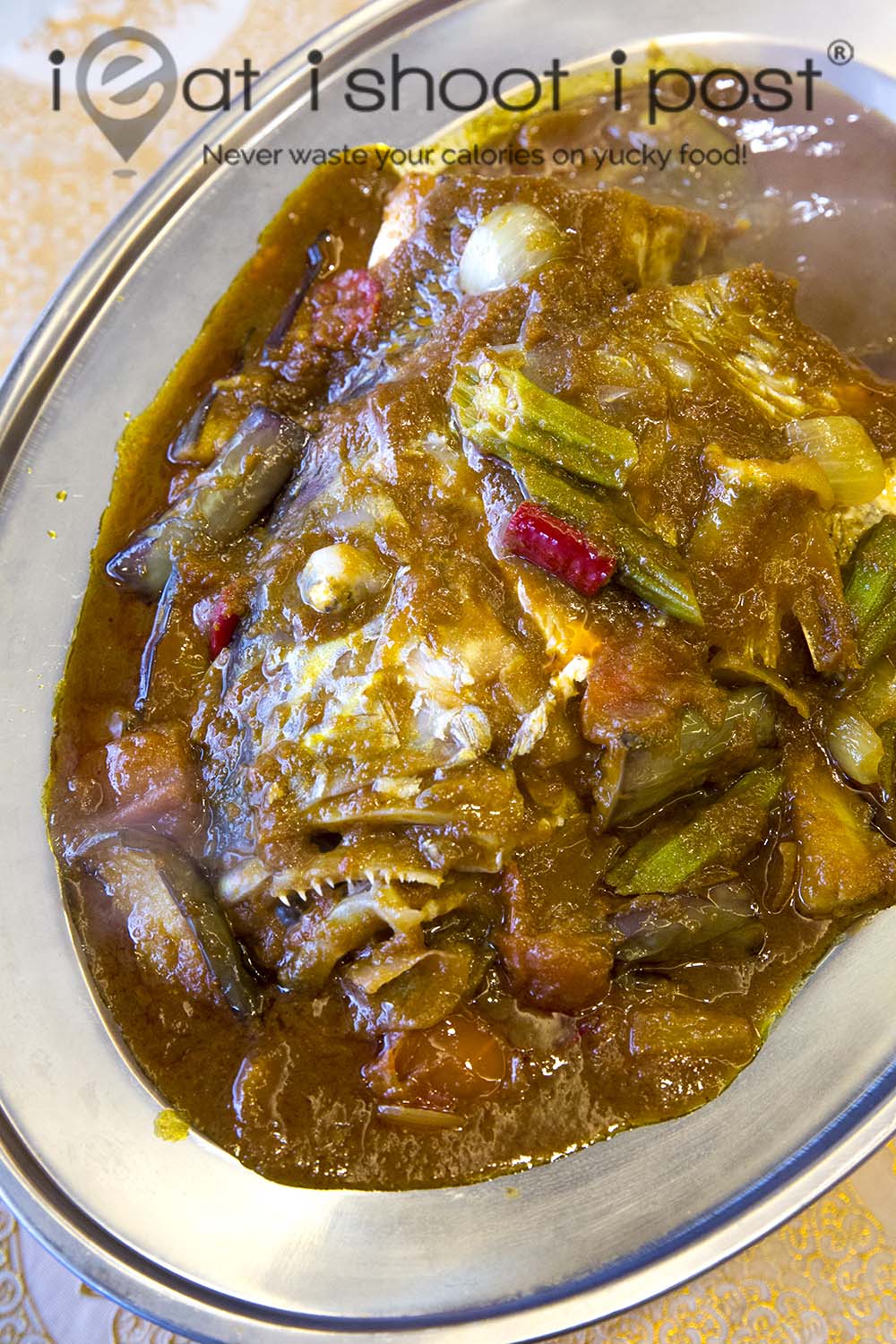 Lady boss, Catherine buys all her fish heads from a local fishmonger at Bendemeer wet market daily and she manages to get the large Ang Goli (Gold banded jobfish) for her fish head dishes.  When you see Ang Goli being served,  it usually means the place takes their fish head dishes quite seriously.  The entry level fish head places usually will use only medium sized Ang Goi which are usually farm raised while the premium places will feature Ang Sai or Ang Zhor.  So you can usually tell the quality of the dish just by the type of fish they use. That is why you need to know your fish well!  (Read my post on how to identify the different fish used for fish head curries)  The sauce is quite balanced but just lack that knockout punch and for some reason, the flesh was just slightly mushy that day.  4/5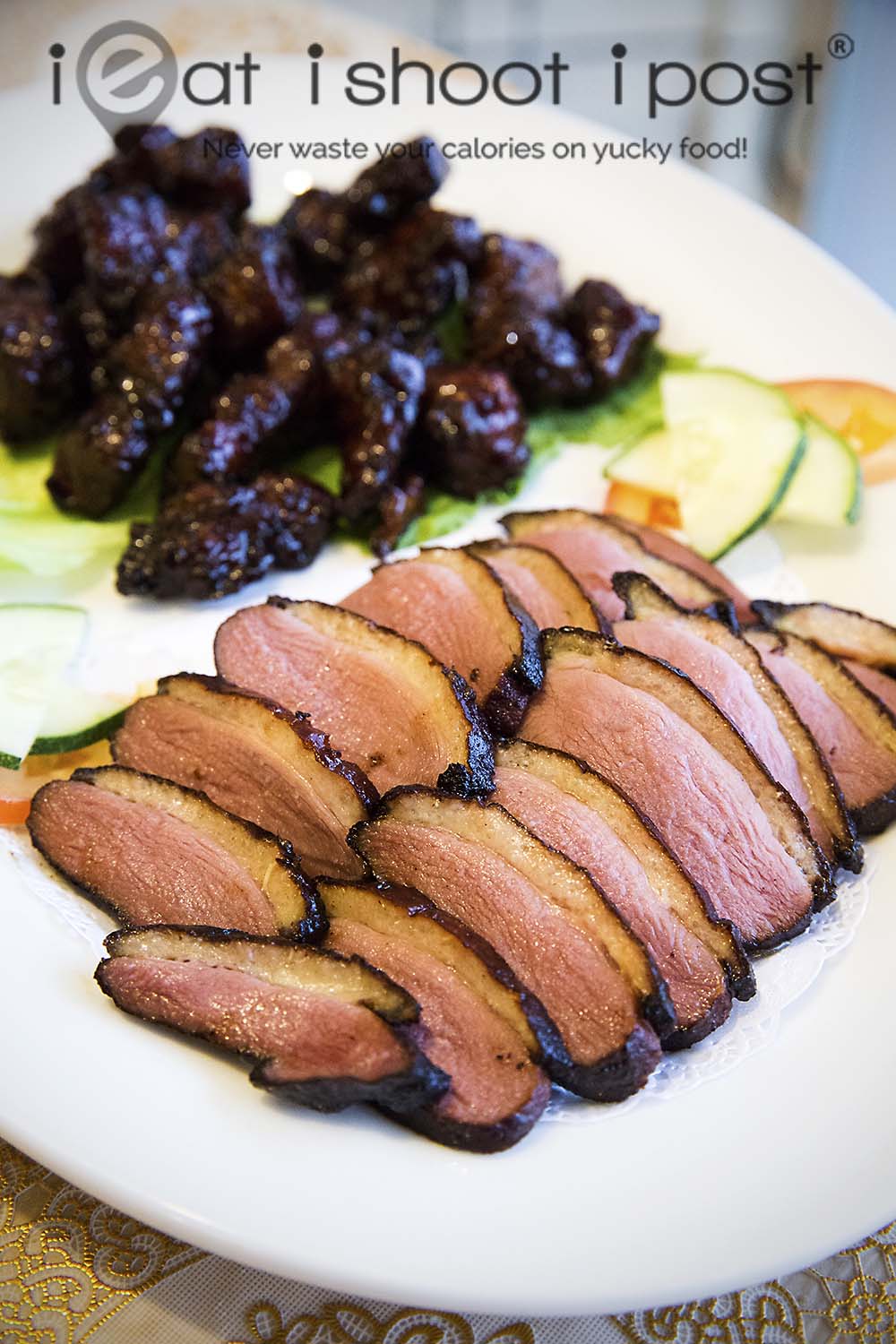 We were told that the smoked duck was really special and that there was supposed to be a slice of bacon in between the skin and the meat.  It was too bad we were only told about this after we had finished the plate as no one actually spotted the bacon!  It is a delicious dish, but I have always been reticent to order something which was made in a factory that only requires heating up and slicing.  Then again, I guess that is what happens in an Italian restaurant when you order the cold meat platter!  The Guinness pork ribs were very good.  They actually use both Guinness Stout and champagne in the sauce which gave it a very nice and mellow sweetness.  The meat was perfectly fried and was tender and juicy on the inside while the crust was fully soaked in the sauce while still maintaining a thin layer of crunch.  4.25/5
In my opinion, the frog's legs with Brand's Essence of Chicken is probably a dish that would appeal more to the older generation.  I don't particularly enjoy essence of chicken but I know that there is a generation of Singaporeans for whom the this tonic is still revered as as a luxury item given to kids studying for exams or to women who have just given birth.  I feel that it's value lies in the aggrandizement of the dish rather than in its inherent flavour.  Not the kind of dish I would order again but it would certainly appeal to anyone who is out to raise his filial piety quotient.  4/5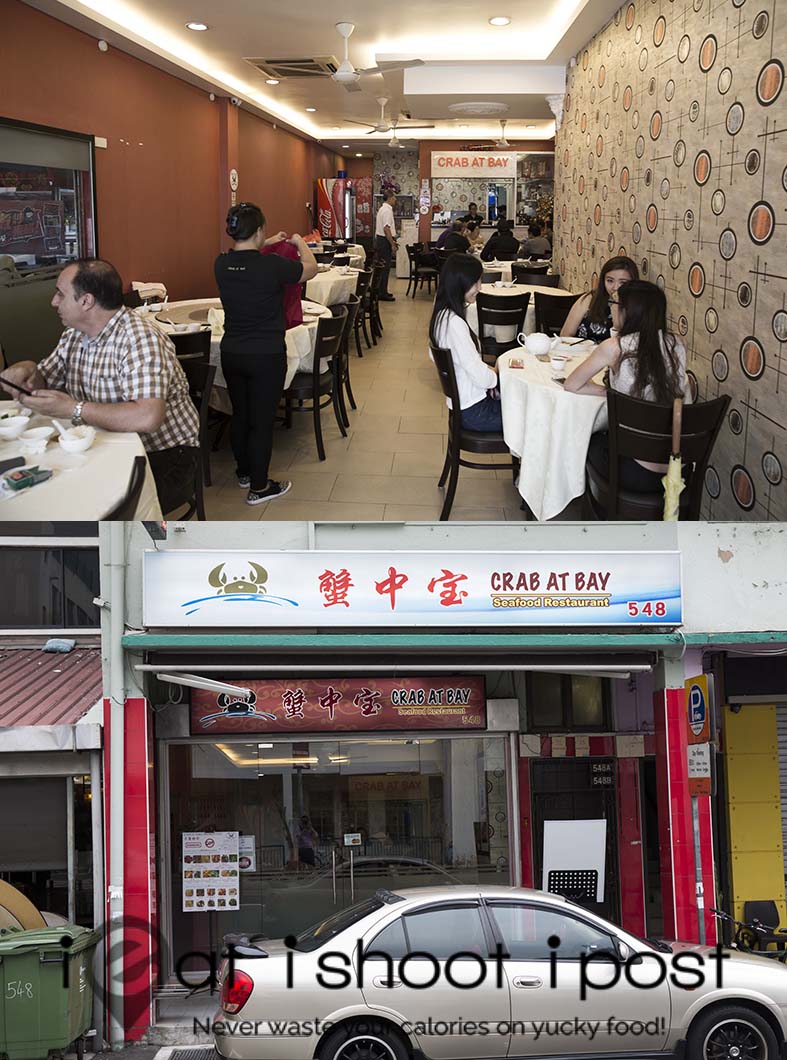 Conclusion
Great place for Crab Bee Hoon and HK Style steamed seafood! The place is air-conditioned and they don't charge service or GST.  It is a great place for a quick lunch if you are working around the area as they have some really good lunch deals!  The place is still quite new so it is still relatively quiet, but I expect that it should get quite popular very soon.
Crab At Bay
Address:
548 Macpherson Road, Singapore 368227
View Map
Opening hours:
Lunch: 11:00AM to 2:30PM
Dinner: 4:30PM to 11:00PM