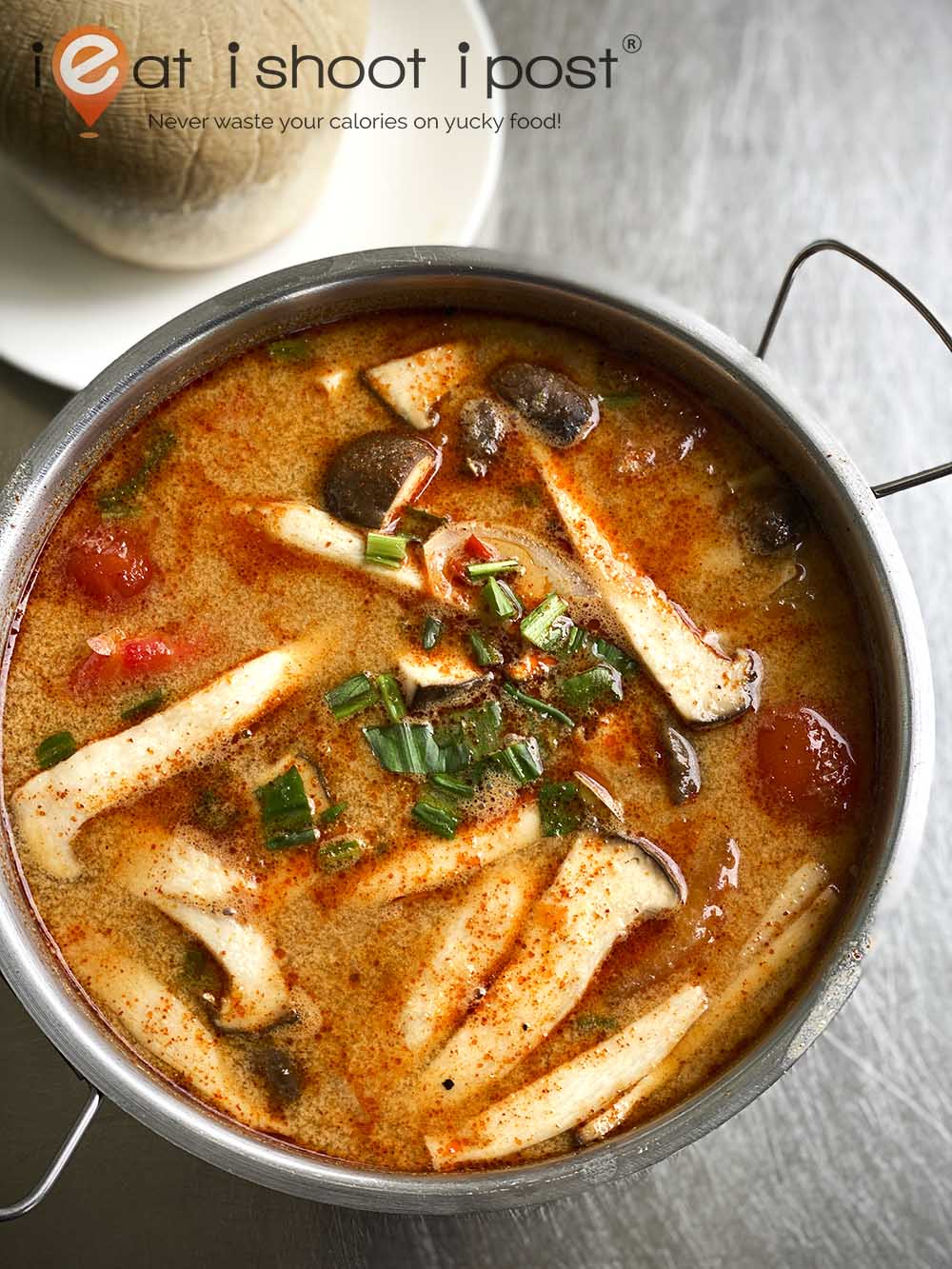 With the easing of the Covid restrictions, our Mid Week Makan gatherings on Weds have resumed!    Some of our newer readers may be wondering why there are not more posts on the places that we have visited since we are now meeting once a fortnight.  Well, I only feature those eateries which I feel will not be a waste of your calories, so there are some places we have visited that you will never know about!
Anyway, this Thai eatery was highly recommended by some of our kakis.  Even though the head chef had to return to Thailand to attend to an emergency on the day we visited, some of the dishes were still very good!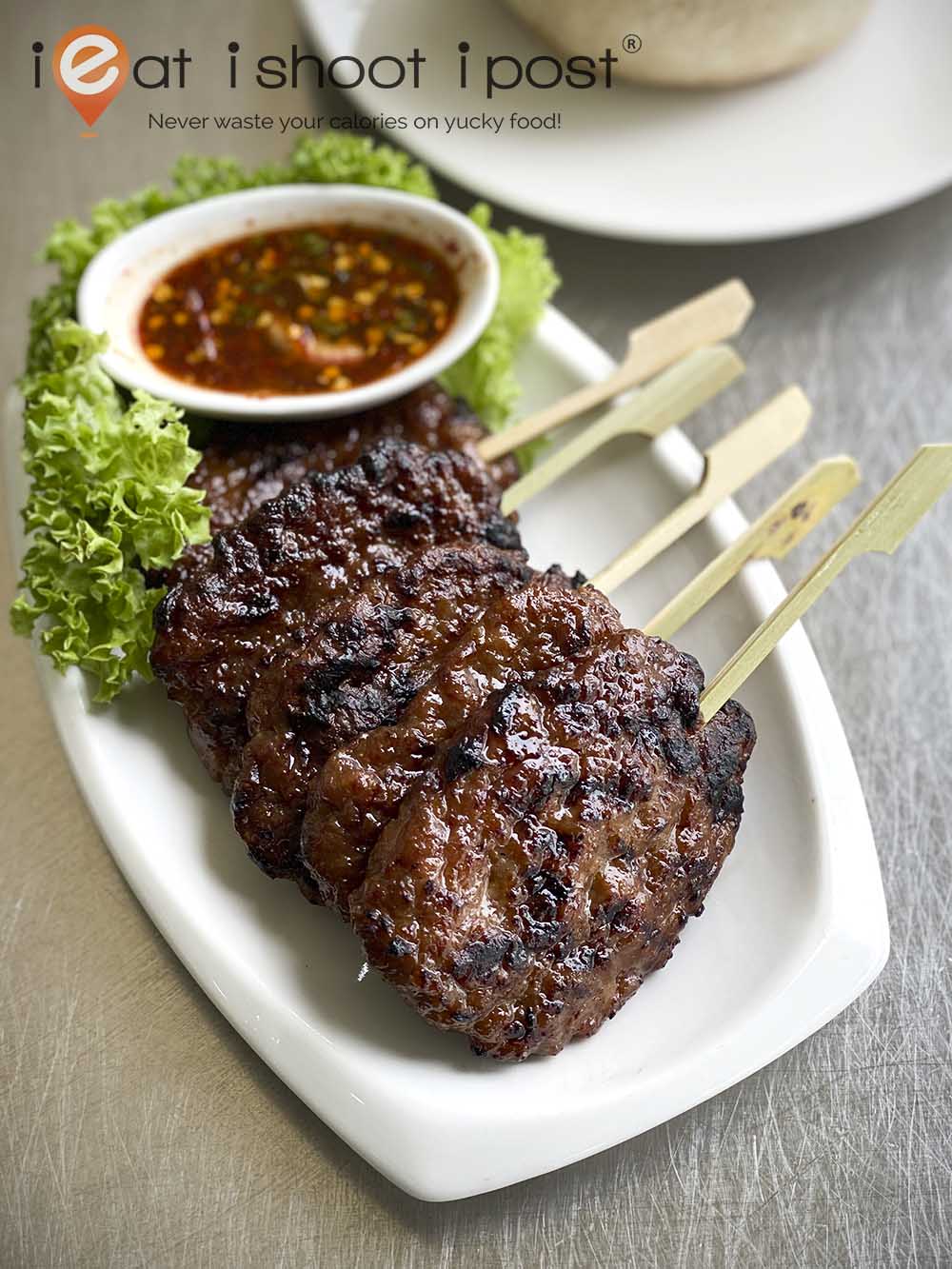 The Moo Ping (grilled pork skewers) are well worth ordering.  Most places use commercially made Moo Ping, but this place insists on making their own which is a good indication of their approach to the food.  The meat was tender, nicely marinated and grilled over charcoal.  Well worth ordering! 4.5/5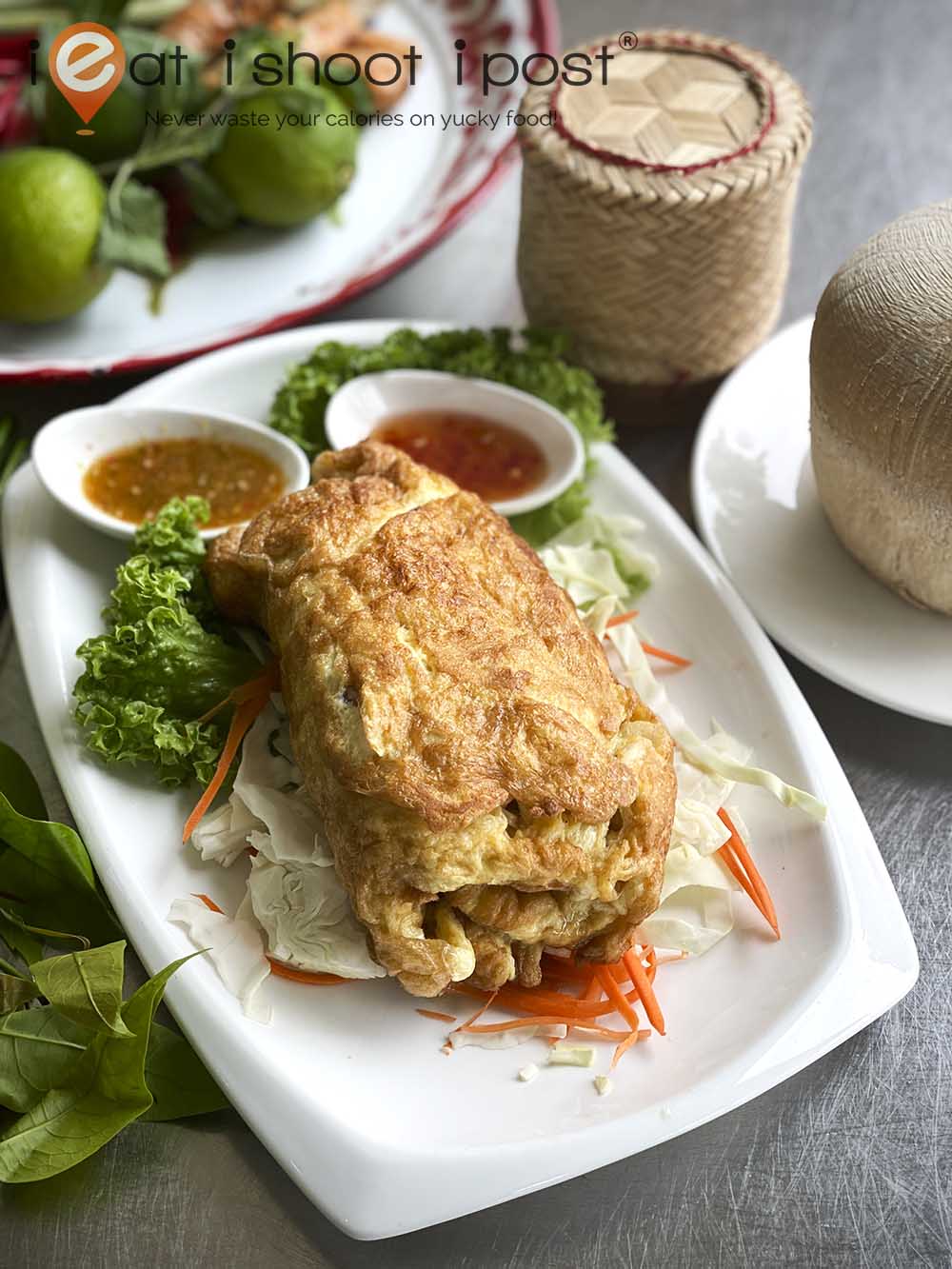 The Tom Yum soup was good, but certainly, not the best I have come across. Our kakis who have been there before said it was better when the head chef was around.  Still, it had a good balance, although it was missing the straw mushrooms.  I like that it wasn't too spicy or tangy.  It was nice and balanced but just missing that knockout punch.  4/5

What I was really impressed with was the crab omelette.  This particular dish, made famous by Michelin starred Jai Fai in Bangkok has quite a few copycats locally. The one here is the best I have tasted so far.  They actually get the crab meat from blue swimmer crabs which they boil and shell themselves at the restaurant, so it tastes really fresh.  The egg has got a good char on the outside while still remaining fluffy on the inside.  4.5/5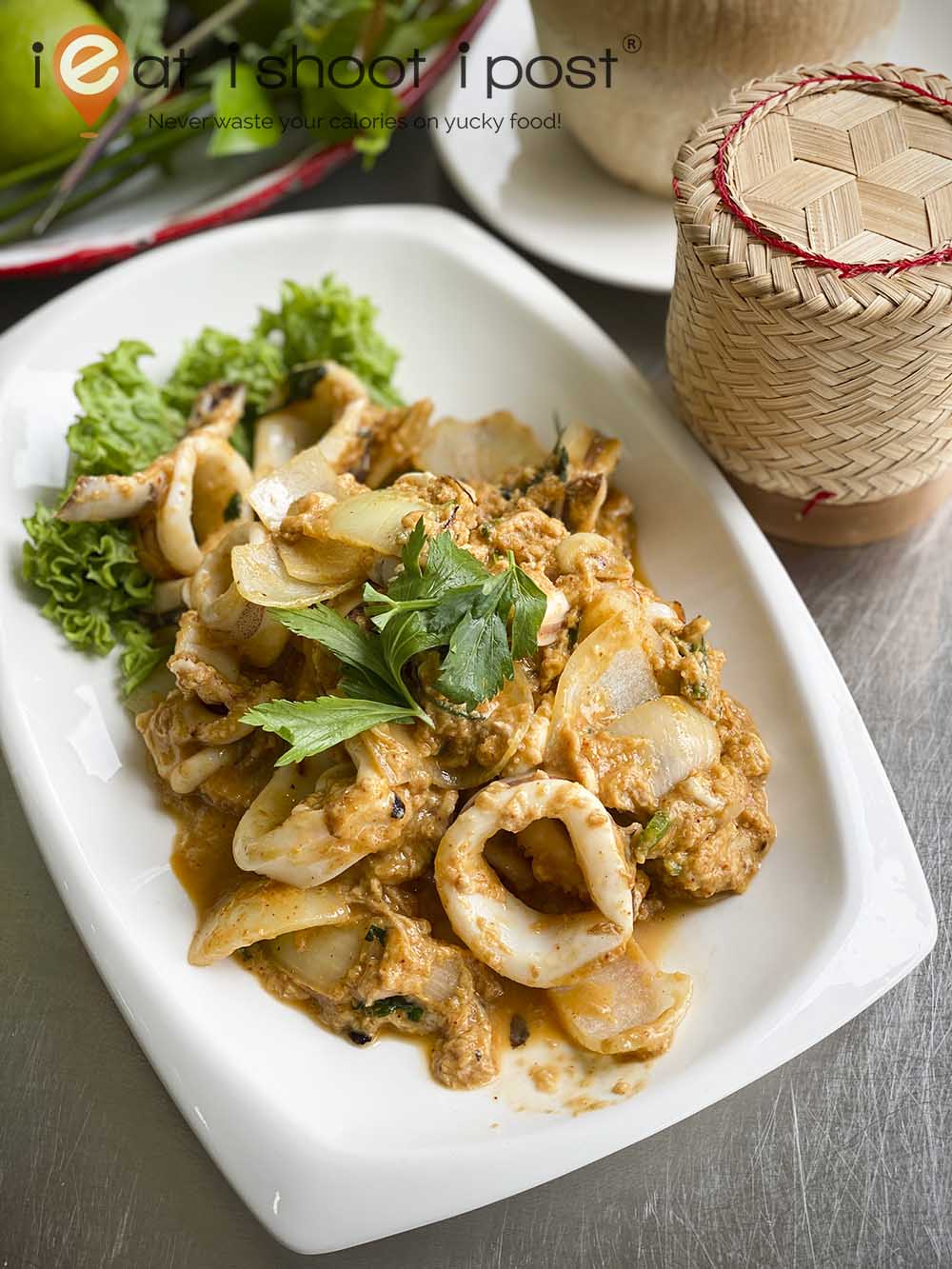 Their yellow curry was quite a pleasant surprise.  This is not a dish which I usually order, but I found the mild curry which has lots of eggs in it goes really well with rice!  The crab version is more expensive ($28) but well worth it as it was full of peeled crab meat.   4.25/5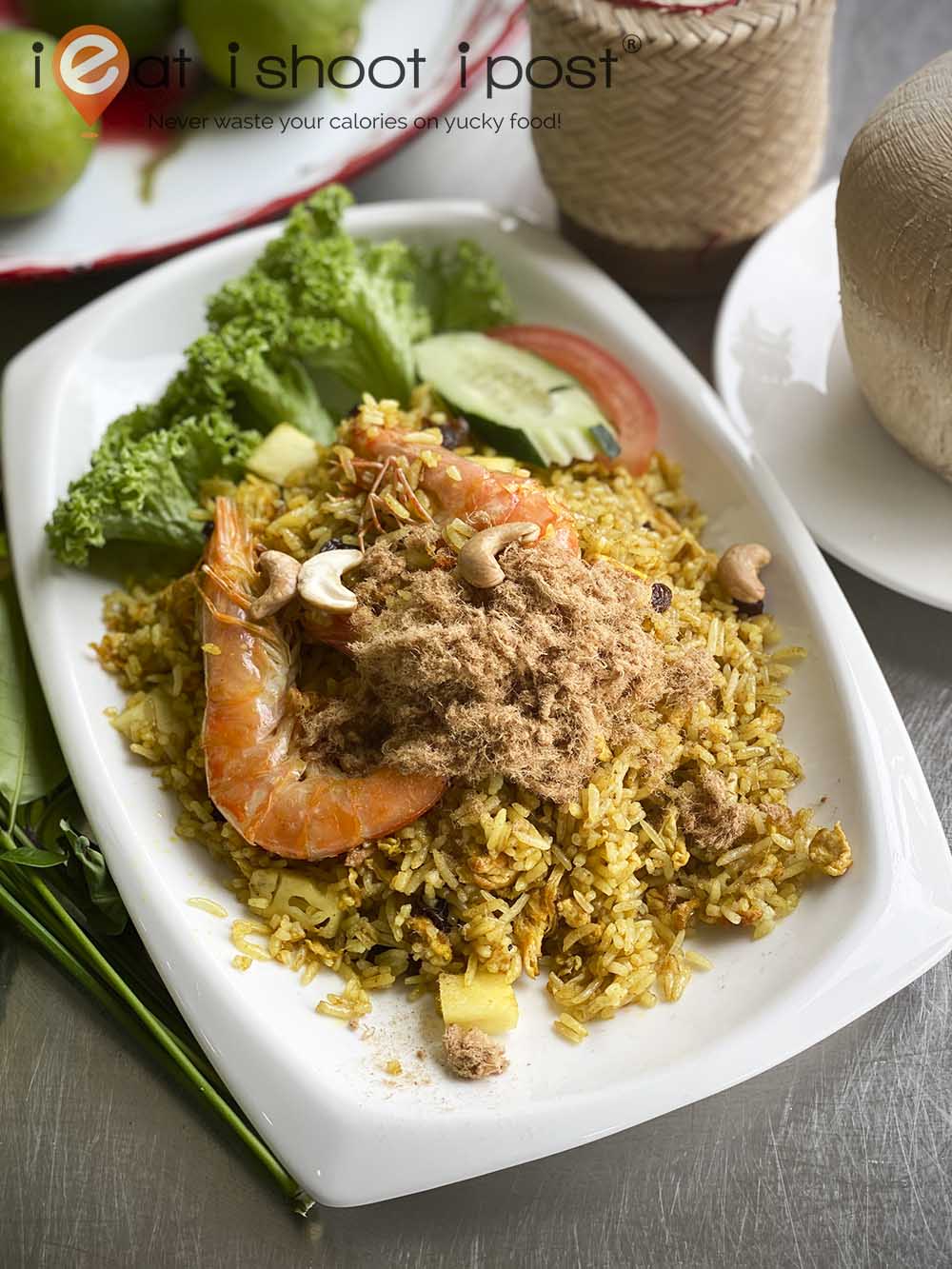 I also liked their pineapple fried rice.  The rice was well fried such that it was still moist while the rice had that wok flavour infused into it. Pity no one bothers to serve it in a pineapple husk nowadays!   4.25/5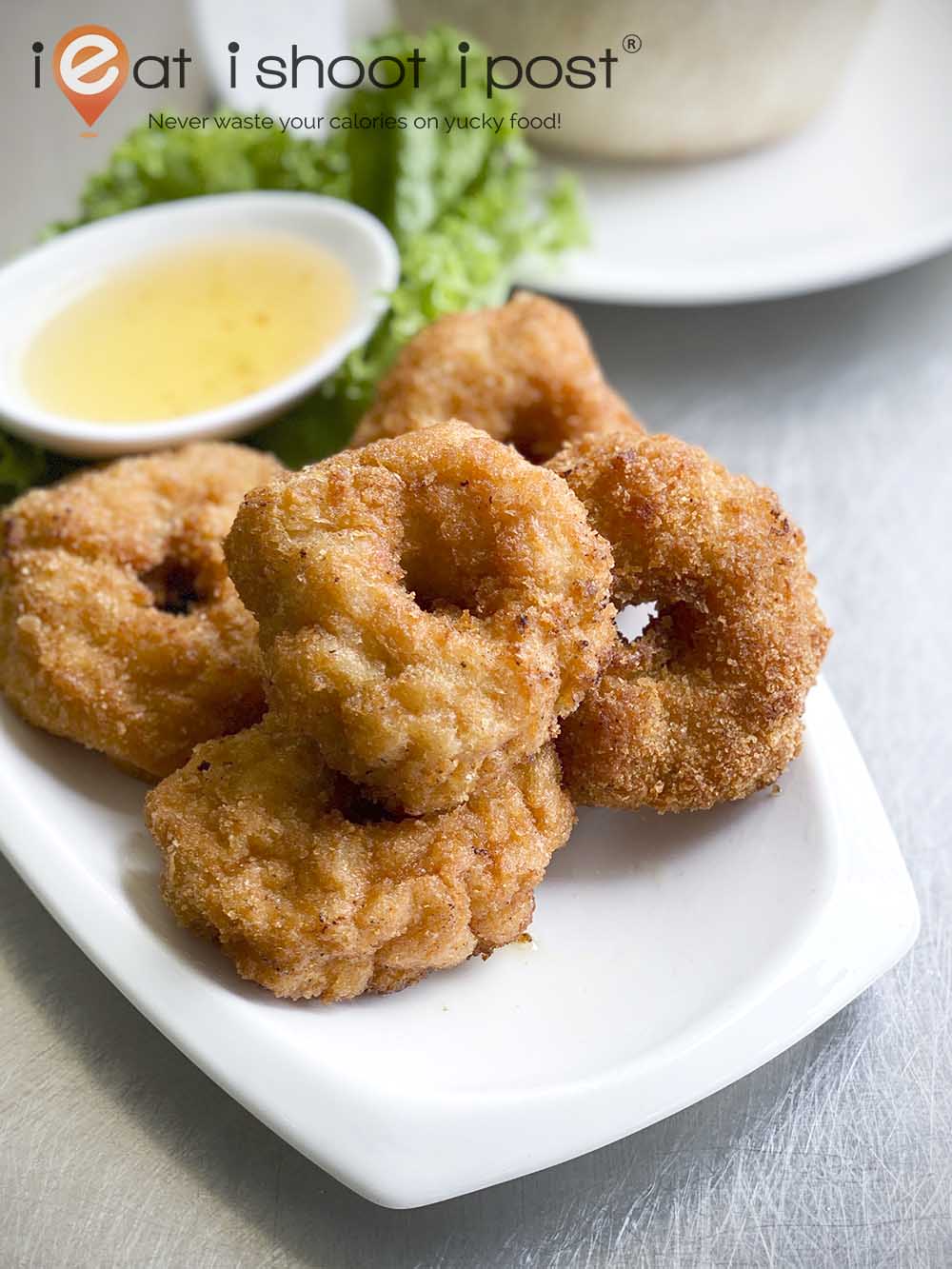 Prawn cakes were nice and generous and also made on the premises.  Although they use frozen prawns here the texture and flavour was good but can be juicer.  4/5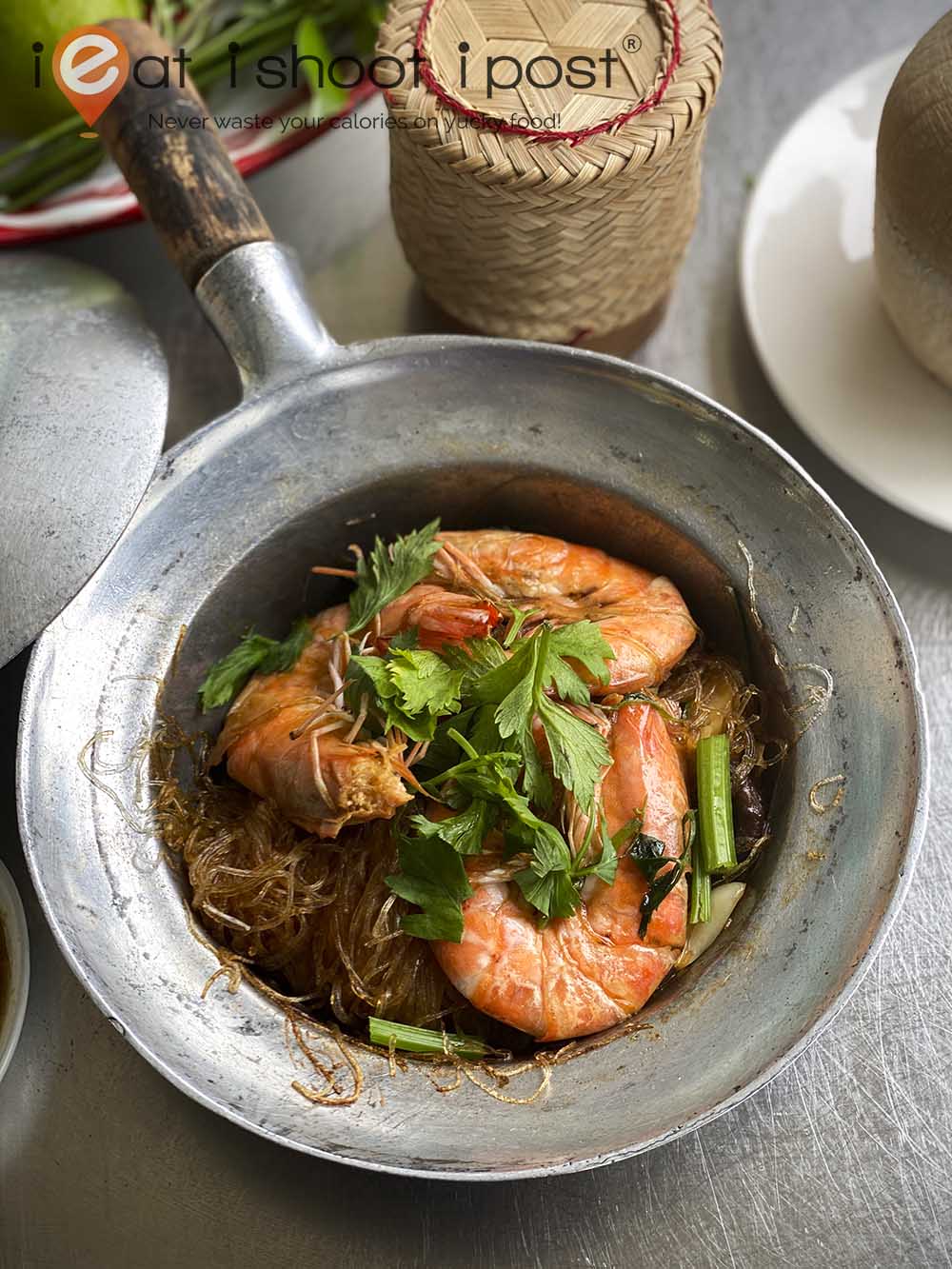 Prawn vermicelli is another of my favourite dishes.  The best one in Singapore is still from Shrimp Prawn Seafood. They have set a very high benchmark and it is not easy to find one that can match. The one at Nummun is good but still lacks that punch and that slice of pork fat at the bottom of the pot.  4/5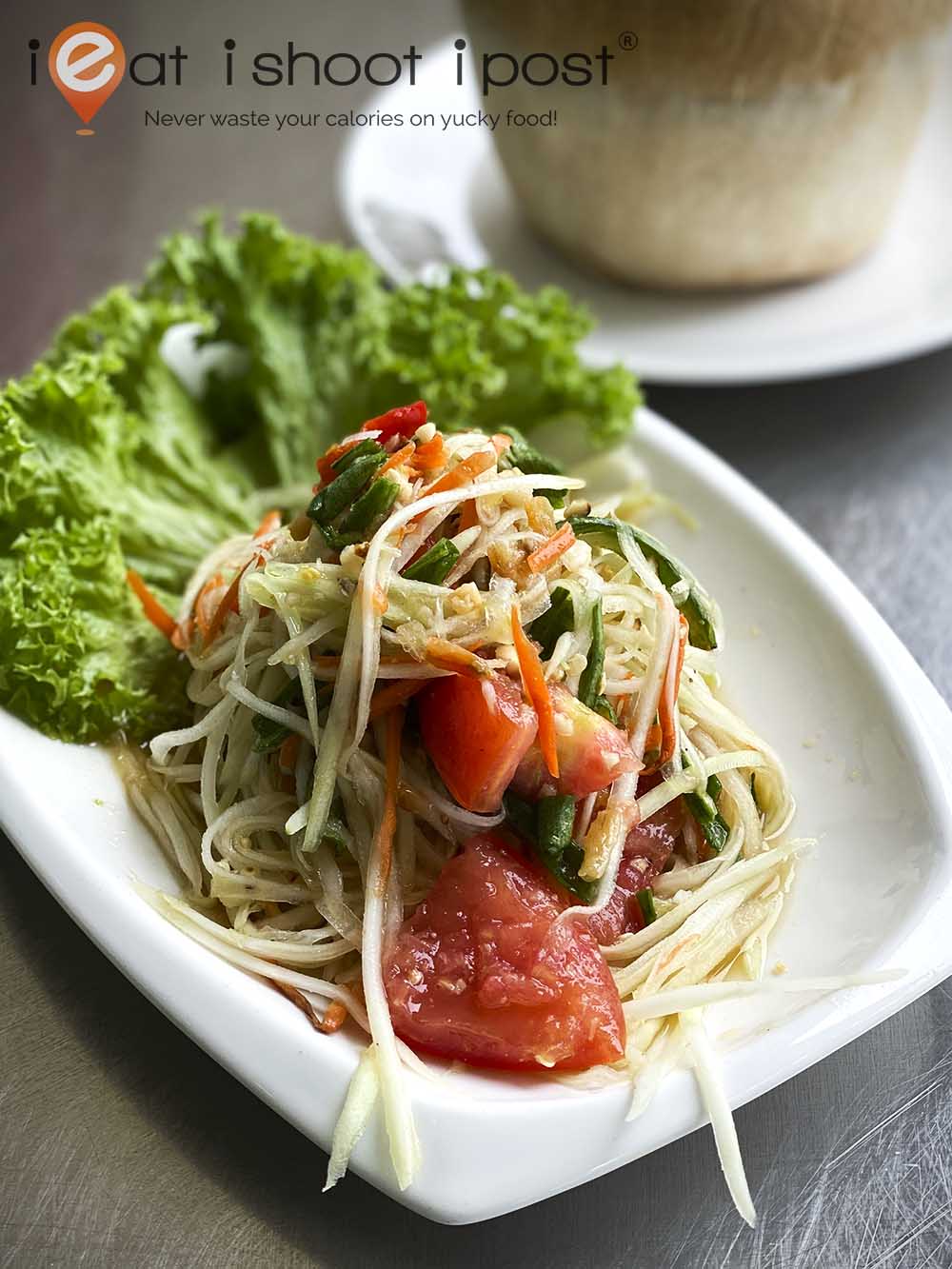 Their som tam just didn't do it for me. The lack of charred peanuts and limp vegetable was quite a letdown considering all the other dishes were really good.  3/5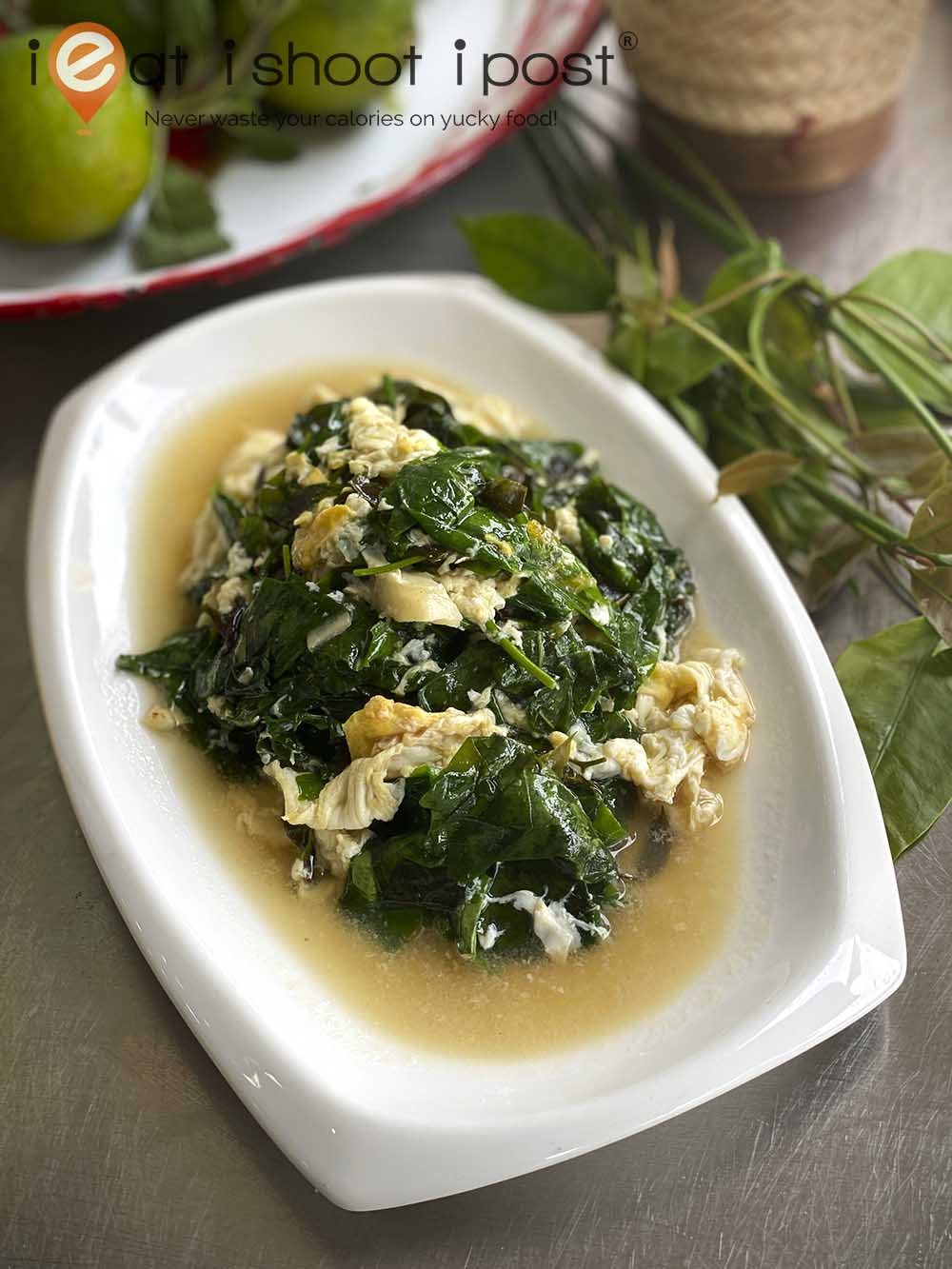 One of those dishes which signal their authenticity is the Bai Liang Pad Khai ie Malindjo leaves stir fried with eggs. This vegetable is not readily available locally and they had to specially procure it.  The texture and flavor is reminiscent of Daun Manis Sayur, known locally as Mani Chye. The leaves are also similarly stir-fried with eggs.  Good vegetable dish to order.  4/5
Unfortunately, I still haven't found a mango sticky rice which can rival those found in Bangkok.  The problem is most restaurants here precook and wrap the sticky rice in a plastic bag and microwave it to warm it up when you order, so the texture is never right.  The flavour is still nice, but I just wish someone will just serve freshly steamed glutinous rice instead of the reheated stuff. 4/5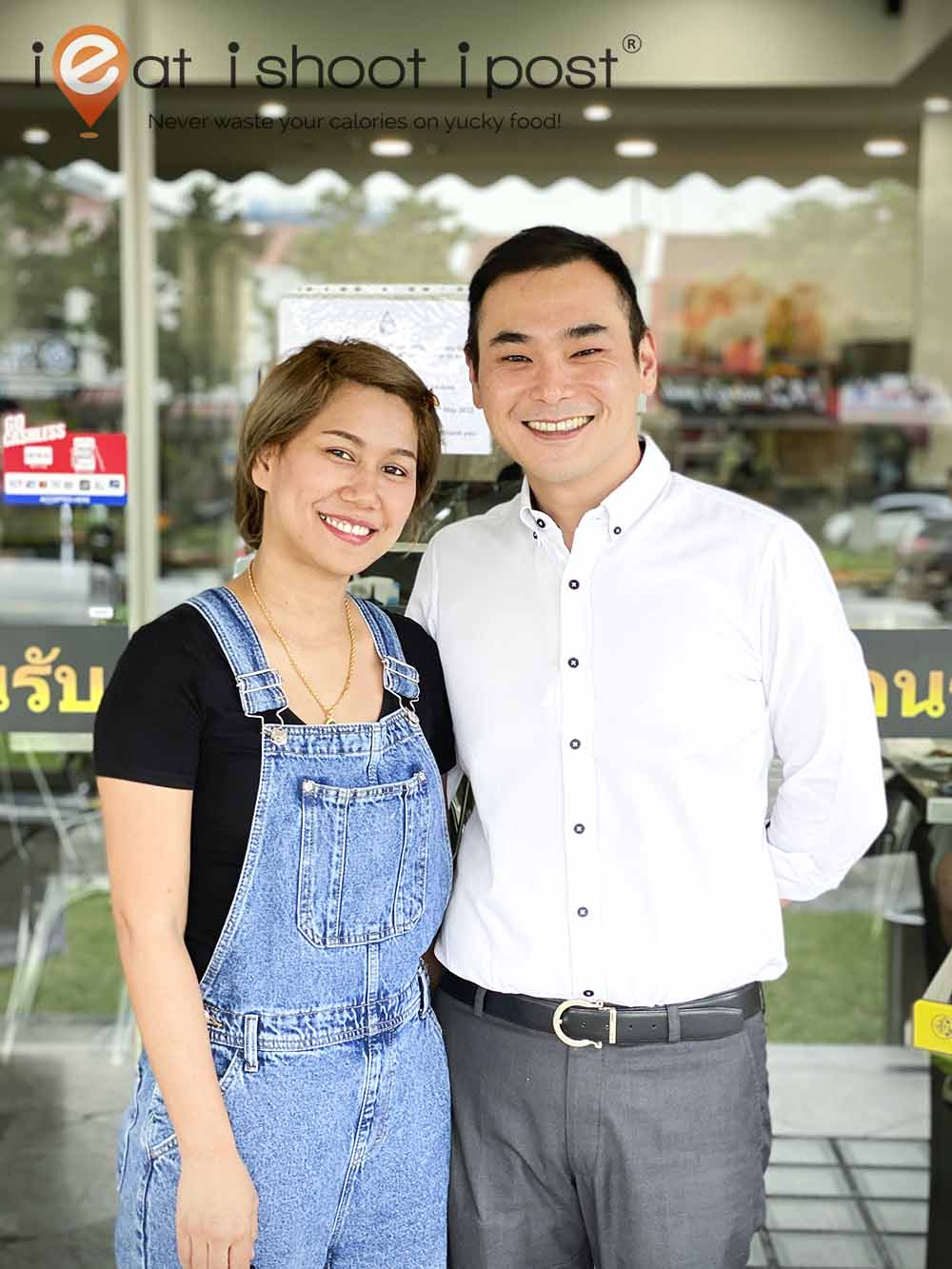 The place is run by Cat who grew up helping her parents run their food stall in Thailand.  She is married to Stuart, a Singaporean whom she met in Dubai.  From the way she sources her ingredients and insistence on using fresh prawns (except for the Tod Man Goong) and crabs, you know she is really passionate about her food!
Conclusion
Good Thai restaurant to visit if you are looking for a place around the Thomson area.  This review was written when the head chef was not around.  It should be even better when he returns.