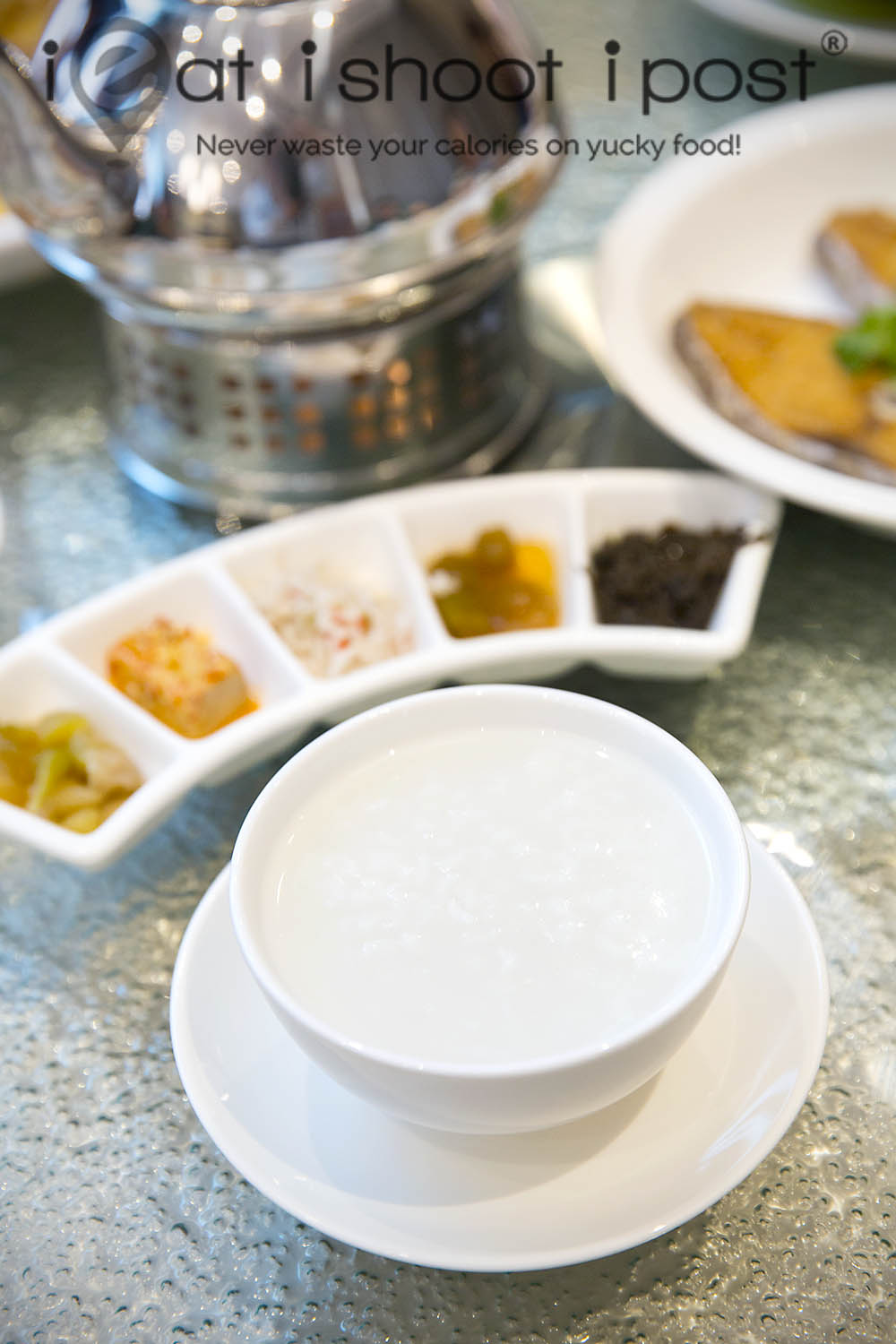 In case you haven't watched "Flavourful Origins"yet,  you should, especially if you are Teochew.  It was the series that inspired my our trip to Chaoshan where our appreciation of Teochew food was brought to the next level!
After coming back, I find myself craving for Teochew muay more than before!  But where can you find a good Teochew porridge nowadays?  I mean a really good place where you get quality fish and authentic ingredients like the aged chai poh (pickled radish) and Puning fermented soya beans that was featured in the series?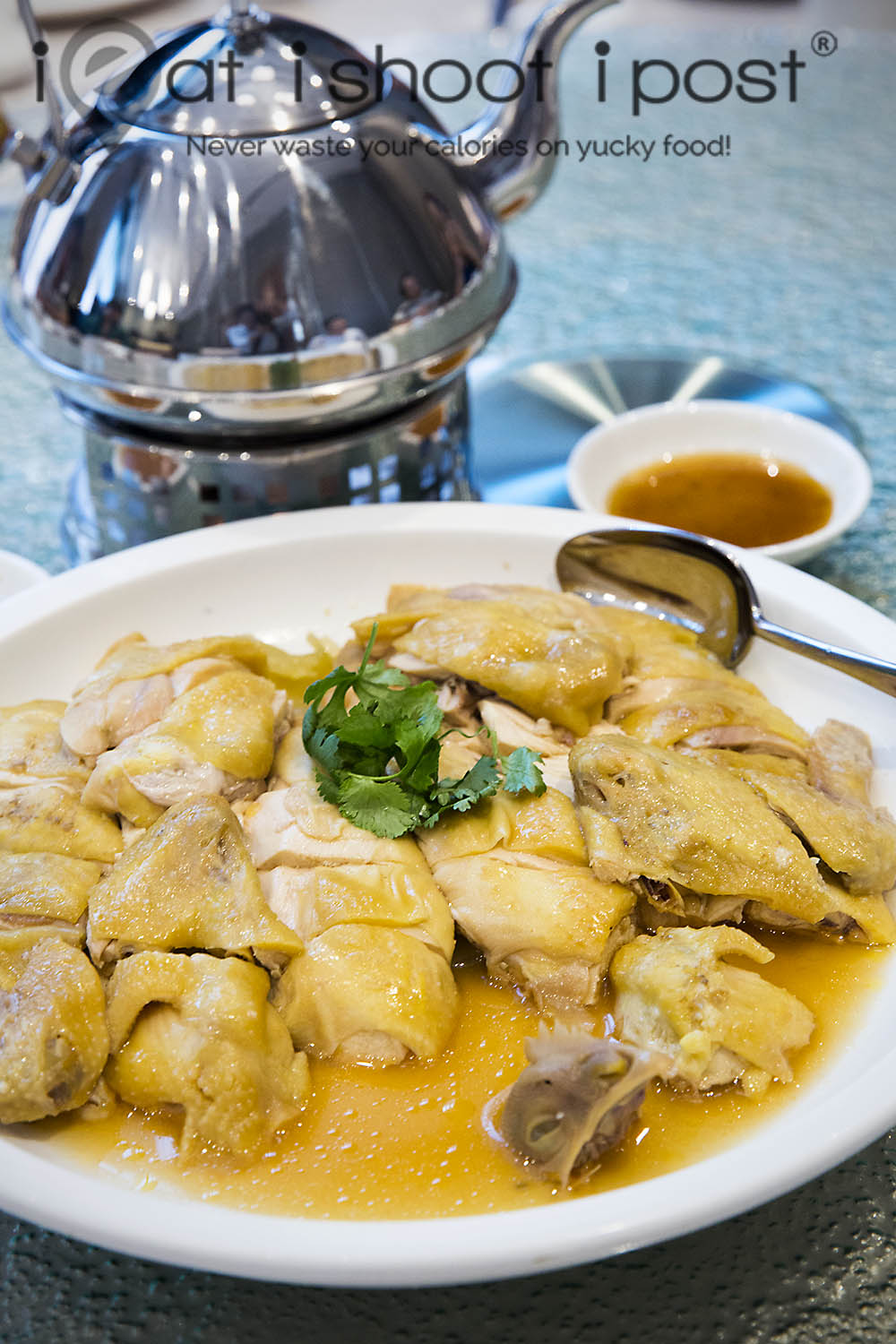 Thankfully, this newly opened Teochew restaurant by Jumbo group just happens to serve what I was looking for, like this Puning fermented bean chicken.  The chicken was marinated with the bean paste before being steamed and served atop a bed of pickled mustard greens which was the perfect accompaniment for the hot watery porridge!  4.25/5
Their porridge set ($4.80) comes with 5 different condiments, some of which are sourced direct from Chaoshan.  The fermented bean curd was especially good!  Note: Porridge refill $1.20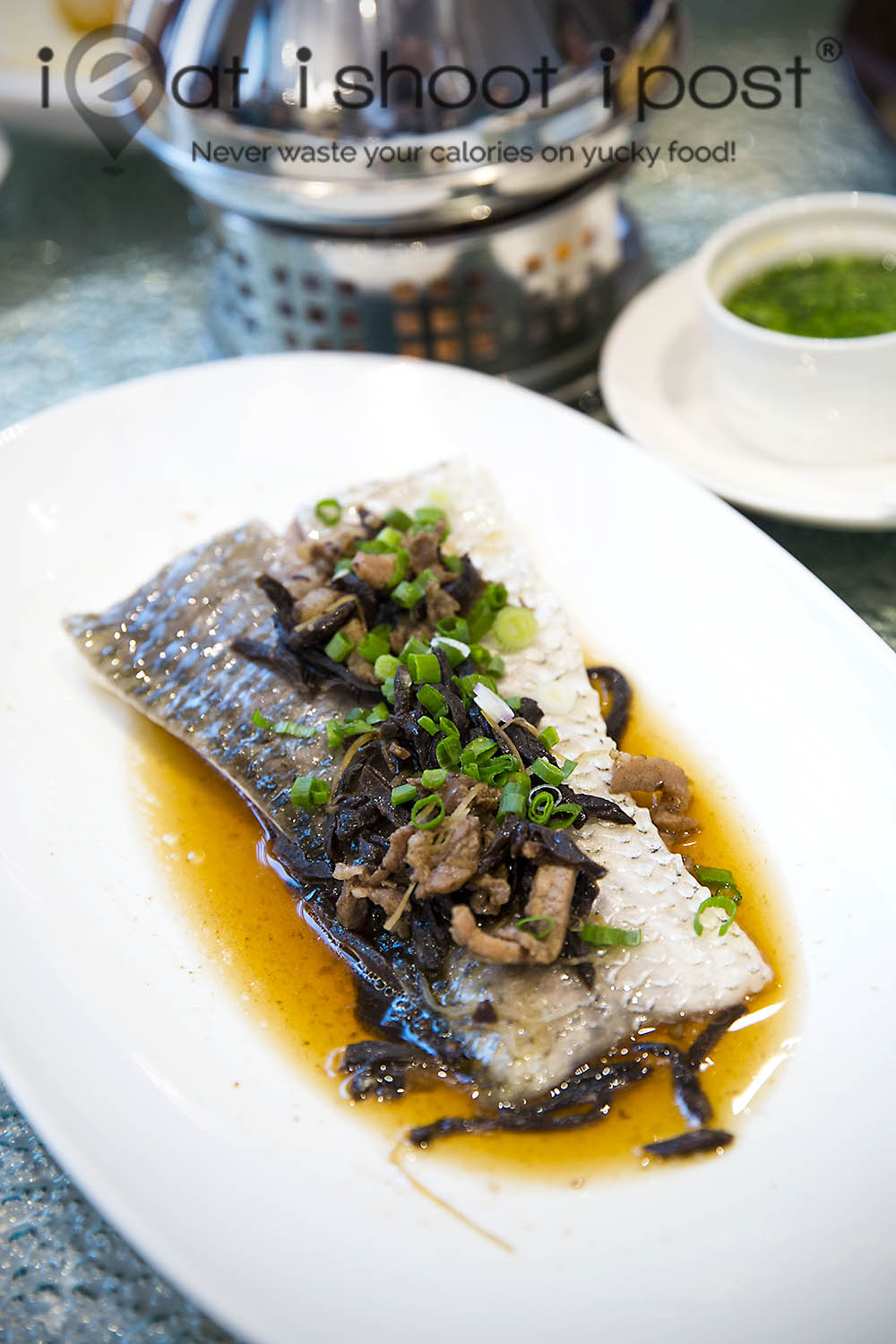 I don't remember eating aged chai poh as a kid and only learnt about it from the documentary.   It is basically chai poh (pickled radish) which has been kept for years until it has turned black.  Most households age their own chai poh and so it isn't something that is readily available at the supermarket.  Even during our trip in Chaoshan, we only managed to get hold of it through a special contact!
The good news is that aged chai poh is available at Zui Yu Xuan.  It was as a topping for the steamed threadfin together with slivers of fatty pork.  I wouldn't say that my first time tasting it was a moment of epiphany, but the flavour of aged chai poh is markedly different from the usual chai poh that we are used to.  The flavour is deeper and more complex much like an aged balsalmic vinegar vs supermarket balsalmic vinegar. Overall, the fish was delicious and certainly worth ordering if just to have a taste of the aged chai poh! 4.25/5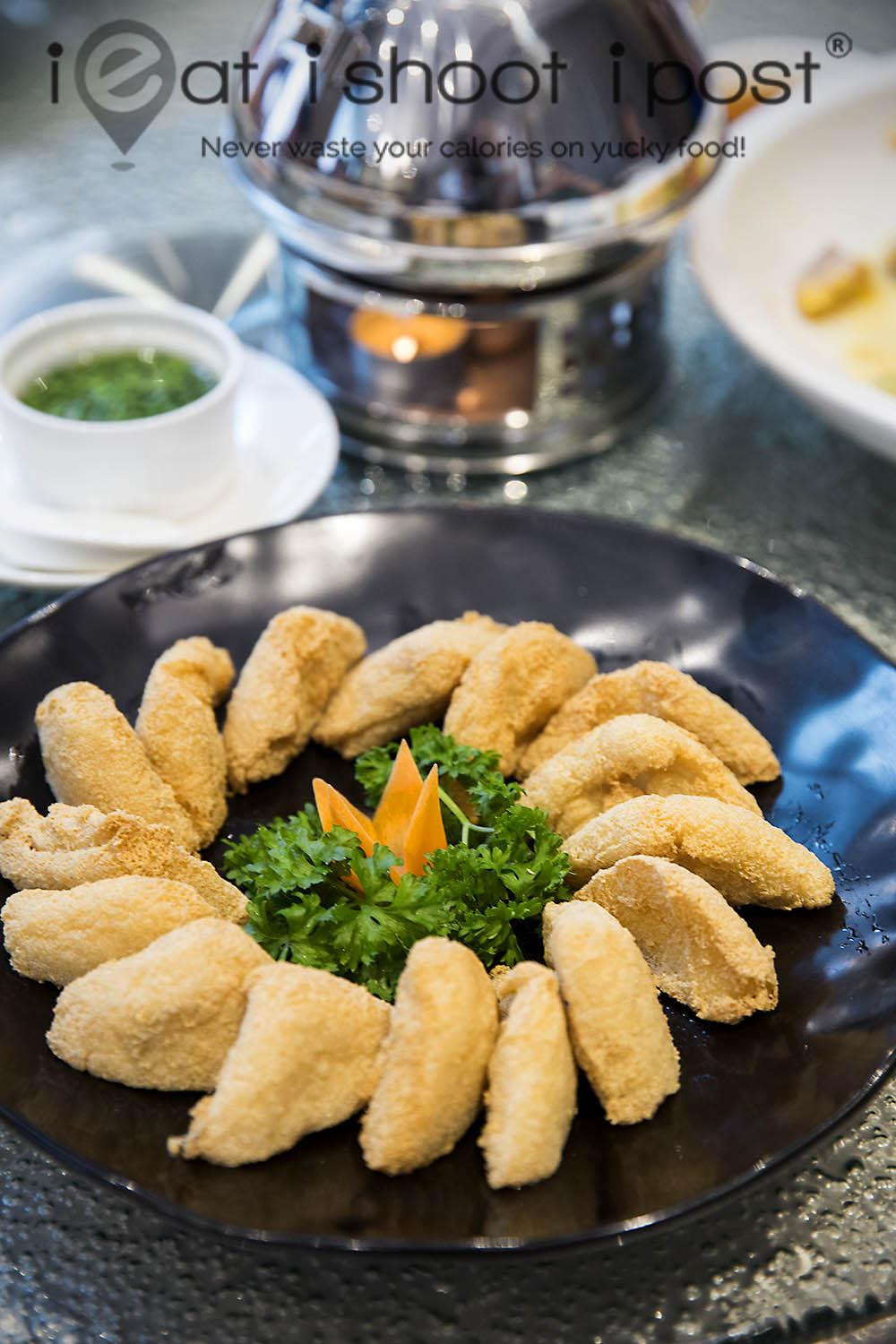 If there was one dish you must try, it is the Puning beancurd.  I was told by Chef Kang that this used to be available in Singapore long ago, but the artisans who made it have since retired and the art is lost.  The texture of the tofu was unlike the silken tofu that we are used to.  It was smooth but more custardy and dense and it had a mild fermented flavour which would remind you of stinky tofu but it wasn't so strong as to be off putting.  4.5/5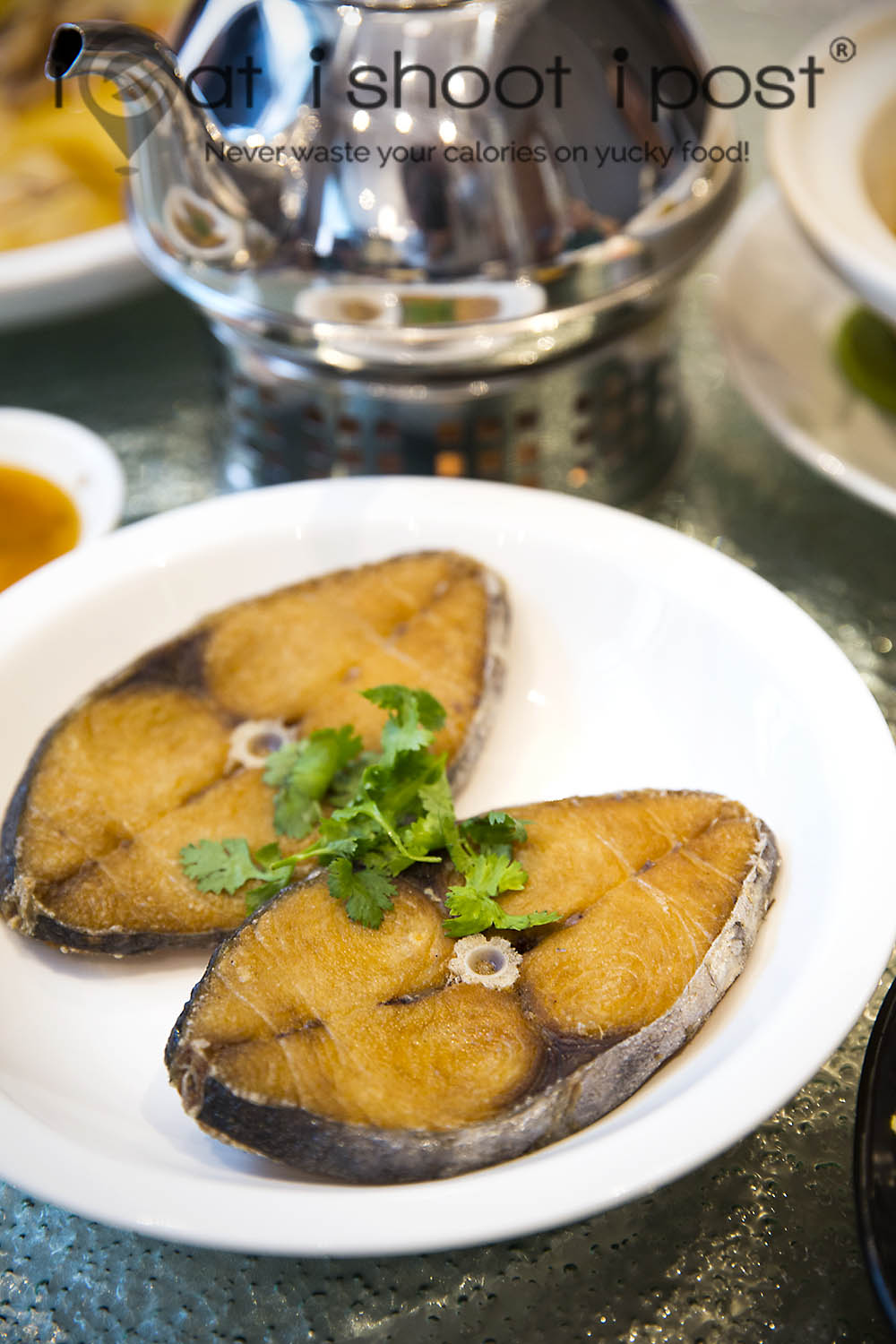 Teochew porridge is best eaten with dishes which are punchy.  So you can expect the dishes like the fried mackeral fillets to be more salty than usual.  The fillets are nicely fried but not anything special.  It's something you order if you are used to having it.  4/5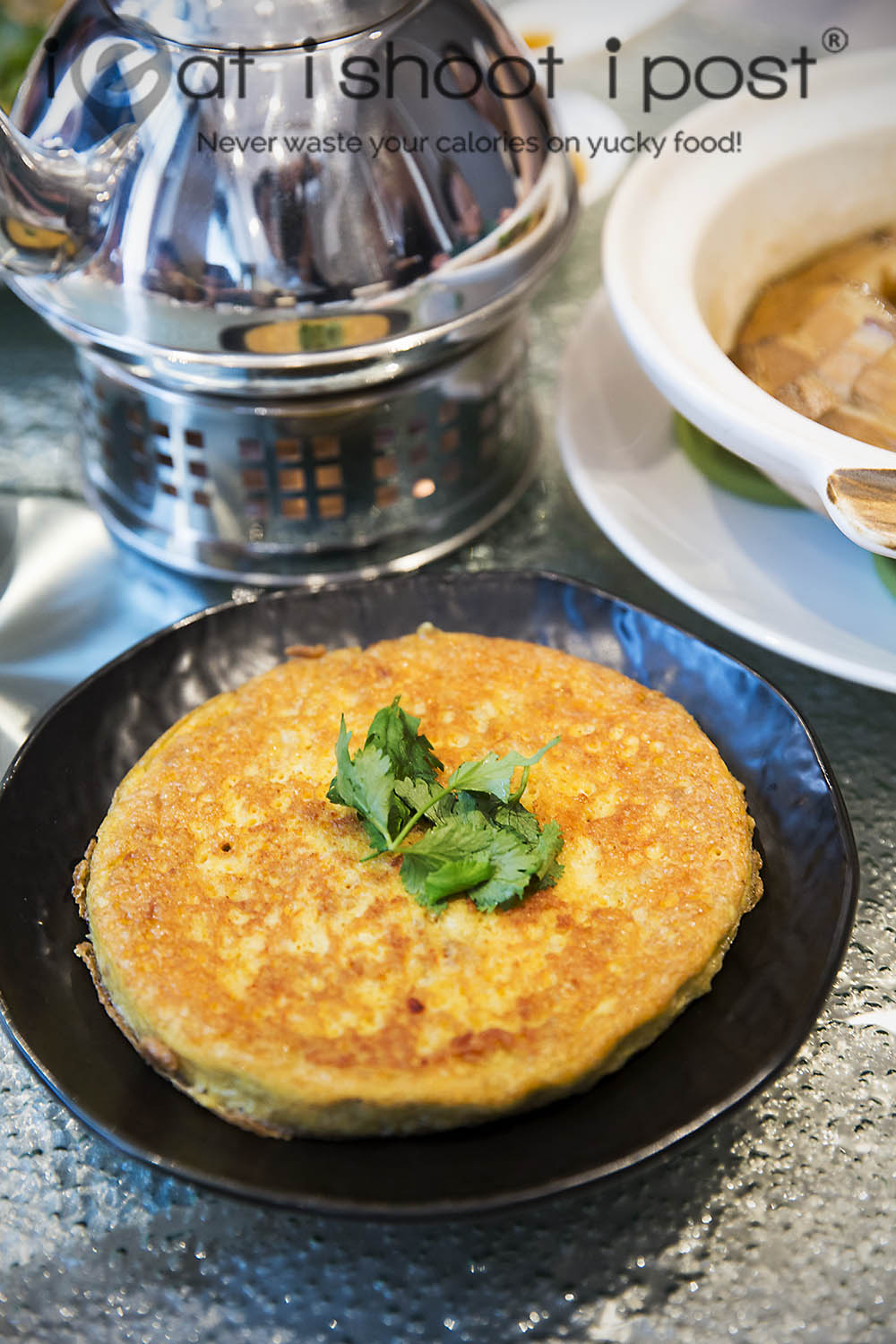 There were mixed reactions to the chai poh omelette.  Those who liked it commented that the texture of the omelette was nice and airy and the chai poh was not too salty.  Those who didn't like it said they couldn't taste much of the chai poh flavour.  I thought the omelette was nicely done but I have to agree, that you can't really taste the chai poh.  4/5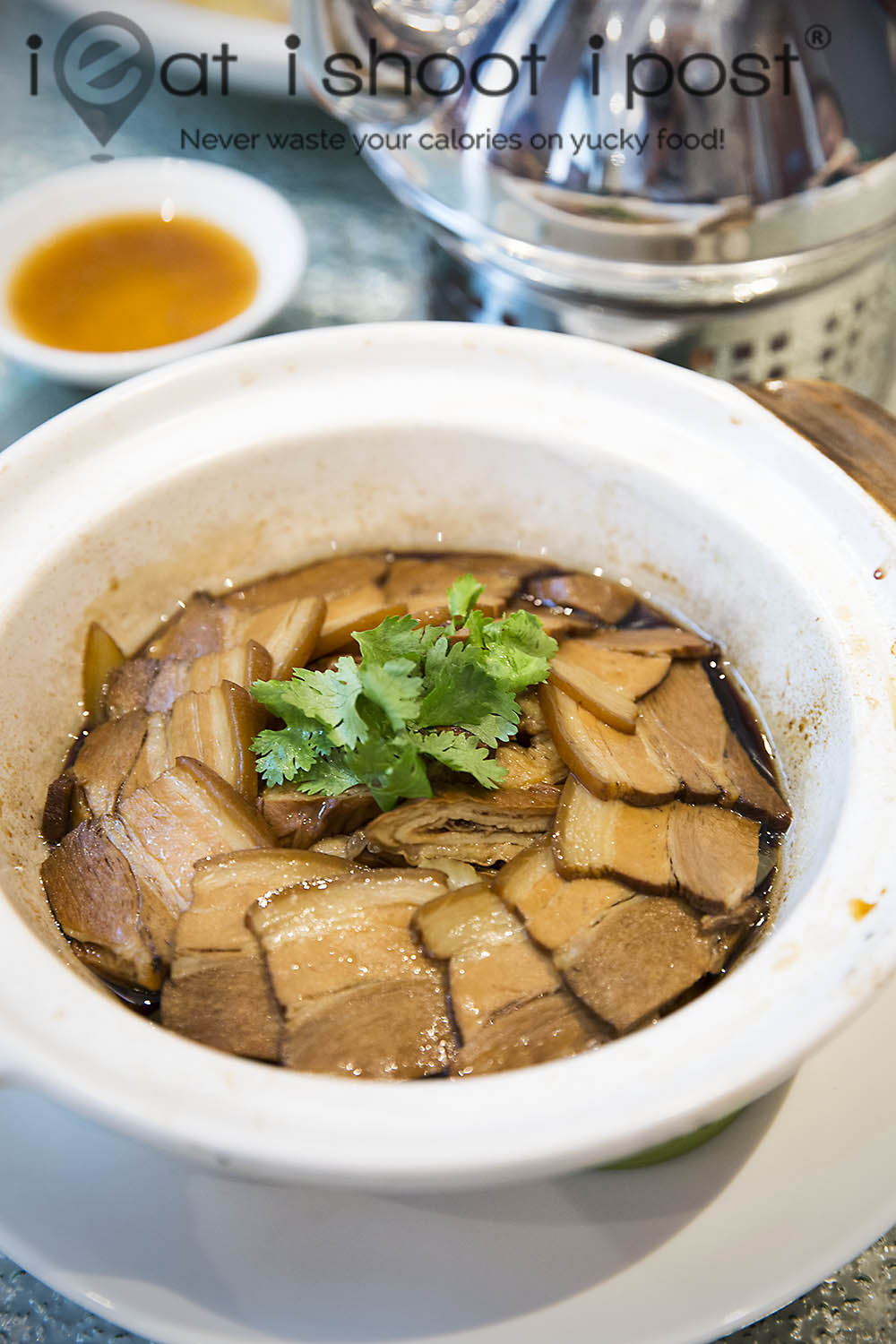 The braising sauce is quite similar to the ones I had in Chaoshan but I found the pork belly to be a tad dry. It really is too bad we can't get goose in Singapore! 4/5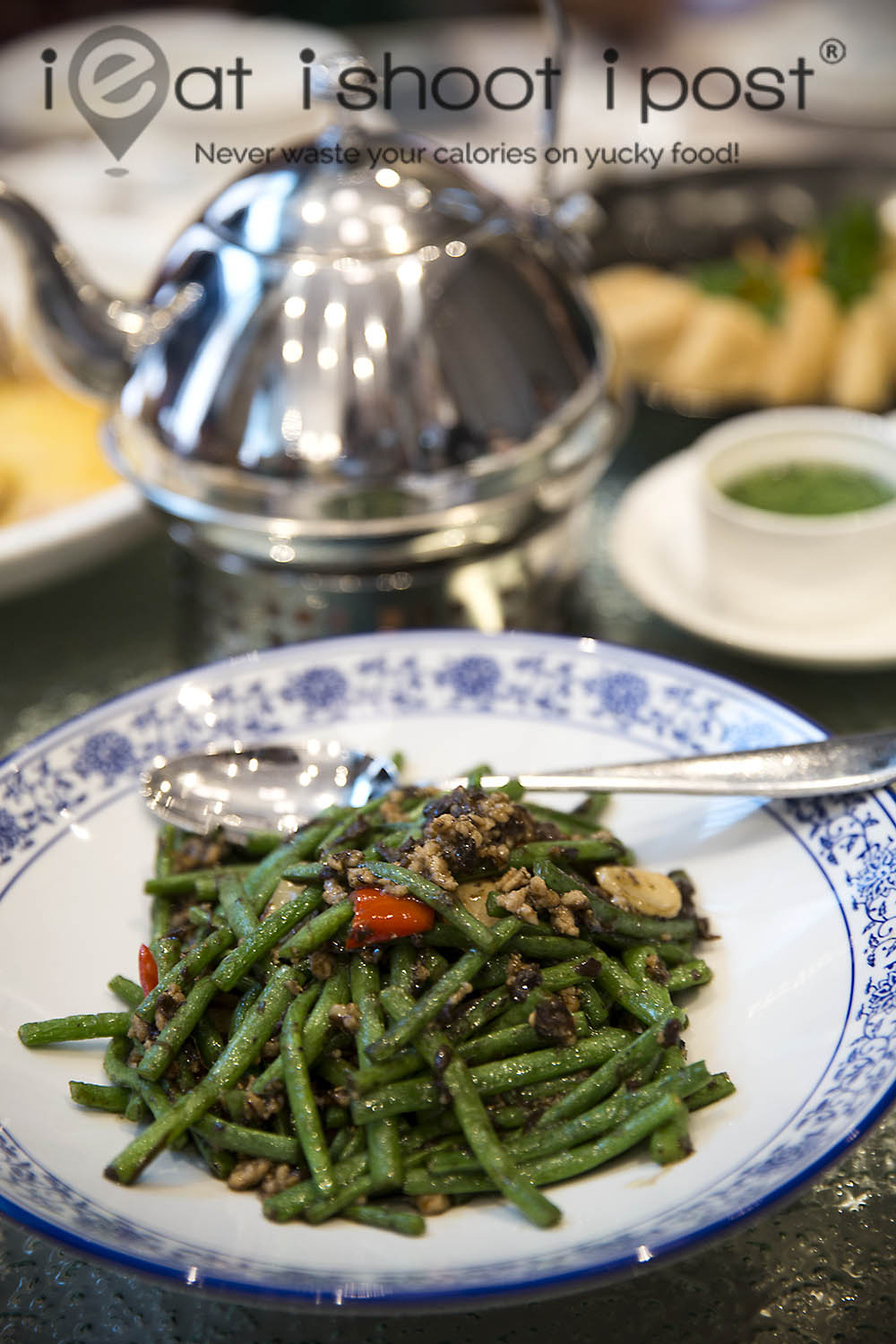 Preserved olives are another classic Teochew pickle and it went very well with the minced pork and fried French beans!    4.25/5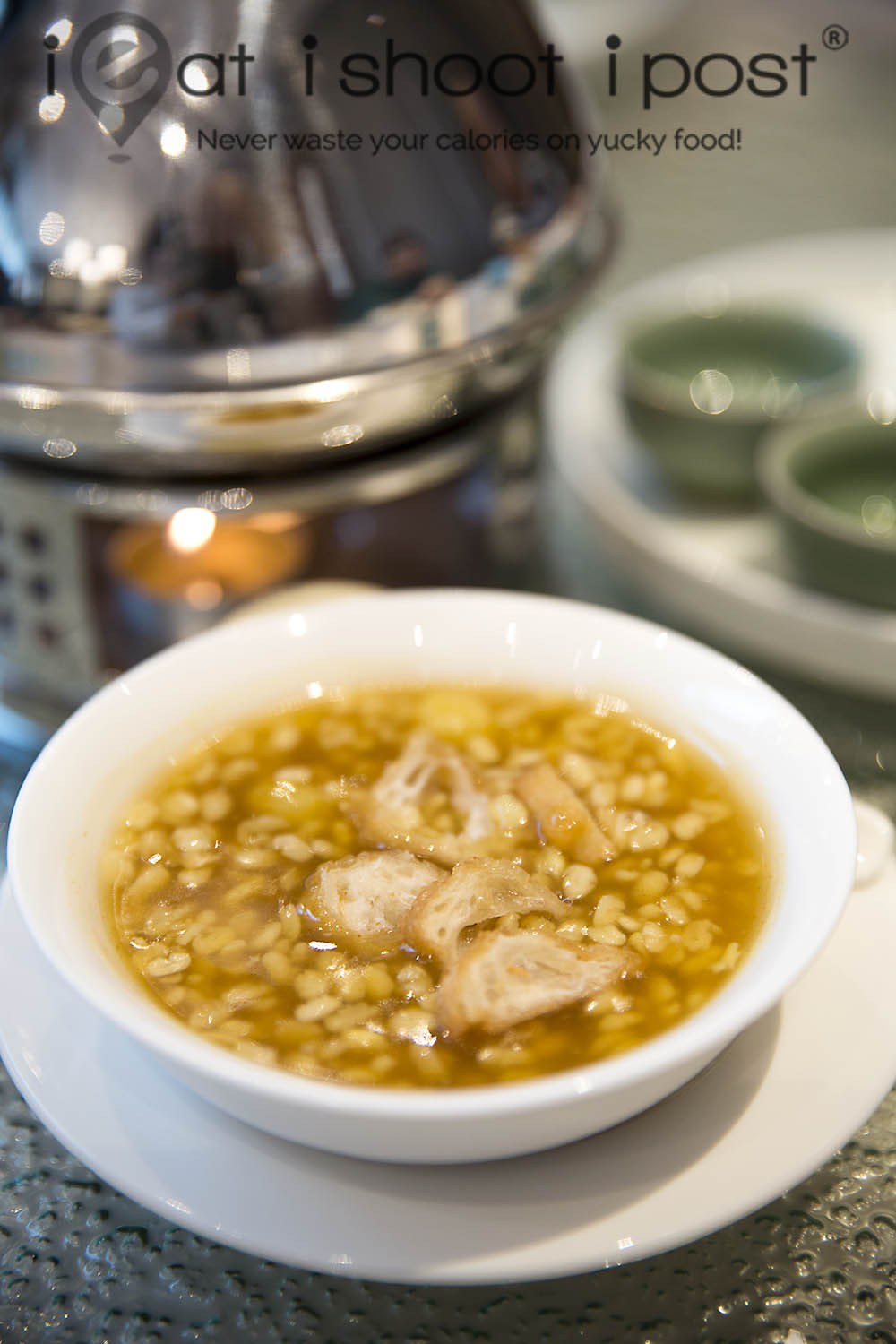 For dessert they have  a very nice orh nee as well as tau suan which has the fragrance of orange zest.  The beans were just a tad hard and would have been better if it were cooked longer. Otherwise the orange zest gave it a very nice, uplifting flavour.  The orh nee is very good and they do it the traditional Teochew way with pumpkin.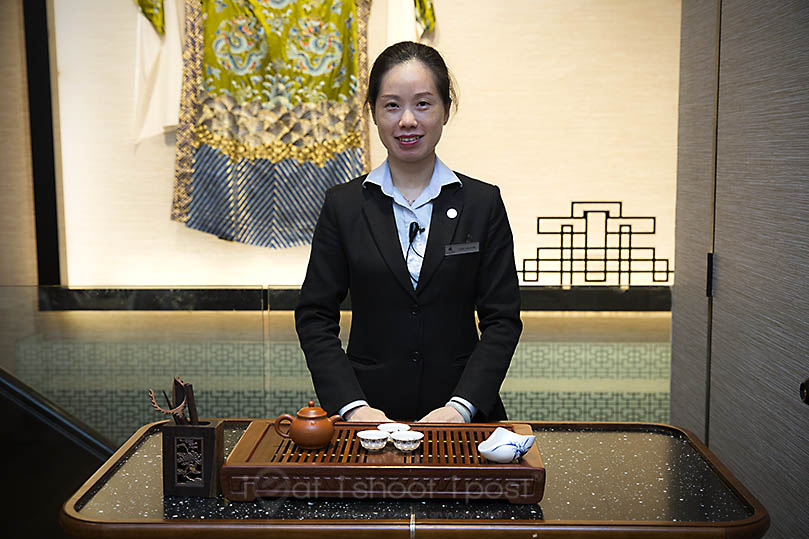 For those dining in the VIP rooms, you can also enjoy the gongfu tea service done by a professional tea sommelier from Chaoshan!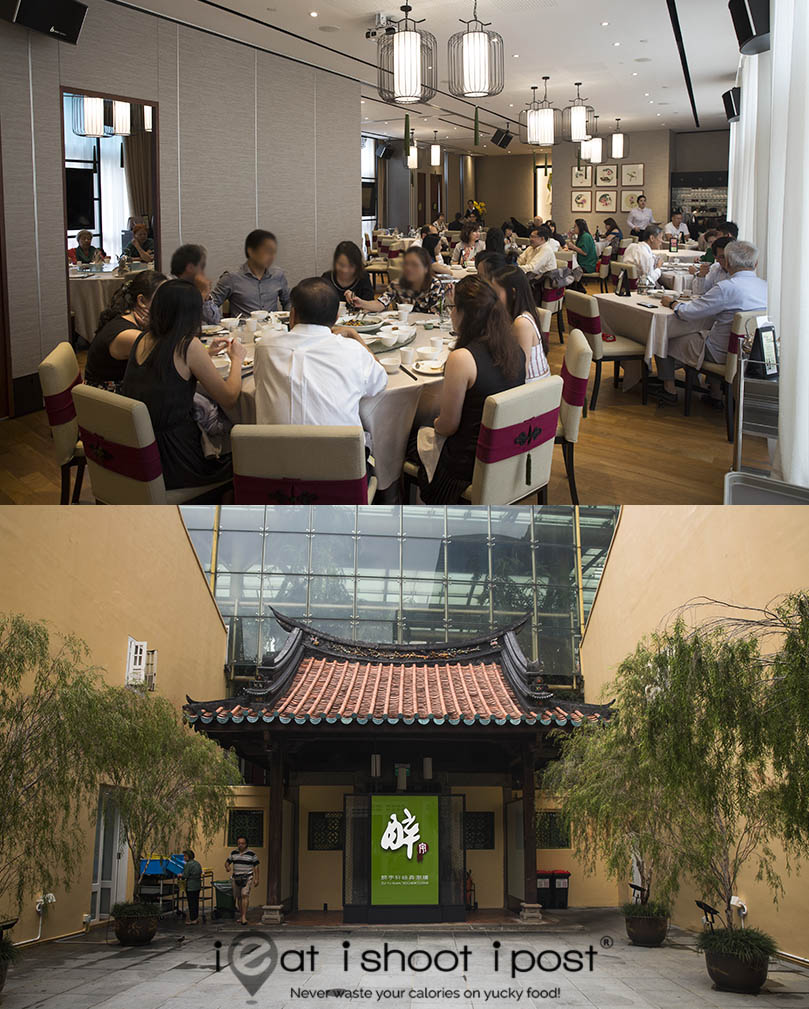 Conclusion
Great place for Teochew cuisine with many authentic ingredients imported direct from Chaoshan.   The teochew porridge is option  available during weekday lunch.  The restaurant menu features other classic Teochew dishes