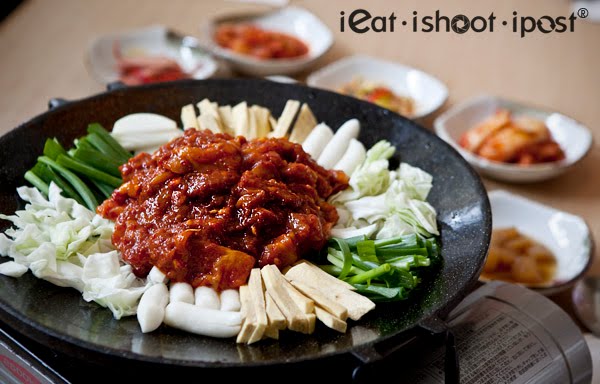 Chicken in Chilli Sauce (Dag Galbi) $39
I am very new to Korean food, but fortunately, my makan kaki, Cactuskit, is a big fan. He has been a fan of Korean food since he and his wife were still dating in Hawaii and he has eaten at many restaurants in Hawaii, Korea, as well as Singapore. So I depend on him to give a more balanced review of Korean food.

One thing that is very distinct about Korean food, apart from the use of the chilli, is the fact that Koreans like to julienne their veggies….. a lot. One of the reasons why they take so much effort to cut their veggies all into nice little strips is because they have to be nicely displayed on a plate before they cook it on your table. I was very surprised that at Your Woul, they not only grill and boil your food on the table, even the stir fried dishes are done on the table. Unlike Chinese cooking where the sauces and condiments are added into the wok during the frying process. The Koreans tend to mix all the necessary sauces together first and then add it all at one time to the food. So they can put everything onto the shallow wok and simply start up the fire when it gets to your table.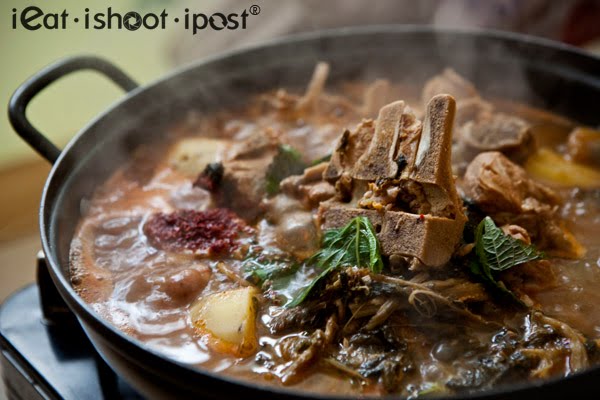 Pork Ribs Potato Stew (Kam Ja Tang) $39

One of the dishes that Cactuskit likes to order after a long and stressful day is the Pork Ribs Potato Stew. The stew contains dried radish leaves which are not readily available in Singapore. Fortunately, the restaurant owner's brother is a farmer in Korea and so he would send them over. This is the sort of hearty, fermented bean and chilli type stew which would really hit the spot when you are simply drained from work. Cactuskit absolutely loves it and would give it 4.5/5. I think it was very good and certainly I feel the taste is very authentic, however, it's not something I look forward to eating as much as he does. 4/5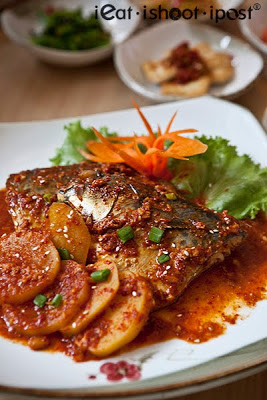 Steamed Mackerel with Chilli Sauce (Go Dung Eo Jorim) $13.80
If you like the fishy odours of Mackerel, you might perhaps like this dish. I like the big Mackeral but not the Japanese Mackerel (Saba) as I find it too fishy. Cactuskit and the other kakis seem to enjoy it. For me it was only a 3/5 because I really don't like Mackerel. Cactuskit on the other hand, gave it 4.5/5. This particular dish is not on the menu. What is on the menu is the Steamed Belt Fish. If you want to try this dish, just ask for it specifically.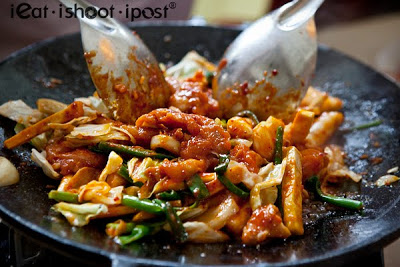 The one Korean style dish that I am beginning to develop a taste for is the stir fried chilli chicken/pork. I like the fact that even though the Koreans like their chilli, it is never has hot as the hot stuff that we have here. The sweet chilli marinade is very nice as is their bulgolgi marinade. Having the dish being stir fried on the table is definitely a novelty for me. 4.25/5
Conclusion
The food here certainly looks very authentic. I say authentic because they have dishes here which are quite unique and it feels as if they are really serving up something from home. The name Your Woul, in fact, is the name of their village and is probably the place where her farmer brother still lives. The prices are not the cheapest in town, but I think it is worth a try if you are after authentic Korean food. There are many other dishes which Cactuskit would recommend, but we couldn't try them all. I will leave it to him to recommend them in the comments.