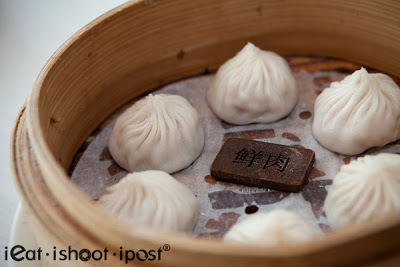 Xiao Long Bao $6.00 for 6 pieces
It is so good to see how our Chinese Restaurant scene is evolving in Singapore. When I was a kid, we frequented places like Prince, Red Star, Sin Leong and Tai Seng restaurants for our usual Singapore style chinese food. Nowadays, places like Crystal Jade, Imperial Treasure, Lao Beijing and Paradise Inn have brought in new and exciting cuisine from other parts China.

In the past we used to have the standard Dim Sum items, but nowadays we get to enjoy an alternative set of "dim sum" items which essentially is classified under the "Shanghainese" label. So we have the Xiao Long Bao, Guo Tie, Jian Bing etc etc. And as more Chinese Restaurants open up, there is this drive to introduce more novel items into the Chinese Cuisine scene. Life for a foodie is good here in Singapore!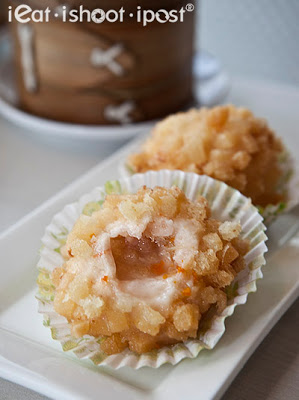 Crab Roe Soup in Prawn Ball ($5.20 for 2 pcs)
We happened to step into Nan Xiang one lazy Saturday afternoon for a late lunch when I discovered their deep fried prawn balls. The waitress who served them warned us that 1. They were hot and 2. There is hot soup inside. I smiled and acknowledged her warning. Then, like any guy who needs to test for himself if the paint is indeed wet when there is a "wet paint" sign, proceeded to give the prawn ball a good press to see what happens. Lo and behold, hot soup squirted out of the fried prawn ball, just like how some of my male babies would bless me when a squirt whenever I open their nappies while conducting my baby assessments. My wife just shook her head and rolled her eyes because she just couldn't understand this male compulsion to have to test things for themselves. However, I am sure the guys can empathize with me right?
Perhaps I was just ignorant, but this was the first time I had something deep fried with soup on the inside! On top of that the crab meat was actually quite tasty. I don't think you would find many people talking about Deep Fried Crab balls because, quite frankly they are just another item on the Dim Sum menu, but these ones actually stood out as something I would look forward to eating again. 4.5/5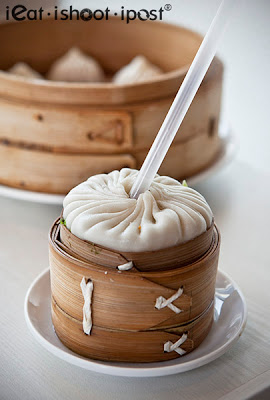 King Size Nanxiang Crab Roe Steamed Bun Soup ($6.80 each)
As fate would have it, I received an email inviting me to sample the food at the new Nan Xiang restaurant at Central Square just a few days after that pleasant meal. So I thought this would give me the opportunity to do a proper review of their items. In case you don't know, unlike the popular Shanghainese chain restuarants here which are mostly local brands, Nan Xiang is actually a Shanghainese brand. Established in Guangxu, the 26th year of the Qing Dynasty (AD 1900), the first ever Nanxiang Steamed Bun Restaurant located in Shanghai's Cheng Huang Temple, still pulls in the crowds today.
When they opened their first stall in Singapore, they found that Singaporeans were already accustomed to a slightly different form of the Xiao Long Bao where the skin is really thin. So when they introduced the original version with thicker skin, it wasn't well received. They since had to make the skin thinner for the Singapore market.
Their Xiao Long Baos are very good and they have a version which has crab meat inside which is more expensive but it gives you that nice crabby umami flavour which crab lovers would love. The skin is resilient and chewy, perhaps a tad too chewy, but these Xiao Long Bao won't burst until you actually bite into it. I would prefer the skin to be just a tiny bit more tender but overall they were good Xiao Long Baos. 4.25/5
For those who really enjoy the soup inside Xiao Long Baos, they have a giant version where you get to just drink the soup out of a straw. Very good for those who can't get enough of the soup in Xiao Long Baos! 4/5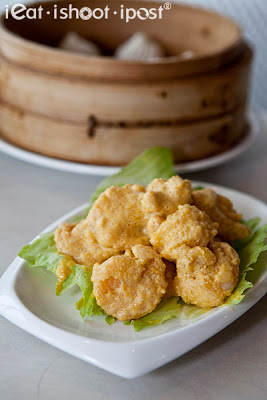 Salted Egg Yolk Prawn ($12.80 to share)
There were two other dishes that I tried which were novel and surprisingly good. One was the salted egg prawns which as you can imagine is quite a tasty treat to have when your doctors advises you to take more high cholesterol foods because your cholesterol is too low. (I have never given that advise myself though). You can't really go wrong with salted eggs are they are so full of umami flavour. Deep fry some prawns and smother them in a creamy salted egg sauce. What can go wrong? 4.25/5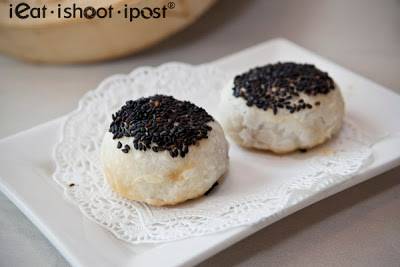 Salt & Pepper Cashew Nut Pastry ($3.30 for 2 pcs)
Another item which I would highly recommend is the Cashew Nut Pastry. This is very unique and I found the sweet and salty Cashew nut filling very nice. It is definitely one item which I would order everytime I visit. 4.25/5
Conclusion
Overall a very satisfying experience and another place to put on my list for those weekend family lunches. The quality of the food is very good and they have several items which are quite unique. It's too bad it only has two branches at the moment, I would be more than happy to have a meal there if I walk past one in a Shopping Centre.
Nan Xiang Steam Buns Restaurant

200 Victoria Street
#02-53 Bugis Junction
Singapore 188021
tel: 6835 7577
Operation Hours:
Lunch 1130am to 300pm, Dinner 600pm to 1000pm (Mon to Fri)
1100am to 1000pm (Sat, Sun & PH)
Note: This was an invited review