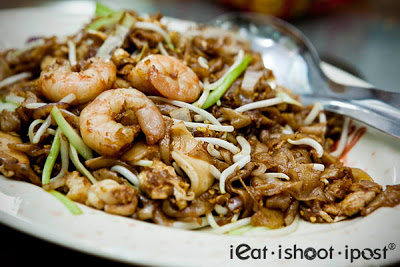 Seafood Fried Kway Teow $18 (prices start from $10)
Yuan Wei is one of those little hole-in-the-wall places that you would probably just walk past without blinking an eye. But it is a little secret which our makan kakis, notably Champagne have been keeping to themselves.

Well, not really, they have been organizing many makan sessions there and some of our seasoned kakis really enjoy the food there. It is also one of those places where the three tables in the air con section hidethe fact that there are many more people enjoying the food out in the alley at the back. Another thing that makes this restaurant bloggable is that they are one for the night owls as they open at 5pm till 4am, so it is one place where you can go for a meal after the midnight show.
Although Yuan Wei specializes in Giant Grouper dishes, I will tell you straight off the block that the one dish which I will make the special effort to come back for is the Seafood Char Kway Teow. If you are missing your Penang Char Kway Teow, this is the place where you can get something that is quite close. Its not cheap though. The smallest plate costs $10 but they do put in fresh seafood like scallops and prawns. Despite the price, it is still worth it since I haven't found a Char Kway Teow that is reminiscent of the stuff I ate in Penang until now. 4.5/5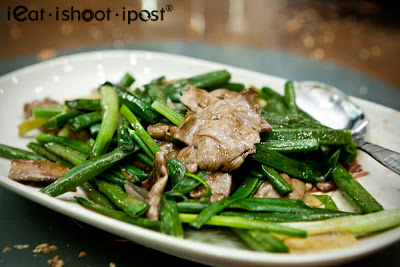 Fish Liver $30
The thing about the Giant Grouper is that it is really big! Duh!
What I am saying is this. It is so big that it is unlike how you would eat other fish. It is more like eating a pig or a cow. So like pork, you have giant grouper liver, lips, skin etc. If you happen to like pork liver, then you might enjoy the sauteed grouper liver. The texture is smoother than pork and indeed is somewhere between Foie Gras and Pork Liver. Tastewise, it is more delicate than pork but that liver taste is inescapable. The pork liver lovers, notably holydrummer, loved this and would give it 4.5/5. However, I don't like pork liver, so I found this acceptable and worth a try. Personally, I won't order it again, but you might. 3.5/5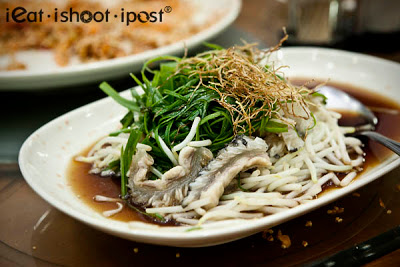 Fish Skin $20
You know that the standard of most Cze Char restaurants is determined by the quality of the Shang Tang (stock) right? I was recently at Sin Huat with a group of Executive Chefs from India who were invited by the Singapore Tourism Board to learn about Singapore food. The thing about Sin Huat is that they have only a handful of dishes and most of their dishes have the taste of the Shang Tang. So after a few dishes, you begin to realize that there is that special taste that you really enjoy which comes from that closely guarded cauldron that is perpetually full.
The Shang Tang here is also very good and you can taste it in most of the dishes. So whether they are serving you fish lips or liver or skin, they all have that nice, savoury taste which blends so well with any of the other condiments that they use to cook the dishes.
Grouper skin is very much like other Chinese delicacy such as sea cucumber and fish maw. Unlike the Europeans, we Chinese like to eat slimy, gooey, collagenous stuff which soaks in all the flavours of the sauce. Grouper skin is almost like eating pork skin except that eating fish skin is healthier as it contains good fat and for the ladies, the collagen is good for your skin! 4/5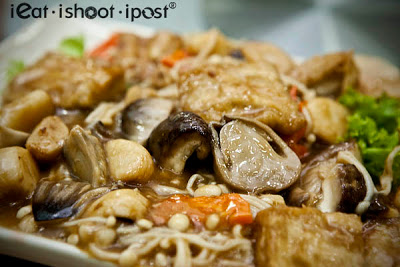 Three Flavour Mushrooms $10
The other dish that came as a very pleasant surprise was the vegetarian dish. Again, the taste of the Shang Tang is predominant, but it is a taste which I enjoy especially with a bowl of rice. The mushrooms and tofu are wonderful vehicles for soaking up all the flavours and the best thing is that this dish is good for you since it is all veg. (However, one has to consider what actually goes into the Shang Tang before we can call this a vegetarian dish. 4.25/5
Conclusion
If you are hankering for a good Char Kway Teow that is reminicent of Penang Char Kway Teow than you should definitely check out this place! You should also keep this in mind if you every find yourself hungry after watching the football match in the middle of the night.