With Eastcoastlife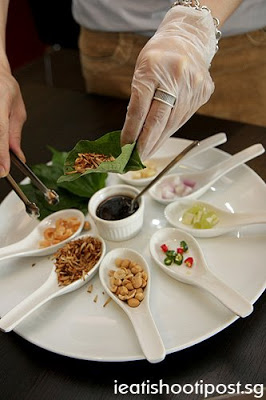 Miang Karm (Betel Nut leaf wrapped condiments)
$8
Humans are creatures of habit. But habits are not bad, they are used by our brain to automate certain processes so that you don't have to waste time and extra energy to make certain decisions. When it comes to food, we also form habits of ordering certain foods when we eat so that we don't have to waste too much brain power.At least for me, whenever I eat Thai Food, I always end up ordering the same stuff. It saves the hassle of having to risk ordering something you are not going to like. Same goes with Northern Indian, Japanese and so on.

But every now and again, you might want to venture out to try something new. Well, if you are in such a mood, then you might find something like Miang Karm a bit more adventurous.
In Thailand, this dish is actually available from the Supermarket where all the condiments and the Betel Nut leaves are packed in styrofoam trays with gladwrap. All you need to do is to make a little pouch from the leaf and put in all the condiments and pop it in your mouth. This dish is not readily available in Thai restaurants here but one restaurant that does sell it is Yellow Light Thai Food. I really enjoy this dish as a starter, it is refreshing and the combination of the fried coconut and the tangy sauce gives it a nice zing to start your meal. 4.25/5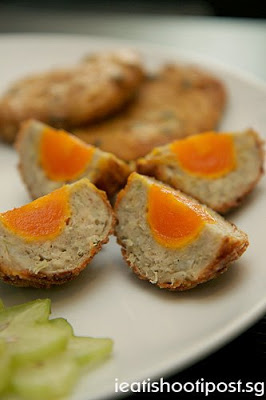 Fried Salted Egg Yolk Ball $3 each
Yellow Light is actually a Thai Restaurant started by a Penang lady of Thai descent around 30 years ago. It called "Yellow Light" because it did not have a signboard, so the regulars all recognized the place by the yellow light that was hanging outside. Even though the restaurant did not originate from Thailand, the owners work very hard at making sure the food is as authentic as it gets.
Aside from the Miang Karm, I also tried their Fried Salted Egg Yolk Ball which I must admit, I have not come across even though I spent two years living in Bangkok. It is essentially a salted egg yolk wrapped with a paste made from minced pork and deep fried. Certainly something new to try if you haven't come across it before. 3.5/5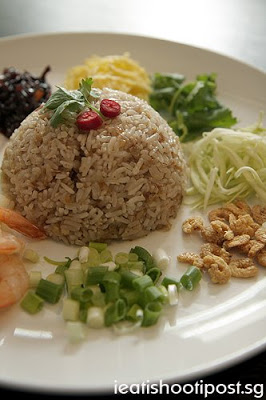 Belachan Fried Rice $12
For those who like the pungent smell of dry Belachan, you would like this dish. I especially like the sweet pork belly that they have as one of the condiments which go very well with the savoury rice and dried shrimps. 4/5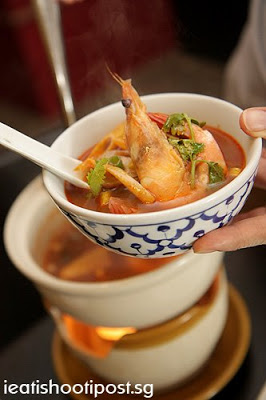 Tom Yum Soup $12
I felt the Tom Yum soup lacked a certain kick that day. It is unfortunate since I feel that the owners here really do emphasize a lot on authenticity and they make a lot of effort and passion goes into the dishes since the owner happens to be the chef as well. The soup just lacks that sourish ooomph that day. 3.75/5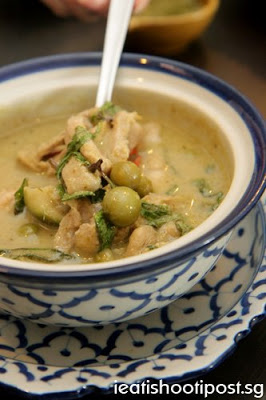 Green Curry Chicken $12
Their focus on authenticity can easily be seen in the extra effort they put in to procure the small pea sized brinjals that are always seen when you eat Green Curry in Thailand. The green curry is good but again lacks the special something to get you to order that extra portion of rice. 3.5/5
Conclusion
Nice little family run Thai restaurant. The chef owner puts a lot of effort into making the food authentic and so you can find some things here that is not found in other Thai Restaurants in Singapore. However, it is a constant debate over whether to keep the food authentic or to modify it to suit the local taste. All the effort of getting stuff like baby brinjal might just go to waste because Singaporeans don't appreciate them at all. If you are looking for Thai food that is a little different from elsewhere, this might be a place you would want to check out.
This was an invited review