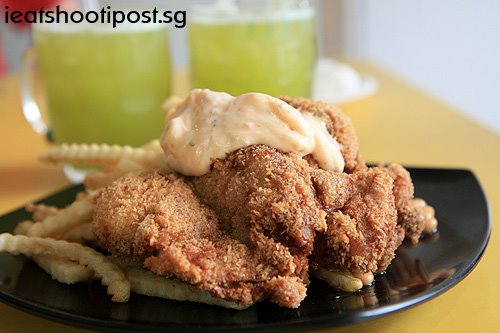 Chicken Chop $5 (medium sized piece)
There are two things that I can say about Wow Wow West. First, this is a place where the food really value for money and it is the best place outside of a buffet where you can guarantee that you will eat till you are full. Second, the generosity and the goodness of Eric the owner never fails to warm the heart.

Now, if I didn't have the second point to write about, I would have gone on to tell you about how big the portions are and how Eric looks at the customers to in order to decide how big a Chicken Chop he would give. So if he saw Holybro, he'd give the extra large piece and Holybro would have gone away with a big grin on his face. When he sees a petite office girl, he would give a smaller piece as most of them will not be able to finish a big piece. It works out well most of the time, unless he gives a small piece to a girl like Khim (or bottomless pit she is popularly known), then there will be trouble. The same $5 will buy a large, medium or small piece depending on how hungry you look. So if you are particularly famished, but look like Fiona Xie, do let him know you want an extra large piece of chicken!
But that is not really the story I want to talk about. I feel the bigger story is how faith and redemption can affect one man's life and how a changed man can in turn change the world. (or at least the world around him)
When I first met Eric, he was still running his highly popular stall at Bukit Merah. At that time, I wrote about how his own life had changed when he became a Christian and found his life's calling in helping ex-prisoners establish a new life back in society. (That story here) While they were still in the old stall at Bukit Merah, he had trained a total of nine ex-prisoners before he managed to find one who was capable of taking over the running of the stall. We all thought that what he was doing was great but what he did next was even more astounding. I learnt later that he actually gave the stall away to his disciple and then proceeded to open a brand new stall over here in ABC Food Centre to start building his business scratch!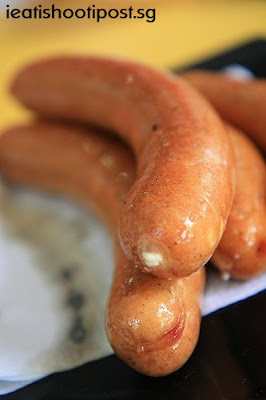 Giant Cheese and Pork Bratwurst $3 each
Now what he has done is noble indeed, so noble that he has earned the respect of the Black Society bosses who all decreed that he and his family are not to be harmed in anyway even though he is actively trying to rehabilitate some of their brothers. I guess integrity, nobility and respect is something that the underworld values highly.
Just recently, I got hold of some DVDs showing that there is hope even for the most hard core of prisoners. I was very touched by the inspiring stories of the lives of two ex-convicts, Neville Tan and Kelvin Soh who eventually found God and made a complete change in their lives. These locally produced short movies are well produced and are very touching. During this Christmas season, you might be invited to someone's place to watch the DVDs and to learn more about the how the baby born on that first Christmas changed the lives of hard core prisoners like Neville Tan and Kelvin Soh. If there is hope for them, surely there is hope for everyone, whatever your situation might be. You read more about the movies here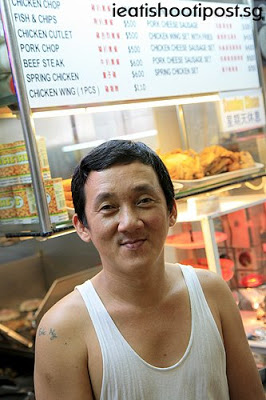 Anyway, back to the food. There is no doubt that the food here good but I think what draws the crowd every night are the generous portions of nourishment for the stomach as well as the soul. Wahcow finished up the chickenchop even though he just had lunch followed by some really well marbled char siew at Fatty Cheong's (later post). That just means either that the food is really good or Wahcow is just greedy. The chicken chop scores a 4/5 from me.
Conclusion
Food is good and I doubt is anyone will ever complain that the portions are small. But it is his story of conviction and selflessness which I find most compelling. If you know of any other stall with such a strong social cause, do write in and let me know!
What to do next
Read more about "The ironman of Changi Prison", Neville Tan here
Read more about the drug addict turned Gospel Singer, Kelvin Soh here
The first post on Wow Wow West is here
Read about Benny, the ex-con who now runs 18 Chefs, here