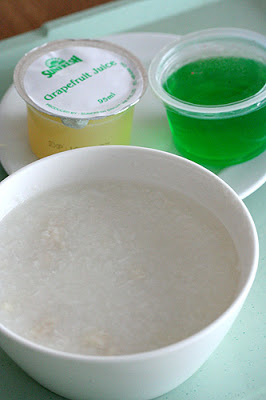 When you are in hospital and don't have a choice, that's when!
Last week has been a difficult week for me to say the least. I was admitted to hospital for an operation to remove my gallbladder. Technically, it is called a Laparoscopic Cholecystectomy. In layman terms, it means to remove the gallbladder through keyhole surgery.
In retrospect, I probably had the problem with gallbladder stones for a few years already. I have had to rush to hospital on a few occasions in the past with severe tummy ache which I always attributed to food poisoning.
So how come this Doctor could not even diagnose his own condition? Well, it's the furthest thing on my mind since gallbladder stones, as traditionally taught in medical school, usually occurs in "Fair, Fat, Fertile, Females in their Forties". Now I don't qualify for any of that, so how the heck did I end up with gallstones?
Anyway, having "chronic cholecystitis" meant that because of the intermittent blockage, the whole gallbladder had become inflamed, which meant that I had a sense of prolonged fullness and discomfort especially after big (and fatty) meals. So here comes my confession. When I go on my food tasting trips, that is precisely what I do, I only taste the food. I don't usually overeat or else I get bloated for the rest of the day! Thankfully, I have my makankakis to always help to eat up the food!
So anyway, now that I am fixed, thanks to my good friend and surgeon, Dr S K Wong from Digestive Health Associates, I look forward to more makan escapades. Though this time round, I have to be really careful, or else I will really be putting on the kilos since I don't have my diseased gallbladder to stop me from eating too much!
So thanks for continuing to read the blog even though it has slowed down for a little while. I do have a backlog of food places and I will continue to publish as regularly as I can. And if you have been having problems with your digestion, and happen to be a "Fair, Fat, Fertile, Female in her Forties", may I encourage you to visit your GP and get an Ultrasound of the gallbladder done. Those darn little gallstones can really cause a lot of problems!
And yes before I forget, let me comment on the hospital fish porridge which was my first meal after surgery. With all due respect to the hospital cooks, it really wasn't their fault that I could not order lamb chops which I am sure would be quite good — the fish porridge was Bleeeeaaachhh!! 1/5