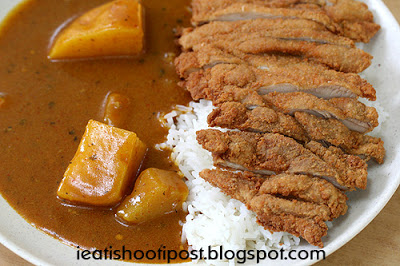 Chicken Chop Curry Rice $4.80
I don't quite agree with the signboard which says that this restaurant serves "Traditional" Hainanese cuisine. To me it was more like Singapore dishes with a Hainanese twist cooked by a typical Hainanese lady. In addition, the dishes have been modified to suit the new generation of Singaporeans.
Take for instance the signature Chicken Chop, curry rice. First it is Chicken Chop and not pork because of the health concerns and the chicken skin has also been taken off, again because of health concerns. So this can't really be called "Traditional" anymore can it?
But anyway, this dish is by far the most popular there with almost every table ordering the one dish meal. The batter is really nice and crispy and it is served piping hot. However, without the skin, the chicken tends to be a little dry. The curry was very good and aromatic and reminded me a little of Japanese Curry. 4/5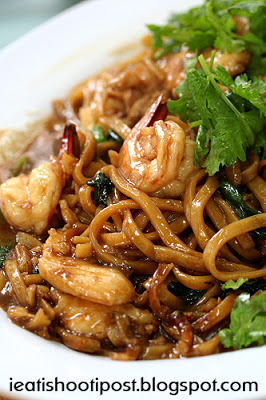 Hokkien Mee $12
The real gems of the restaurant though are what is not found on the board. The lady boss/chef has been a passionate cook all her life. So when Mr Cheng retired from his job in an MNC, he decided to open a restaurant to showcase his wife's cooking. They have regulars who come here for the "off the board" menu regularly.
One of the "off the board" gems is the Hokkien Mee which was very very shiok. Mrs Cheng tells me that they do it the traditional way without the use of thickeners. So the noodles are braised in the stock until the gravy thickens. It is a bit more laborious, but the result is a very fragrant and tongue tantalizing dish. It was so good that smart and I finished our plate of Hokkien Mee while waiting for Damien to arrive. Cannot Tahan (resistance was futile). The only problem that day was that they did not have the crispy pork lard, or else it would have been even more outstanding. Still, it was easily the best KL Hokkien Mee this side of the causeway. 4.5/5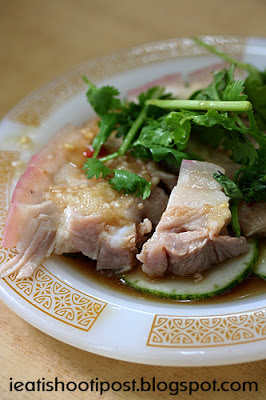 The other "off the board" delicacy was this white braised pork. It might not look that appetizing but it was heavenly. The pork was braised till it was sublimely smooth and tender and served with an invigorating garlic and vinegar sauce. Simple but very very satisfying. 4.5/5
Conclusion
Funny that the best KL style Hokkien Mee is found in a "Traditional" Hainanese restaurant! We are told that there are still other "off the board" delicacies that are still waiting to be discovered. If you are a regular there, won't you let us know what they are?