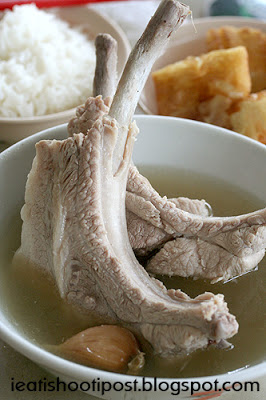 When I was living in Australia, the most expensive part of the Chicken was the breast meat. Wings used to be dirt cheap, like $2 per kg. Over there, they throw away the fish head, but over here we pay a premium for it. When it comes to Pork, the ribs are considered the premium part of the pig. I would go so far to say that for me, Prime Ribs are my favourite part of the pig. They have excellent texture and taste when boiled till really soft and also when they are slow BBQed till the meat falls off the bone.
Good thing about this 30 year old Bak Kut Teh stall is that they have a good supply of Prime Ribs and they cut it so that you can only use your hands to eat it. The soup here is sweet and aromatic. It is the Teochew type, so its basically pepper and garlic and it's light in colour. I would give high marks for the soup, but the meat that day wasn't tender enough to be enjoyed by people without dentures. 4.25/5
Conclusion
Another famous Bak Kut Teh to add to the list. The soup is excellent but the meat could be more tender.