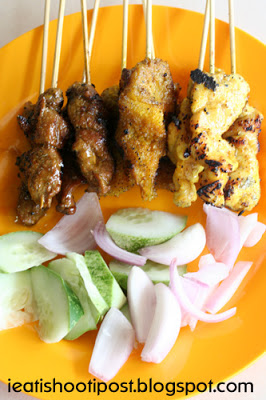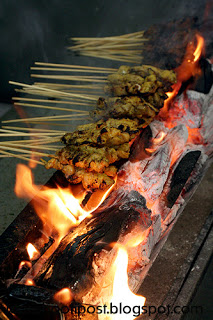 This is one of those satay stalls that don't need to open at night and closes 2 days a week. I think that says it all. At 3pm in the afternoon, almost every table in front of the stall has a plate of satay in front of them and they they BBQ satays non-stop to fulfill the take home orders of hundred sticks or more.
Curious? I certainly was. It is my first time at the stall, and I was keen to give my tastebuds a treat.
I asked the Pak Cik which type of Satay was the "die die must try" one, to which he answered without even a split second of hesitation, "Tripe"
Ooohhh, never tried that either. Sometimes it is good to have had a deprived foodie childhood. I still get to try things for the very first time!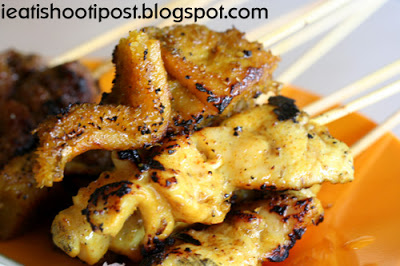 What I like about this satay is the marinade and the good thing about tripe is that it really absorbs the marinade very well, so that you can taste the zesty lemon grass and other spices in the meat. 4.5/5 What I don't like is the fact that they use chicken breast meat for the chicken satay. 3.5/5 It would have been a killer if they used thigh meat and dare I say, some chicken skin. I found the mutton a little on the tough side but still very yummy. 4/5 The satay sauce was also very commendable. Lots of chunky peanuts and very sedap (tasty)!
Conclusion
Really nice marinade and satay sauce. For me it would have been better if they used chicken thigh meat instead of breast, but I feel that the nature of breast meat does allow the flavour of the marinade to come through more than thigh meat.