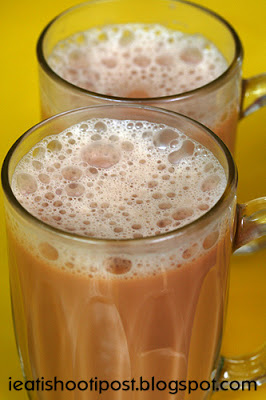 Nothing quite like a cup of hot Teh Halia to wash down all that oil after eating stuff like Nasi Lemak and Nasi Briyani. The Tannin in Tea acts as an astringent to wash down the flavours, the fat in the milk binds to capsaicin (the substance in chilli that causes that burning sensation) which eases the heat, the sugar triggers release of substances from the tongue which also eases the burning sensation and the ginger helps to relief bloatedness and aids digestion. Wow! Which brilliant fellow came up with this wonder "after your spicy dinner" drink?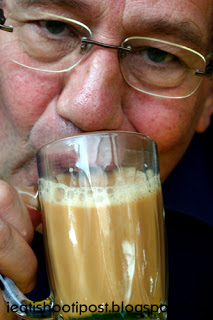 We don't know who, but we certainly can say that Teh Halia ultimately has its origins in China. Huh? Kidding right? No not really, I said ultimately because the origin of Tea is from China whiles ginger is native to both China and India.
Of course, it was the British traders that smuggled the Tea plant out of China to India to start their own tea plantation. Their attempt to ease the trade deficit caused by too many Britons liking Tea and too little Chinese liking anything English is the reason that Tea became a popular drink in India. However, the word Halia though has Indonesian origins. So it could be that somehow the concept of the milk tea made its way from India to Indonesia and ultimately to Singapore. This part I am only guessing, so maybe some experts can tell us the exact origins of Teh Halia?
Anyway I digress.
What got my attention was the continuous queue of people outside this Teh Halia stall at Adam Road Food Centre. So I decided to try it.
This particular Teh Halia was surprisingly refreshing. Unlike other Teh Halias I have tasted before, this one was not overly milky and had a good balance of ginger and tea flavours. Perfect for washing down all that oil and spices! 4.25
Conclusion
Pretty good cup of Teh Halia! So starts my search for the ultimate Teh Halia in Singapore. Your recommendations please!