Special Promo for ieatishootipost readers! Details at the end of the blog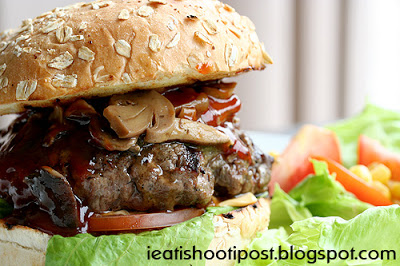 Moo Moo II Burger $10.90 250gm beef pattie
This little diner up North is going to put a smile on many faces. It's the latest "Value for Money" diner which has recently opened in Sembawang barely 2 months ago and judging from the quality of the food and the prices, I can only say that it has all the qualities of another Astons in the making.
Just take a look at the Moo Moo II Burger. For $10.90, you get a big and juicy 250gm, hand chopped beef pattie, sauteed mushrooms and onions, crispy bacon, tomato and lettuce in a really nice oat meal crusted burger bun!
Truth be told, this is the ieat new improved version of the original Moo Moo Burger. I told Chef Julius that what I would really like to have is not just another burger but one that is going to get people talking. So he went to the kitchen with a few new ideas and whipped up the burger shown in the picture. He liked it so much that he told me that he will henceforth be serving the new improved version.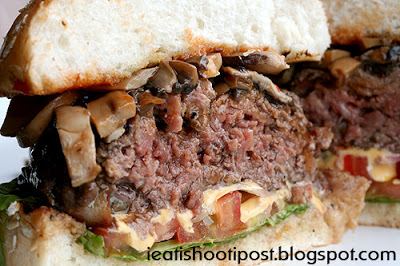 I really like beef patties where the meat is not so finely ground such that you can still bite into the meat fibres. The pattie was big and juicy and just needs a bit more tweaking to get the full beefy flavour out of it. I like the big soft bun which readily absorbed the juices of the meat pattie and the tangy BBQ sauce which gave it a nice balance. At $10.90, this is probably one of the best value burger in town! 4.25/5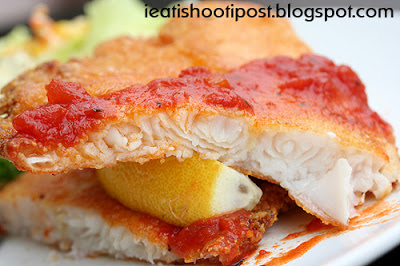 Parmesan Coated Fish Fillet $7.90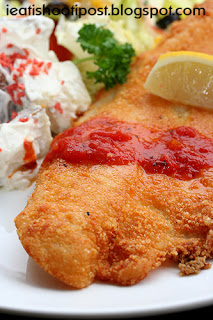 The Parmesan Coated Fish Fillet came as a very pleasant surprise. The Parmesan cheese gave the Pacific Dory fillet a nice savoury flavour which is a very nice departure from the more familiar bread crumbs. The fish was cooked to perfection. Nice and juicy on the inside and crumbly on the outside. It went really well with the zesty homemade tomato salsa. 4.5/5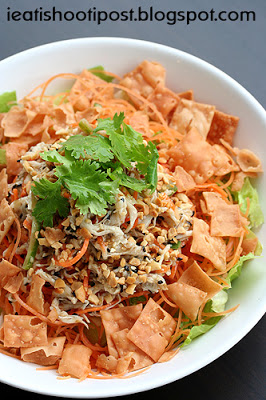 Emperor Oriental Chix Salad $6.90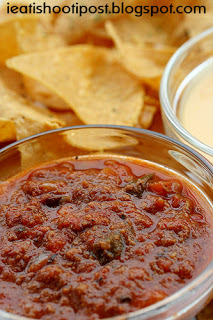 If you enjoy Lo Hei (Raw Fish Salad) because of all the crunchy bits and salad rather then the raw fish itself, then you are going to like the Emperor Oriental Chix Salad where instead of raw fish, you have shredded chicken. I just love the crunchy crackers with the the tangy sweet salad dressing. 4.25/5
Vittles is an excellent place for family meals as they have stuff that the kids will love. Their Nachos are freshly fried and served with minced beef and cheese sauces. I usually prefer my nachos with melted cheese on top but my kids like it this way. 4/5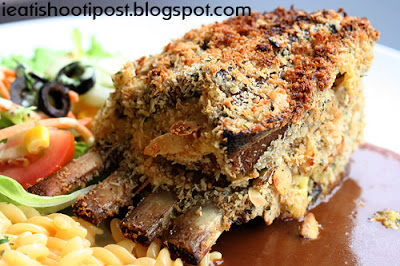 Pistachio Herb Crusted Lamb Rack $18.90
Chef Julius makes all the sauces and sides here himself and very few items actually come out of a packet. He makes the red wine sauce from scratch and even the mashed potatoes are made from real potatoes. You get a choose from 11 different home made side dishes. My personal favouriet was the creamy gratinated potatoes.
The Pistachio Herb Crust on the Lamb Rack is very addictive. I just couldn't stop nibbling on it with the red wine sauce. However, the lamb was frozen not chilled lamb, so it was not has juicy. But at $18.90, one can't really expect them to serve up chilled lamb rack. Still it was a delicious lamb rack that lamb lovers should try. 4.25/5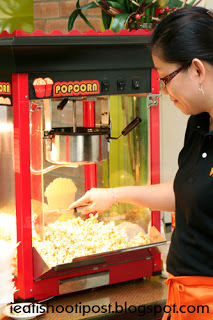 Conclusion
It was an invited review, so I was apprehensive at first. But it turned out to be a most wonderful lunch for the whole family. The kids loved the free popcorn that you can help yourself to as you are waiting for the food as well as the nachos and fries. The diner is run by 3 sisters and Chef Julius, so the service was very personal. Food is great value and on top of that, there is no GST or service charge. I think this place is poised to do very well.
Special for all our readers!
Print out this page and get 50% off your 2nd main course and a free Tropical Crush. This smoothie is is made of soursop and jackfruit and I found it really very unique and refreshing and I am sure you all will like it too. (50% off 2nd main meal is valid on Tues to Fri only. One weekends you still get the Tropical Crush) Offer valid till end Oct 2007.
Update 1 26 Sep 2007
There has been some confusion about the offer and I have just spoken with Denise. Now it is confirmed that the Tropical Crush is available both weekends and weekdays but the 50% off is only valid on weekdays. Denise has also said that the Moo Moo II will be available daily from next week onwards.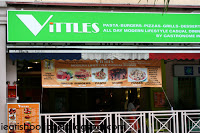 Disclosure: This review was done at the invitation of Vittles