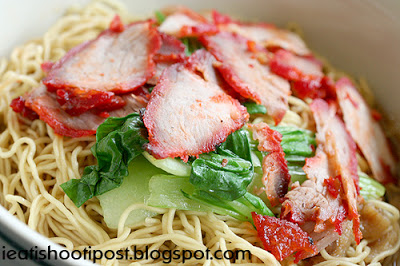 There are 3 famous Wanton Mees at Old Airport Road Food Centre and no clear winner yet. They are differentiated by the colour of their signboards which are very easy to remember. Red, yellow and green. I learnt about this from bobafett whose preference was Red, Yellow, Green. Now I don't think that there are many Wanton Mee lovers out there who actually go to the extent of trying all three and having an order of preference. Or maybe there are? Do identify yourselves please and let us know your personal preference.
I have already blogged about the Red one last time, so now its time for the Yellow Signboard.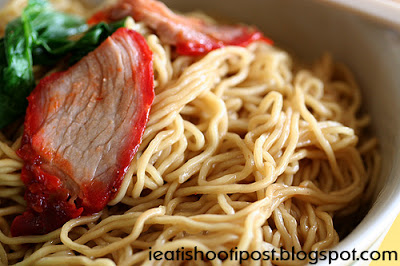 This stall is the least "Tua Pai" (Showy) of the three stalls and the owner was very modest about her noodles. The Char Siew is procured from other sources and is good but not unremarkable. They also use a better quality noodle and the texture is good. The thing that I like about this wonton mee is the sauce that they put in it. It is a bit sweeter which agrees with my tastebuds. 4/5
Conclusion
One of the better Wontan Mees around but I between Red and Yellow, I really have no preference.